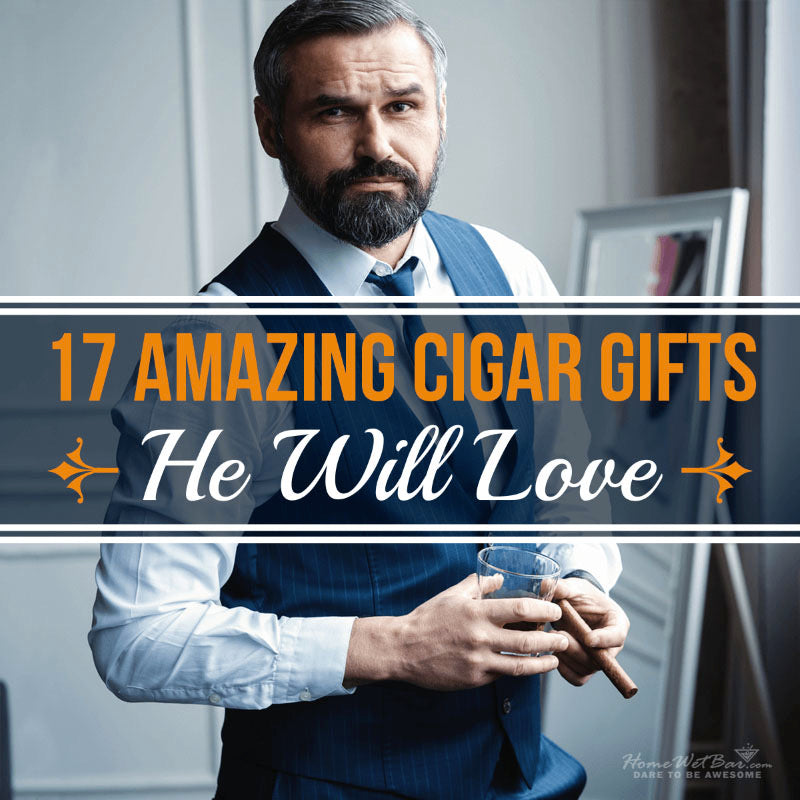 17 Amazing Cigar Gifts He Will Love
Here are the Best Cigar Gifts to Enhance Every Cigar Lovers Next Stogie:
Cigar lovers usually enjoy either the meditative or celebratory quality of smoking a cigar, or sometimes both! It has become their go to vice that allows them to reflect on moments in life, or celebrate something awesome that just happened. Even the smell of a certain cigar can trigger one of their best memories. For the cigar lover you know, cigars aren't just the occasional vice, they are a way of life. He continues to smoke cigars because it is his favorite thing to do. So, why wouldn't you make that experience even more special with a cigar gift that makes his hobby better? Cigar gifts don't need to overpower the cigar, but accompany it. A great gift for cigar lovers is the finishing touch to a great smoking experience. Make his next gift one that takes his relaxation or celebration to the next level!
An Awesome Ashtray Set
Make his next celebration even more memorable with two cigar accessories he will never forget. A custom ashtray is a piece he will use for decades. While he can also use his new cigar holding whiskey glass for years to come too! With this cigar set, he will be able to enjoy his favorite brands of whiskey and cigars without having to worry about a thing. The pairing of these items ensures he can hang out with his favorite cigar and whiskey with more class than any of his friends. These accessories that make his vices all the better are sure to make his friends jealous. This is the perfect cigar gift for him on any occasion!
Engraved Cigar Shadow Box
Shadow boxes make great gifts for cigar lovers because it is a way to appreciate his cigars without actually having to have one right that second. Every time he goes to have a cigar, one of the first things he does is take the band off and throw it away. Why not take the decorative part of his cigar hobby and turn it into decoration? With a custom-made shadow box, he'll be able to show off all of the different brands of cigars he has ever had! It's a great way to visualize just how long he has been at his hobby!
Manliest Gift for Cigar Lovers
He truly sees himself as a man's man. His love for cigars and whiskey have made him feel like he enjoys all the refined things a man is supposed to. He often pairs his scotch flavor with a cigar to match, or vice versa. Make his next experience a more special occasion with a gift he'll never forget. This box set will be the perfect gift for a cigar lover, he'll have everything he'll ever need to sit back and relax. All he has to do is keep some cigars and scotch in the ammo can and he is ready to go at the drop of a hat!
The Perfect Decanter Set for Cigar Lovers
Nothing in a man's world pairs together like a good cigar and a matching quality whiskey; it's like the sweet and savory of vices, each of them compliments one another. Make sure he is able to enjoy the best flavor profile a man can ask for with his own cigar glassware set! Gifts for cigar lovers need to enhance their smoking experience, and this decanter and set of cigar glasses are doing exactly that. He can relax in refine comfort while having his palate tantalized with flavor!
You Know He Needs His Own Cigar Sign
Cigar gifts do not always need to directly interact with the smoking sensation. Sometimes, something that adds to conversation or that hangs as a piece of art is perfect! Make this sign your gift for him! He can mount it in the hall, the living room, or better yet his cigar lounge! This personalized sign is ideal for any cigar aficionado! You know he'll love having more cigar decor in his house!
Ultimate Cigar Gift Set
This cigar and whiskey gift set is perfect for the guy who wants to celebrate or relax in style. The uniquely shaped whiskey glass makes his whiskey look even classier than normal while the personalization on the box and glass gives this set a truly refined feel. Have him smoke in style with his own cigar set that is perfect for those just starting out with cigars yet fitting for the guys who have been into them for years.
A Musical Gift for Him
While he smokes his best stogie, he is always listening to music. He does it because it relaxes him further and he loves his tunes. Connect two of his favorite things with an awesome musical cigar gift! The cigar box guitar is playable with its maple neck and has been tuned to G, D, G. However, when he isn't playing, the cigar box guitar makes a beautiful display piece to mount in any cigar lounge or living room.
Custom Cigar Gifts Box
For the aspiring aficionado, few things are better than their own custom cigar gift set! This luxurious black box gift set comes with everything they'll need to celebrate their favorite vices. With these cigar gifts, enjoying a tasting whiskey and pairing it with the perfect stogies will never have been easier. Better still even though the set comes with a rocks glass and whiskey stones, they don't just have to enjoy this cigar gift at home, they can take it on the go thanks to their personalized cigar stand and their embossed cigar case! Now, they'll never have an excuse to be without their favorite Padron or Fuente cigars!
Engraved Ammo Can Humidor
One of the best things you can get when looking for gifts for cigar lovers is not always to get something to make smoking easier but a gift to keep their precious cigars in pristine condition. A humidor makes a fantastic gift; however, a custom ammo can humidor is simply an even more badass version of a humidor gift to give! Now each time they go into their cigar gift, it'll feel like they are getting resupplied by the military with their much-needed stogies!
A Legendary Cigar Set
He has just picked up a handful of truly high-end cigars. He just knows he is getting that big promotion or has closed the deal he's been working on for weeks. For situations like these, a normal celebration just won't do. Make this a legendary occasion with cigar gift set that will blow him away! Pack the two cigars you know he'll love in his new flask, and prepare his best whiskey for when he gets home! This set is an instant celebration gift set for any man who loves cigar and whiskey!
The Perfect Cigar Starter Pack
He sees himself as a cigar aficionado. He has recently started googling and searching everything related to cigars. He has also been trying out different combinations of whiskey, bourbon, scotch, to find the best pairing for his cigars. He hasn't yet hit the point where he needs a humidor, but he definitely needs some more specific cigar gifts. Help him find the right pairing by getting him the best whiskey glasses he's ever seen and a cigar set that lets him carry his cigars with him! Help turn the novice into a seasoned professional with this awesome gift!
Luxurious Gifts for Cigar Lovers
Give him the experience of a lifetime each time he has a craving for rolled tobacco and a drink with this amazing custom cigar gift! This decanter set will have Don Draper feeling outclassed and under-dressed if he were to show up. Now, every night at home will feel like a top-tier CEO event even when he is hanging out with just his best friend or family while he uses his unique cigar whiskey glasses.
413 + THE MOST MANLY GIFT BASKETS>
A High-Quality Light
One of the most important parts of smoking a cigar is right at the beginning. The right quality of flame will make or break the quality of the smoke session. Available in a double-flame or a gentle flame, this lighter will work perfectly for any size cigar and is guaranteed to light the head evenly. It will also make him feel like the refined gentleman he is because the lighter is made from natural yellow gold!
For the On-the-Go Smoker
At home he has been amassing quite the collection of cigars, but they're all together in a drawer or just sitting out on his desk. This situation has been okay for the most part because he usually goes out with his friends or to an event to smoke. However, lately he really seems to need some stogie storage. Get him a way to organize his cigars with a cigar flask and cigar box! At home, everything with be cleaner and when he takes his cigars out with him he'll have the classiest carrier around!
All Signs Point to a Great Gift
Many cigar lovers enjoy a product that is simple but of quality, much like a good cigar or high-end whiskey. Make the decoration to the cigar lounge resemble the sort of quality he looks for in the simple elegance of his favorite vices. Use this sign to personalize his space and as a label for exactly what it is. He'll love seeing his name as the "Proprietor" of his own cigar lounge and the date he started smoking them!
Humidor Him With This Gift
No cigar gift will show how serious he is about his hobby more than a humidor that is mounted into the wall! As his collection of cigars grows faster than he can smoke, he is going to need somewhere where he can control not just the temperature, but the humidity too! The humidor ensures that the cigars don't rot or dry out. Give him a solution before rotting or dry cigars begin to pile up with his very own humidor.
A New Twist on a Classic Cigar Gift
Put a modern twist on gifts for cigar lovers with this elegant twist whiskey and cigar gift set. Instead of the same old rocks glasses and cigar holder, this set comes with a modern take on the classic gift set. The acrylic holder is a bold and stylish way to cradle your cigar each time you need a free hand to enjoy a sip of whiskey from the twisted rocks glasses. So put a cool new twist on tradition with this custom cigar gift set!