Step up your gift-giving game with something absolutely cool for the men in your life! You usually give him a new wallet or clothes and he's unenthusiastically thanked you for them every time, so you want to really impress him this time and give him something awesome. But what is a cool gift idea for men? Something unique, possibly technology-related, and definitely useful. Think about the kinds of cool gadgets you see in the SkyMall catalog. Seriously, guys love that kind of stuff. You've probably got a few more questions, like what cool gift is perfect for our anniversary? What's a great gift for Father's Day? What are some good gifts for men who have everything? Relax, our experts did all the shopping for you and compiled some of the coolest gifts for your dad, brother, husband, boyfriend, and even your grandpa for any and every occasion.
A Cool Gift Set Any Guy Will Love
Your boyfriend or husband is the kind of guy who's always on some incredible adventure. He comes home from a weekend of hunting deer with his dad and brother with tales of an elusive albino buck they chased for hours to no avail. He calls you at an after party of a new box office hit and tells you all about how he smoked a cigar with Tom Cruise himself, and has a selfie to prove it. What do you get a guy who is that cool? A gift set with a little bit of everything. He'll want to take the tactical survival knife on every fishing, hunting, and camping trip so that he's always prepared for anything. The cigar accessories will always be in his pockets in case he runs into another celebrity. Once he and his buddies are home, he'll be drinking his beer from his own custom pint glass. Is this set a cool gift idea for men or what?
Unique Bullet Whiskey Stones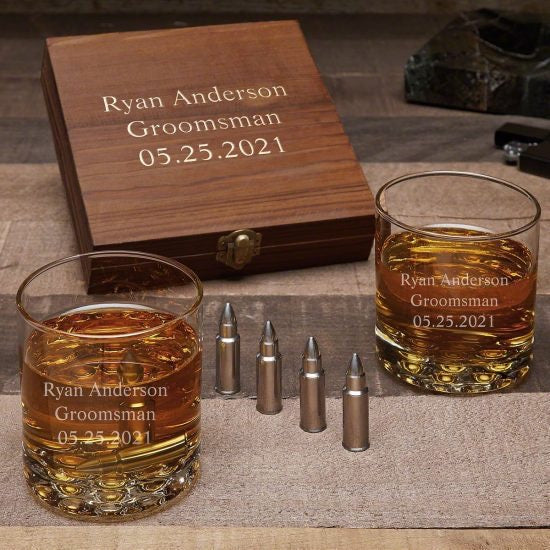 Your husband or dad is a high-caliber man who deserves only the best gifts. You know he loves going to the range with his friends every weekend and enjoys a glass of bourbon every night after work. Whiskey and guns are cool, but you want it to be unique as well. Luckily for you, this gift set is your solution! Not only are the bullet whiskey stones super cool, but the glasses and gift box are completely customizable. For example, it can read "Jeremy Blake, Air Force Vet, May 11, 2016" for a military guy or "George Peterson, Best Husband Ever, Since 1998." The creativity aspect and uniqueness of this set makes it a really cool gift idea for men. For example, this set is an ideal gift to celebrate a law enforcement or military retirement, promotion, and graduation from training. It's also the perfect birthday gift for your dad!
Cool Ammo Can Gift Set
Your dad is a manly guy who never wants anything for his birthday or Christmas. You always try to find him something, but this year you're at a loss. You know he likes to drink beer, go to the shooting range to relax, and watch Sons of Anarchy reruns. This custom ammo can gift set is the best holiday gift your dad will every receive, especially since it's related to his favorite hobbies. The coolest part? You get to choose the three lines of text on the ammo can and beer glasses. For example, it could say "World's Best Dad, Michael Jones" followed by his birth date if it's a birthday present. He'll love that you designed something unique and awesome just for him! 
Create a Custom Bar Sign for Him
Your husband just finished building his home bar, but he says it's missing something. Beer tap handles? Check. A set of glasses? Check. A bar sign? That's it! He'll love the classy design of this bar sign that is personalized just for him. This cool wooden sign can hang above his home bar or be displayed as a countertop decoration. A custom bar sign makes a good gift for men on a birthday, for Christmas, or even a housewarming.
The Biggest, Coolest Flask You've Ever Seen
Your husband's always saying how his current liquor flask doesn't hold nearly enough liquor for him to enjoy a drink while hanging out with friends at the lake. As his wife, you should help him with his problem and give him exactly what he wants: a flask that holds more than enough of his favorite spirit! This gigantic flask will be a hilarious surprise for him and he'll want to fill it up right away to see just how much it holds. With a 64 ounce capacity, he'll never run out of his beloved whiskey or vodka ever again.
A Quality Gaming Headset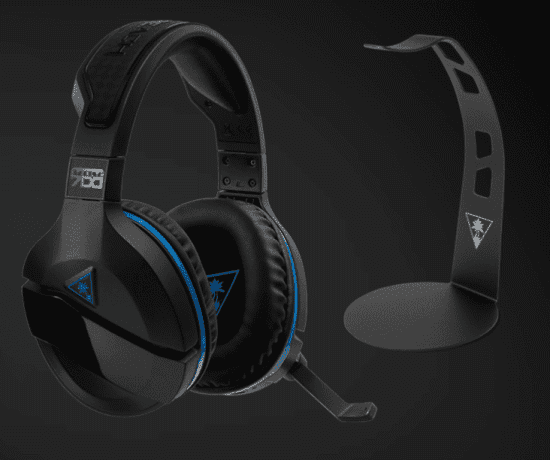 The guy in your life is an avid gamer and has had the same old basic headset since he bought his PS4. His friends and fellow players often complain that his mic is bad and he has to have the volume turned all the way up because one side of the speaker is blown. For his birthday or Christmas, you should surprise him with a brand new gaming headset! This wireless headset is fully equipped with stereo surround sound, a detachable microphone, and a 10 hour battery life. Now he can play Red Dead Redemption 2 or God of War all weekend long with fully immersive sound and the best gaming experience ever.
Absolutely Cool Beer Gift Set
Your boyfriend loves going to tailgate parties and cookouts with his friends and family, especially since he brings his own beer. However, he seems to always lose his six-pack because he doesn't like carrying it around. Once he finds it, it's empty! Solve his problem with his own personalized beer growler. Engraved with his name and two other lines of text, he'll never have to worry about his beer disappearing at a party ever again. The matching pint glass and unique bottle opener are just extra gifts for his birthday, Valentine's Day, or Christmas.
Out of this World Decanter Set
Your husband is a well-traveled man who often goes on work trips in a different country every month. He's been to Paris, Rome, Beijing, Tokyo, and Mexico City. He's a sophisticated businessman who enjoys relaxing on the couch with you with a glass of scotch in hand, but can be hard to shop for. This year, impress him with this gorgeous hand crafted decanter set! Laser etched with the world map and a delicate glass blown ship inside the decanter, this beautiful set will be proudly displayed in his home office. This breathtaking set is a cool gift idea for men to celebrate an anniversary, promotion, or Christmas.
A Personalized Tool Unlike Any Other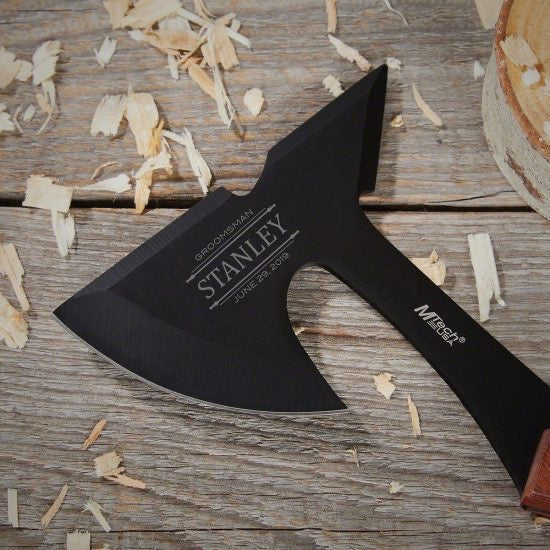 Tools are often given as Father's Day, birthday, and Christmas gifts, but why not step it up a notch and give him a custom engraved hatchet? This unique hatchet is compact, but has as much power as your dad's full-size axe. Ideal for bringing along when going camping, fishing, hunting, or backpacking, a hatchet is a great traveling accessory for various situations. A personalized hatchet is a good gift for men such as your dad, husband, boyfriend, or even your brother!
Cool Custom Whiskey Gift Set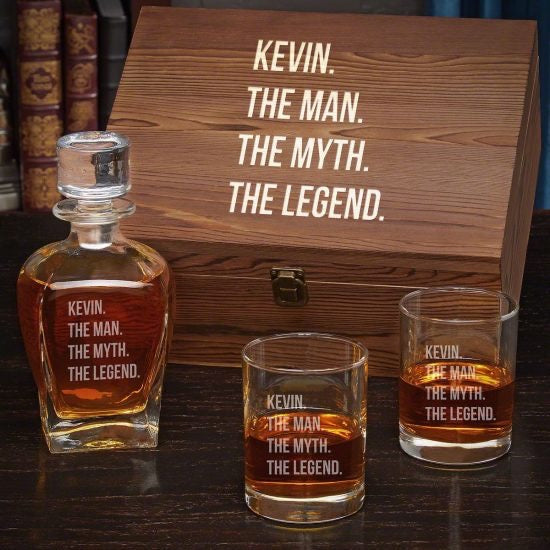 Your boyfriend or husband is the kind of guy who is known for being the coolest man anyone's ever met. He survived an avalanche, a bear attack, and a fault ski lift all in the same trip without a scratch. He's always finding money on the sidewalk. Simply put, he's an extraordinary gentleman. What kind of gift can you give that's as awesome as he is? This whiskey decanter set says it all. He is the man, the myth, the legend. Once unwraps this incredible gift set on his birthday or your anniversary, he will be so excited to display it in his home office or home bar. This set is, by far, one of those really cool gift ideas for men that any guy in your life would be thrilled to get.
Play His Favorite Childhood Games on the Go
Vintage video games are making a comeback with the revival of the NES and Playstation, but why get your husband an NES Classic when you can get him a portable version? With this handheld system, he can play all of his favorite SNES and NES games that he played so much as a kid. He's probably already got some of the cartridges laying around, but they're also really cheap at Gamestop. He'll love re-playing Super MarioWorld and Genesis while on a road trip or on the subway to work.
Tough Guy Gift Set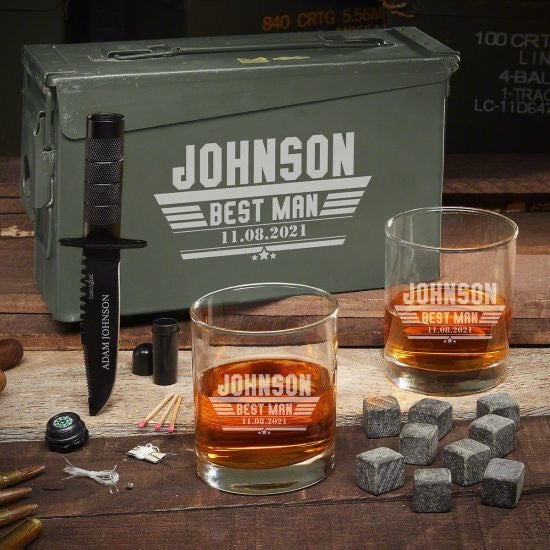 The man in your life is an adventurous guy who enjoys going camping, hiking, and hunting. After spending the day outside, he likes to unwind with a drink. Why not give him a gift that's as cool as he is that's also useful for his hobbies? He can use the ammo can to store all kinds of things, such as tools or shotgun ammo. The rocks glasses are perfect for sharing a classic scotch on the rocks (or in this case, whiskey stones) with you or a friend after a successful hunt. He'll always be prepared with the handy tactical knife whether he's camping in the woods or fishing at the lake. All in all, this ammo can set is one of the coolest gift ideas for men.
Keep Track of His Hole-in-Ones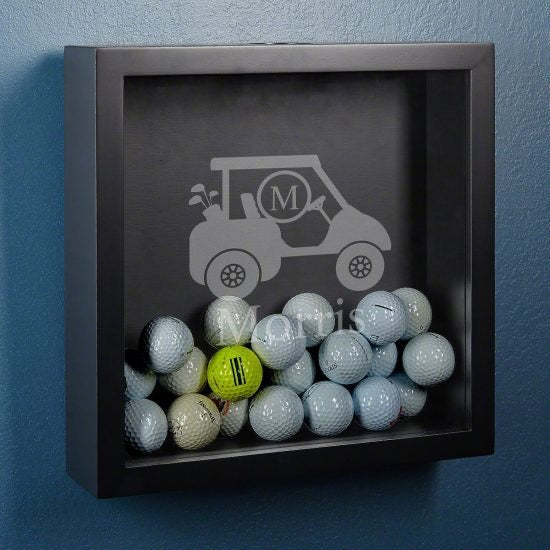 For the avid golfer, a hole-in-one is always an achievement worthy of celebration. With this shadow box, he can preserve those great shots forever! Your father or husband will love watching the shadow box filled up with his perfect swings and the memories of great games. This unique piece of decor is something he will treasure forever, so it's both sentimental and a cool gift idea for men.
Extra Cool Steel Drink Tumblers
Why settle for regular, fragile glasses that don't keep drinks cold when he could be using insulated tumblers instead? These super cool tumblers are made of double walled stainless steel and will keep his frozen margaritas and iced teas perfectly chilled. Plus, this means that they're durable enough for camping or using poolside.  
Unique Whiskey Set for His Home Bar
You know that whiskey is your husband's liquor of choice and that he likes to make himself an Old Fashioned after dinner to enjoy with his dessert. But you also know that he doesn't have any cool glasses like his friends do. He's always wanted his own home bar, but hasn't had the time to create one yet. This year, give him the gift of proper glassware and a decanter to get his home bar started. The eye-catching glasses are designed to fit perfectly in his hand and the decanter will keep his top-shelf whiskey fresher and more secure than it would in the bottle. Thanks to you, his home bar will finally become a reality with this cool gift idea.
Retro Bluetooth Keyboard
This gnarly keyboard is a good gift for men who are into vintage and tech. Designed with typewriter keys and a rustic wooden board, this awesome keyboard is the coolest addition to his desk at home or work. The Bluetooth capability ensures that it will work effortlessly with his computer and makes it wireless, so it's even portable!
Custom Man Cave Sign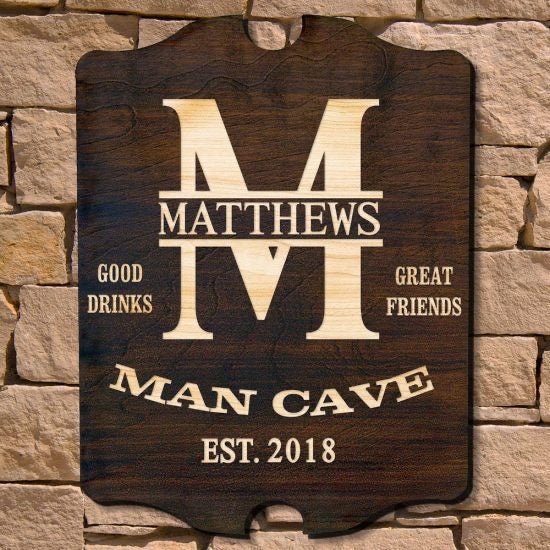 For the guy who has always wanted his very own man cave: a custom wooden man cave sign! Whether he's in the process of transforming a space into his dream hideaway or already has an awesome man cave, this official sign is the perfect personal touch. He'll love that you got him such a cool gift for his birthday or for Christmas.
A Bone-Chilling Decanter for His Home Bar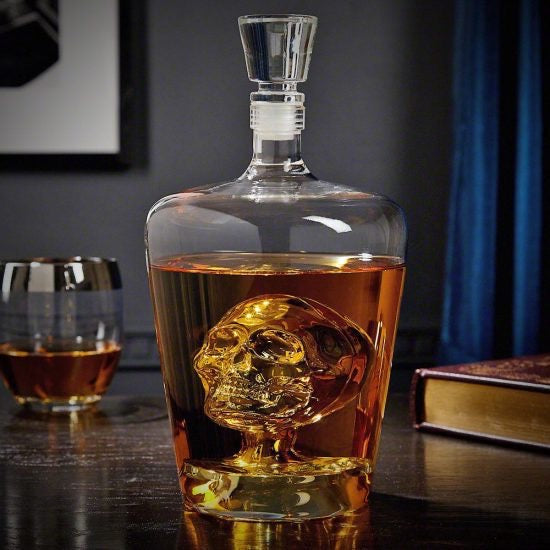 Do you remember going to see Indiana Jones: Kingdom of the Crystal Skull with your boyfriend at the premiere? He's a huge fan of the movies, and was stoked to see Harrison Ford play the iconic adventurer once again. This unique whiskey decanter is both a nod to the series and your boyfriend's love of whiskey, which was inspired by his favorite archaeologist. He'll love having this decanter displayed on his home bar and showing it off to all of his friends. This unique decanter is a cool gift idea for men as a fun birthday gift.
413+ INCREDIBLE WHISKEY GIFTS HE WILL LOVE>
Bamboo Cutting Board for the Grill Master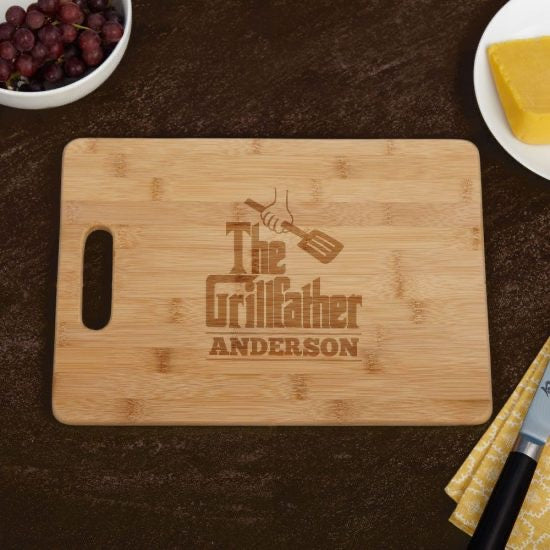 Any guy who grills will get a kick out of this fun cutting board! He'll love using the cutting board to season his steaks and prepare his hamburgers before putting them on the grill. Plus, it's a great piece of decor for the kitchen! Your dad is the perfect guy to get this funny cutting board for Father's Day or his birthday.
Classic Beer Stein
Guys who love beer are usually easy to buy for, but why just give a case of beer when you could also give a traditional-inspired German beer stein? This beautiful stein has ornate pewter details that make this gorgeous glass a classy decoration when not being used. Beer steins make good gifts for men on their birthdays and Christmas especially, but you could give one for any other occasion, such as a groomsmen gift.
Learn How to Skydive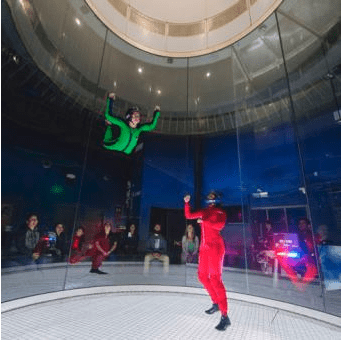 If the guy in your life isn't into material things, give him an unforgettable experience as a gift: Indoor skydiving! How neat is that? He'll get to feel the weightless thrill of skydiving and do all kinds of cool mid-air tricks and flips all safely inside, no jumping out of a plane required! After all, the memory and thought of a gift is what matters most, and he certainly won't ever forget a gift as incredible as this. Cloud9Living has tons of great experiences for him, yourself, or the two of you and make really cool gift ideas for men.
The Proper Way to Drink Aged Whiskey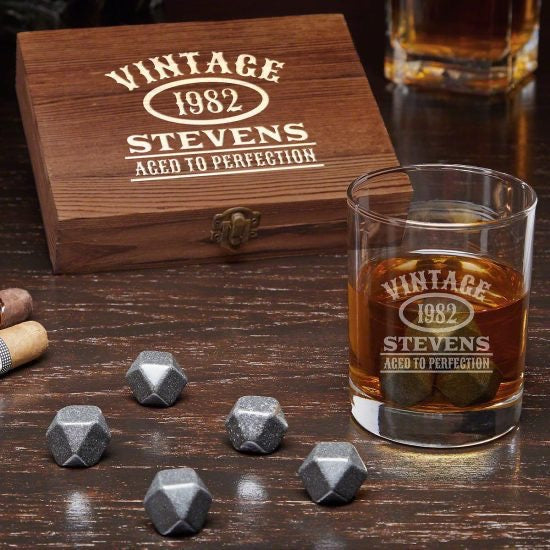 There's nothing like a glass of aged whiskey, especially if it's a decade or two old! With this set, every glass will feel like top-shelf 15-year-old whiskey even if it isn't. The unique whiskey stones will chill his drink but won't affect the flavor so that he has the perfect sip every time. The fun vintage engraving on the glass and box set of whiskey stones is just the cherry on top of this cool whiskey gift set. Ideal for dad, grandpa, or your husband who enjoys whiskey.
Light-up Grilling Spatula
Guys love cool gadgets, and this unique grilling spatula is a must-have for every guy! The handy flashlight allows him to see what he's cooking more clearly, especially if he's cooking in the late evening. Pair this handy grilling tool with a new spice or seasoning set and you've got a great birthday gift for dad or your husband!
Giant Beer Mug for the Men Who Love Their Beer
Your dad loves to relax in his recliner and drink beer while watching football on TV. However, he hates having to get up to get another beer because he doesn't want to miss a moment. He usually just asks you for another beer when you happen to walk by or waits for halftime, but why should he have to? Help your dad relax with a gigantic beer mug that holds 1.5 bottles of beer! It will cut down his fill-up breaks in half. You could also get him a mini fridge so that he never has to leave his chair during the entire game!
Way Too Cool Liquor Flask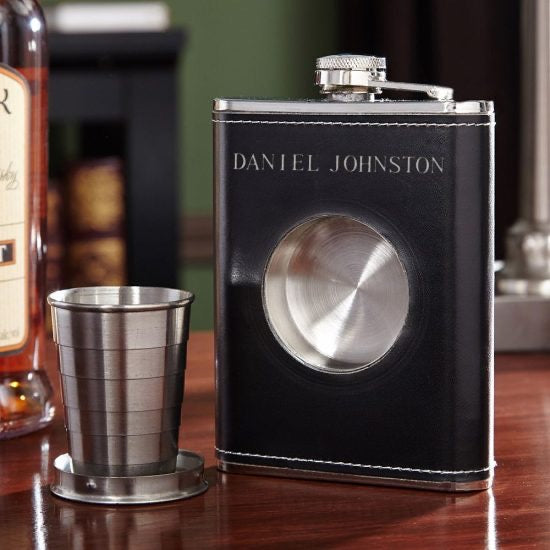 This unique flask has a handy collapsible shot glass that fits within the center of the flask so that he can pour himself a glass whenever he likes! How cool is that? He'll love using the flask when he's out fishing with family or at poker night with the guys and will enjoy showing off how awesome it is to everyone.
An Incredibly Cool GoPro
It may look small, but the Rylo camera has high-tech capabilities you can't imagine. Forget 4K, the Rylo has 5.8K resolution, 360 degree video, ultimate stabilization, and is very easy to use. Your guy can easily record his entire bike ride, attach it to his dog while they play fetch, or to capture his first skydive. After his adventure, he can plug the Rylo into his phone and immediately edit, watch, and share his videos with the world. He'll love using this amazing GoPro!
Custom Bar Sign
Whether he already has a home bar or wants one, this rustic wooden sign is a great gift idea for men. He'll proudly hang his official bar sign for all of his buddies to see when they come over for beers and football. This sign would make a great birthday or holiday gift for your boyfriend, dad, husband, or brother.
Sail Away with This Amazing Decanter
This handsome decanter brings "ship in a bottle" a whole new meaning! Inside the unique decanter is a hand-blown, finely-detailed glass ship that sails through his rum or whiskey. The handy spigot dispenser makes it easy to serve guests, and will surely make him feel like a pirate every time he uses it. The rustic style of the decanter will go with any decor whether he chooses to have it in his home bar, home office, or dining room. Is this a cool gift idea for men or what?
Cool Personalized Travel Mug for His Morning Commute
Does your brother or dad often come home exhausted and frustrated from his long commute? The poor guy has to get up extra early just to beat traffic, and it doesn't help that they've started construction right in the middle of the interstate. Help him out by giving him an insulated travel tumbler so that he has more than enough coffee to get him through his commute to and from work! This custom tumbler can hold up to 32 ounces and will keep his favorite brew piping hot for hours on end. Thanks to you, he'll be more awake and energized for the day!