Just as soon as you've finally found a suitable gift for your husband for your anniversary, Father's Day rolls around, then your son's birthday, then your uncle's retirement party, and before you know it it'll be Christmastime and you have to buy them ALL another gift! Finding a suitable gift for a man definitely isn't a simple task, especially when gift-giving occasions come around so often, but we've pretty much cracked the code. The best gifts for men need to be one-of-a-kind presents that make them feel incredibly cool and that they'll definitely put to good use. Trying to find the perfect presents that fit this criteria can be tough, which is why we're here to help you out! We've found the greatest gift idea for men that will have you totally on top of every rapidly-approaching gift-giving occasion.
A Glassware Twist Best Gift for Men
Don't let another gift-giving occasion go by without giving him the gift of his dreams—this whiskey decanter set! The stunning, personalized decanter will look incredible on his home bar or bar cart, inviting him to pour a glass of his favorite spirit and enjoy a fantastic drink. Whether it's his birthday, Father's Day, or Christmas, this aesthetically pleasing set makes a phenomenal gift idea for him.
A Personalized Sign He'll Enjoy Forever
Wow him with a gift that's not only personalized just for him but is something he can enjoy looking at daily! This custom wood billiards sign is an excellent gift idea for men because it makes their game room even more awesome or even gives them an excuse to make a game room in their home! Any man will love how this sign looks and how inviting it makes the space feel to family and friends.
Every Vice He Has in One Gift
Don't let another occasion go by where you get your husband or dad a typical, non-unique gift. This ammo can gift set is the absolute opposite of a typical gift! This amazing ammo can gift set is an incredible gift idea for men because it's one-of-a-kind and will help him enjoy some of his favorite things. The ammo can is perfect for storing his own live rounds, cigar accessories, fishing tackle, or anything else he wants, and he'll love relaxing with a glass of his favorite spirit and a cigar using the glassware and cigar tools.
A Stainless Steel Gift Idea for Men
A handsome set of glassware is sometimes all you need to make a man happy. However, when it's a stunning stainless steel set like this one, he'll have no choice but to instantly fall in love with this gift! This tumblers gift box set that lets him indulge in his favorite beverages better than ever before. The classy personalization sets this set way apart from any other gift he's ever been given for Christmas, his birthday, or his anniversary.
Most Manly Cigar and Whiskey Set
Sometimes, the best gift for men is the most manly gift you can find. This cigar and whiskey gift set is dripping with masculinity and is certain to make any man feel like the manliest man around. He'll be a huge fan of the classy cigar accessories that make enjoying stogies better than ever before, and the uniquely-shaped and customized whiskey glasses will be the only ones he wants to use from now on.
499+ AWESOME GIFT BOX SETS FOR MEN>
Ultimate Snack Pack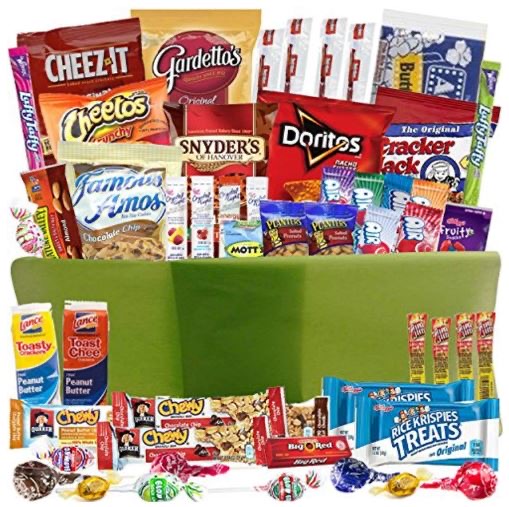 The best gift for men doesn't have to be something complicated. Sometime, it's simply something that they can indulge in! The perfect example of this kind of gift is this huge sweet and salty snack gift basket! Any man will be so excited to have so many snacks to eat for the foreseeable future!
He Makes the Rules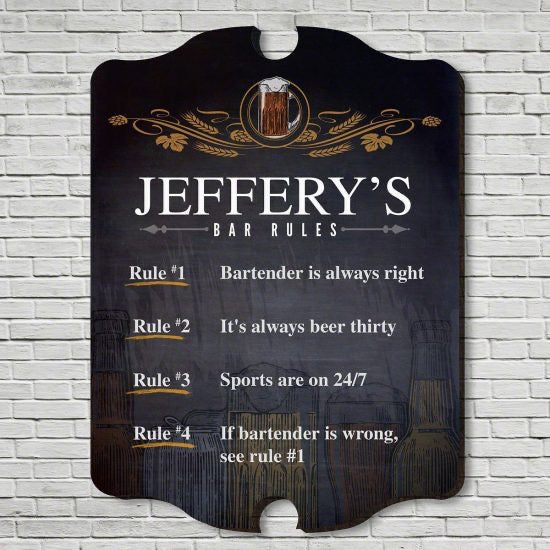 "My bar, my rules." That sounds like something he could say, and he definitely will after you get him this awesome personalized bar sign! He'll love joking about how he's in charge of the space as everyone abides by his rules, and he won't be able to imagine the home bar without such a cool sign inside.
A Presentation Present
One of the two most important characteristics of a gift idea for men is that it is both useful and classy. That's what this glassware presentation set brings to the table! The guy you're shopping for will love how classy they feel being able to pour themselves a glass without having to get up from the couch. On every special occasion, having a drink to celebrate with this sophisticated set will be perfect. They won't be able to stop admiring its attractiveness as it sits on the home bar or coffee table, decanter filled with their favorite scotch.
Best Gift for Men for Cutting and Cooking
Men who can cook pride themselves on their meal-making abilities. Make sure he knows you're proud of him too with this personalized cutting board! He'll feel like a master chef using a cutting board that's engraved with his name and initial. It'll make his time in the kitchen even more enjoyable because of how awesome it is, and it functions as a cool piece of decor when he's not using it!
Make So Many Meals
Speaking of men who like to cook, this men's recipe cookbook is a terrific gift idea for men because it's filled with awesome recipes he'll have a blast making! He'll love using this gift to improve his cooking skills so he can make himself and his loved ones the most delicious meals he's ever made!
Canned Goods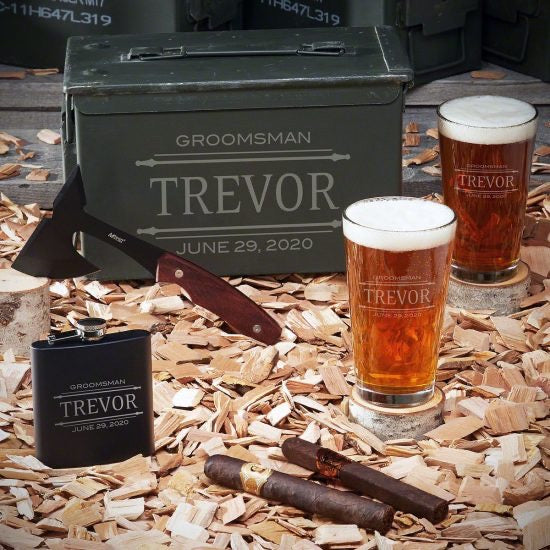 Is it possible to pass out because of how cool a gift is? If it is, make sure there's a couch nearby when you give him this ammo can gift set! Not only is the ammo can personalized just for him, but he'll love how many different things he can do with it, such as storing his own ammo or gardening equipment. Whether he is in the great outdoors hacking away at a tree with his hatchet or inside relaxing on the couch, he'll love getting a refreshing drink from his flask or pint glasses.
Store His Memories
It doesn't matter if he's a true stogie aficionado or just enjoys the occasional cigar, he'll love receiving this gift for any holiday or occasion! This customized shadow box is the best gift for men because it's the perfect place to keep those fancy-looking cigar bands! He'll love showing them off up on the wall in this handsome box.
Gift Idea for Men Who are Boys at Heart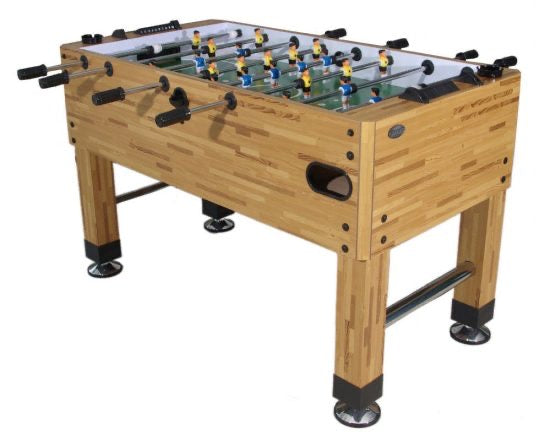 Inside every grown man is a little boy, and all that little boy wants to do is compete in fun games all day long! This awesome foosball table will help your dad, husband, or even grandfather embrace that side of them. They'll have a blast challenging their family members to game after game of foosball, and he'll be very thankful for this gift that lets him have so many fun experiences.
Super Masculine Gift Set
Because he's such a masculine guy, you want to get him a manly gift. This whiskey glasses and axe gift set is the best gift for men because he'll feel at his manliest when he's both using the hatchet to chop through trees in the great outdoors and then using the stately, personalized glasses to enjoy a manly glass of chilled scotch. Nothing will make him happier than this awesome, rugged gift.
Test His Poker Face
There's almost nothing he'd rather be doing than playing a game of cards, whether that's poker, rummy, blackjack, or any other game. This personalized poker set is an amazing gift because it gives him absolutely everything he needs to play whichever card game he wants with friends and family. He'll be so excited to have them over for a game night!
Classic Tech Gift Idea for Men
A classic tech present is often the perfect gift idea for men. You can't go wrong with the high-tech Apple iPad! He'll get so much use out of this gift, from playing games to watching his favorite movies to completing work tasks. He'll really appreciate this high-tech gift that he can enjoy every day!
Custom Sign For His Space
Men by nature need their own space. That's why this custom wooden man cave sign is the perfect gift for any guy, no matter the occasion! He'll love having his name on this sign that's hung up in his man cave, bedroom, home bar, or anywhere else he considers his own personal space. It'll let everyone else in the home know that the space belongs to him!
321+ HANDSOMELY ENGRAVED HOME SIGNS>
Because He's an Absolute Legend
He is a legend in your eyes, he deserves only the most unique and awesome gifts. That's why this personalized whiskey box set is an excellent gift idea for men! He'll feel so legendary seeing his name engraved on the box along with the super unique glasses and stones. It'll make him so happy that you see him as a legend worthy of such a gift!
Versatile Blazer
He deserves to look and feel his best all the time. With this slim-fit blazer, he'll feel like the flyest guy around! He can dress his blazer up or down, so whether he's headed into a business meeting or out on a date night, he can sport his new favorite clothing item.
Glasses and Tools? Yes Please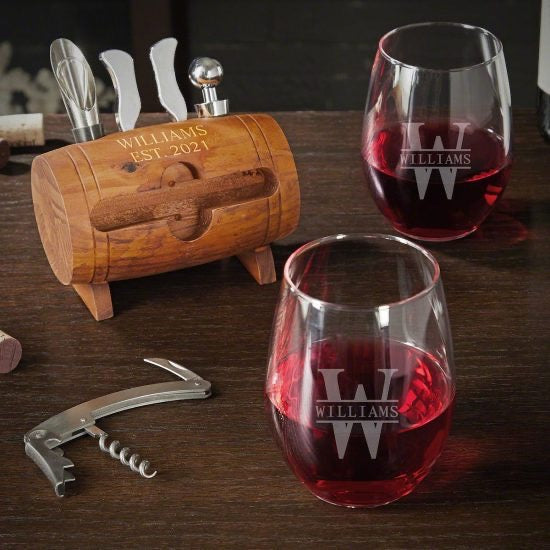 From the avid to the occasional wine-drinking man, this wine gift set is the absolute greatest gift idea for men. They'll really like how the personalization on the glasses make them feel so special, and they'll get a kick out of the unique barrel with their own personal wine tools. Any time they want to celebrate a special occasion with you, they'll take out this amazing set and have a glass of wine with you!
Best Gifts for Men at the Grill
Men pride themselves in their ability to grill up the most delicious brats, burgers, pork chops, and any other grilling staples that his friends and family have ever tasted. With this personalized BBQ tool set as the perfect gift for him, he'll feel more comfortable and skilled at the grill! Now, whenever duty calls, he can be ready at a moment's notice to make some of the best food any of his friends or family have had in years!
Raise His Glass to This Gift Set
What happens when you combine everything a man could ever want with your desire to find a truly unique and special gift? You get this whiskey stone set! He won't be able to stop talking about the coolest gift he's ever received and how thankful he is for it. When he's celebrating a special occasion, he'll love raising one of these awesome glasses and toasting with it!
Tools Galore!
Men tend to be tool lovers and collectors, always wanting to be prepared for whatever they'll have to fix next. This wheeled tool chest is an incredible gift that will make any man's jaw drop! He'll greatly appreciate how there's enough space inside for any tool he could ever want and even for a few he thought he'd never need. He will almost look forward to something breaking just so he can fix it!
Best Beer Sign and Best Gift for Men
Maybe he has a home bar he has been working on or maybe he's always wanted to start one. Either way, this custom home bar sign is the perfect gift for him! It'll make the space really feel like his own, which he'll really like, and it will also make it feel like a real bar!
His Own Personalized Tools in a Can
A man's got to have his own tools. That's what makes this ammo can set the best gift for men! He'll love how handsome and rugged the ammo can is and how awesome it is for storing repair tools, carrying ammo, or anything else he wants! The awesome knife and hatchet are sure to come in handy on many occasions as well, such as when he's opening a package or chopping up firewood.
Highest Caliber Gift
A unique gift that looks totally awesome and serves an important purpose? What could be better! This gun and target alarm clock is a humorous gift that will help your husband or son wake up on time every morning! Before the alarm goes off, they have to use the gun to point and shoot the bullseye! They'll get a kick out of this gift and appreciate the help waking up!
His Favorite Beverage in His Favorite Beverage Container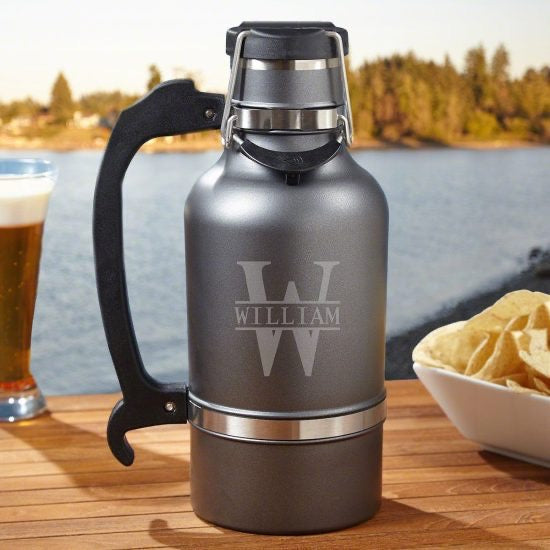 Men aren't complicated people. Sometimes, all they want is their favorite drink in the perfect container. That's why this personalized gunmetal growler is the best gift for men! Whether they store piping hot coffee, delicious cold beer, or any other drink inside, they'll love having it for when they're on the go, in the office, or anywhere else.