Finding a truly awesome Christmas gift for a guy can be an uphill battle. He's too old to make a Christmas list. He said he doesn't need anything, but you know that's true. All you need to do is get a gift he will use year-round, shows how much you care, and will make him smile as he unwraps it. It's okay to have some questions before you dive in. Are there Christmas gifts that work for husbands and family members? What kind of price range is there for awesome Christmas gifts? Are there gifts I can surprise him with? This gift guide takes care of all those questions so you can easily find a gift that your guy will never forget.
Engraved Decanter Presentation Set
This Christmas it's finally time to let your man serve drinks like an adult. This monogrammed presentation set comes with a personalized decanter, serving tray, and four rocks glasses so your guy can properly serve all of his guests his liquor of choice. This is one of those Christmas gifts for him that is perfect for a nightcap with friends and family.
Rustic Flask Set for the Holidays
The holidays are a joyous, but stressful time. Giving your boyfriend or husband a sleek looking flask set is one of the Christmas gifts in 2018 for him that will bring a wide smile. This past year a flask would have come in handy several times while your guy was on the golf course or out and about. Now he can end this year with the gift he always needed.  It even comes with two stainless-steel shot glasses so he can toast to the holidays with anyone else who wants to share a delicious shot of liquor during the holiday season.
Legendary Ammo Can Gift for a Legendary Men's Christmas Gift
Imagine the look on your guy's face when he unwraps his present only to find a genuine, U.S. military ammo can beneath the paper. He'll be even more thrilled when he sees whiskey stones and a pair of rocks glasses personalized just for him. There's even enough room for you to add a bottle of his favorite whiskey to get him started and give him an idea of all the cool things he can store in this unique Christmas gift idea.
Personalized Bar Sign for Christmas
An amazing Christmas gift for guys is something that accents one of his favorite places in the home. A personalized brewery sign is ideal if your boyfriend, husband, or brother has a home bar, man cave, garage or office. It lets everyone in the room know that this is a place to gather for good drinks and good times. This gift will bring the same joy and warmth from the holidays into his life year round.
Personalized Moscow Mule Boxed Set
One of the best things about the holidays is sharing a drink with your closest friends and family. These copper Moscow Mule mugs are awesome Christmas gifts for him because he'll be able to share one of the world's greatest cocktails with anyone he chooses. The copper mugs have a wintery feel to them that will keep the drinks cool while being served how they were meant to be. The gift box they come in is handsome enough to be displayed anywhere the home. Your guy could even repurpose the box to store ties, watches, or whatever he likes inside.
Complete Whiskey Stones Gift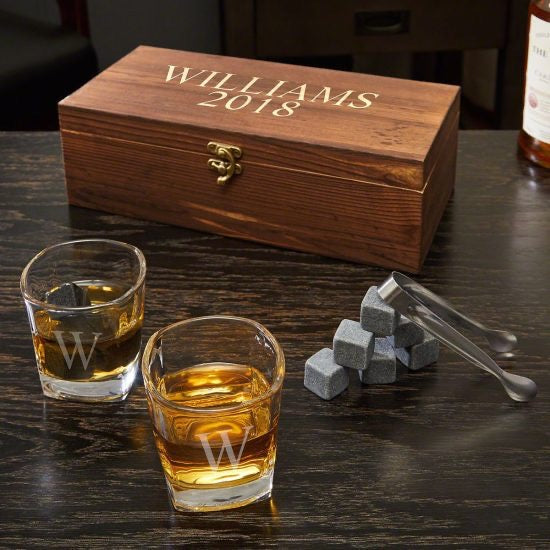 Any man that loves whiskey will appreciate personalized whiskey stones year round. It's one of those perfect Christmas gifts for men because the included whiskey glass is ideal for savoring each sip of whiskey. The stones will ensure his whiskey is chilled and never watered down ever again. He'll enjoy trying old favorites and discovering new whiskeys with this cool gift.
323+ MORE WHISKEY GIFTS FOR HIM>
Birch Box Subscription
Every guy appreciates looking sharp and spiffy whether they admit it or not. One of the cooler Christmas gifts for men out there is a subscription to Birchbox. Every month he'll get a box carefully curated to ensure that he always looks and smells like his best self whenever he enters the world. It will give him a whole new level of confidence that he'll carry with him wherever he goes.
Monogrammed Beer Snifted Glass – Great Christmas Gift for Guys
Beer connoisseurs search high and low for ways to perfect their drinking experience. That passion shouldn't go ignored this holiday season and throughout next year. A snifter glass is great at bringing a beer's full flavor to the forefront of any palate. Whether he's into stouts or golden ales he'll still think this is one the best Christmas gifts for him that he's ever gotten.
Custom Wine Decanter for Wine Lovers
What's a Christmas dinner with a glass of wine? Someone put a lot of effort into making sure the food, table settings, and arrangements were perfect. The same amount of effort should be put into the wine. Even the nicest bottles need to be aerated. An engraved decanter will ensure everyone gets a nice glass of wine and your guy will love showing off his latest Christmas gift. It's even great to give on Christmas Eve so the wine will be ready for Christmas dinner. He won't even drink another glass of wine again without pouring it in the decanter first.
All the Vices Gift Set for Men
Christmas is a time for celebration, so why not let your man celebrate his favorite vices? With a bottle opener, Zippo-style lighter, personalized rocks glass, and flask all housed in an attractive wood box this is one of those Christmas gifts in 2018 for him that he'll keep dipping back into again and again. He worked hard this past year, now he can finish 2018 in style and refinement. He'll never be unprepared to enjoy a beer, liquor, or cigar ever again. He'll probably make rounds seeing if anyone needs a drink so he can have a reason to use his bottle opener right away.
Regal Crested Cigar Flask
Some of the most memorable Christmas gifts for him are more than what they appear on the outside. It's true that your man will relish in finally having a flask to bring with him golfing, camping, or wherever it's needed. The pewter crest on the front gives this flask a regal appearance which he'll also appreciate. But the real surprise is the little flap on the side that can hold two cigars. Throw a couple in there for another Christmas gift idea and give him something else he'll love to unwrap this holiday season.
Complete Marvel Phase One Collection
Even if your boyfriend or husband thinks Thanos did nothing wrong, he will still marvel at this 10-disc gift set of the first phase of Marvel films. While he will enjoy watching the films again and again, the packaging is the real jewel of this gift set. Everything is contained in a stylish briefcase. Upon opening it your boyfriend will find the Tesseract. He may not have all the infinity stones, but this is one of those Christmas gifts for him that's close enough.
Engraved Bloody Mary Glasses
One of the best cocktails for the holiday season is a Bloody Mary. It's not just because it's delicious. It also shines through with vibrant Christmas colors. The enticing red of the cocktail paired with the striking green celery stick is sure to instantly transport your man into a festive holiday mood. And if the appearance doesn't do it, then he'll definitely get there by the time he finishes the cocktail. This glass can be personalized just for him, so he'll be able to enjoy his favorite holiday cocktail with a glass that's perfect for the season. It's also good year-round, so your guy never has to stop enjoying a Bloody Mary.
Unique Brandy Snifter Set
If you're struggling to think of a spectacularly awesome Christmas gift for him then you might want to consider a gift that completely elevates something he already loves. This brandy snifter warmer is a simple, but ingenious gift. Your guy will love the way this kit invites him to drink when the aroma of a warmed brandy or cognac wafts through the air. He'll become obsessed when he gets first sips and notices all the hidden character that was unlocked just by warming his drink with this set. It comes with everything you need so your man can have a warm drink to keep him warm during the holidays.
Beer Christmas Gift for Dads
Don't get your dad a last minute Christmas gift. Get your father one of those Christmas gifts for him that shows you really care. This beautifully engraved box includes your birthdate as well as all your siblings. Inside he'll find four matching pint glasses and a handsome beechwood bottle opener. After all those years of drinking straight from the can, your dad will finally have a cool way to enjoy a beer. There are enough glasses for him to share with all of his family. With their birthdays on everything, you might even be able to have your siblings chip on this cool gift.
Fly a Fighter Jet for Christmas
If your guy spends his day refreshing newsfeeds for updates on Top Gun 2 then he will lose his mind over this gift. If you're wanting one of those Christmas gifts for him in 2018 that will make the year go out with a bang then getting him a real-life fighter pilot experience is something he will never forget. He will even be allowed to take control of the fighter jet in the air and perform combat maneuvers. This may lead to him wearing bomber jackets and aviators at inappropriate times, but as his Goose you should be okay with that.
Manliest Holiday Gift Set
What's manlier during the Christmas season then chopping down your own Christmas tree? Now you can give your man the chance to conquer the woods with seasonal cheer with his personalized tomahawk gift set. The tomahawk is packed in a 50-caliber ammo can that's engraved with two lines of your choice. It also houses an engraved pint glass and cigar-flask so your guy can have that extra boost of confidence he needs to become a Yuletide Paul Bunyan.
Ticket Stub Shadow Box for Collectors
One of the best parts of the holidays is building memories with those closest to you. A personalized shadow box is one of those Christmas gift ideas for guys that gives him just another excuse to build memories throughout the year. Your father, brother, husband, or any man in your life can save the ticket stubs from every concert, ball game, or convention he goes to. He'll love pouring over his collection and reliving those memories, especially if you were by his side. You could even throw in a couple tickets as a nice surprise and to get him started on his collection.
Handsome Decanter Set that Guys Will Love This Holiday
This holiday season get your man a gift that will stop him from drinking his liquor like he's still living in his fraternity house. One of the best Christmas gifts in 2018 for him has to be a liquor decanter set, especially after it's been customized just for him. He's gone years without one, that's why in 2018 it's time to finally introduce to intended liquor glassware. Your man will admire that he can finally put his liquor of choice in a proper decanter. The four matching rocks glasses will give him that level of sophistication he's always wanted from his drinking. He'll even be able to share with family members or when former brothers from his fraternity days come by the house.
125+ LIQUOR DECANTERS HE'LL LOVE>
Extra-Large, Engraved Cocktail Shaker for Holiday Cocktails
You can't be a proper host without the right tools. There's no sense in making cocktails if you're only going to be able to serve one to two people. Now, a giant personalized cocktail shaker sounds like one of those amazing Christmas gifts for him if your guy likes to play host and make sure everyone gets their drinks topped off. It's humorous and he'll still be able to show off his skills behind the bar and with this extra-large cocktail shaker everyone will be able to join in on the festivities. It's even engraved with your man's name and initial so everyone will know who to go to when they want to turn things up a notch. Your guy will love the attention it brings him and everyone else will love the drinks he concocts.
Swanky Wine Box Set
Don't just give the gift of wine this holiday season. Put that bottle of wine in a personalized wooden wine gift box that comes with every tool to ensure a premium wine drinking experience. Your guy will appreciate the extra effort you went to when he unwraps this gift. He'll love being surprised by the bottle inside and will look for other special occasions to store a new bottle in the box. Plus, when you wrap a bottle of wine it's pretty obvious what the gift is going to be. This way he'll never see it coming.
Beer Flight for Beer Lovers
What could be better for your man this holiday season then owning his own beer flight set? No longer will he have to spend hours standing in front of an open refrigerator paralyzed by an indecision of what beer sounds the best right now. This is one of those Christmas gifts for him that allows him to sample stouts, IPAs, sours, and pilsners all in one go. He'll love being creative pairing each beer with different foods, finding the best beer for gamedays, or whatever occasion he imagines. The hardest thing will be when he realizes he can't buy beer on Christmas because everywhere is closed.
Awesome Meal Delivery Service
Hello Fresh's meal delivery is one of those incredible Christmas gifts for him. They use the freshest ingredients possible so he can have vibrant and delicious meals. He'll learn a new skill set and expand his palate. Each meal serves two so you can both enjoy his labor of love in the kitchen. It's an especially nice gift for the holidays because it will allow him to unwind and share something he made with someone he cares for.
Timeless Wine Glass Set
While everyone's sipping on eggnog, your wine-loving boyfriend or husband shouldn't be left standing by the fireplace searching for some kind of holiday warmth. Get him a set of personalized, long stem wine glasses. The Rhone Valley design shows appreciation for wines origin and your guy will find the attention to detail endearing. He'll be thrilled to use these long after the holiday has passed. It comes in a set of 4, so he can encourage family or another couple to put down the eggnog and sample something from his curated collection. Your guy will bust out these wine glasses year-round anytime he has company over. He'll love no longer having to scramble for something to serve wine in with this cool gift.
Awesome Whiskey Cigar Glass
Some combinations were meant for one another. Peanut butter and chocolate. Christmas and ugly sweaters. Whiskey and cigars. Now, we can't help you with the first two, but we do have a solution for whiskey and cigars. This is one of those Christmas gifts for him that he doesn't even know he wants because it doesn't even know something like this exists. The freedom of having your whiskey in the same hand where your cigar comfortably rests is exhilarating. It's the perfect glass if your man loves playing cards, is always on his phone, or hates when both his hands are tied up.
Classic Decanter & Rocks Glass Set Guys Will Love for Christmas
A Christmas without whiskey is an empty celebration. Even your grandfather would agree. That's why a whiskey decanter set is one of those excellent Christmas gifts for him. Every man in your life from your grandfather to your mailman could use a whiskey decanter so they can proudly display their favorite spirit and have it at the ready whenever they choose to indulge. It even comes with two matching rocks glasses so they can enjoy their whiskey neat, on the rocks, or with a splash of water for that perfect experience.
Stainless-Steel Growler Beer Lovers Set
If your guy likes to take his beer on the go then a growler gift set is a really cool Christmas gift. Whether he's fishing, on the golf course, or just spending time outside this stainless-steel growler will keep his beer cool long enough for him to enjoy every drop. It even comes with a matching pint glass and bottle opener so he can upgrade his beer drinking at home. He could even take it to local breweries and get it filled any chance he wants. You could even plan a trip to a brewery to round out this year for an awesome Christmas gift idea in 2018.
Advanced Drink Smoke Box for an Unexpected Christmas Gift for Him
You can truly spoil your man with a Smoke Box Advanced Drink Smoker this holiday season. He will delight in taking his favorite spirit and adding spices, wood chips, or whatever he likes to give it a one-of-a-kind taste. There are countless combinations. The only limit is his imagination. He can even experiment with different cocktails. This is one of those Christmas gifts for him that is like no other. It's the ideal gift for any guy that likes to tinker, cook, spend time in the garage, or is always trying to figure out puzzles.
Eye-Catching Matterhorn Whiskey Glass
A whiskey glass should be as unique as the guy you're shopping for. This Matterhorn whiskey glass shows the mountain cutting through the bottom of the glass like the world-renowned mountain cuts through the skyline. That's why one of the best Christmas gifts in 2018 for him is something that reflects the bold way your man lives his life. He'll love the way the whiskey spreads across the mountain design and rests against the peak. He can even add a couple of ice cubes to chill his drink and give the illusion of the elements battling with the mountain. It's a glass so memorable that everyone will want to know where he got it.
Wi-Fi Light Switches by Switchmate
This holiday season give the man in your life a step toward the home of the future. Switchmate has crafted incredibly intuitive light switch covers that just install with a simple snap over an existing light switch. Your guy can set timers for any of the lights in his home. They can be set to turn on whenever he enters a room. He can even turn them on or off without ever having to leave the comfort of his couch. He won't have that robot butler he's always dreamed of, but he'll be one step closer this holiday season.
Personalized Beer Pitcher & Pint Glasses
This Christmas season don't forget about your guy's man cave or home bar. Getting him a gift for one of his favorite spaces is incredibly thoughtful present. A personalized beer pitcher and pint glasses are a fun way for your guy to serve and share whatever brew he has on hand. Beer never looks more inviting than when a pitcher is filled to the brim. Your guy will love sharing that experience with anyone who graces his favorite place in the home. Order some pizzas and make a night of it with friends with cold beer passed around for everyone.
Beer Cap Map of any U.S. State
One of those fantastic Christmas gifts for him this holiday season is a beer cap map of whatever state you choose. You can pick your current state, where you guys met, his alma mater's location, or whatever else you might come up with. He can collect and display the caps from all his favorite domestic, international, and craft beers. It's a really clever gift for any beer lover. You might just have to reign him when he fills up the first one and wants to collect all 50 states.
Improve his Golf Game This Holiday Season
If your guy tries to spend any free chance he gets on the links then this one of those Christmas gifts for him that will just keep on giving. Arccos Golf has built sensors that fit on the end of each club to give your guy real-time feedback into his golf game. It can track the distance to the hole, give real-time feedback on his game, and even comes with AI caddy to analyze his performance and mark ways he can improve the next time he goes out. This is the ultimate Christmas gift for any golf junky.
Dark Walnut Custom Beer Tap Handles
If your guy has always wanted a man cave then seeing him unwrap a custom beer tap handle is an incredibly fun way to give him the go-ahead on his dream project this Christmas. Crafted from dark walnut and tailored specifically for you guy, this is also an awesome gift if he already has a home bar, kegerator, or is a DIY brewer.  You could even get a set of 4 so he can keep separate beers on rotation all year for another great X-Mas gift idea.
Personalized Grilling Tools to BBQ All Year Round
Expanding your man's love of the grill is always one of those thoughtful Christmas gifts for him in 2018. He never spent as much time as he wanted grilling this year and now this gift will give him the excuse to grill for many years to come. This personalized grilling tool set has everything he needs to make sublime hamburgers, chicken, grilled vegetables, or whatever he prefers. It's even a great set for the avid BBQer. You'll never be at a shortage of delicious food in the home with this Christmas gift. Once he unwraps the present he'll likely scrounge through the fridge and freezer for anything he can use with his new gift.
Traditional German Beer Stein for Christmas
Everyone has their special Christmas traditions. Adding one more for your guy is a lot of fun and he'll really appreciate it when he realizes it involves drinking beer. This traditional German beer stein is engraved with two lines of your choice so you can make this Christmas gift for him even more perfect. The pewter lid is stunning and recalls the wintery lands of its origin. Your guy will love drinking any of his favorite beers out of the stein. He can even start holding a traditional Christmas toast with his traditional German beer stein every year.
Never Lose Anything Again with Tile – A Christmas Gift for Tech Loving Guys
Technology is truly a wonderful thing. You can show your man the proof when he unwraps these cool locator tiles. They're small and discreet enough to fit on anything: keys, wallets, bags. Anytime your guy has misplaced something with a Tile attached he never has to spend that agonizing time manically scrounging through the house. He'll simply open his phone or laptop and he'll see a GPS location of the missing item while it plays a comforting beep to guide him to its location. Not only is this Christmas gift cool but it helps your guy avoid any unnecessary stress in the next year.
Handcrafted Wooden Beer Caddy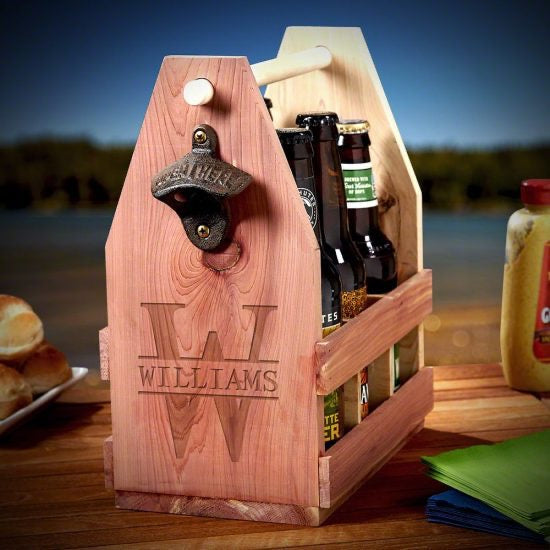 No one enjoys being stuck bringing a regular cardboard six-pack with the same beers inside. Sometimes it's fun to mix it up. A personalized wood beer tote is one of those ideal Christmas gifts for him so he can mix and match his favorite beers and take them with him on the go. Determined to grill in heavy snow? Pack a chocolate stout with a cinnamon inspired brown ale. Spending time by the pool? Put an American wheat between your summer shandy. It even has a bottle opener attached so he's never scrambling for a way to open each bottle. Most liquor stores have a section where you can pick out your own sick pack. It's a great way to get him going and much more fun to unwrap with a beer selection already available for him.
Steam Every Holiday Movie with Roku
It seems like every studio and company has their own streaming service available. It's almost impossible to keep up with all of it. Thankfully, Roku is here to make sure your guy can always find whatever he wants to watch wherever it's available. Their search function goes through every available streaming service so your guy never has to worry about what to watch ever again. They're also great about adding new apps so your guy never has to worry about missing out. With a simple install, everyone can curl up on the couch and watch whatever Christmas movie he wants with his new gift.
Incredible Home Globe Bar for a Sophisticated Christmas Gift for Guys
An excellent idea for a Christmas gift is bringing elements from the past into the present. This 16th-century style globe bar melds the home bars of old with a modern appeal so your guy can stylishly store all of his favorite liquors. Friends and family will love to gather around it and he'll be grateful to have an awesome place to store his liquor that isn't in the back of some cabinet. It's the perfect missing piece in a house or home office.
Engraved Stout Glass for Stout Lovers
Stouts are the beer go-to beer during the holiday season. There's a reason almost every craft brewery creates a seasonal stout during the winter months. Its dark, rich flavor is ideal for the season. A personalized Spiegelau stout glass is one of those amazing Christmas gifts for him if he loves stout beers. This glass was crafted to enhance a stout's flavor like you don't see in a traditional pint glass. Even a guy's favorite stout will seem brand new drinking from this glass. He won't want to use any other beer glass again.
Death Star Waffle Maker
A Christmas gift that celebrates his love of geek culture is sure to be a hit. This Death Star waffle maker makes the most delicious world killers your guy will have ever seen. With the distinct Death Star indentations, your guy will relish the chance to take a syrup bottle and trace his own version of the trench run. Just be prepared to have waffles for every meal if he's cooking.
Theater Experience at Home
Everyone has a favorite movie to watch around the holidays. Some people swear by Miracle on 34th Street. Others claim The Muppets version of A Christmas Carol is where the story was at its finest. Your man insists on watching Die Hard every year. Now you can celebrate his tradition with this movie night serving set. Customize the sign so it brings together the theater room and fill up the glasses and serving cups with everyone's favorite drinks. It's a wonderful Christmas gift for him if he likes having movie nights with friends, family, or is just a huge movie buff.
201+ BOXED SETS FOR CHRISTMAS>