37 AWESOME Christmas Gifts for Dad 2022
Dads are always the hardest people to buy Christmas gifts for. They always say "I don't really need anything," so you have to pay attention to when they actually say they need or want something. You want to get your dad something that he'll enjoy and use, so this year your present needs to be awesome. But what is an awesome Christmas gift for dad? Presents like electronics, drinkware, gifts with multiple functions, and personalized gifts are a few that come to mind. You might be wondering, "What makes an awesome Christmas gift for dad?" "What kind of gifts will dad really like?" "Are there useful gifts that will make dad's life easier?" This year, get your dad some really awesome gifts like a personalized beer glass set, a fancy whiskey decanter, an incredible liquor bar, and a custom whiskey gift set. These 37 AWESOME Christmas Gifts for Dad in 2022 will be the best gifts you've ever given that dad will love for years to come.
Whiskey Decanter Set for the World's Best Dad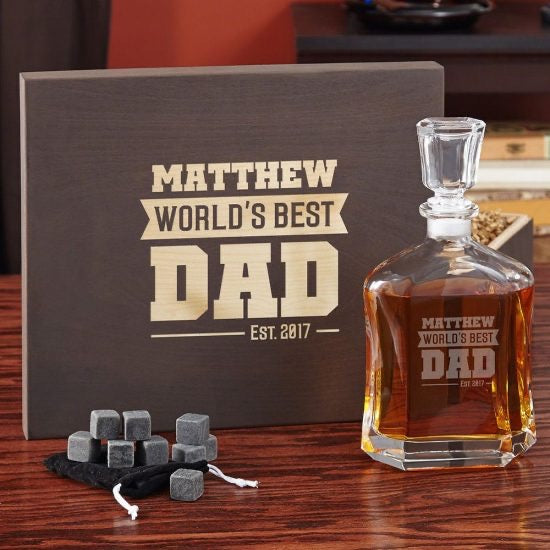 When your dad says he doesn't need anything, what he is really saying is that he needs this awesome World's Best Dad decanter gift set. He can display his favorite scotch, brandy, bourbon, or cognac in the cool and classy whiskey decanter. The whiskey stones will ensure that everyone's whiskey stays cool but not watered down. Finally, he can use the awesome gift box to display as a keepsake box for his whiskey glasses, cocktail tools, cigars, and more. Pair this amazing gift set with a bottle of his favorite whiskey, there is plenty of room in the gift box! Gift sets are great ideas for Christmas gifts for dad.
Globe Decanter and Glasses Set
If your dad travels a lot or just appreciates cool glassware, then this is the perfect gift for him. This incredible decanter and glass set is unlike any other. The entire set is engraved with the map of Earth, but the decanter has a really unique feature: a glass ship inside! This awesome gift will be your dad's pride and joy from this Christmas until the end of time. Everyone who sees it will marvel at how the ship "sails" when he spins the decanter around like an actual globe. This set belongs on display in your dad's office at work or home or his home bar area. Your dad can now enjoy his whiskey or scotch in the most luxurious way possible with this awesome set.
Awesome Gold Rimmed Beer Mug for Dad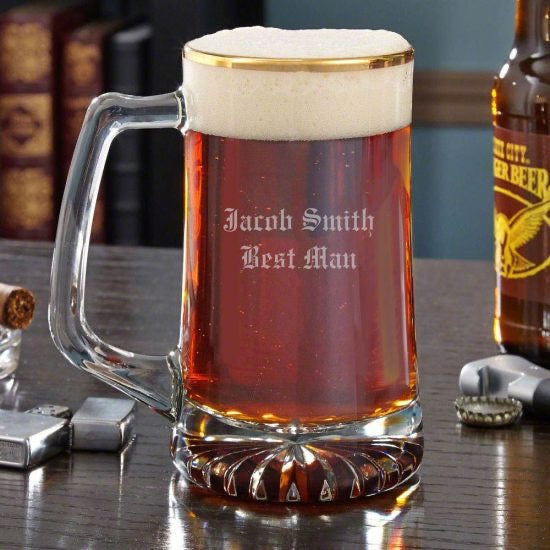 If your father is a beer lover but still appreciates the finer things in life, then he will love this gold-rimmed personalized beer mug. You can put any two lines of text you want on the mug, such as "John Smith, World's Best Dad" or "Coolest Dad Ever." The rim of the mug is dipped in 22 karat gold, a refined touch to this handsome mug. Your dad will feel extra fancy as he's drinking his beer either by himself in front of the television or drinking with his buddies during game night. Pair this cool beer mug with a six pack of his favorite brew and you're good to go for Christmas. This beer mug is awesome not only because of the personalization or the gold rim, but because it came from you. You knew he needed a new beer glass, and now you're giving him the beer mug to beat any other drinkware in your dad's house.
Grill Set for the Grill Master Dad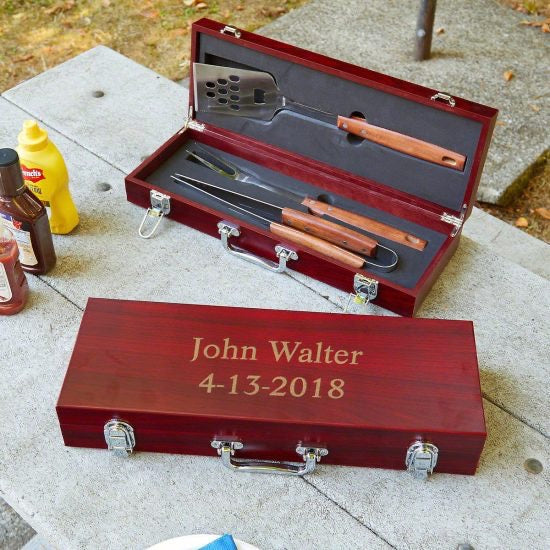 Is your dad known for being the best griller in the neighborhood? Or does he just love to cook? Either way, your dad will be a true grill master with this handsome grill set. Encased in a handsome personalized traveling case are the three essential tools for any grilling activity: a spatula, fork, and tongs. This awesome set is made of stainless steel with sleek wooden handles. Your dad will proudly whip out this awesome grill set at your next barbeque and be able to bring his tools without hassle over to your grandparents' house at your next gathering. Grilling tools always make some of the best Christmas gifts for fathers, especially if they are anything like this awesome professional set.
ustom Wall Sign for the Blessed Father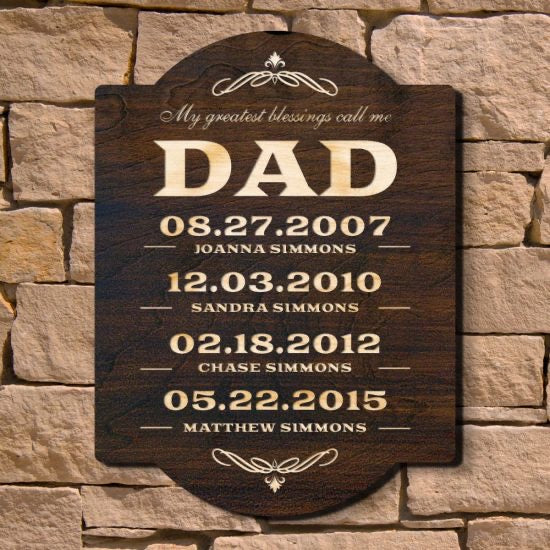 Every dad knows that his best blessings are his children, as they are the pride and joy of his life. Now he can display a list of his blessings' names and birthdays on this handsome wall sign. This custom sign will look great in the living room, den, or office. He'll surely never forget any of your birthdays again and treasure this lovely wall art forever. Personalized gifts about how awesome of a dad he is like this wall sign are some of the most popular Christmas gifts for dad in 2018.
243+ MORE PERSONALIZED SIGNS DAD WILL LOVE>
Tool Set for the Handyman
Tools may be a cliché gift for Christmas, but they are always appreciated and needed. This awesome 76 piece set has everything your dad needs to fix any problem at home whether it's a broken chair, loose screw, or putting together a new doghouse. This tool set is awesome because it has every tool your dad could possibly need for any project: 1 6 in. L nose plier, 1 6 in. slip joint plier, 1 8 in. adjustable wrench, 1 8 in. scissor, 1 8 oz. claw hammer, 4 precision screwdrivers, 4 nylon spring clamps, 9 in. torpedo level, 12 ft. tape measure, 1 utility knife, 5 replacement utility blades, 1 bottle opener, 1 magnetic bit driver, 29 screwdriver bits, 1 socket adapter bit, 22 hex keys, and 1 storage case. Need to fix that loose bolt on your bed frame? He's got an adjustable wrench for that. Need help putting together that new coffee table you got at Ikea but it is missing parts? He's got hex keys, a hammer, and a screwdriver to finish it. Need to figure out where you can put that new bookcase in your cramped room? He's got a tape measure to precisely find the right spot. Your dad's awesome new tool set will ensure that he is always prepared for anything from this Christmas until the next.
Awesome Dad Beer and Hat Set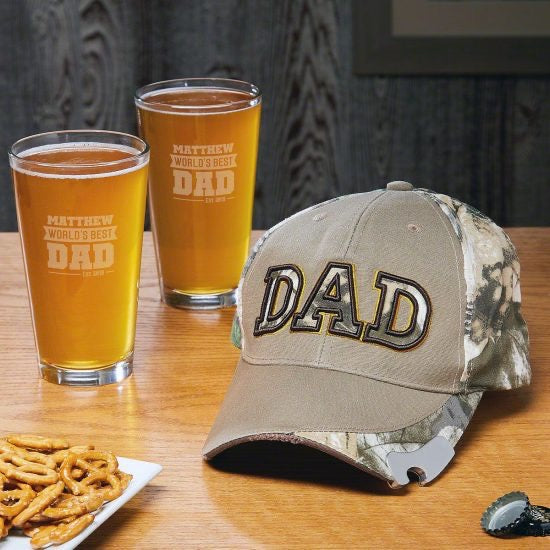 It's a commonly known fact that dads like beer. Make his beer time even better with this cool Dad gift set. With a nifty ball cap reading "DAD" along with a bottle-opening function comes two personalized pint glasses that say "World's Best Dad." Now your dad will always be prepared whenever he goes fishing or hunting with his friends but forgot a bottle opener for their celebratory beers thanks to the neat cap. The pint glasses are perfect for your dad to share a pint of beer with a friend and will become his go-to beer glasses because of the cool personalization. If this set is the epitome of your dad, then don't forget to include a six pack of his favorite beer to make this a really awesome Christmas gift for your dad.
Gold Rim Decanter Set for the Dad That Loves Whiskey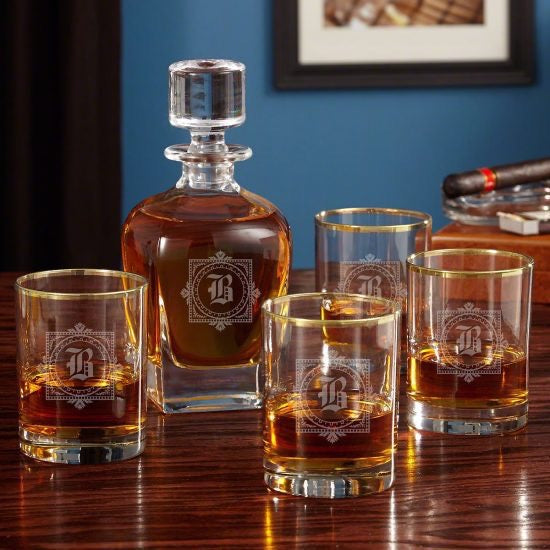 Is your dad a classy man who appreciates quality glassware? This awesome decanter set will outshine any other gift he gets this year. This beautiful set comes with a custom whiskey decanter and four 22K gold-rimmed whiskey glasses. Every piece in this set is engraved with a handsome design surrounding an initial of your choice. This amazing set deserves to be displayed in your father's home be it the bar area, lounge, dining room, or the kitchen. The elegance of this set will add a hint of luxury wherever it rests. Your dad can share a bottle of the finest (or cheapest) scotch in this gorgeous decanter set with his friends at their next get-together and they will feel like the finest gentlemen around. Awesome glassware like this incredible decanter set is ideal for your even more awesome dad this Christmas.
Cigar Shadow Box for the Dad Who Smokes Cigars
If your dad enjoys cigars, then he'll love this shadow box to store the wrappers. A unique way to show off his collection, your dad can store all of his cigar wrappers for years to come until it gets full. This shadow box is also personalized with his name, initial, and a year. Collection shadow boxes such as this make great unique pieces of wall art that are always interesting conversation pieces. Your dad can point out which cigars he smoked to celebrate special occasions such as a new grandbaby, a relative's wedding, retirement, and more. When he looks at this shadow box he can also remember the good times he had over those cigars with his friends and family. Shadow boxes are awesome Christmas gifts for dad as unique ways for him to store memories.
To Dad From Daughter Ammo Can Gift Set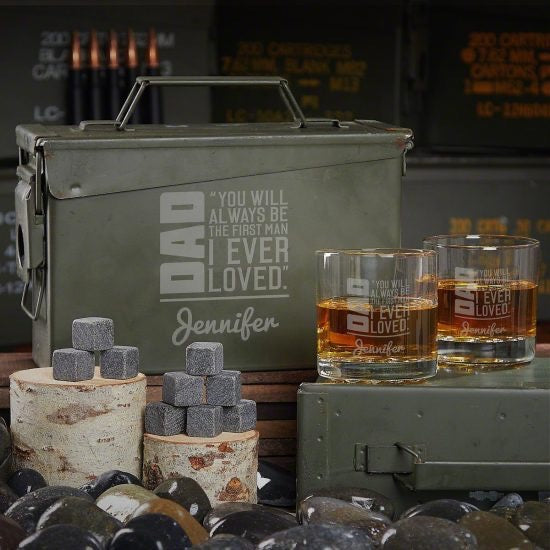 If you are a daughter who wants to give your dad something truly unique and memorable, then this is the Christmas gift idea for you: a personalized gift set engraved with "Dad: You will always be the first man I ever loved" signed with your name. The set comes with a genuine recycled military ammo can, 2 engraved whiskey glasses, and a 9 piece set of whiskey stones. Fathers and daughters have a special bond that is unlike any other, and this awesome set is a great way to celebrate it. Your dad can store ammo, work gear, liquor, or keepsakes in the ammo can as a reusable gift. He can share a glass of scotch with you or a friend and brag about how you're the best daughter to get him such an awesome set. Thanks to the whiskey stones, your dad's whiskey will never be watered down ever again. You could put the whiskey stones in dad's stocking and toss a couple of sample liquor bottles or other small gifts in the ammo can instead. Your dad will treasure this unique set and it will be a Christmas gift he'll never forget. This is a really good gift idea for daughters to give dads who are recently or about to be married as a father of the bride gift. This personalized gift set is a great way for a daughter to tell her dad how awesome he is. Military or law enforcement dads will especially appreciate this gift set.
Cutting Board for the Dad Who Cooks
If your father is the chef of the house, then he needs a quality cutting board. And not just any old cutting board, but a genuine hardwood cutting board that is engraved with his name and initial. Whether he is a professional chef or just enjoys cooking at home, he will love this awesome cutting board. The engraving will last forever, and you can also give him some board oil to ensure that it stays smooth and clean. Dad can use this to cut, chop, or season any kind of food and not worry about getting the counters messy. 
Cigar Glass for the Whiskey and Cigar Loving Dad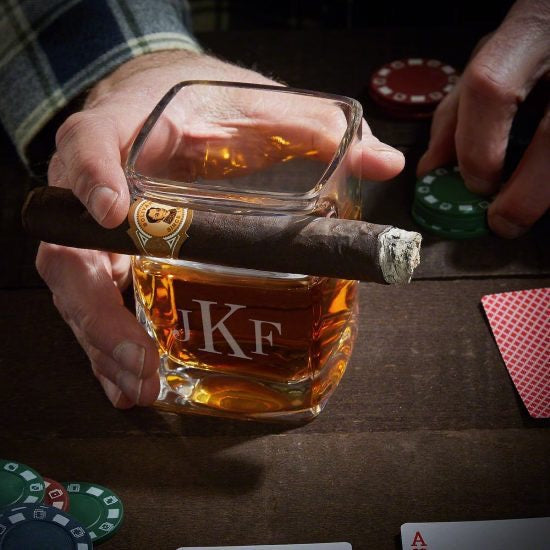 Looking for a unique gift for a dad that likes whiskey and cigars? Look no further! This cigar-holding whiskey glass is a revolutionary gift for dad that he'll rave about for years. This unique glass has a specially crafted space to hold most cigars so that he can drink and smoke his stogies all with one hand. It is also engraved with a triple letter monogram for a personal touch. Now your dad can play poker with his buddies with one hand and have his drink in another, making it easier overall for him to enjoy. Unique glassware such as this awesome whiskey glass make great Christmas gifts for classy dads, especially is he enjoys fine drinkware or indulges in the occasional nightcap. His friends will all be jealous and want one for themselves when he shows it off at their next gathering.
Keurig K-Elite for the Dad Who Loves Coffee
If your dad's lifeblood is coffee, then he needs an awesome coffee machine. Toss out the old coffee pot and bring in the new Keurig K-Elite. This Keurig has multiple uses: different beverage sizes, different coffee strengths, brews in under a minute, dispenses hot water on demand, and is compatible with a reusable coffee filter for ground coffee instead of K-Cups if he wishes. Now, he'll never have to wait for another pot of coffee in the morning, making his routine faster and happier. He can also have some soup or oatmeal whenever he wants without having to boil water thanks to the hot water on demand function. If he needs some extra strong brew after a sleepless night, he can adjust the strength of the coffee. This Keurig is the newest and most efficient model out there and is the perfect Christmas gift for any dad who loves and needs his coffee. You could set up the coffee maker in the kitchen on Christmas Eve and brew him some peppermint coffee for a nice Christmas surprise. Don't forget the bow on top!
eather Flask Set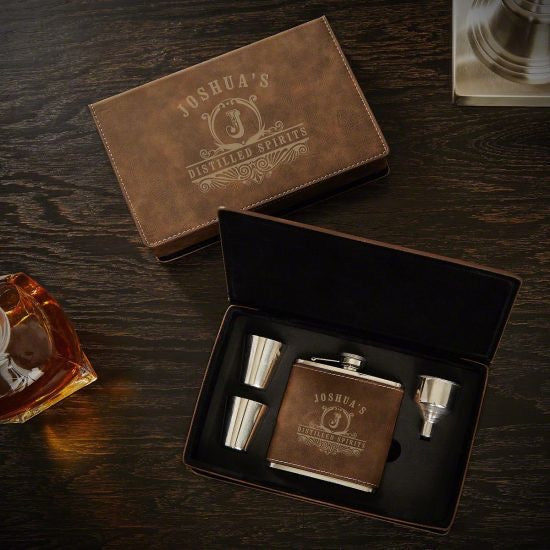 Does your dad enjoy fishing, hiking, camping, golfing, and other outdoor activities? Then he needs a hip flask! He can keep his favorite liquor at his side for a shot or sip whenever he wants as he's out adventuring. The set comes with a handsome leather gift box containing 2 stainless steel shot glasses, a funnel, and a personalized leather wrapped flask. The stainless steel flask is wrapped in leather that is engraved with his name, initial, and a phrase of your choosing, making a unique Christmas gift. When dad scores a hole in one or a big catch, he can celebrate with his friends with a celebratory shot of liquor thanks to this awesome hip flask set.
egendary Growler for the Dad That Travels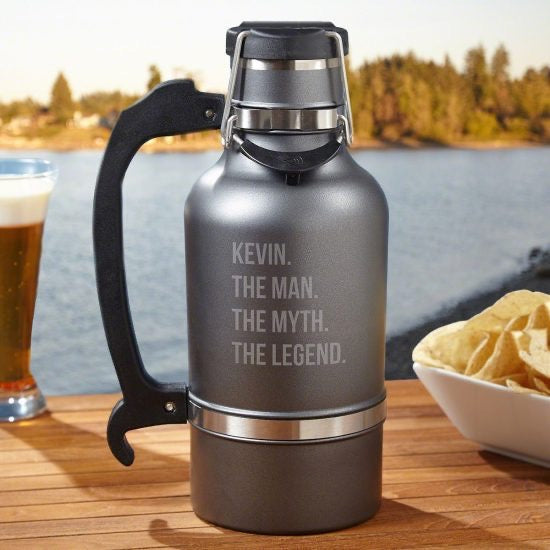 If your dad loves to travel or go on outdoor adventures, then he needs a quality growler to bring his beverages with him. Growlers that are double walled and made of stainless steel like this one keep a large amount of liquid cold or hot for hours on end, ensuring that beer stays cool or coffee stays hot whenever he needs it on his travels. This particular growler is engraved with your dad's name along with the phrase "The Man. The Myth. The Legend." Your dad will feel cooler than ever with this awesome insulated growler, and will love the handy carrying handle for easy transportation. Travel-related gifts for dads on the go are the best Christmas gifts because you know that he'll use them and appreciate that you made his travels a little bit easier.
eer Cap Map of Dad's State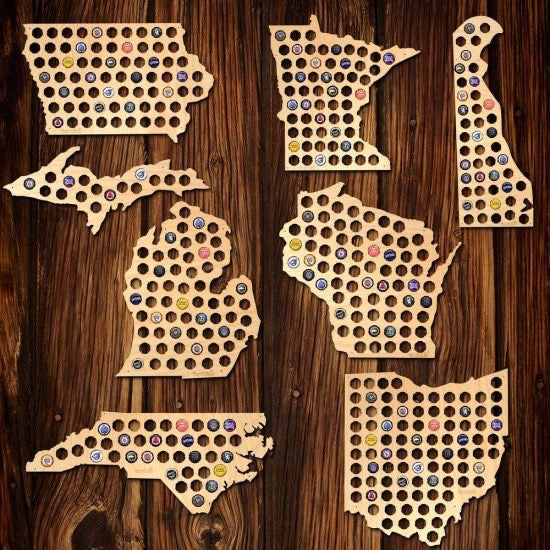 Does your dad like beer? Does he have a bottle cap collection yet or is ready to start one? A beer cap map is a great gift for beer-lovers who either already enjoy collecting bottle caps or want to start. These awesome beer cap maps are shaped like the state that he lives in, making it a unique piece of wall art as well as a different way to display his bottle caps. Dads who enjoy local beers will especially enjoy a beer cap map to remember where he got the beer and what kind for future reference. If he fills up the map by next Christmas or moves to another state, you can get him another one to continue his collection. Collection items are great ideas for Christmas gifts for your dad in 2018.
Wireless Headphones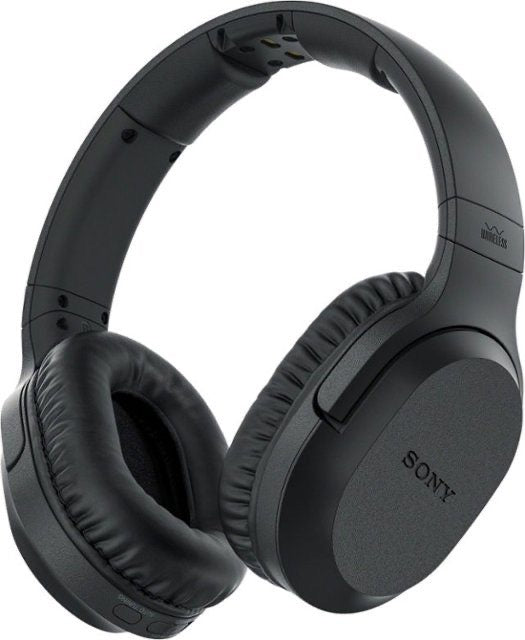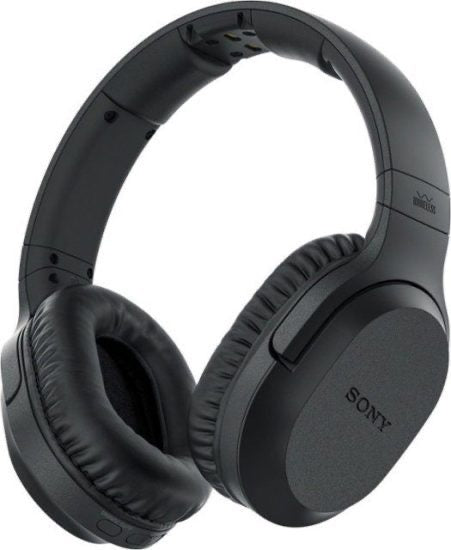 adphones are a great go-to gift for dads because they can be used for a variety of reasons. If your dad enjoys listening to music, audiobooks, podcasts, or watching movies at home or when traveling, then he'll surely enjoy a hands-free pair of headphones. These Sony headphones are noise cancelling and wireless, making his experience so much better. Your dad will now be able to listen to his tunes without hearing the noisy background of airports, coffee shops, or out walking. He also doesn't have to deal with pesky headphone cords getting tangled or caught in everything, which is always a plus. Headphones are awesome Christmas gifts for dads in 2018 and beyond as they are constantly improving the technology, making listening to anything so much better than with standard earbuds.
Aerating Wine Glasses for the Wine Connoisseur Dad
your dad prefers wine over liquor, then he will love these unique wine glasses. Specially crafted and hand blown, these awesome glasses are works of art that serve multiple purposes. The unique design not only makes these glasses easier to hold, but it also aerates red wine naturally. Your dad will now enjoy better-tasting wine than ever before thanks to the beautiful design of these glasses. Coming in a set of two, your dad can share a glass of cabernet with your mom or a friend. These glasses also make a lovely decoration when not in use. Dads who love their wine need good quality wine glasses, and these will outshine any other glasses he has.
A o Can Gift Set for Dad
your dad is in the military, law enforcement, a hunter, fisherman, or frequents the outdoors, then this awesome ammo can gift set is for him. Containing a handsome hatchet, large liquor flask, and a custom rocks glass inside, this tactical set is a great gift set for dads. Whether he's a hunter, officer, soldier, or enjoys outdoor adventures, this set has it all. He can store all kinds of gear in his ammo can such as ammo, camping gear, work equipment, or his liquor bottles. The flask holds 2 cigars and 4 oz of liquor, a great way to have a sip and a stogie whenever he wants. The handsome hatchet is a useful tool for various situations, such as cutting limbs to clear the roadway or when doing yard work at home, cutting logs for firewood, and a useful emergency tool for firefighters and police officers. The ammo can, flask, and rocks glass are engraved with two lines of text of your choosing. Gift sets like this one are awesome Christmas gifts for dad in 2018 because they have multiple items that have several different uses as a gift that is useful and treasured for years to come.
Wine Decanter for the Dad Who Loves Wine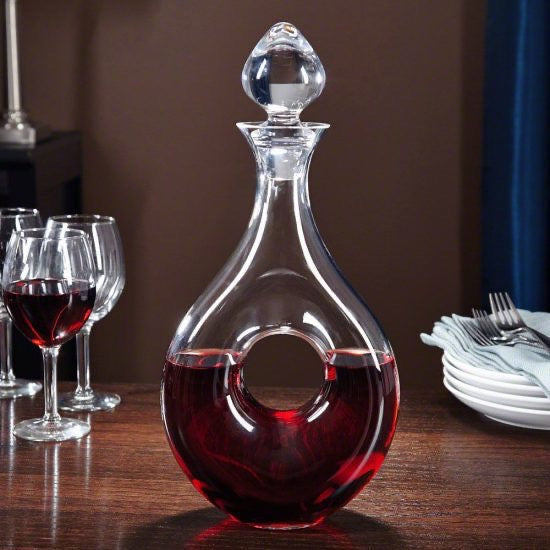 he enjoys wine, your dad will love this awesome wine decanter. Wine decanters are a beautiful way to display and aerate wine in a unique way. This beautiful decanter has a hole through the middle that serves as an easy way to grip and helps aerate red wine through the shape of the decanter. Your dad will feel like a really classy gentleman with this fancy wine decanter on display as it will add a touch of luxury to any room in the home. Pair this gorgeous wine decanter with his favorite bottle of merlot or cabernet to make a complete Christmas gift set.
Personalized Whiskey Glasses for Cool Dads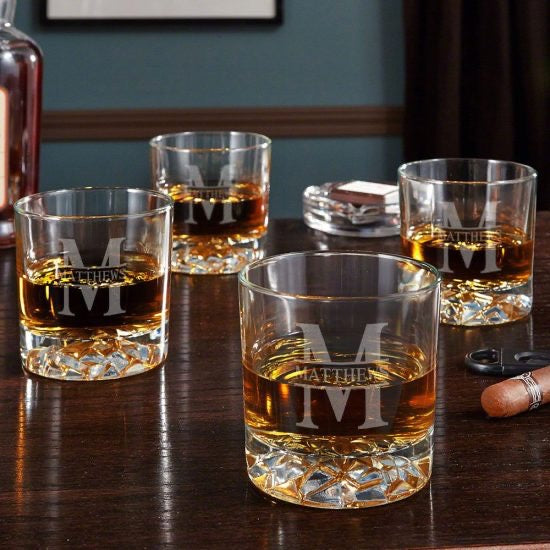 your dad is the cool, classy gentleman, then he needs an equally sophisticated set of whiskey glasses. Whether he enjoys a nightcap every evening or enjoys sharing a bottle of scotch with his friends, he will love these handsome whiskey glasses. The set of 4 will look amazing in his home or the office as an elegant display when not in use. The crackled ice base is a gorgeous eye-catching feature that everyone will be talking about. These glasses are awesome Christmas gifts for dad in 2018 that will blow everyone away. These glasses are especially great for 2018 because whiskey is more popular than ever, but these Christmas presents are unlike any other whiskey-themed gift that dad will get this year.
C tom Beer Tap Handle for the Dad Who Brews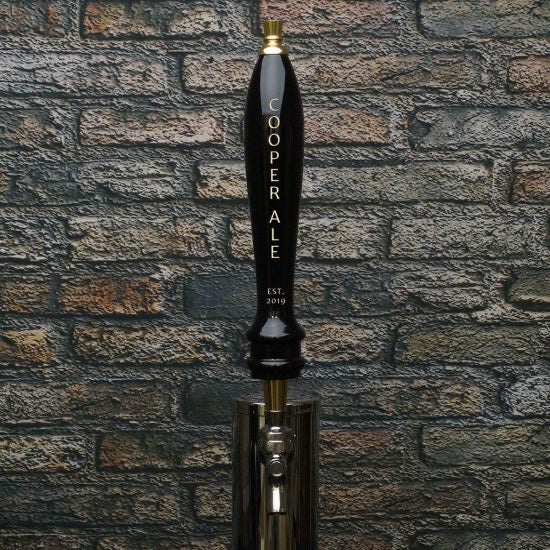 es your dad like having his own beer or a keg on hand? Then you should get him a custom beer tap handle! His home bar area or man cave will feel like a real bar. The handsome black handle is personalized with a line of text of your choosing along with a year in your choice of font and optional color fill. All dad has to do is hook it up to his kegerator or draft system and he's good to go. Now he can get his beer for himself and his friends like a bartender! Personalized gifts like this beer tap handle are the best Christmas gifts for dad in 2018 because they are unique and customized with loving engravings that will last forever. 2018 is the year that personalized gifts are trending, so make sure to give him a unique personalized gift or two to stay on trend.
Dash Cam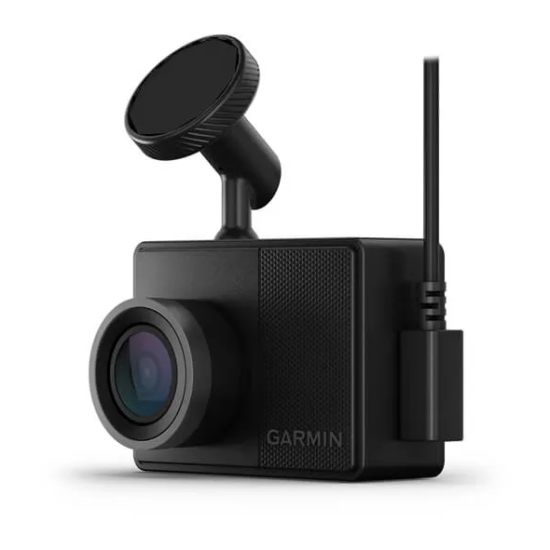 Dash cams are becoming more and more popular, and dads just love them. Your dad will love this cool car accessory to record his adventures, car karaoke, and capture the crazy things he sees on camera like a meteor or a pack of wild animals crossing the road. Dash cams are also really good for capturing car accidents to help out with insurance claims, and your dad probably likes to be prepared for that kind of thing just in case. Dash cams are great Christmas gifts because they are useful and interesting gifts that all dads will love and use all the time.
Martini Glasses for the James Bond Fan
your dad is a James Bond fan, then he's probably tried the famous Vesper martini. Give him a cool set of martini glasses to enjoy his favorite cocktail with his friends in while they watch the movies over and over again. These cool glasses are personalized with your dad's name and initial, adding a sophisticated touch. Add a bottle of gin or vodka to make it a complete gift set so he can immediately make a couple of Vespers for everyone.
Grilling Multi Tool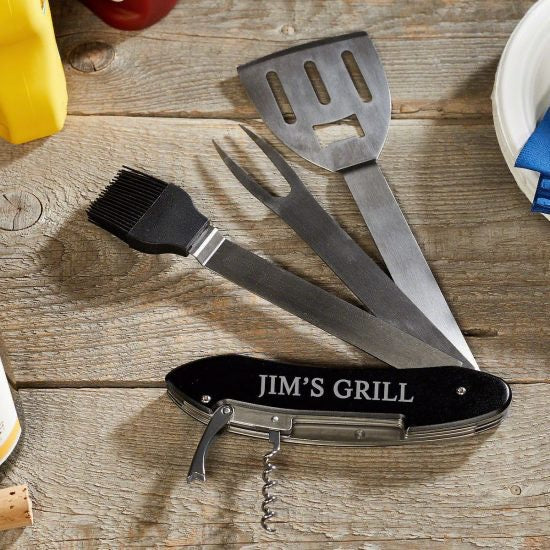 If your dad loves to grill, he needs something better than his regular old grilling tools. Give him a truly awesome Christmas gift this year: a multi tool with all of his grilling necessities. This neat gadget is designed like a Swiss Army Knife that has all of his tools in one place: a spatula, fork, basting brush, corkscrew, and bottle opener. If he needs to use more than one tool at the same time, the handle even separates into two pieces. Even better, the tool is personalized with a line of text of your choosing to make this awesome Christmas gift come straight from your heart. Your dad will love this cool grilling tool to make barbeque and open drinks all with one neat gadget at your next cookout.
R ipe Cocktail Shaker Gift for the Aspiring Bartender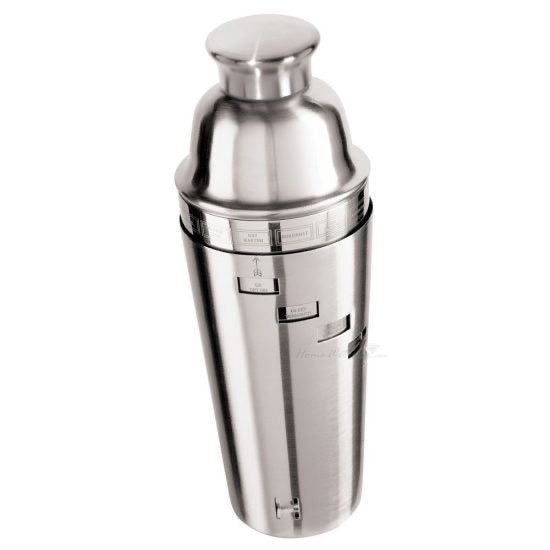 your dad likes to make cocktails but is always having to look up the recipes, you should get him this awesome cocktail shaker. Simply twist the shaker around until the arrow is pointing at the desired drink and the recipe is engraved right into the shaker! No internet or recipe required. This cool cocktail shaker is a very useful tool for dads who want to get into bartending at home or for parties and this shaker will make him look like an expert! Cool gifts like this cocktail shaker that have useful features like recipes or multi-tools are the best Christmas gifts for dad.
Whiskey Gift Set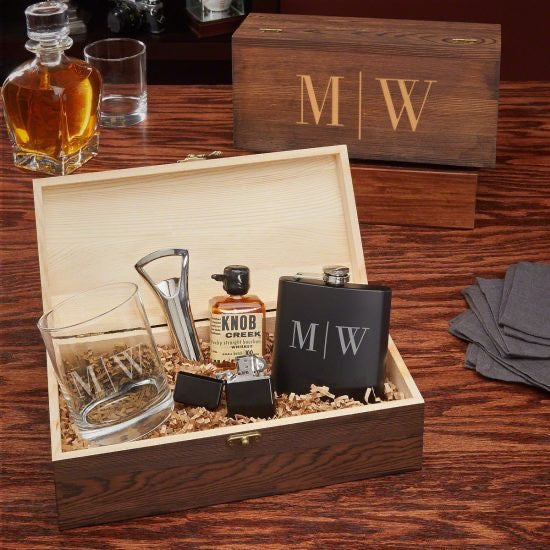 es your dad enjoy many different things in his leisure time? Then you should get him a gift set that corresponds to his favorite things. For example, if your dad enjoys an occasional glass of whiskey, smoking cigars with his buddies, cracking open a cold beer after working hard all day, and bringing his favorite liquor with him when he goes fishing, then this set has everything your dad needs. Inside the handsome personalized box are a matching engraved whiskey glass, a stainless steel bottle opener, a Zippo-style lighter, and a matte black liquor flask that can also be engraved to match the set. With this awesome set, your dad's favorite things are even more enjoyable. The rocks glass will become his new favorite and he will never be without his handy lighter or bottle opener when he needs them. He can bring the flask along with him on his outdoor adventures or to concerts, cookouts, and more. Dad can even use the gift box to store small keepsakes such as photos, cards, or bottle caps. Throw in a sample bottle of liquor to make this a complete gift set for dad. The variety of gift sets are the best part because it's really multiple gifts all tied up in one awesome present. Gift sets such as this one make the best Christmas gifts for whiskey loving dads.
Beer of the Month Subscription
your dad is a beer lover but you don't have a clue what to get him for Christmas, how about a beer subscription? Each month, your dad will get twelve beers: three bottles each of four different kinds. Your dad will have a constant supply of beer to try and share with his friends. Each delivery also comes with a newsletter about where the beers come from and what to pair them with, so it's educational too! Subscription services are ideal gifts for dad if they are hard to buy for or are the dad that has everything. This beer subscription is one of the most awesome Christmas gifts for dad in 2018 because it is an innovative but thoughtful gift that keeps on giving. 2018 is all about subscription services, and this is one of the best.
G be Bar for the Awesome Dad
your dad a man who appreciates the finer things in life? Is he always struggling to find a good place for his wine bottles and glasses? Give him the best of both worlds with this awesome globe bar! A gorgeous piece of decor that opens up to display a beautifully organized set of wine bottles and glasses makes this a truly special gift. It has plenty of storage for bottles both inside the globe and at the base of the stand. This incredible bar will add luxury to any room in his home and he will finally have a convenient place to store his wine. When the top is down, it just looks like a fancy globe! This bar is one of the most awesome Christmas gifts for your dad in 2018. This year is all about improvement, and this bar is both a decor and storage improvement that is sure to impress.
FitBit Charge 3 for the Dad That Works Out
your dad regularly exercises, you should get him a fitness watch. If he doesn't, there is no better time to start! FitBit just released their Charge 3, the first touch screen smart watch that is fully waterproof! That's right, now your dad can track his laps in the pool, cardio, push ups, calorie intake, sleep, and steps all with one watch. He can even wear it in the shower so that he never has to take it off except for charging. Your dad will love the sleek display that also allows him to receive notifications from most apps along with his text messages and phone calls. FitBits are awesome smartwatches that last a really long time, and this model is by far the best yet. Fitness trackers make great Christmas gifts for your father whether he exercises regularly or is wanting to keep track of his daily activities.
T ditional Beer Stein for the Dad That Loves Beer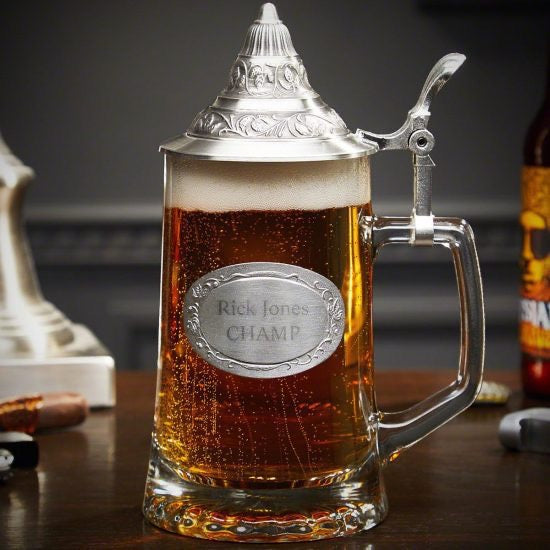 your dad is a beer lover and enjoys vintage gifts, then he'll love getting this awesome traditional German beer stein. Personalized with two lines of text on a handsome pewter crest and equipped with a traditional lid, this stein is a work of art. Your dad can drink beer the way it was meant to be drank with this professional stein. This is an attractive piece of vintage decor when not in use and, thanks to the lid, will keep his beer fresher. This is a great Christmas gift for your dad whether he is a bonafide beer connoisseur or an occasional drinker that appreciates vintage items.
 n Cave Sign for Dad's Man Cave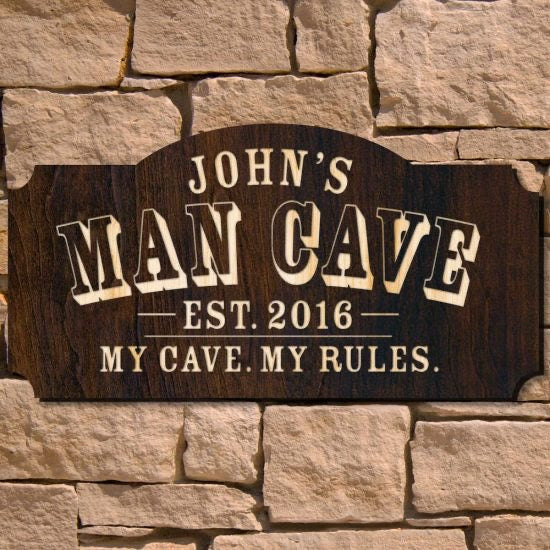 your dad has or is constructing a man cave, it isn't complete without an official man cave sign. This awesome personalized sign has your dad's name, a line of text of your choosing, and a year. This sign will look handsome in his man cave and make it his own personal space. You have plenty of options for customization with the line of text below the year, such as "No kids allowed" or "Good beer, good times." Dad will love getting this sign for Christmas and treasure it forever. This sign will also look awesome in dad's home office or garage.
Personalized Set for the Golf Loving Dad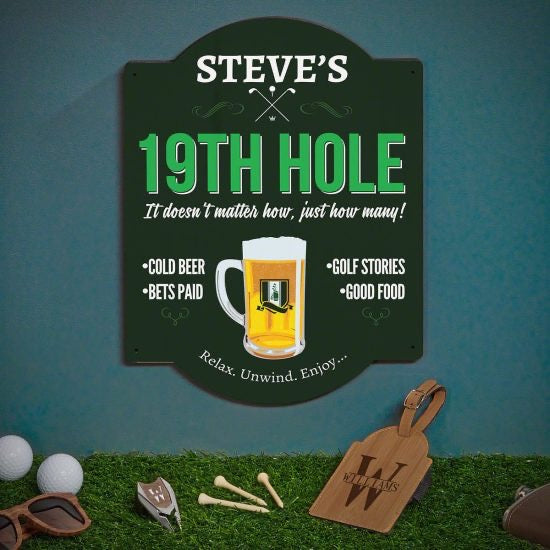 your dad loves golf and hanging out with his friends, then this is the perfect Christmas gift for him. This awesome gift set has a personalized bag tag, engraved divot tool, and a custom sign for his home bar or lounge. Talk about an awesome Christmas gift, huh? Now you're dad can look like he belongs on the PGA tour every time he steps on the green. But wait, there's more! The 19th hole sign has your dad's name on it along with his favorite things: beer and golf. The sign will look awesome in his bar or lounge area, signifying the awesome next stop after 18 holes on the golf course. This incredible gift set for dad will be his favorite present to receive this holiday season.
Engraved Hatchet for Dad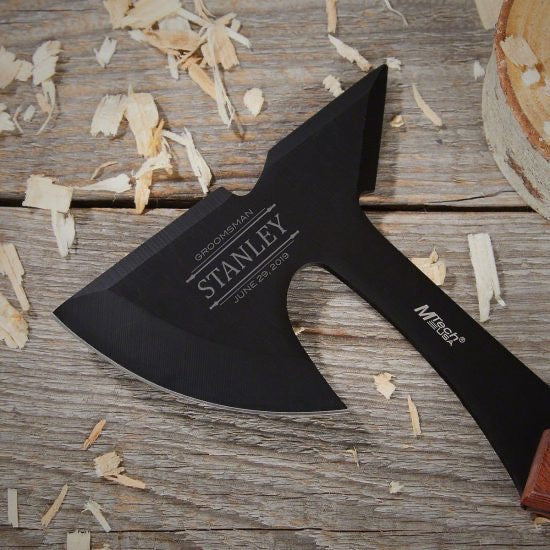 ur dad probably has tools and an axe already, but does he have an engraved hatchet? Probably not. This handsome hatchet is engraved with his name, a title or line of text, and a date all of your choosing. You could choose Christmas as the date so that he remembers getting this awesome hatchet for Christmas forever. He can use the hatchet to chop firewood, do yard work, take with him for camping, or keep in his car as an emergency tool. Dads who are military, law enforcement, or first responders will especially love an engraved hatchet as a Christmas gift.
Gerber Multitool
ct: your dad never has enough multitools. Sure, he has plenty of tool sets, but he doesn't have any conveniently portable tools that have many functions when in a pinch. This neat little gadget has a bottle opener, stainless steel pliers, wire cutters, a fine edge blade, spring-loaded scissors, flathead screwdriver, crosshead driver, tweezers and a file. It also has a keychain clip to fasten to his keys or belt loop. Now, your dad is prepared for anything whether he needs to pry out a loose nail in the floor he just found, needs to open that tough plastic packaging and can't find scissors, or just broke a nail. Multitools are awesome Christmas gifts for dad because they have so many functions and are easy to carry along anywhere.
C ar Tray Set for Dad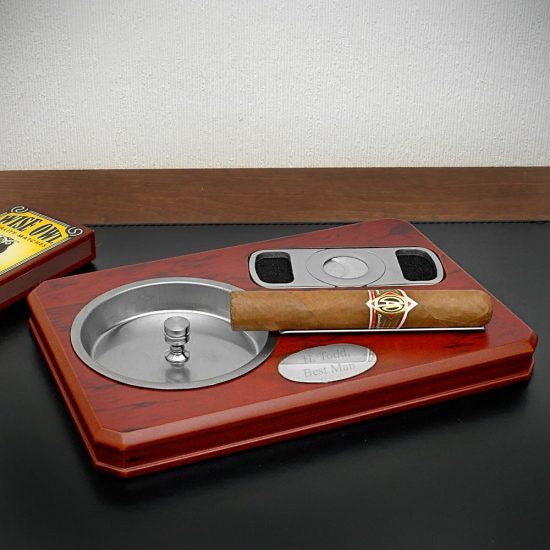 your dad a cigar aficionado? Does he have a professional cigar set? Now he does! This handsome cigar set contains an ashtray, cigar holder, and cigar cutter all on a handsome wooden platform that bears an engraved plate with his name and title. This is a must-have for dads that have or want a cigar lounge and/or are always looking for their cutter and ashtray. Christmas gifts that are solutions to common problems like if he's always looking for particular items and can never find them when he needs them are the best kinds of gifts.
Personalized Beer Caddy for the Dad That Drinks Beer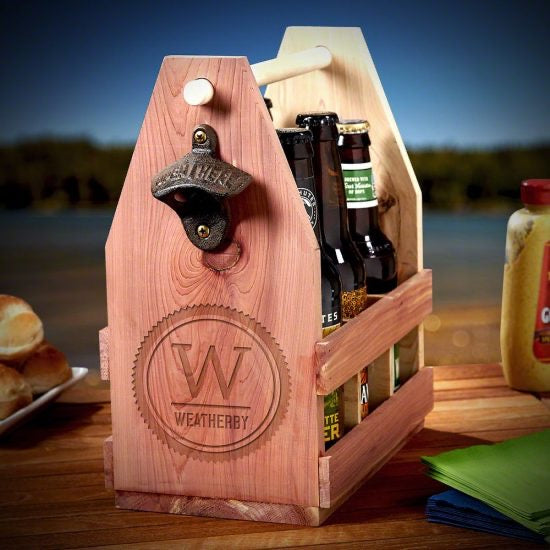 es your dad like to bring his own beer to parties and gatherings? Or does he just need a convenient way to store his beer? Then he needs this awesome wooden beer caddy that is not only equipped with a cast iron bottle opener, but is also personalized with his name and initial. Your dad now has a more secure way to transport or store his beer whether it is store bought or home brewed. He can bring his favorite six pack with him on trips to the lake, hiking, camping, fishing, cookouts, and more. Travel items are the best kind of Christmas presents for dads who are always on the go.
153+ CHRISTMAS GIFTS FOR DADS>