The young man in your life just graduated college with his degree, but what should you give him? After all, he's an adult now and ready to start his career. Great graduation gifts should be something that will help him through adult life, be prepared for his first adult job, and congratulates his accomplishment. Before you start shopping, there are a few things to consider: What kind of profession is he going into that you can match his gift to? Is there anything you know he needs for his job or new apartment? Does he simply need a set of manly gifts for his graduation? Relax, we've considered all of your possible questions to give you the best graduation gifts for him!
Awesome Whiskey Decanter Set for the Cool Graduate
Gone are the days of cheap beer and throwing back lines of shots, now he needs to learn to drink like a refined gentleman. A whiskey decanter set is a great way to help him get started! This five piece set gives him plenty of glasses to entertain friends and family with as well as a nice decanter to serve from. Plus, the wooden gift box can house the set when not in use or be used to store anything he likes. Now he and his dad can enjoy a classic scotch on the rocks together like gentlemen. This awesome set is by far one of the coolest graduation gifts for him!
Beer Bottle Cap Collector Sign
As a young man, he more than likely loves beer and has always wanted his own man cave or bachelor pad. This super cool sign is the best of both! He can show off his extensive tastes in beer by collecting bottle caps and displaying them in the sign, which holds up to 52 bottle caps. The sign is the perfect manly addition to his home and is a great starter piece for his own man cave. For a beer drinker, this is one of the best college graduation gift ideas for him.
A Fun Decanter for the Grad Who Loves Game of Thrones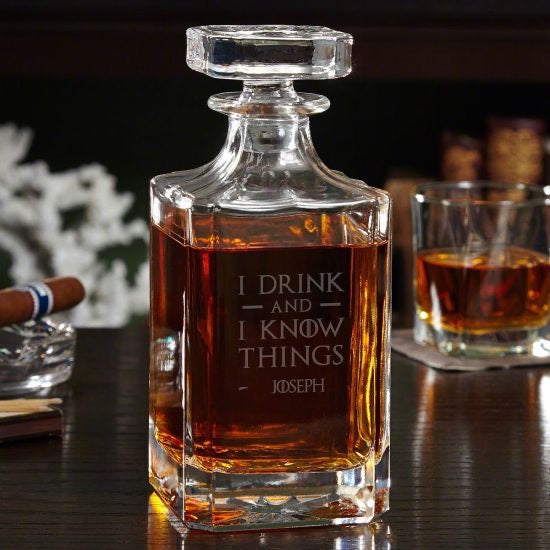 Help your graduate become a refined gentleman with his very own top-notch liquor decanter. He can start a home bar with this handsome decanter, which he can use to store any liquor he likes. The fun engraving is perfect for the guy who has a sense of humor, and even more so if he watched Game of Thrones. Fill it with fine scotch so that he can acquire a taste for straight whiskey and impress his future coworkers and boss when they go out for a drink together!
His Own Grilling Tool Set
Now that he's on his own as an independent adult, he will need a proper set of grilling tools so that he can become a master griller just like his dad. This set comes with the three essential tools: tongs, a spatula, and a fork. You can even personalize the engraving on the storage case with two lines of text, such as his name and a phrase like "Future Grill Master" or "UCLA Alum." Both practical and cool, this is one of the coolest college graduation gifts for him.
An Upgrade to His Beer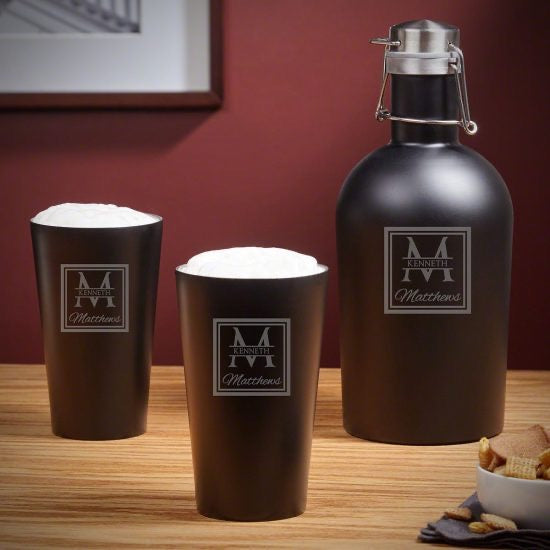 Drinking out of cans and bottles are a thing of the past. In 2019, adults are using pint glasses, especially for craft beer from their local brewery. With the stainless steel growler, they can take it to their favorite microbrewery, fill up with 64 ounces of beer, and bring home or take on the go to enjoy. The growler and glasses are all made of double walled stainless steel, ensuring that his beer never gets warm. He'll love that he can bring the whole set with him when he goes to cookouts with his friends or on fishing trips with dad. Talk about a great set graduation gifts for men!
291+ AWESOME BEER GIFTS FOR HIM >
A High Quality 2-in-1 Laptop and Tablet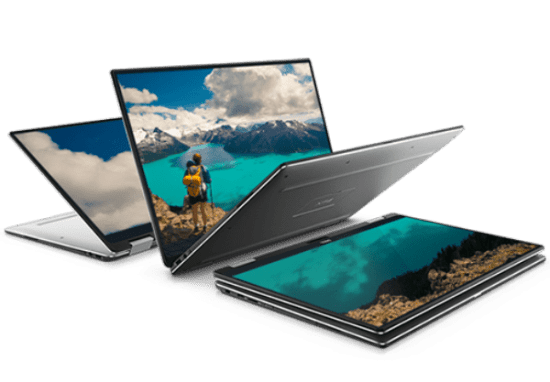 Now that he's got his degree, he needs a quality laptop or tablet to accommodate his work, job-searching, streaming, and gaming. This awesome Dell XPS 13 is both! How cool is that? The 13" display is Ultra HD and is a touch screen, it boasts the latest generation of processing, super fast startup, and a full keyboard. He'll be able to replace his old Notebook that he used in college with this incredible computer!
Business Graduates Will Love This Fancy Decanter Set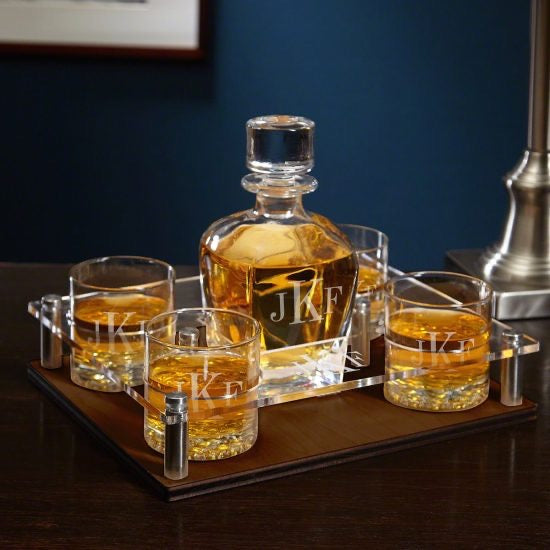 The first step in becoming a well-informed adult with a taste for fine liquor is a decanter set. This elegant set comes with a liquor decanter, four glasses, and a handy serving tray that holds each piece. This set will look great in his new work office, home office, dining room, or home bar. He will love having a sophisticated set of glassware to use to enjoy an Old Fashioned after dinner or serve a round of scotch on the rocks for his friends and new coworkers. Decanter sets are great college graduation gift ideas for him if he wants to expand his liquor repertoire.
Complete Bartending Set
For the guy who enjoys cocktails, now he can make his favorite drinks at home with this complete bartending set! Pair this set with a recipe book so that he can learn how to make mojitos, martinis, margaritas, and more. Now he won't have to go to a bar to have his favorite mixed drink and can make plenty of great cocktails when his friends come over!
A Classy Set of Wine Glasses to Celebrate Graduation
Getting a set of wine glasses is kind of like a rite of passage. Now that he's officially an independent adult, he needs his own set to learn how to enjoy the refined alcohol that is wine. This set of classic stemmed wine glasses is perfect for reds like pinot noir or whites such as moscato. Now he can have romantic date nights with his girlfriend with actual glasses and quality wine from a liquor store instead of using plastic cups and gas station wine like he did in college!
A Beginner's Set to Whiskey
Has he been interested in drinking high quality whiskey like his dad? With this beginner's gift set, he can enjoy fine scotch or rich bourbon like a connoisseur. This set comes with a cool decanter, a set of whiskey stones, and two Glencairn whiskey glasses. Glencairn glasses are made to improve the taste of whiskey through their unique vase-like shape and thick, flat base, making each sip of scotch better tasting than the last. He will love being able to enjoy every exotic flavor of top-shelf scotch with his dad thanks to this handsome set.
An All-in-One Coffee Maker
The best graduation gifts for him are items for his new apartment, job, or to help him be independent. With this awesome Keurig, he'll never have to go to Starbucks again and save both money and time! This Keurig is an all-in-one latte, cappuccino, and espresso maker so that he can enjoy whatever kind of delicious coffee he fancies in the morning before going to his new job. The best part? He can make a latte or cappuccino out of any K-Cup!
Personalized Beer Caddy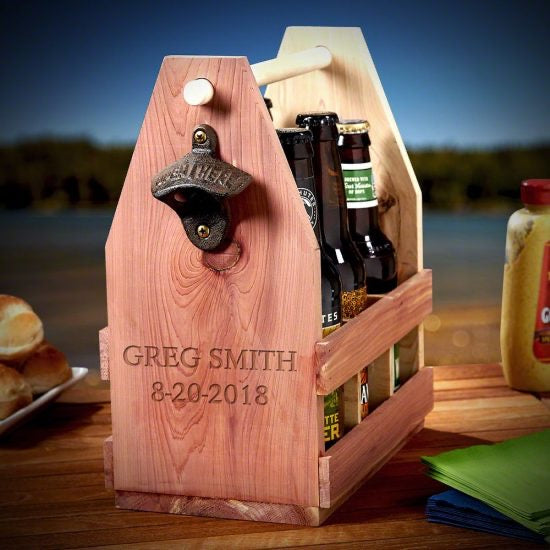 Remember when he used to bring a case or six-pack of canned beer to the family cookout or annual camping trip? Now he can bring higher quality bottled beer, both imported or craft, thanks to this handy wooden beer caddy! This incredibly sturdy caddy will keep his precious beers safe and secure during transport so that he doesn't have to worry about any more broken bottles or burst cans. And, the caddy comes with a mounted cast iron bottle opener! He'll be completely prepared wherever he goes with his favorite bottled beer.
Travel Tumbler for His Morning Commute to the New Job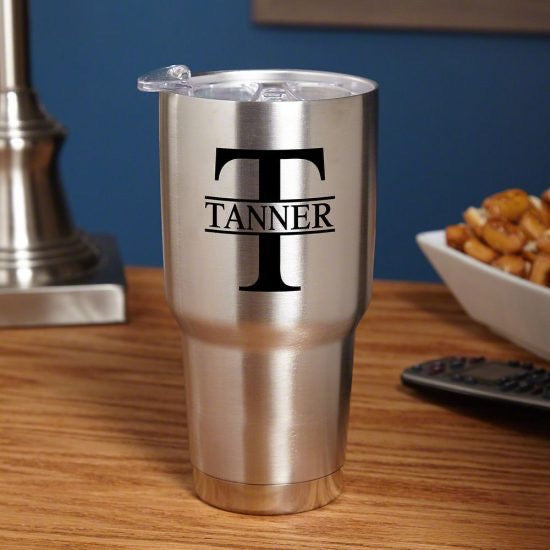 Now that he's got a degree and an entry-level job or internship, he has to adjust to the 8-5 Monday through Friday schedule with a long commute during rush hours just like everybody else. This drink tumbler will store his morning and afternoon coffee so that he's energized and fully alert throughout the long drive as the tumbler is double walled and vacuum-insulated. His coffee will stay piping hot or ice cold for hours! Travel tumblers are the best graduation gifts for him and all of his friends to help them in the long run for their new schedules as working-class adults.
Personalized Liquor Flask
Flasks are great to have on hand when a guy feels like a drink while golfing, hunting, or at a party that only has beer. Your college graduate will love this handsome faux leather-wrapped liquor flask! It's engraved with up to three lines of custom text in your choice of font and will hold up to six ounces of his favorite liquor. He can use his trusty and discreet flask to enjoy a shot while at the many weddings of his friends, camping with the guys or the family, and when playing a round of golf with dad.
A Gift Set With The Essentials of Whiskey
Enjoying whiskey requires three things: a decanter, whiskey stones, and a glass. Your graduate probably already has a couple of glasses, but he'll need this essential whiskey gift set to enjoy a proper scotch on the rocks in style. The handsome decanter will store and display his favorite whiskey on his growing home bar or in his dining room. The whiskey stones will keep his drinks cold, but never watered down like regular ice. He'll love being able to sip fine whiskey like a proper gentleman thanks to this great graduation gift for him!
401+ MORE WHISKEY GIFTS GRADUATES WILL LOVE >
A Bluetooth Speaker Unlike Any Other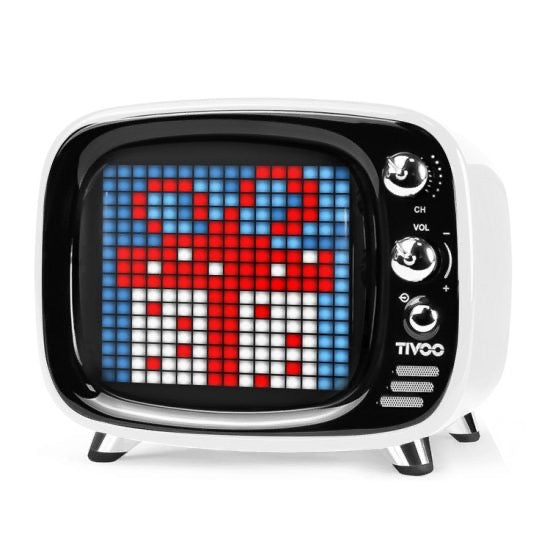 This incredibly unique Bluetooth speaker does so much more than play music. Through its retro pixel display, it lets your graduate know when he gets notifications, has alarms, play games, draw his own pixel art, shows the weather, plays ambient noise for sleeping and relaxation, and so much more! It has a companion app for his smartphone and can even be paired with Amazon's Alexa. This nifty tech gadget is one of the coolest college graduation gift ideas in 2019 and he is going to love it. It'll definitely remind him of when he and every other kid back in the day had one of those LiteBrite toys, but with a major tech upgrade.
Whiskey Gift Set for the Manly Graduate
Is your college graduate a manly man who loves to go to the shooting range and on crazy adventures in the wilderness with his friends? Then this set is one of the greatest college graduation gift ideas for him. He'll love having a cool personalized ammo can to bring all of his ammunition to the range in as well as storing his ammo at home. You can personalized the ammo can with any three lines of text you wish, such as "Congratulations Mark: Future President of America." The whiskey glasses and stones are perfect for a drink with a buddy after an adventurous day where he needed his trusty new tactical knife to prepare freshly caught fish to be eaten for lunch.
The Grad Who Loves Craft Beer Needs This Beer Set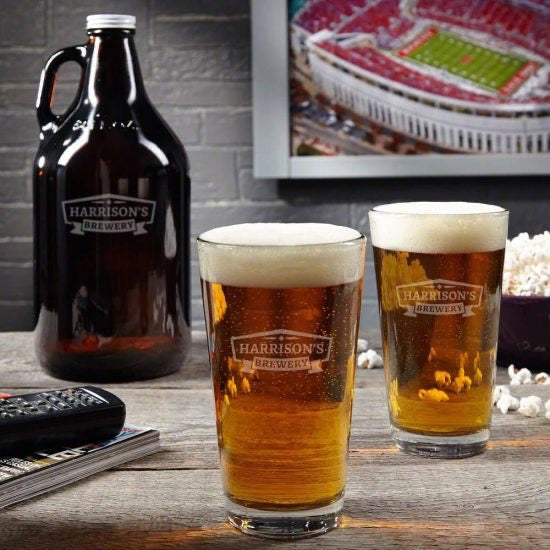 Now that he can afford to get into the world of craft beer, he needs a growler and a couple of proper pint glasses to get the full experience. The amber glass growler is great for taking to a brewery to fill up and enjoy at a BYOB event, cookout, or to drink at home at his leisure. He'll love using the cool pint glasses to enjoy a proper beer within the comfort of his own home just as he does in his favorite bar.
A Hardwood Cutting Board for His New Apartment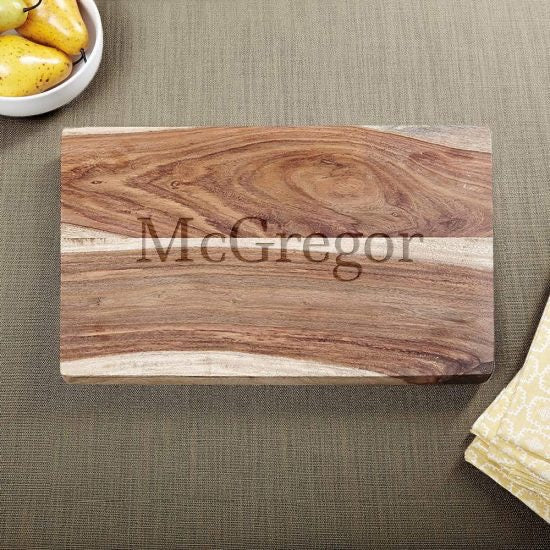 Now that he's got his own place, he'll need a few things to help him become a self-sufficient adult. A cutting board is one of the most useful things any young man who enjoys (or needs to start) cooking can have in the kitchen. It provides him with a dedicated and clean food prepping place that he can use without worrying about ruining his counters. Plus, it'll look great as a piece of decor when he's not using it as it is a beautiful piece of Sheesham hardwood that's engraved with his name!
A Set of Nice Whiskey Glasses to Toast to His Graduation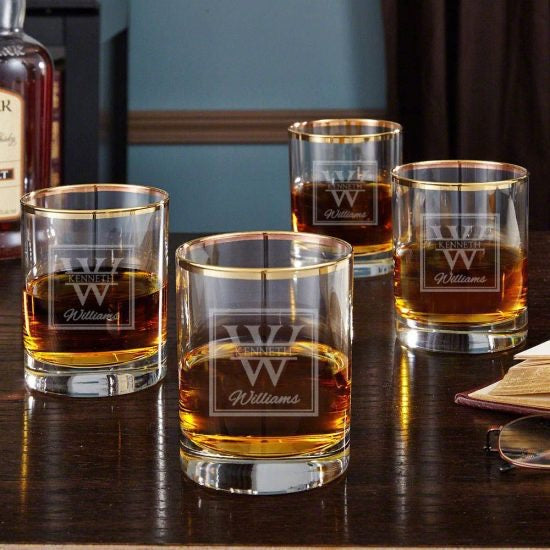 A young man should have two sets of glassware: one set for everyday use, and one for entertaining company and special occasions. He will love these handsome whiskey glasses with gold rims and his name personalized on each glass. These glasses are ideal for entertaining his girlfriend's parents, celebrating a special occasion with friends or family, and for the holidays. He'll want to keep them on display on his home bar or help him amass a collection of glassware to start one. These glasses are ideal for sipping whiskey or cocktails and feature genuine 22K gold rims, making them the ideal set of fine glassware.
Instant Pot So He Can Start Cooking for Himself
Gone are the days when the young college graduate in your life survived on microwave meals. Now that he's an independent adult, he needs to learn how to cook for himself! An Instant Pot is one of the best graduation gifts for him because it's a pressure cooker, crockpot, rice cooker, and more, all in one incredible gadget. He can make multiple dishes at once such as mashed potatoes and chicken breast within 20 minutes or make homemade yogurt out of fresh fruit. The options are endless with the Instant Pot!
A Personalized Pint Glass with His Home State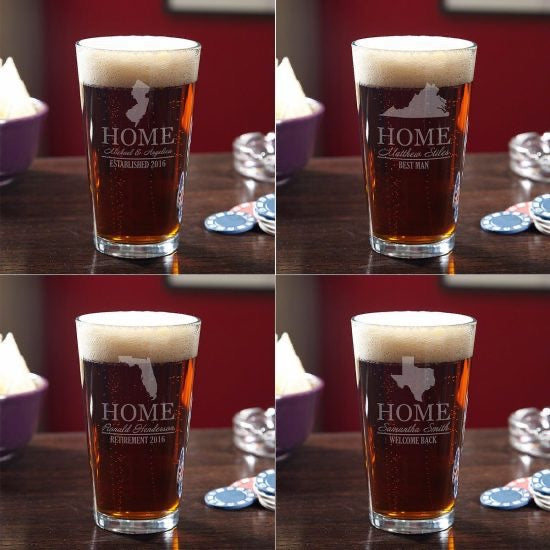 Welcome back your out-of-state college graduate with a personalized pint glass featuring his home state or the state of his alma mater! Or, if he's leaving his home state for a job elsewhere, this is a great housewarming or graduation gift for him. He will love having a keepsake that will always remind him of his home whenever he's having a beer with this pint glass.
Whiskey Stone Gift Set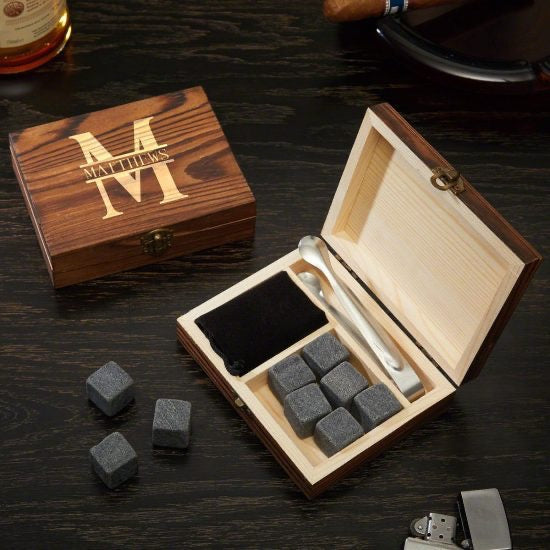 A whiskey stone gift set is one of the best college graduation gift ideas for him because they enable him to enjoy an "iced" drink without having to deal with the watered-down flavor. He can share a couple of the stones with a friend or date, too, as the set comes with nine whiskey stones. He can keep them chilled in the freezer or store them in the case until he's planning on using them.
A Cocktail Shaker with Recipes for His Favorite Drinks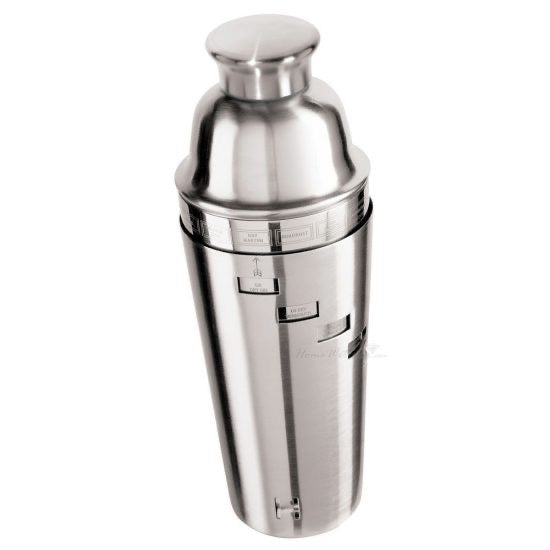 A cocktail shaker is a must-have for a college graduate who loves cocktails but doesn't have the necessary supplies to make them at home. This isn't your ordinary cocktail shaker though, it's engraved with popular cocktail recipes! He can easily twist the shaker until the arrow points at the drink he desires, and the ingredients appear in the little "windows." How cool is that? Cool enough to be one of the most useful and fun college gifts for him! He'll love using this shaker to mix himself a margarita after dinner or to whip up a couple of martinis for visiting friends.
Coasters to Protect His New Furniture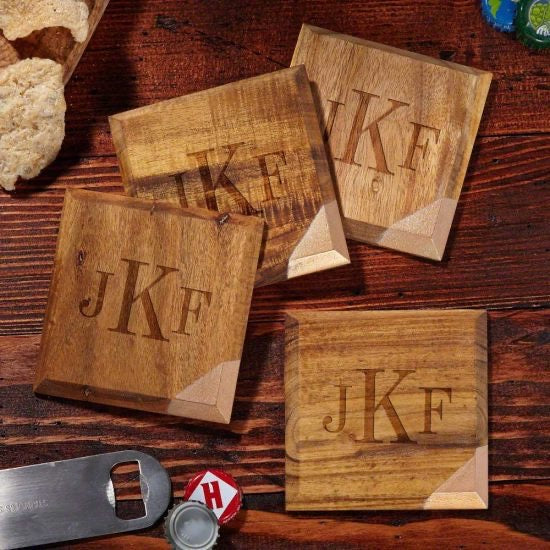 Coasters are a necessity, especially for someone who just moved into an apartment on their own and just bought brand new (or used) furniture. These handsome acacia wood coasters are a great addition to his home, and will keep his new coffee table and dining table free of condensation stains for when he's enjoying a cold beer or iced tea.
A Tool Kit to Prepare the Graduate for Adulthood
Another great college graduation gift idea for him is a complete tool set to prepare him for the inevitable repairs and Macgyvering he's going to have to do as a young adult in an apartment. This handy set comes with everything he needs: a hammer, screwdrivers, socket wrenches, pliers, hex keys, a tape measure, and more. Whenever his coffee table or bookshelf from Walmart breaks, he'll be able to fix it in no time thanks to this awesome tool set!
Unique Liquor Decanter to Start His Home Bar
A must-have for any young man who wants to be well-versed in the world of fine liquors is a quality decanter. This handsome piece of glassware is ideal for storing and serving whiskey, tequila, rum, or even vodka. A decanter is the best way to get a home bar started as well, or it's a great addition to his kitchen or dining area. Decanters are great college graduate gift ideas, and this one, in particular, is a great choice!
A Fun Sign to Decorate His Apartment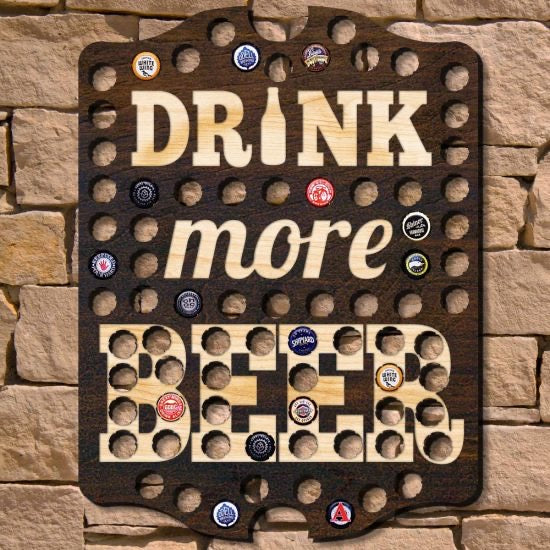 Once a beer lover, always a beer lover. Your college graduate could use a fun piece of decor for his new apartment, and this beer sign is the perfect gift! He'll love storing his bottle caps on the sign to show off his tastes in bottled beer. It's both a cool sign and a great way to start a bottle cap collection!
Personalized Ceramic Stein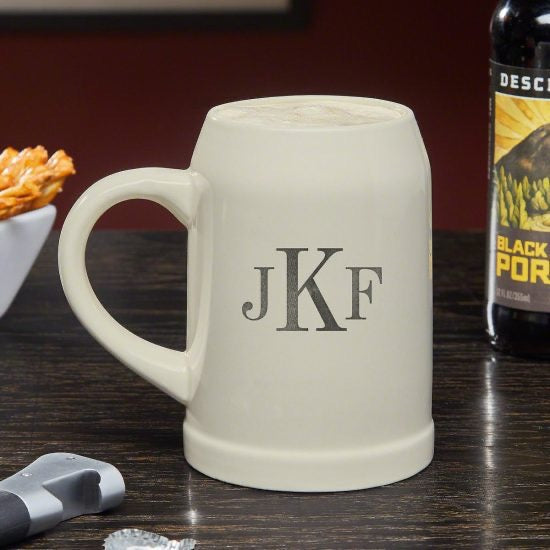 Beer steins are one of the coolest graduation gifts for him if he's really into beer. This ceramic stein is inspired by the 14th-Century German steins, which work so well that they are still in use in the motherland of beer today! Ideal for using with any kind of beer, he will love having a nice stein to use for drinking his favorite craft or imported beer like his European ancestors did back in the day!
A Guide to Life After College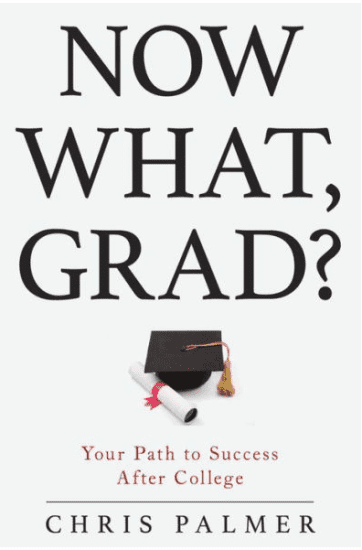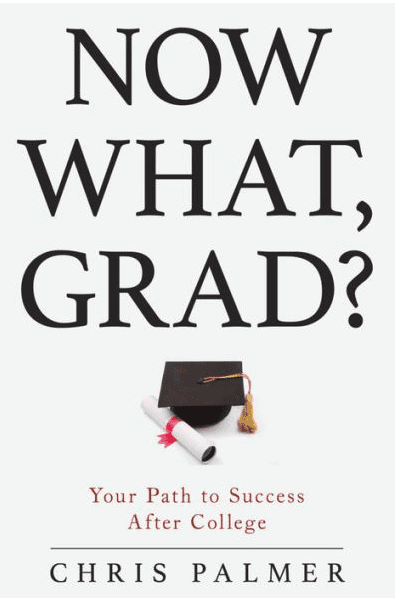 As a college graduate, he's probably starting to think and worry about how to succeed in all aspects of his life. This helpful book is the best possible graduation gift for him! It'll teach him about managing finances, how to nail job interviews, how to be professional, and so much more. He'll be a lot more prepared and at ease as he begins searching for his first job with his degree and becoming an independent adult after reading this great guide.
Glencairn Glasses for the Whiskey Aficionado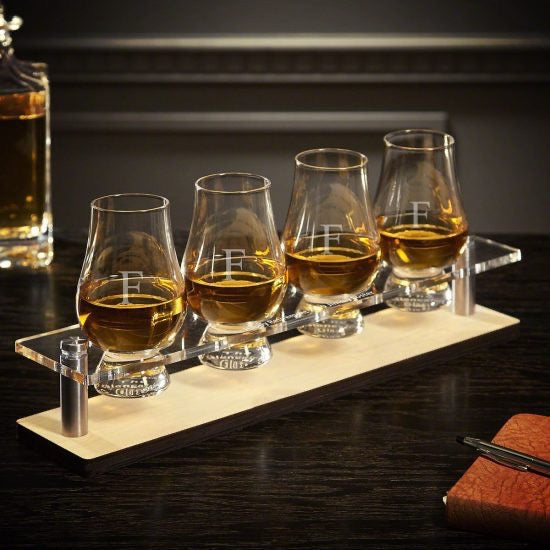 Glencairn glasses are designed for whiskey connoisseurs to drink the finest whiskey out of, and this set is meant for a group of friends or family members to enjoy together. This sophisticated set comes with four classic Glencairn glasses and a serving tray designed to make entertaining easier than ever. Your graduate's guests will be impressed that he has such a top-notch set to serve them with! This set is one of the fanciest college graduate gift ideas for him and is a great starting point for a home bar and whiskey tasting parties.