Your boyfriend is an awesome guy and deserves birthday presents that are equally as cool as he is. Before you start shopping, you probably have some questions. What kind of gifts would my boyfriend like to get for his birthday? What is an awesome gift for men? What makes a badass birthday present? You should get him something with a cool factor, like an ammo can gift set or an all-in-1 cooler/toolbox. Or, a gift set that declares how amazing he is with a unique personalization. Guys like your boyfriend enjoy gifts that he can use that make him feel cooler or make his daily activities a little bit easier. Relax, we did all the shopping for you to ensure that you get a show-stopping, incredible birthday present for your boyfriend.
The Manliest Gift Set for the Coolest Boyfriend
You know your boyfriend is a cooler guy than the Old Spice Guy, Elon Musk, and even James Bond. He's the kind of guy who can walk away from an explosion in slow motion without looking back at it. He's known for setting the record at The Big Texan Steak Ranch for eating a 72 ounce steak faster than any other guy who's tried, even Adam Richman. His birthday is approaching, and you're stuck on what kind of gift to get him that is equally as cool as he is. This gift set is the answer, and by far one of the coolest birthday presents for boyfriends! He'll never go anywhere without the cool new flask just so that he can show it off to everyone he meets. When he gets home, his custom rocks glass and unique whiskey stones will be waiting for his nightly scotch on the rocks. Can a gift set get any more badass than this?
Awesome Beer Gift Set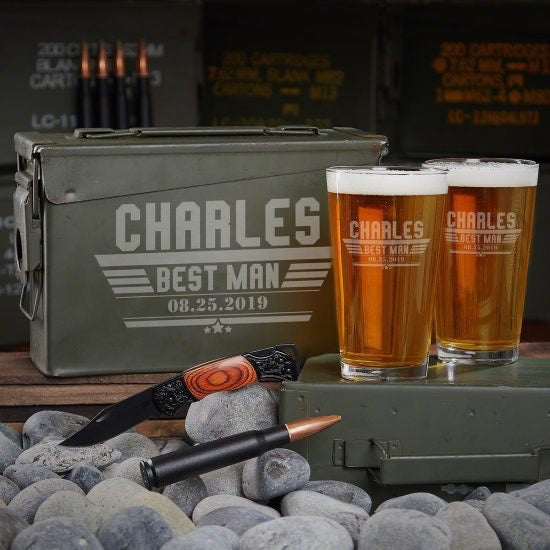 Your boyfriend just got himself a new Beretta APX semiautomatic pistol as his birthday gift to himself and he wants to go to the shooting range to try it out. He's got the gun case, ammo, ear protection, and goggles. What is he missing? An ammo can! With this custom military surplus ammunition can, he can store plenty of ammo and his shooting gear all inside so he isn't juggling everything while signing into the range. After an hour or two of trying out his new gun, he'll want to come home and have a beer. Thanks to the custom pint glasses and new bullet bottle opener, you'll have an ice cold beer ready and waiting for him. All that's missing is actual beer, so make sure to get him his favorite six pack. Is this the coolest boyfriend birthday gift idea or what?
Bullet Whiskey Stone Set
After a long day of cruising the city in his patrol car or doing drill duty, your boyfriend just wants to unwind with a drink. Even on his birthday, he'll want to sit back, relax, and enjoy his special day. Help him do so with this cool whiskey set! The two of you can share a couple of Whiskey Sours or Old Fashioned cocktails after he opens the rest of his birthday presents. He'll love the bullet whiskey stones that not only look cool in his drinks, but keep them cold too. Complete this birthday gift set with a top shelf bottle of whiskey he's always wanted to try and you've got a great whiskey-themed birthday present for your boyfriend!
Customizable Sign for Your Boyfriend's Home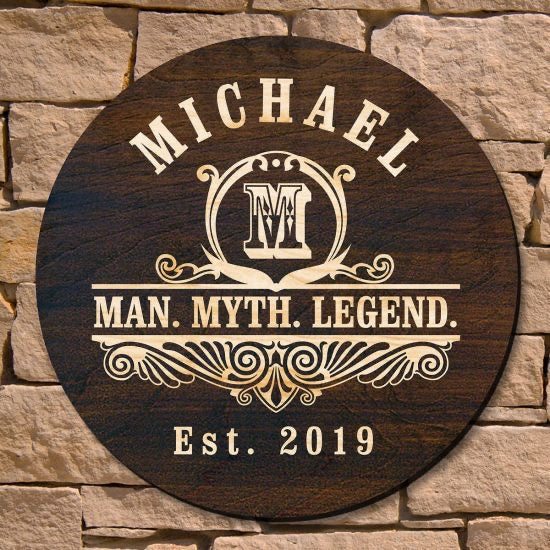 Your boyfriend just finished putting the final touches in his man cave in time for his birthday. He's got the 46" 4K TV, the huge sound system, and the reclining leather armchair. But there's still something missing! He's got an empty space on the wall above his Blurays, which is the perfect place to hang this custom wooden sign. Custom made just for him, your boyfriend will love that you got him a one-of-a-kind piece of decor that ties the room together perfectly.
Custom Beer Mug Set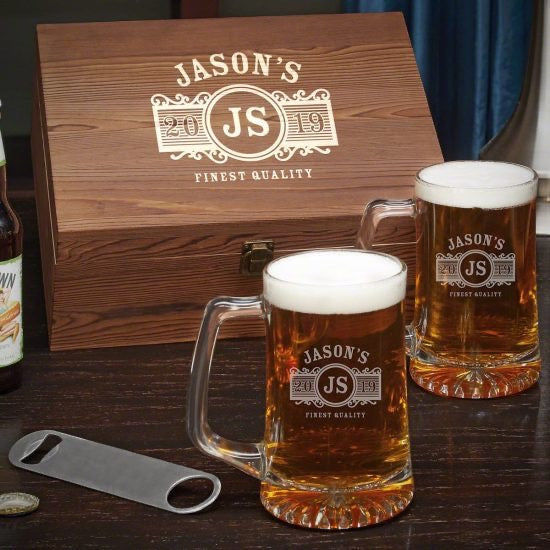 After going to the bar with your boyfriend so many times, you've picked up on the different types of beer and how they taste different when served in certain kinds of glassware. For example, you know that his favorite ales and lagers are best enjoyed from a proper beer mug, but he doesn't have any at home. Make this birthday the best yet with these aficionado-worthy beer mugs! He'll be so impressed at your beer knowledge and that you had these mugs made specially for him. Remember to include a few bottles or cans of his favorite ale to truly complete this beer birthday gift!
299+ MORE BEER GIFTS FOR YOUR BOYFRIEND>
The Ultimate Survival Kit for the Adventurous Boyfriend
Is your boyfriend the kind of guy who is always hiking, climbing, camping, fishing, and other outdoor adventures? You'll never have to worry about him again once you give him this incredible ultimate survival kit because he'll be prepared for anything. It's got everything: a knife, tactical pen, flashlight, emergency blanket, and more! He'll love using the handy tools on his adventures and will have plenty of resources to help him out in case of an emergency. This badass survival kit is definitely one of the most useful boyfriend birthday ideas!
The Perfect Birthday Present for a Boyfriend On the Go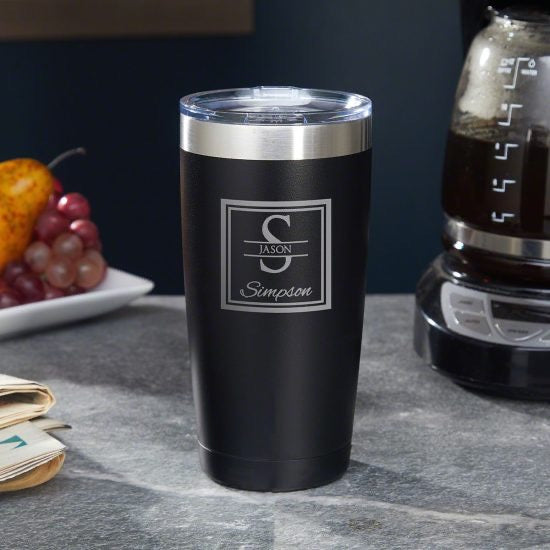 Your boyfriend has a great job, but it's several miles away and he's always stuck in rush hour. During his early morning commute, he could really use a hot cup of coffee to keep him energized and alert to get through his long and arduous drive each day. Both thoughtful and useful, this insulated travel mug is the perfect birthday present for your boyfriend! Made of double walled stainless steel and vacuum-insulated, this mug will hold plenty of his favorite brew and keep it piping hot until lunchtime. Thanks to you, he'll be awake and ready for each day!
The Perfect Cutting Board for the Boyfriend Who Grills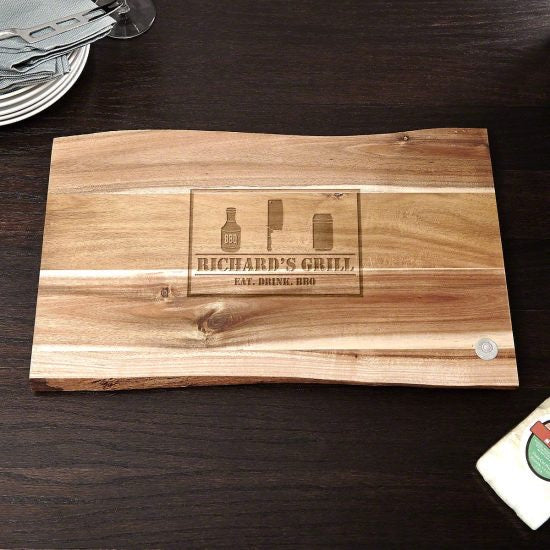 Your boyfriend is a grill master in the making and he's always making a mess of the counters in his kitchen. You've told him over and over that he needs a cutting board to chop his veggies for the kabobs instead of just using a paper plate, but he still hasn't gotten one. His birthday is the perfect time to give him a nice cutting board! This acacia cutting board will help him meal prep without making a mess of the kitchen as well as having a dedicated surface to season his meats. Plus, he'll feel more like an adult with a nice cutting board on hand.
Shotgun Shell Coasters
Guys into guns love anything and everything related to guns, like these cool coasters! Designed to look like the end of a 12 gauge shotgun shell, these coasters will protect his furniture from his drinks while looking like awesome decorations. These fun coasters are unique and awesome boyfriend birthday ideas! Just make sure to pair these with a pack of his favorite beer so that he can try them out after he unwraps them.
A Funny Beer Lover Growler
Your boyfriend could get a degree with his knowledge of beer. He knows the difference between IPAs and lagers, what kinds of glassware should be used for certain beers, and even how to make all kinds of craft brews at home. If he could get a certification for being a beer snob, he probably would. For now, he can just show off this cool custom growler that you're going to get him for his birthday! Made of double walled, vacuum-insulated stainless steel and a detachable travel cup, this growler is the perfect traveling companion. Whether he's attending a music festival, going to the lake with his friends, or going on a camping trip with you, he'll always have his trusty new growler at his side.
A New Turntable for His Vinyl Collection
Your boyfriend probably has a record player that he got years ago. His dad passed down his old record player when your boyfriend got accepted to his alma mater and today, it still works, but barely. Give him a brand new one for his birthday so that he can enjoy his and his dad's favorite vinyls just like he did through his college years! This automatic belt-drive turntable is easy to use and produces great sound. He'll be thrilled to enjoy his favorite records again. This cool turntable even comes with a switchable phono preamp so that he can hook it up to his computer!
Customize a Beer Mug Just for Him
You want to give your boyfriend something nice and thoughtful for his birthday, but you want it to be cool as well. You've searched the Internet for hours trying to find the perfect gift. Congratulations, you've found it! This custom beer mug is one of the best birthday presents for your boyfriend you can possibly give. He knows that beer is best enjoyed in a beer mug, and you know that he loves drinking beer in the mugs at his favorite bar. Give him a bar-quality mug for him to enjoy in the comfort of his own home! Plus, you get to personalize the two lines of text on it to be anything you wish. For example, it could read "Michael Stewart's Home Brew," "Jackson Silver, Best Boyfriend Ever," "Mike Houston April 13, 1995." He'll be so touched that you put so much thought and creativity into his birthday gift that he will only want to use this mug for all of his beer.
The Coolest Flask Ever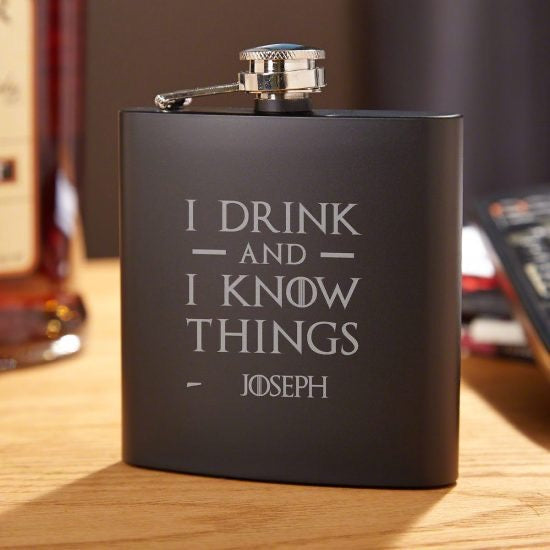 Your boyfriend is a cool guy. He drinks beer, fine liquors, and sometimes wine. He's also an intelligent man who knows his stuff. In a nutshell, he drinks and he knows things, like Tyrion Lannister! This cool flask is the perfect accessory for him whether he watches Game of Thrones or not. Thanks to your great birthday gift, he'll always have a couple of ounces of his favorite whiskey or tequila on hand for when he needs a drink. He'll love showing off his cool flask while hanging out with his friends, attending a wedding, and to survive a family reunion. He'll want to fill it with his favorite liquor and enjoy a celebratory drink right away on his birthday, so make sure to get him a bottle to make it a complete gift!
Custom Whiskey Decanter Set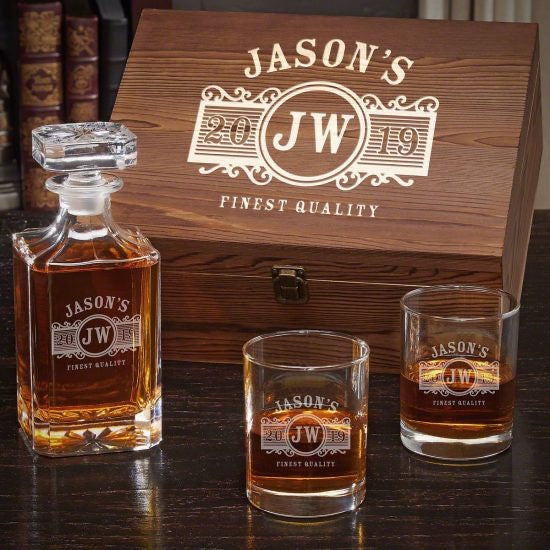 For a guy who drinks whiskey, a decanter is a must-have. This year, give your boyfriend an incredible decanter set for his birthday! He'll love using the decanter to show off his fine liquor and pouring you both a classy after-dinner drink. The two double old fashioned glasses are the best way to enjoy whiskey straight or a classic Old Fashioned, their namesake cocktail. Just make sure to get him a nice bottle of scotch too to make it a complete birthday present for your boyfriend! Every time he uses the decanter to pour a glass, he'll feel like James Bond, who is the definition of a sophisticated badass.
A Beer Gift Perfect for Bearded Guys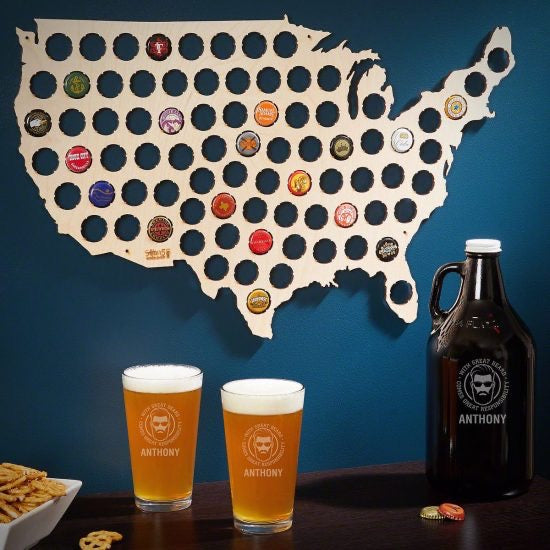 Having an incredible beard is no easy task as your boyfriend has to take extra care with his grooming routine to manage it. After all, he's the cool bearded guy in his friend group and everyone is jealous of his magnificent facial hair. A guy like your boyfriend deserves a birthday gift that celebrates both his awesomeness and his equally awesome beard. This unique beer gift set was designed with your boyfriend in mind. Even the guy on the design looks like him! From the engraved growler to the large bottle cap sign of the United States, this is one of the coolest birthday presents for boyfriends with beards!
Artisan Meat Subscription Box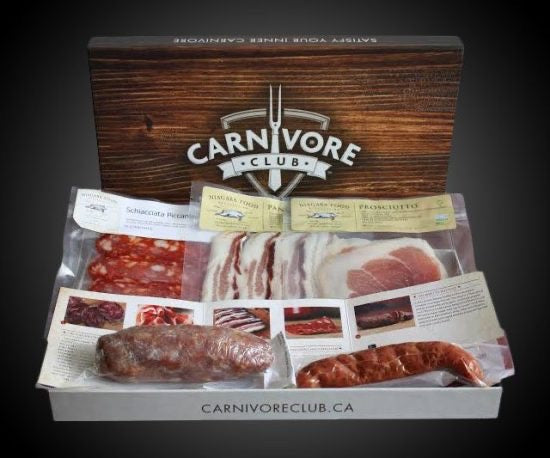 Meat and men go hand in hand as much as girls and makeup do, they're just meant for each other! Your boyfriend is no exception, he'll always go for the two meat combo at Jimmy's Egg at your weekly Sunday brunches and the biggest steaks on date nights. One of the best possible boyfriend birthday ideas is a meat subscription box from Carnivore Club! Every month, he'll get to try all kinds of artisan sausages, rare jerky, and prime cuts. This gift set is the gift that keeps on giving, and he'll be thrilled to get his box every month. Who knows? Maybe for your birthday he'll buy you an Ipsy subscription!
Whiskey Essentials Gift Set
Besides a glass and a bottle of whiskey, two other things are required for the best glass of whiskey: a set of whiskey stones and a decanter! Whether your boyfriend is an aspiring connoisseur or just likes his bourbon after dinner, he'll love this essential gift set for his birthday. Now he can enjoy a perfectly chilled glass of Jack Daniels after work and enjoy each full-flavored sip.
353+ GIFT SETS FOR HIS BIRTHDAY>
Unique Regal Pilsner
You and your boyfriend go to the local Medieval Fair every year, for which he always dresses as a noble knight. He's known for his extensive knowledge of the Game of Thrones universe and grieved for the end of Merlin. The ultimate fantasy fan and lover of medieval times will thoroughly enjoy a couple of these regal pilsner glasses! He'll feel like a king when drinking his medieval-inspired ale while watching the latest season of Game of Thrones. When he's not using this pilsner, he'll have it displayed right next to his replica of Excalibur and authentic knight's helm for all to see his custom crested beer glass.
The Perfect Birthday Set for the Guy Who Drinks Beer and Liquor
Is your boyfriend the kind of guy who's always down for a beer or a shot of Fireball? For the guy who enjoys a variety of liquors and beers, this is the perfect gift set. When he gets home from work after a long day, he'll reach for his unbreakable new beer glass that will keep his brew colder than ever before and the cool new bullet bottle opener. After he downs his beer, his trusty flask will be handy if he wants a shot or two of his favorite whiskey. This set will be there for him on good days and bad, and it's all thanks to your incredible birthday present for your boyfriend!
Give Your Boyfriend a New Hobby to Start on His Birthday
Have you and your boyfriend gotten into the habit of keeping the fortunes from your fortune cookies or bottle caps from your beers? For his birthday, give him a dedicated place to store his collections! With this cool shadow box, he can collect all kinds of things such as bottle caps, golf balls, shotgun shells, ticket stubs, wine corks, or anything he likes! He'll love having a new hobby and enjoy watching the box fill up. Plus, the shadow box doubles as a unique piece of decor and adds a personal touch to any room. Can a birthday gift get any better than this?
Bluetooth LED Projector
With this projector, you and your man can enjoy movies on the big screen right in your own home. Simply point it at a blank wall and voila! He's got a giant screen for movies, TV, video games, and even Netflix. The projector can wirelessly connect to his phone, computer, or tablet to project anything you like. Its compact size makes it easy to transport so that he can bring it to his friends' houses, on vacation, and anywhere else he likes.
He'll Always Have Cold Beer Wherever He Goes
There's nothing worse than a beer that's gone warm while you're hanging out with friends or family at the lake, beach, or a house party. Thanks to this insulated growler, your boyfriend's beer will never get warm again! With a hefty capacity of 64 ounces and made of double walled stainless steel, his beer will be perfectly chilled all day long. With plenty for you two to share, the growler is ideal for day trips to the mountains and BYOB parties. His birthday just got a whole lot cooler, pun intended.
A Birthday Present with a Little Bit of Everything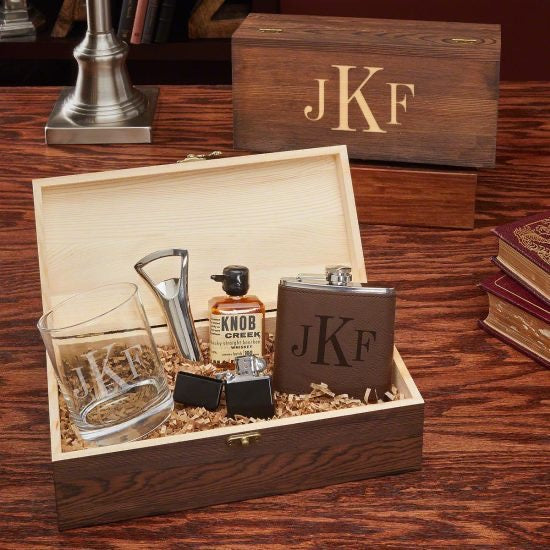 Is your boyfriend a man of many tastes? With this variety gift set, you won't have to worry about trying to find individual items for his birthday. This set comes with a liquor flask, whiskey glass, bottle opener, and a lighter. Now he'll have everything he needs whether he wants a bottle of beer or a glass of scotch and a smoke! This set is the perfect birthday present for boyfriends who are hard to buy for because even a guy who wants nothing will appreciate the unique items.
His Very Own Bar Sign
Help make his dreams of having a home bar come true with an official custom bar sign! No matter what he's serving, this bar sign is perfect. The fun, unique design is eye-catching and certainly a conversation starter. The first step to having a home bar is a place to serve, of course, but decor making it official is just as important! You could theme all of his presents this year (for Christmas, Valentine's day, etc) around creating his home by, such as getting him a set of glasses, tap handles, bar stools, cocktail mixers, or even a mini-fridge.
Grenade Decanter
Whether he's a fan of guns, in the military, or is an explosively awesome guy, he'll get a kick out of this fun grenade decanter. The perfect accessory for a home bar or even your coffee table, the decanter is super cool and fun to use for pouring drinks. This decanter is both funny and useful, making it one of the best boyfriend birthday gift ideas.
Incredible All-in-One Toolbox
Is your boyfriend the kind of guy who spends his free time fixing up cars or works in the mechanic or construction industry? This toolbox is the best possible birthday present you can give him! This incredible all-in-one gadget is a toolbox, cooler, Bluetooth stereo, power conduit, clock, and more. It has a dry erase board, place to mount his tablet, and even a magnetic strip to keep his nails in place. No matter what project he's working on in the garage or for work, he'll love using the Coolbox. This incredibly useful and versatile toolbox is one of the most amazing boyfriend birthday ideas for guys who often use tools!
Shot and Chaser 2-in-1 Glasses
Gone are the days when he takes a shot and then quickly reaches for his chaser but can't quite get it down fast enough. With these awesome glasses, he can have the shot and chaser right after the other in one glass! Designed to keep the liquids separate, he doesn't have to worry about them mixing together as he drinks. Jager Bombs and Scooby Snacks just got a lot easier and tastier!
Sports Bar Tap Handle
Whether his home bar is sports themed or he's just really into a particular sport, he'll love these awesome custom beer tap handles! You pick the icon of his favorite sport and the two lines of text around it to make it specially unique for him. Plus, it has a chalkboard surface so that he can write what he's serving! How cool is that? The super easy installation means that he can hook it up to his keg right after unwrapping it on his birthday so that he can serve everyone a beer like a real bartender.
Custom Poker Set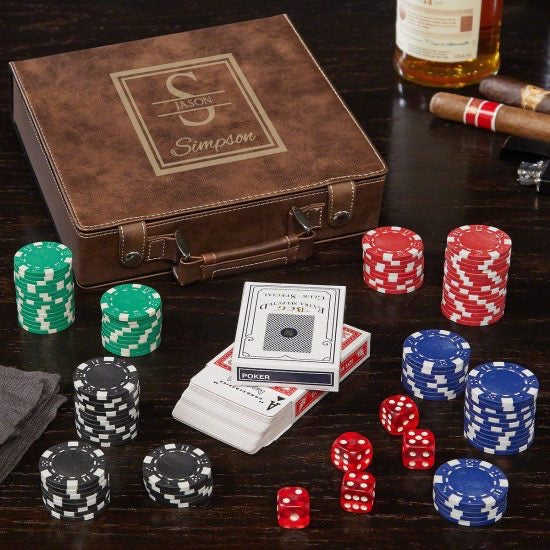 Your boyfriend is known among his friends as the guy with the best poker face. He's great at bluffing, and almost always comes home with money, more chips, and random trinkets his buddies threw in the pot. One thing he doesn't have is his own poker set! For his birthday, you should get him a custom poker set perfect for his weekly poker night and even game nights with his family.
319+ MORE BIRTHDAY GIFTS FOR BOYFRIENDS>