29 Amazing Father's Day Gifts From Daughters
Your dad is the coolest guy ever and he deserves something truly amazing for Father's Day from his daughter. What is a great Father's Day gift though? That's where we come in. Father's Day gifts are about celebrating how great of a dad he is, so you should get him something that's both useful and thoughtful. Dads are notoriously hard to buy gifts for, so you should also get him something related to the things you know he already likes, such as drinkware for his whiskey or grilling tools that he can take everywhere. So where do you even begin? How do you find the best Father's Day gifts? Relax, we've got the best Father's Day gifts from daughters to make your shopping easier!
A Thoughtful Father's Day Gift He'll Never Forget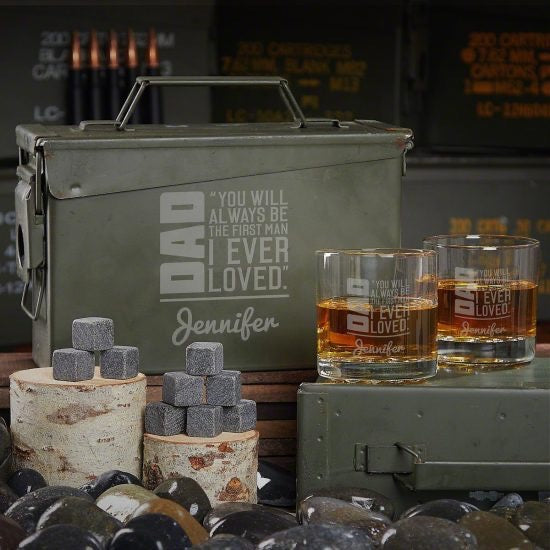 For the dad who drinks whiskey and enjoys going to the shooting range from time to time, this super cool gift set is the ideal Father's Day gift from his daughter. The genuine military surplus ammunition can and the two cool rocks glasses are both engraved with the sweet phrase "Dad: You Will Always Be the First Man I Ever Loved" signed by your name. He will be so touched at the sweet personalization and think of you when he has a drink. The two of you could share a scotch on the rocks together after a fun day at the range with this set as a fun Father's Day date.
Personalized Grilling Tool Set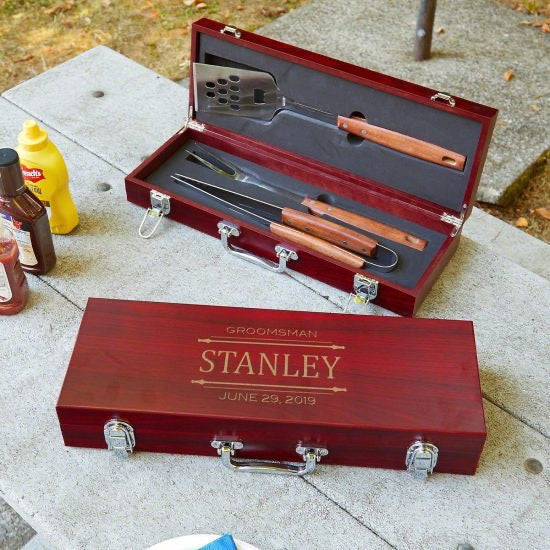 Does your dad love to grill up steaks and hamburgers for the family at every opportunity? Then this professional grilling set is the perfect Father's Day gift from his daughter! This four piece set comes with a spatula, tongs, a fork, and a carrying case. Now he'll have his essential tools to bring with him to the lake, park, your annual camping trip, and even to grandma's house!
A Custom Pint Glass for the World's Best Dad
Does your dad enjoy drinking beer at home? With this awesome pint glass, he can enjoy his favorite type of beer in a quality pint glass just like he would at his favorite craft brewery. The pint glass is engraved with a cool "World's Best Dad" design followed by the birthdays of you and your siblings. He'll be reminded of his incredible kids (and never forget their birthdays) every time he cracks open a cold one, especially you for getting him such a neat Father's Day gift from his daughter!
Unique and Customizable Father's Day Gift
Has your dad always wanted his own bar? With this official sign, you can help make his dreams come true. He will love having a cool sign to hang above his current or future home bar. The customizable design allows you to make it just for him with his name, two lines of text, and a year. The rustic style of the wooden oak barrel design will go with any decor in his bar, too!
A Different Way to Enjoy Scotch on the Rocks
If your dad's the kind of guy who enjoys whiskey over ice, then he'll love this unique whiskey decanter set! The two rocks glasses in this set each come with a unique triangular ice mold, which freezes a perfect wedge of ice into the glass. Now you two can share a cool (literally and figuratively) glass of his favorite scotch after you treat him to a nice dinner thanks to this awesome, personalized Father's Day gift. The decanter will make it easier for him to pour his nightcap and will look great in his home office or home bar.
353+ WHISKEY GIFTS DAD WILL LOVE>
Design a Custom Watch for Him
Want to give your dad a watch that's made just for him? You can customize and personalize a Fossil watch for him! You choose the face, casing, band, and bezel and even have up to three lines engraved on the back. How cool is that? This custom watch is one of the best Father's Day gifts from daughters you can give in 2019!
Traditional Metal Beer Stein for Father's Day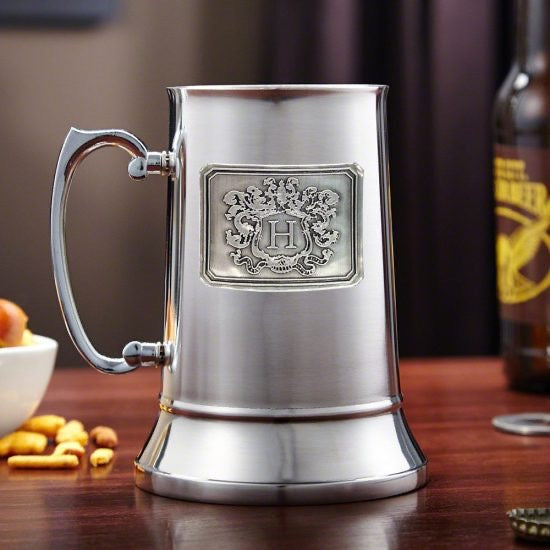 This handsome metal beer stein is inspired by 14th-century German beer steins, making it the perfect gift for a dad who loves beer and antiques. He will want to use this regal stein to drink all of his beers with whether he's relaxing on the couch or eating dinner with the family. The added pewter crest with his initial will make him feel like a king when he drinks!
Enjoy a Proper Drink with Dad on Father's Day
Does your dad drink whiskey? Then he needs a whiskey stone set! He will love this neat accessory set that comes with nine whiskey stones, tongs, and a travel pouch. Thanks to this set, he can enjoy every chilled sip of his favorite scotch without it being watered down, improving the drinking experience. Pair this box set with a bottle of his favorite bourbon or scotch and you've got one of the best Father's Day gifts from daughters for whiskey fans!
Custom Beer Tap Handle for His Home Bar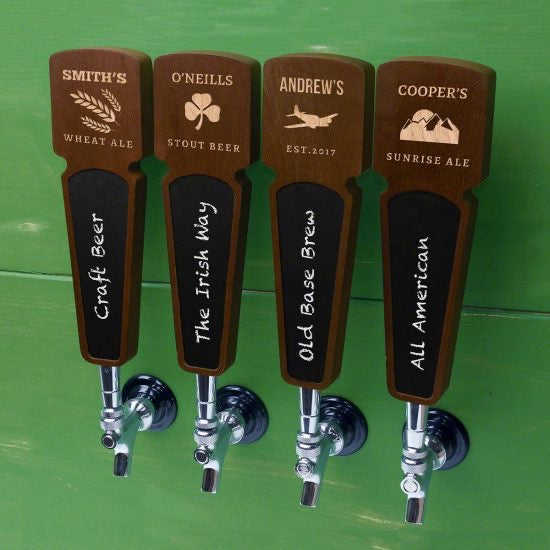 Has your dad recently taken up brewing his own beer at home or has a home bar? Either way, a custom beer tap handle is one of the coolest Father's Day gifts from a daughter! These tap handles are totally customizable: you choose a symbol and two lines of text for the top of the handle. On the chalkboard surface, he can write what kind of beer he's serving from that tap! This way, he can serve beer at parties and events in his home with the professional ease of a real bartender.
Unique Gift Set for the Dad Who Enjoys Cigars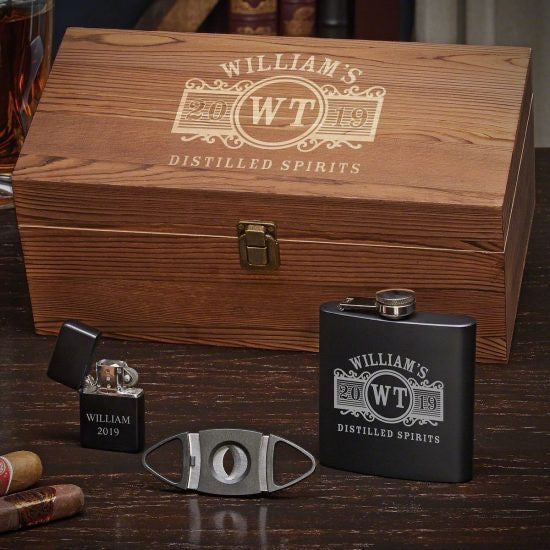 For dads who enjoy cigars and fine spirits, this set is a great Father's Day gift from his daughter. This set comes with a liquor flask, cigar cutter, lighter, and a gift box. Now he'll always be prepared to have a cigar whenever he likes. When he feels like a drink, the handy flask will be at his side. Plus, he can use the box to store the cigars!
A Funny Gift from His Daughter
Some dads like humorous or cheesy gifts, like this T-shirt! He'll get a kick out of wearing this shirt every time you bring home a date to meet him or have father-daughter outings. The shirt comes in tons of different colors, too, so you can get it in his (or your) favorite color. Cheesy gifts like this shirt are always great Father's Day gifts from daughters!
Awesome Whiskey Label Decanter Set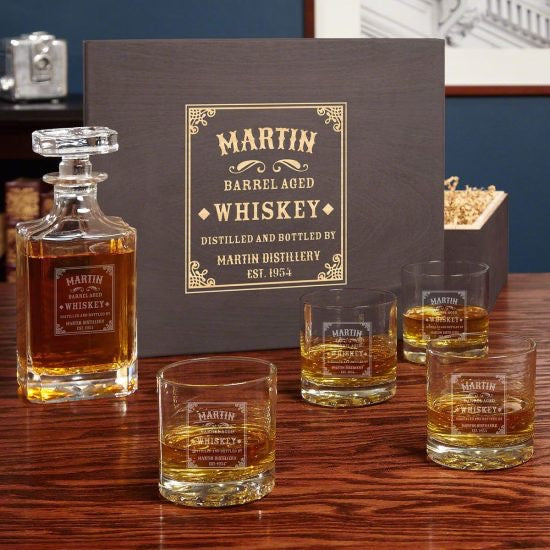 For the man who has always wanted to make his own whiskey, this awesome decanter set is engraved with his very own custom distillery label! Even if he hasn't actually made the scotch he's drinking, this set will make him feel like a real whiskey cooper. He'll want to display the set on his home bar for everyone to see such an amazing Father's Day gift from his daughter.
The Best Father's Day Gift for Movie Fans
If you and your dad are avid moviegoers who never miss the premiere of every new Marvel and Star Wars movies, this is the ideal Father's Day gift from a daughter. With his very own home theater sign, he can finally turn the living room or his man cave into the room of his dreams: an incredible movie theater in his home. You and your siblings could theme all of your Father's Day presents around helping him achieve his dream by also getting him a giant TV, a better couch or lounge chair, or a cool media case to organize all of his DVDs and Blu-Rays.
Always Have Cold Beer with An Insulated Growler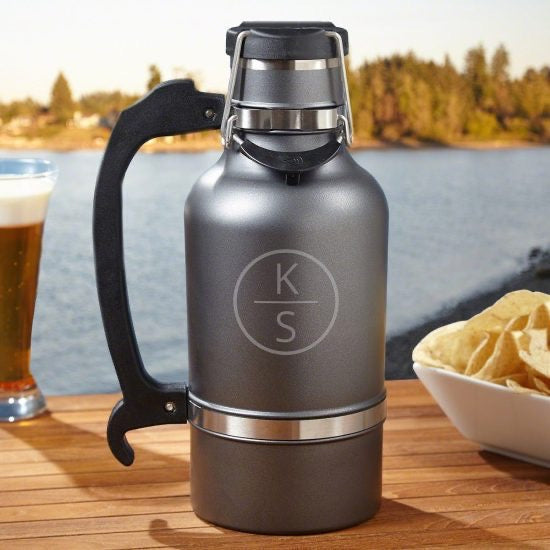 For the dads always on the go, this insulated growler is the ideal Father's Day gift from daughters. Made of double walled, vacuum-insulated stainless steel, this incredible growler will ensure any 64 ounce beverage inside stays chilled for 24 hours. Now he can bring plenty of beer, iced tea, his favorite cocktail, or classic water anywhere he goes. It's perfect for going to the beach, the lake, hiking, camping, or a long road trip.
A Cool Poker Set for Family Game Night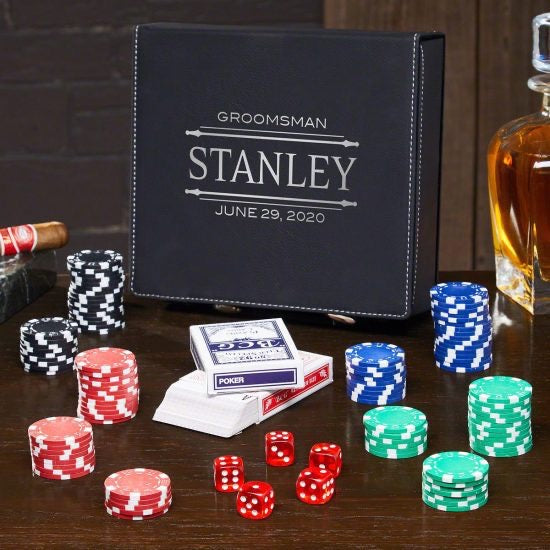 Whether he has a weekly poker night with his friends or enjoys playing Texas Hold 'Em with the family every weekend, he will love getting this incredible poker set as a Father's Day gift from his daughter. The set comes with two sets of cards, four sets of poker chips, six dice, and a handy custom faux leather carrying case that holds it all. This professional set will ensure that he's prepared for every game night!
Record A Custom Message for Him to Treasure Forever
If you want to get your dad a really thoughtful gift this Father's Day, you can record a message and have it engraved as a soundwave on a dog tag pendant! How cool is that? You can record yourself saying "Happy Father's Day," "I Love You," or anything you wish. He will be so touched at this incredibly sweet gift that he'll want to wear it every day and show it off to everyone he knows.
Cool Shadow Box to Start A Collection
This Father's Day, give your dad a fun new hobby: collecting! With this cool shadow box, your dad can collect anything from cigar wrappers to golf balls. He'll love showing off his growing assortment of unique keepsakes with this unique piece of decor. You two can start the collection together and make it a fun pastime to enjoy! He'll love this amazing Father's Day gift from his daughter that you two can enjoy together.
A Sweet Gift from His Daughter That He'll Want to Show Off
Even though you're all grown up, you're still daddy's little girl to him. Show him how much you care with this incredible personalized whiskey decanter set! This three piece set is engraved with the sweet phrase "Dad, You Will Always Be The First Man I Ever Loved." followed by your name. He will proudly display this exquisite set on his home bar or in his home office. This is by far one of the most thoughtful and heartfelt Father's Day gifts from daughters!
299+ AWESOME BEER GIFTS FOR DAD>
Cool Gift Set for the Coolest Dad
Is your dad a manly guy of many tastes? This unique manly gift set comes with a pint glass, cigar cutter, lighter, and a tactical survival knife! When he feels like a beer and a cigar, he'll reach for the items from this set. When he's going camping, hiking, hunting, or fishing, he'll make sure to have the knife on hand. This set is one of the coolest Father's Day gifts from daughters!
Giant Wine Glass for the Dad Who Loves Wine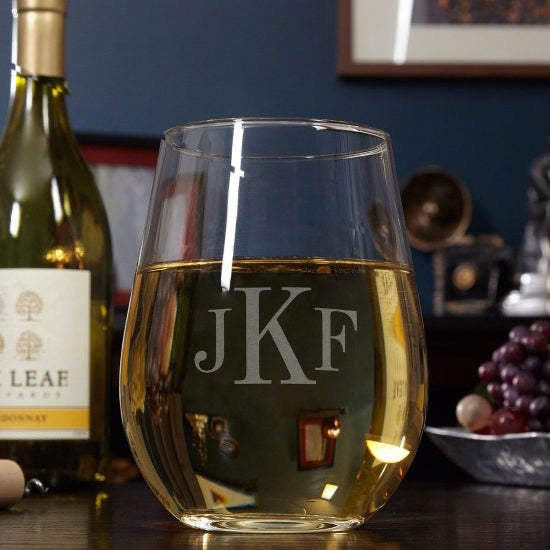 Does your dad really love wine? This incredible wine glass will hold plenty of wine (an entire 750 mL bottle if he wants!) for him to enjoy while he lounges on the couch, catching up on his Netflix shows. He'll never have to get up to get a refill again because of its massive capacity! One of the best Father's Day gifts from his daughter, he'll use it all the time.
K-Elite Keurig Coffee Maker
One of the best Father's Day gifts from daughters you can give is a coffee maker for the dads who love coffee as much as they love you. The Keurig K-Elite brews hot or iced coffee in 4, 6, 8, 10, or 12 ounce sizes. If he's really tired, he can choose the "Strong Brew" option to get an extra strong cup of coffee to pick him up. The buttons ensure that the Keurig is simple and easy to use even if dad is barely awake. It also comes with a sampler pack of K-Cups to get him used to how it works!\
Ultimate Beer Set for Father's Day
The ultimate beer lover gift set for dad: a pint glass, bottle opener, and a growler. Dad can bring his favorite craft brew along to enjoy at the beach or lake with the growler and it will stay chilled all day long. The pint glass will become his go-to for beers at home, and he'll always have this handy bottle opener ready to crack open a cold one. Everything about this awesome set makes it one of the best Father's Day gifts from his daughter!
Dads Who Cook Will Love This Cutting Board
For the dad who is always cooking up delicious meals for the family: a unique personalized cutting board! Engraved with "My Favorite People Call Me Dad" followed by all of his children's names. This would be a lovely group Father's Day gift from his daughters! He will love using the cool cutting board for seasoning, chopping, spiralizing, shredding, you name it! Plus, mom will also enjoy this gift because it will help keep the kitchen cleaner.
A Nice Decanter Set for Dad's Office
Fact: Most dads love whiskey, and they will especially love a whiskey decanter set as great as this one. This five piece set is the perfect centerpiece for dad's home bar, home office, or man cave. He will love having a nice set of drinkware to entertain guests with and show off just how classy he is.
Customize a Coffee Mug Just for Him
Does your dad love coffee? One of the best and most foolproof Father's day gifts you can give is a custom coffee mug! The best part about this incredible coffee mug is that it can be personalized with up to two lines of text of your choosing. You can engrave it with "Happy Father's Day" or "World's Best Dad" or a sweet message. This thoughtful Father's Day gift from his daughter will be his go-to coffee mug every morning.
A Dad Joke Book for Light Reading
Is your dad notorious for making ridiculous and classic dad jokes? Then this hilarious Dad Jokes book will be a hoot for Father's Day! He'll bust a gut laughing out loud to these awesome puns and witticisms. Just wait, he'll start quoting from the book and have plenty of inspiration to provide you with a lifetime of dad jokes now.
The Classiest Father's Day Gift
You know how you always see a fancy decanter set in the boss's office in TV shows in movies? With this handsome decanter set, your dad can be just like them: cool and classy. This set is made up of a decanter, four glasses, and an elegant serving tray. Now he can serve drinks to his potential business partners and seal the deal in style with a toast!
A Flask to Remind Dad of His Daughter
When your dad is out camping with his buddies or at the family reunion at the lake, he will love using this liquor flask for a shot of his favorite spirit. This cool flask has a handsome faux leather wrap that is engraved with the thoughtful phrase, "Dad, You Will Always Be The First Man I Ever Loved." followed by your name. How sweet! He'll always think of his little girl when he looks at this flask even though you're all grown up now. This is one of the most thoughtful Father's Day gifts from his daughter that will be treasured forever!
A Cool 2-in-1 Bottle Cap Collector and Craft Brewery Sign
This awesome 2-in-1 bottle cap collecting and custom brewery sign is the perfect Father's Day gift from his daughters. You and your sister(s) can pitch in and get him this super cool sign for him to hang in his man cave, home bar, or kitchen. He'll love the thoughtful personalization you put into it as well as being able to display the bottle caps of his favorite craft beers.
421+ AWESOME FATHERS DAY GIFTS FROM DAUGHTERS>