Getting a Christmas gift for a man can be a difficult process. The man in your life is a manly man, and you want to get him something really cool that also shows you care. What should you do? Get him a personalized gift! The best personalized Christmas gifts for men are practical and useful things that he'll use all year long, improve his lifestyle, and are enjoyable more than once. What does that mean? Some unique Christmas gift ideas for him along those lines are a custom ammo can gift set for military men or gun lovers, a travel gift set for the guys always on the go, and a decanter set that he can serve everyone with. Don't worry, there are plenty of options for manly personalized Christmas gifts for the special men in your life.
Manly Ammo Can Gift Set
Nothing is manlier than this incredible gift set. This gift set has military men in mind, but would also be great for beer lovers, gun lovers, and hunters. The manly man in your life will go crazy for this amazing Christmas gift! He can share a nice cold beer with you or a loved one in style with the two engraved pint glasses. He can open a couple of beers for everyone with his cool new bottle opener and store the caps in the ammo can. He could also use the ammo can to store Christmas cards, winter gear, and camping equipment. Plus, he can help everyone open their new Christmas gifts with the razor sharp knife. This set really has it all!
Legendary Whiskey Gift Set for The Legendary Man
Are you looking for a truly incredible personalized gift for the legendary manly guy in your life? This is the gift set for him. This awesome gift set is the ideal Christmas present for men who love whiskey. The rocks glass and whiskey stone box are engraved with his name followed by "The Man. The Myth. The Legend." He'll feel like the coolest guy in the world whenever he drinks from this super cool glass. He can enjoy a chilled holiday cocktail with this top-notch set and never have a watered down drink ever again thanks to the chillable whiskey stones.
Poker Set of Christmas Gifts for Him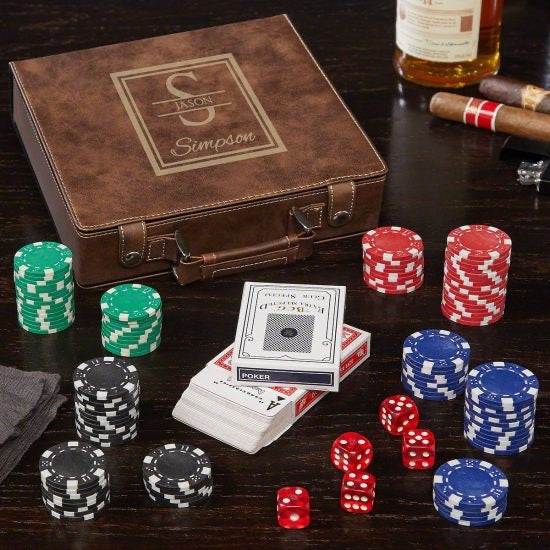 Men pride themselves in their poker abilities. Help him show his off this holiday season with this handsome poker set! He'll think this gift set is incredibly cool with its customized leather case and all he needs to have a fun game night with his buddies, playing poker and other fun games for hours. He'll be a poker, Rummy, or craps pro in no time with all the practice he'll get!
Personalized Survival Knife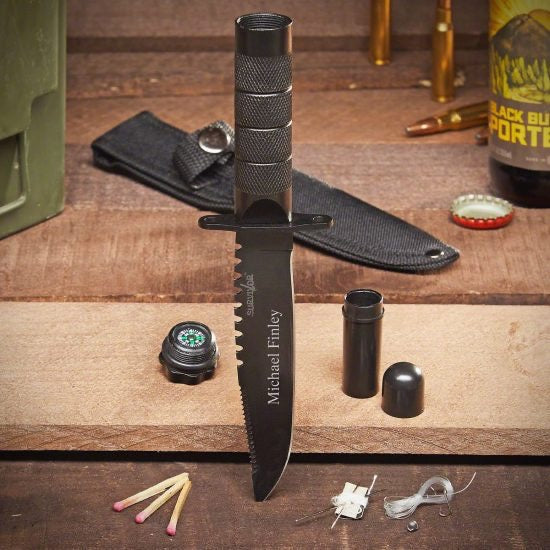 Literally no Christmas present is manlier than this custom survival knife. A rugged and dangerous knife on its own, the hilt has a secret survival kit and compass hidden inside. This would be perfect for men who enjoy camping or hiking to have on hand just in case. The thinner serrated edge is perfect for cutting strips of cotton from clothing or a blanket to make a tourniquet or bandages while the thicker edge can slice through leather or thick wood with ease. The survival kit includes matches, a sewing kit, fishing line, hook, and a split shot. With this tactical knife, your man will be prepared for anything after this Christmas.
Glencairn Whiskey Gift Set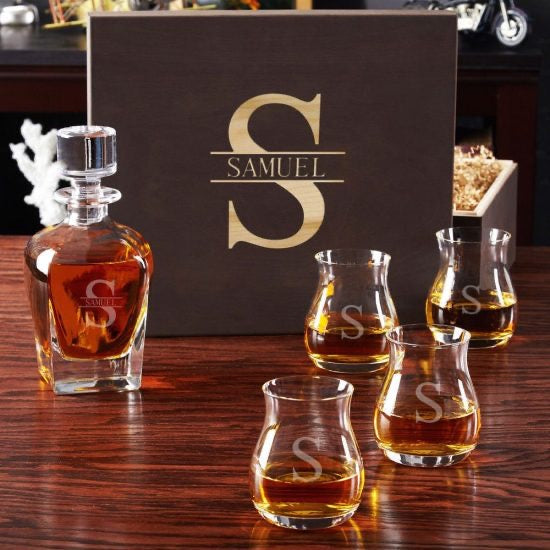 There's nothing like a glass of whiskey to warm you up after a cold day outside in the snow. This Christmas, the man in your life can have whiskey like never before. The Glencairn glasses are specially crafted to enhance the subtle flavors, making his drinking experience better than ever. He can also repurpose the wooden gift box to store Christmas cards, liquor bottles, or special holiday keepsakes. What a remarkably cool Christmas gift! Now the whole family can enjoy a glass of scotch together on Christmas Day!
231+ MORE WHISKEY GIFTS FOR MEN>
Custom Watch for Manly Men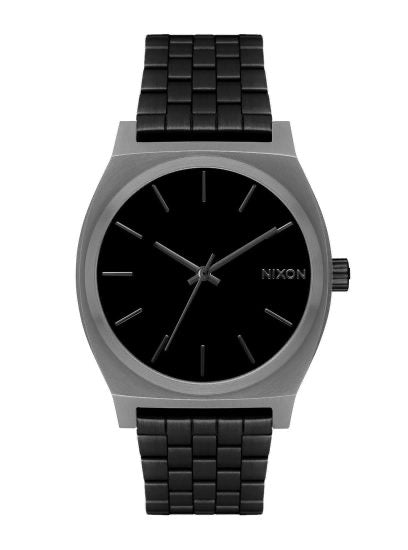 Looking for a personalized watch? This is the ultimate customizable timepiece! Not only is the back engraved with up to two lines of your choosing, but you can also choose the case, face, and the band. You can make this watch literally however you want. Has he been searching endlessly for a gunmetal band and a blue face or a gold watch with a black face? The options are endless with this customizable watch. You can make the band black, the case gray, and the face silver! This incredible watch is seriously one of the coolest personalized Christmas gifts for men you can give. He'll be so surprised that you made him his dream watch!
Stainless Steel Wine Glasses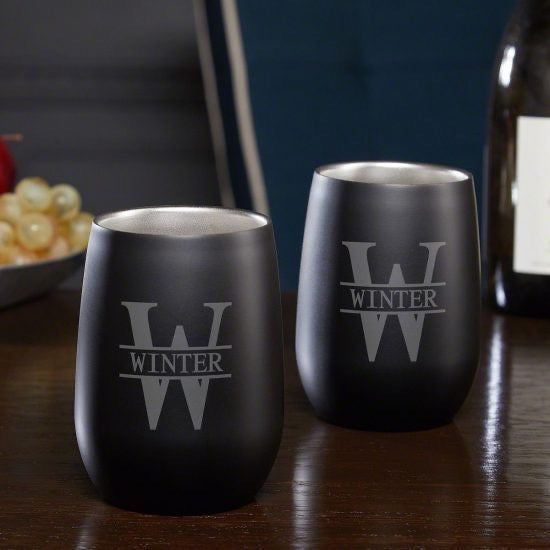 Does the man you're shopping for like wine? Then he needs these stainless steel wine glasses. Perfect for any wine, cider, or even a hot toddy, these glasses will keep his drinks at the same temperature for four hours. This set of two is perfect for sharing a glass of warm mulled wine in front of the fire after spending the day watching the Christmas parade and touring the light shows. If he prefers chilled wine, he can keep this in the fridge and they'll keep his wine chilled for longer than four hours!
King of the Grill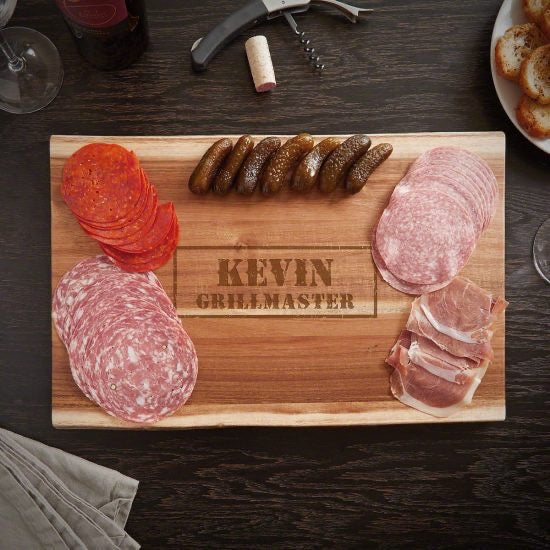 Is there anything more manly than a man who knows his way around a grill? With this custom cutting board, he'll feel manlier than ever! It's the perfect surface on which he can cut different meats before grilling them. When he has friends and family over and wants to serve him his deliciously grilled foods, this board is awesome for displaying everything on top of! He'll feel like the most macho man ever with this board.
Manly Beer Gift Set
Looking for an awesome beer gift set for the legendary man in your life? This is one of the best personalized Christmas gifts for beer lovers ever. When he unwraps this spectacular gift on Christmas Day, he'll be so impressed. Your boyfriend or husband will love that you gave him something that tells everyone just how incredible of a man he is. He can crack open a couple of beers to toast to his awesomeness with these super cool beer mugs.
Personalized Hammer – The Perfect Christmas Gift for Men
Everyone knows that a hammer is a necessary tool in every man's belt, but it doesn't have to be boring! Give the manly man in your life something truly unique: a personalized hammer! This awesome tool can be personalized with a whole line of text. He'll use it right away when taking down Christmas decorations in a few days and building that new piece of furniture you got as a present. Every time he looks at it his trusty new hammer, he'll be thinking of you.
Man Cave Sign for Manly Men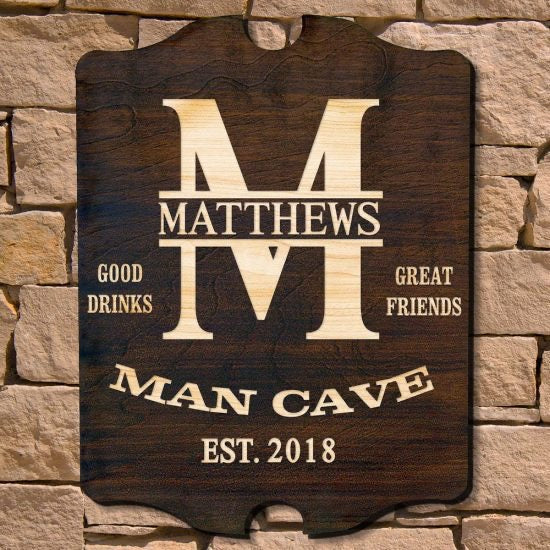 Has your husband always wanted a man cave? This Christmas, help make his dreams come true with his very own custom man cave sign. His face will light up like Christmas lights when he unwraps this handsome gift! You could even theme all of your Christmas gifts around his man cave to get him started, like a new TV, a bar cart, or a new lounge chair.
Stainless Steel Beer Gift Set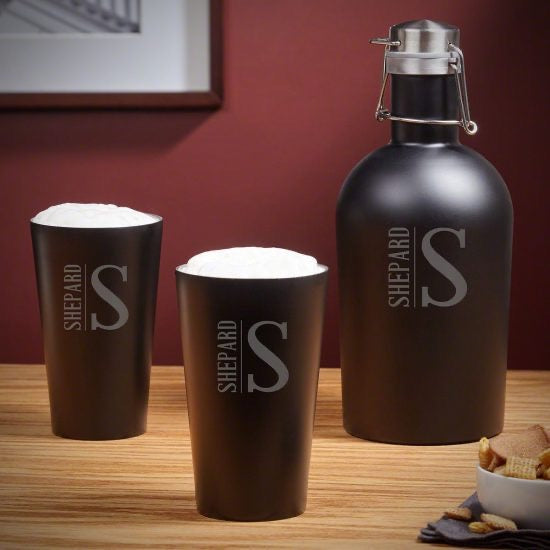 This gift set is ideal for beer lovers and home brewers. Made of double walled stainless steel, this beer gift set will keep his beer cold for hours on end. The pint glasses are ideal for sharing his latest holiday batch with you or a buddy. The growler will keep his home brew fresh and cold all day long, so it's ideal for traveling. Now he can bring beer for everyone to try at grandma's house for Christmas!
2-in-1 Liquor Flask & Shot Glass for Sharing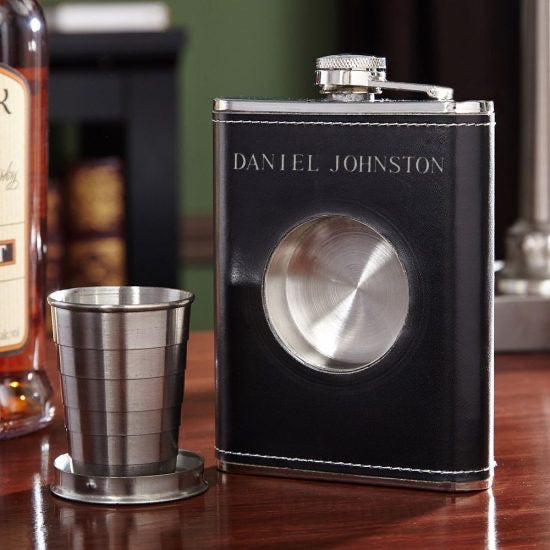 The man on the go will go nuts for this incredible liquor flask. While its black leather exterior and personalization is cool enough on its own, it has a secret collapsible shot glass! Now he can share a shot with you or a friend at any time. He can bring it along for when you two go look at Christmas lights later and warm up with a sip of whiskey or for a little liquid courage when you go to Christmas at your grandparents' house.
Incredible Cigar Glass Set for Manly Men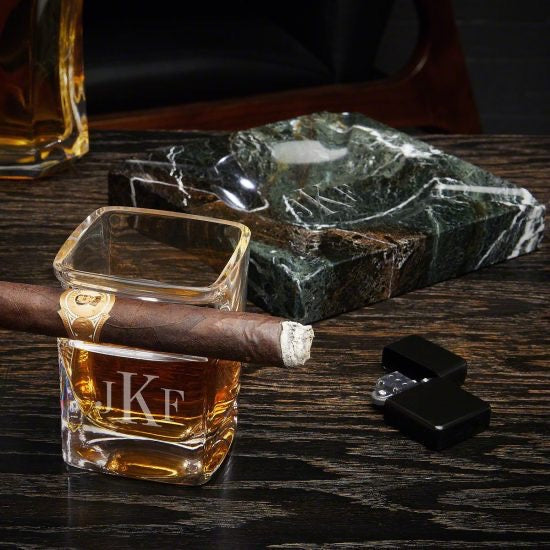 Most manly guys enjoy whiskey and cigars. This incredible whiskey set is unlike any other Christmas gift on this list because of the incredible cigar-holding whiskey glass! It also comes with a monogrammed marble ashtray and a Zippo-style lighter. This glass is perfect for him to enjoy a celebratory holiday cigar and a glass of Jim Beam at the same time on Christmas Day. This is an awesome Christmas gift for him, particularly for your dad, grandpa, or husband.
Custom Duffel Bag for Him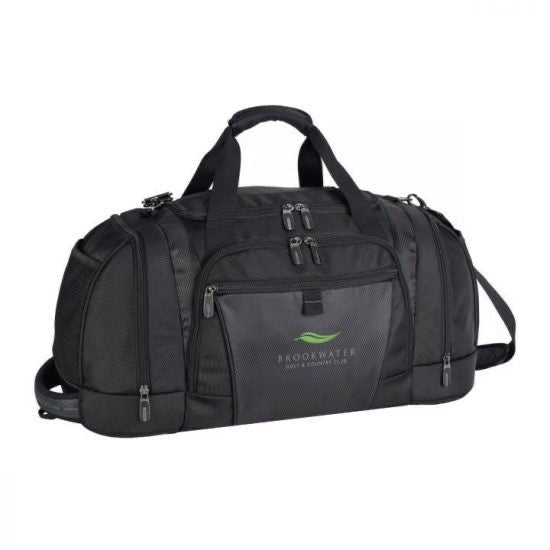 Duffel bags are a must have travel item for every man, but you can make it so much better with a little personalization. You can upload a custom logo or design one with their handy creative mode. Your guy will always know which gym bag is his, which is not only safer to prevent it from being stolen, but also makes it much easier to pick out at the airport. He can take this awesome duffel bag to the gym, traveling, hiking, camping, anywhere! He can use it right away to pack for your holiday vacation or your road trip to spend Christmas with family.
Decanter and Glasses are Great Christmas Gifts for Him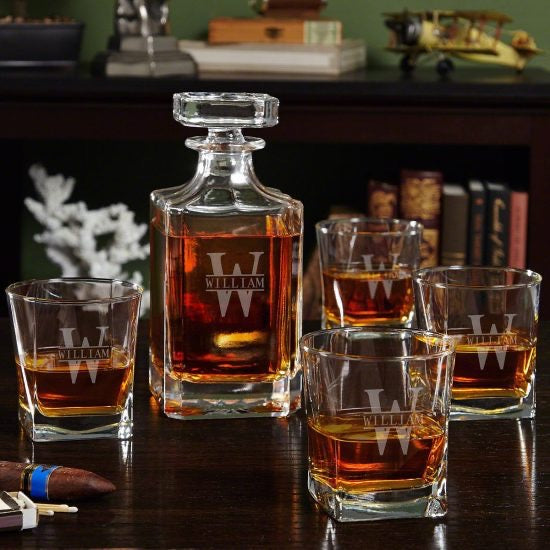 After a busy day at the office or working hard in the yard, there will be nothing he wants more than to drink a glass of whiskey on the couch. This whiskey decanter set will make all those dreams come true this Christmas! He'll think the customization on this glassware is incredibly awesome, and it'll make him feel cool every time he uses them. Nothing will make relaxing after hard work better than this set, making this the perfect Christmas present for him.
Custom Beer Stein for the Holidays
What's manlier than drinking beer in a classic beer mug? Drinking beer in a beer stein! The man in your life can enjoy beer the way that Germans in the Motherland of beer have for decades with his phenomenal Christmas present. The beer in and of itself is a handsome work of art with its starburst base and personalization, but the pewter lid really adds a unique vintage look. Your dad or brother will love being able to keep his beer fresh and foamy while he's eating Christmas dinner thanks to the pewter lid. This would make a great stocking stuffer, or pair it with a pack of German beer to make it a complete gift!
Manly Gift Set for Christmas
Does your guy enjoy guns, cigars, tools, and liquor? This set has everything he loves! This manly personalized Christmas gift comes with a genuine military-grade .50 caliber ammunition can, an engraved knife, 2-in-1 cigar flask, and an axe. It doesn't get manlier than this! He'll love having a brand new axe that he can use all winter to get firewood to keep his home nice and warm, and to use for yard work in the spring. He can use the ammo can to store all kinds of things from Christmas keepsakes to work gear in a more convenient way. The handy knife is perfect for him to keep in his pocket or his car for everyday use. He can light up a stogie in celebration of the new year and enjoy a shot anywhere with the neat cigar flask. Seriously, this is one of the coolest and manliest personalized Christmas gifts for him.
Custom Decanter Presentation Set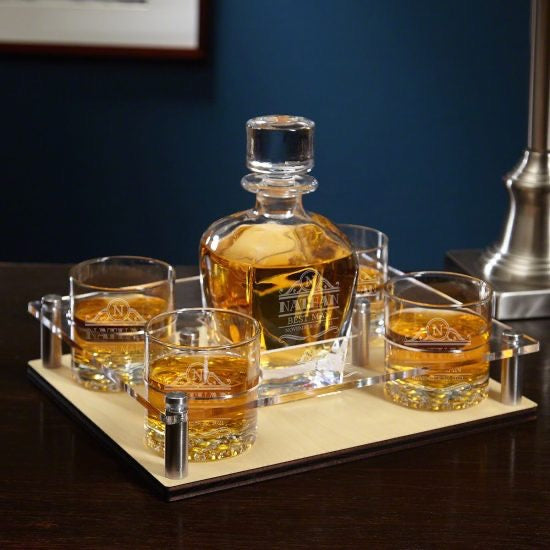 Every whiskey loving man needs a quality whiskey decanter, but don't stop there. This holiday season, get your man this sophisticated presentation set, which is one of the most attractive personalized Christmas gifts for him. The set includes four rocks glasses, a whiskey decanter, and a glass serving tray that holds it all. Each piece is engraved with a customizable design featuring your man's name, initial, title, and date. He'll want to display this set right away and pour the whole family a glass of whiskey to enjoy as everyone unwraps their Christmas presents. He can show it off in his home bar area, living room, or home office.
Handsome Custom Wallet
A classic embossed wallet is the perfect gift for the manly man in your life this Christmas. Wallets are handsome and masculine gifts that will never leave his side. Plus, he gets to use it all the time! The outside of the wallet has been embossed just for him, so he'll feel so cool every time he takes it out of his pocket. The short message on the inside will bring a smile to his face forever.
Beer Set for the Bearded Guys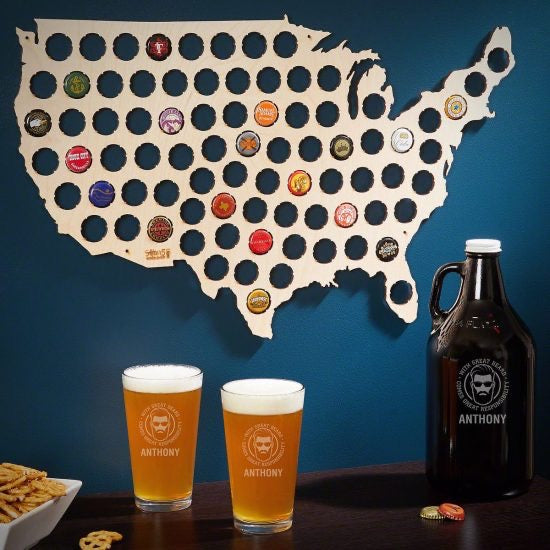 Does your guy have an awesome beard that he's still rocking from No Shave November? Then he'll get a kick out of this beer set for men with beards. This awesome set comes with an amber beer growler, two pint glasses, and a large beer cap map of the U.S.A. The growler and pint glasses are both engraved with a cool beard-themed design that reads "With Great Beard Comes Great Responsibility" followed by a name of your choice. If that's not manly, we don't know what is. Make sure to include a six pack of his favorite beer so that he can open a couple for the two of you and start his new bottle cap collection on the map! If he's into craft beer, he'll love having a growler to store his latest holiday batch in. This set is one of the best personalized Christmas gifts for the bearded men this holiday season.
Custom Home Bar Sign
This attractive wooden bar sign is one of the greatest Christmas gifts for him because it'll look awesome no matter where he hangs it, whether it's in the home bar, kitchen, or any other room. He'll be a huge fan of the aesthetic of this sign that makes the whole place feel like a real bar. Finally, with a gift like this, he can ordain his favorite drinking spot as his official watering hole!
A Sharp Gift for Manly Men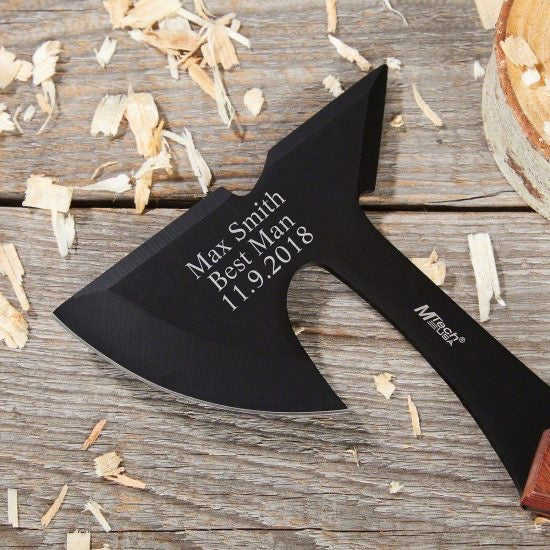 Axes are necessary tools in any man's arsenal, but this isn't your ordinary axe. This hatchet is engraved with three lines of text of your choosing. While it might be a bit late on Christmas Day to go chop down a tree to decorate, he can use it to chop firewood to keep the house warm if he doesn't have an electric or gas fireplace! This custom hatchet has got to be one of the manliest, most useful personalized Christmas gifts for men that your dad, brother, boyfriend, or husband will love to receive this holiday season.
Christmas Gifts for Him for His Watch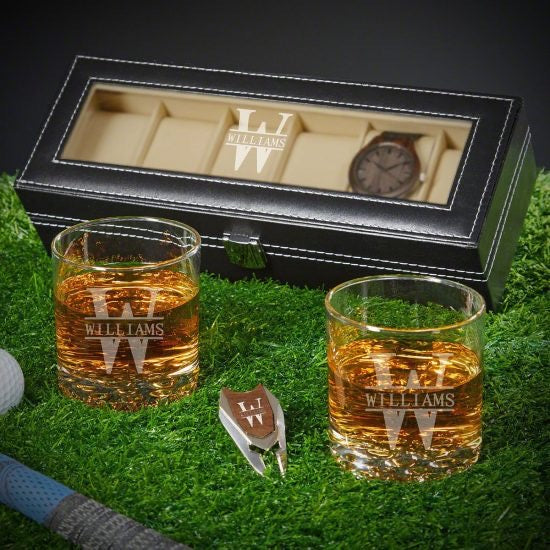 Make him feel like the coolest guy ever this holiday season with this handsome leather watch case. It's the perfect gift because it's a fantastic spot for him to put his favorite watches when he isn't wearing them. He'll love using one of these handsome glasses to toast to another Christmas with loved ones, and they'll quickly become his go-to glasses when he's celebrating a special occasion.
Personalized Titanium Bracelet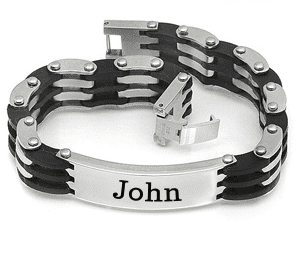 Let's face it, men like jewelry too. This awesome titanium bracelet is one of the coolest personalized Christmas gifts for men who appreciate jewelry. Both the font and back of the plate can be personalized with a cool phrase or a sweet sentiment. Your husband or dad would really love this awesome Christmas gift from you because it's not only cool, but it also shows how much you care through the thoughtful personalization.
Custom Wooden Beer Caddy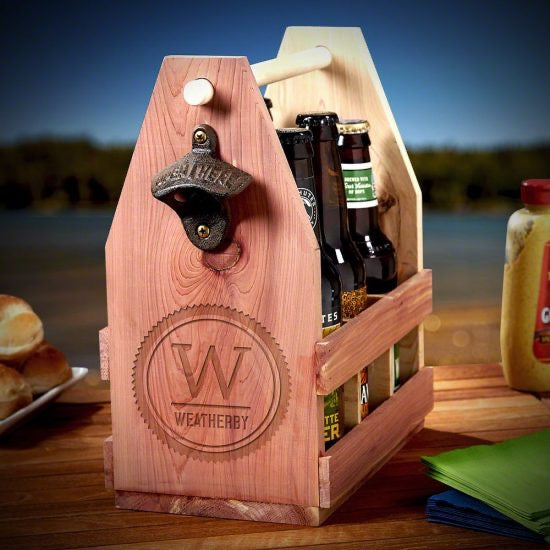 This might look like your standard beer caddy, but it's so much more than that. While yes, it is made out of wood and is meant for transporting his six packs to BYOB parties and such, this caddy has a little something extra. It comes with a sturdy cast iron bottle opener built into the side and a way too cool engraved design featuring your man's name and initial. He can bring beers for everyone to Christmas with the family and already have a bottle opener on hand thanks to this handy caddy. Plus, he'll never have to worry about dropping another beer bottle from its flimsy cardboard six pack case ever again!
Manly Cigar & Whiskey Gift Set
Make his Christmas a manly one with something that is sure to lift his holiday spirits in the most masculine way possible. This cigar and whiskey set is one of the most manly gifts for men out there. As the winter snows come in, he can sit by the fire with an elegant glass of his favorite whiskey to warm his spirits, while smoking his best cigar. This set makes a great manly gift because it covers all his needs while also being personalized with his initial. Give your guy the manly gift you know he needs!