Lowball glassware is a staple in bar glasses. Most cocktails and drinks are served in these short glasses and typically range between 6 to 10 ounces. Sometimes called a rocks glass or an old-fashioned glass, a lowball glass is perfect for a simple cocktail or your favorite liquor over ice. Some rocks and whiskey glasses are specially designed to improve the taste of your drink while others are meant to show off your beautiful concoction! Looking for unique, personalized lowball glasses to add to your home bar? Searching for that perfect glass to go with your favorite cocktail? Are you wanting a set of glasses that no one else you know will have? You're in the right place!
Must-Have Monogrammed Lowball Glassware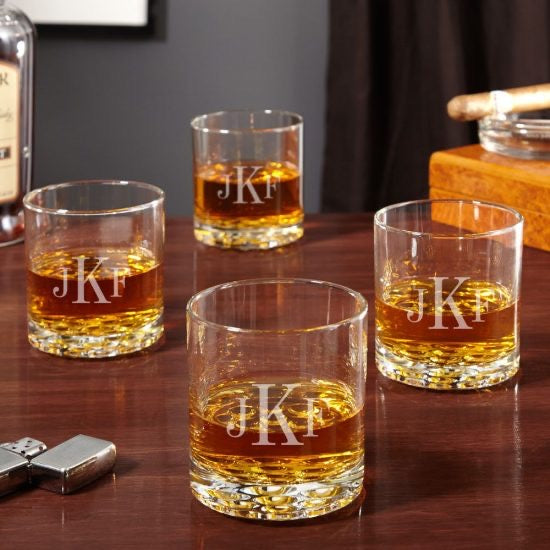 Whether you're an avid whiskey lover or you love to try all kinds of cocktails, one thing is for certain: you need lowball glassware! A scotch on the rocks or a Negroni just isn't right if it's not enjoyed from a rocks glass. These monogrammed glasses are perfect for any lowball drink of your choosing from a neat double of bourbon to a fruity margarita. The unique bubble design in the base of these 10.25 ounce glasses beautifully reflect light throughout your drink, showing off the various hues and allowing you to appreciate its appearance.
Unique Square Lowball Glass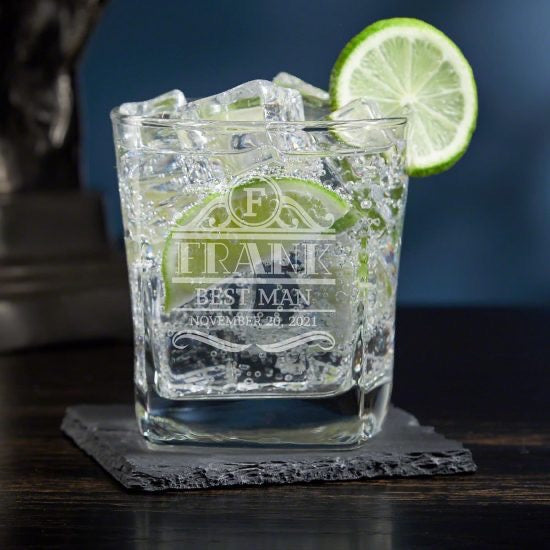 There's nothing like a cold, refreshing Gin and Tonic or a Vodka Soda on a hot summer day. Top it off with a couple of lime slices and you've got quite a delicious drink! Whether you're enjoying it poolside or inside, you need the proper glass. This square lowball glass is great for cocktails, mixed drinks, and even a vodka on the rocks. The square shape makes it easier to hold on to, even if your hands are wet from being in the pool!
Essential Pair of Cocktail Glasses
Drinking with a friend or a loved one is always better than drinking alone. Enjoy a couple of Vodka Cranberries with these vintage-inspired tumblers! As the perfect lowball glassware for plenty of classic cocktails, these lovely glasses are great for after-dinner Whiskey Sours or Margaritas. You'll want to offer your guests a drink just so that you can show off your cool, custom engraved glasses.
The Coolest Rocks Glass You've Ever Seen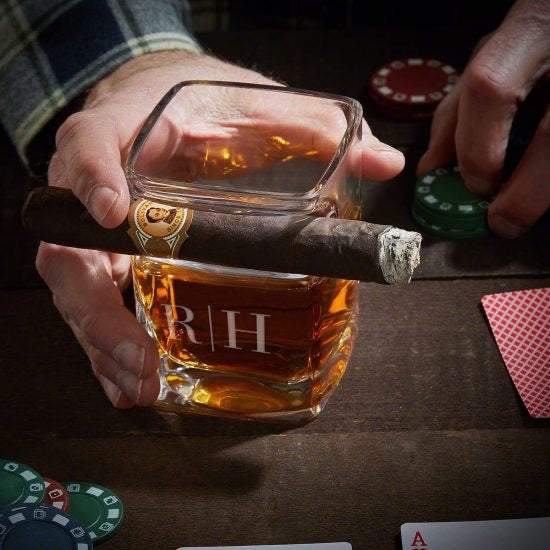 It's an indisputable fact that cigars and whiskey are a match made in heaven. There's nothing quite like puffing on a stogie and sipping a glass of fine scotch to make you feel like a classy, sophisticated person. Can it get any better than this? Why yes, it can! With this revolutionary rocks glass, you can enjoy your cigar and whiskey at once with ease. No more juggling between the two and your poker cards, you can puff and sip with one hand while showing off your Full House with the other! This multi-tasking glass allows you to relax even more thoroughly than ever before. Plus, it makes you look and feel like James Bond. If there is any lowball glass you should definitely have, this is the best whiskey glass you can possibly have.
Modern Lowball Glasses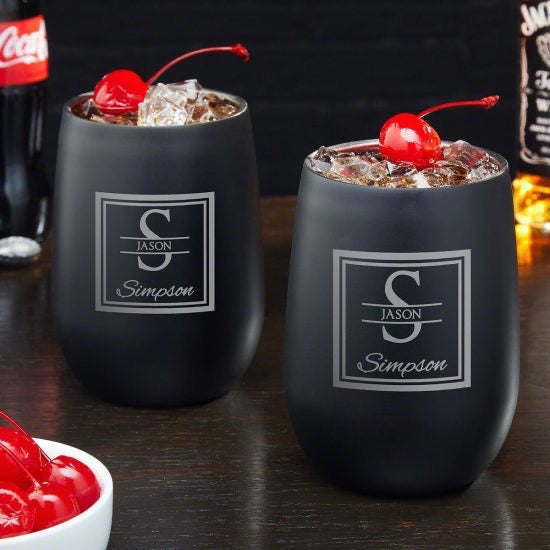 In today's age of upgrades and modernized technology, even glassware has been upgraded! Stainless steel "glasses" are taking the world by storm, from wine glasses to lowball glasses, and it's no wonder why. The insulated steel is unbreakable, durable, naturally cold, and keeps your drinks chilled! You just can't go wrong with these unique glasses no matter what kind of lowball cocktail you prefer. You can take them along on a camping trip to enjoy a classic Rum and Coke or simply have a refreshing Vodka Tonic by the pool.
111+ PERSONALIZED ROCKS GLASSES AND MORE>
Make a Statement with This Colorful Glass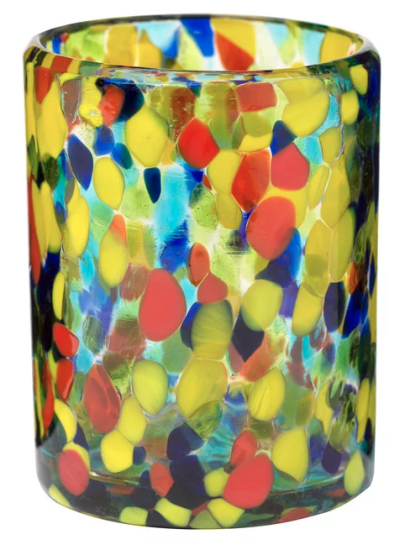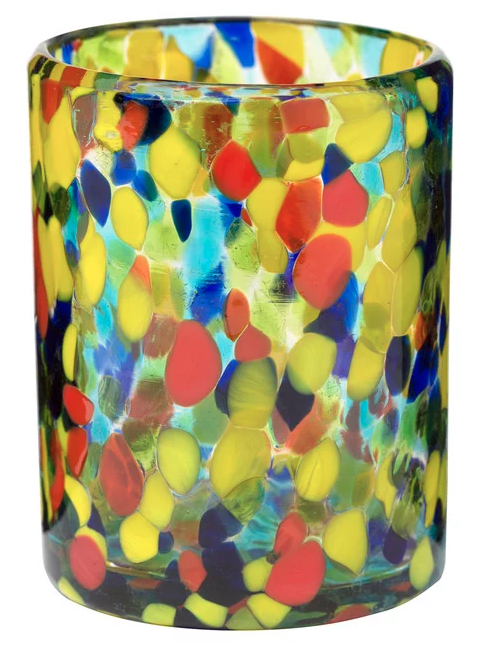 Looking for lowball glassware that will add some color to your home bar? This set of Jackson Pollock-like glasses are little works of art! The splashes of primary colors add a modern vibe to your home bar no matter what kind of decor or theme you have. No one else you know will have such exquisite glasses, that's for sure! You won't want to keep these glasses hidden away in a cabinet, they belong on display so that everyone who visits can admire them.
Essential Glass for Your Favorite Mixed Drinks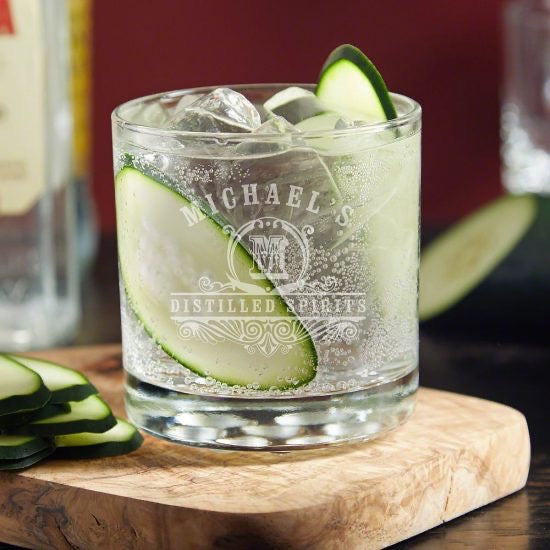 When you come home after a long day, the first thing you want to do is grab a cocktail and wind down for the evening. You'll need the proper tools, such as your own go-to glass! This old-fashioned glass is the perfect size for most popular cocktails, such as a Whiskey Sour, Gin and Tonic, or a Vodka Greyhound. The 10.25 ounce capacity ensures that it has plenty of room for a variety of ingredients for simple or complex cocktails. No one else will use your personalized lowball glass, which means it'll always be ready for you when you need it!
Keep Your Cocktails Cold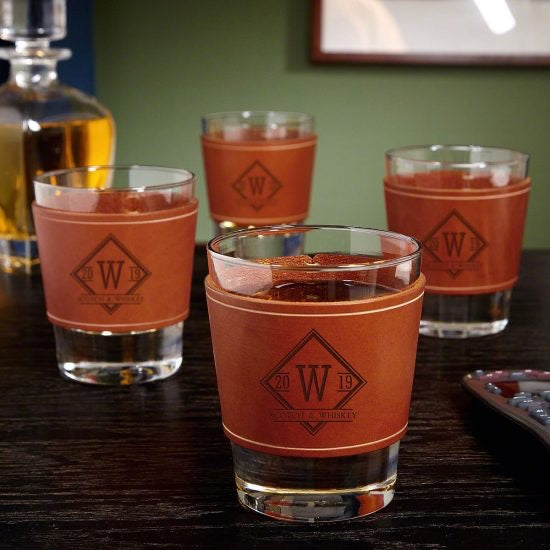 Make sure everyone's drinks stay cold and fresh with these insulated lowball glasses! The handy leather wraps provide an extra layer of insulation that keeps your guests' drinks cold without freezing their hands. These unique glasses are bigger than they look, too, as they hold a whopping 13 ounces! You can serve a hearty margarita, Black Russian, or Mai Tai in these insulated glasses.
Stunning Crystal Lowball Glassware
Looking for lowball glasses that are nice enough to match your finest dinnerware? You're in luck, these gorgeous crystal glasses are perfect! The classic pineapple-cut pattern matches most crystal glassware, even Waterford! Your guests won't doubt your sophistication when you serve them a drink in these lovely glasses whether it's a simple scotch on the rocks or a classic Old Fashioned. They're even nice enough to use at formal events such as Christmas with the family or a fine dinner with business partners!
You Can Never Go Wrong with Martini Glasses
Yes, these are martini glasses, but they're still technically lowball glassware. You can enjoy Manhattans, a Jockey Club, or even a Vodka Cranberry in these classic glasses. The stemless design makes them easier to hold and much less likely to tip over or break. Plus, they're easily stackable for convenient storage! Seriously, everybody could use this set of martini glasses in their barware.
Bohemian Blue Glasses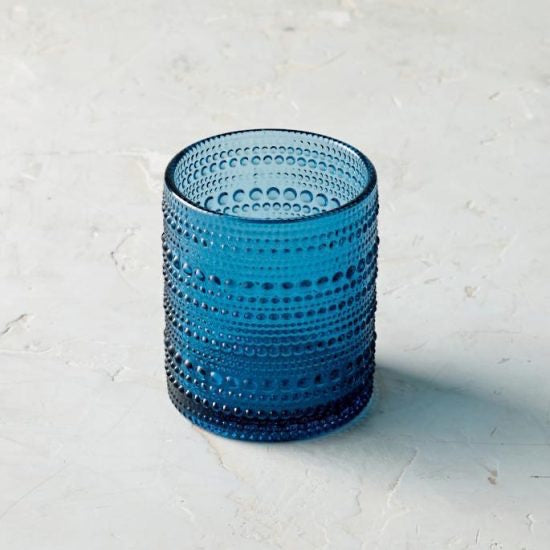 Whether you're really into the boho style or you just want to add something unique or colorful to your home bar, these lovely blue glasses are ideal! The beaded texture isn't just looks, it helps prevent condensation from forming and gives you a better surface to grip. These glasses would go perfectly with a nautical-themed home bar, too. The old-fashioned style of these glasses makes them perfect for a Sazerac, Vodka Tonic, or even a Godfather. Not a fan of the blue? Don't worry, these glasses come in six colors to suit your needs!
Hold the World In Your Hand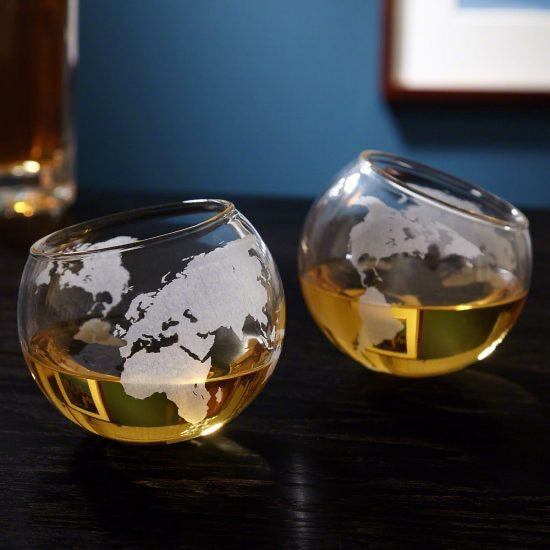 Lowball glassware doesn't have to be boring, and neither do your drinks! Add a little whimsy to your cocktail hour with these fun rolling globe glasses! These unique glasses are etched with the map of the world and don't have a flat base so that they rock and roll around on a surface. Don't worry, they won't tip over, but they do allow your drinks to be perfectly mixed. They're a lot of fun when you have guests over, that's for sure!
A Lowball Glass with a Twist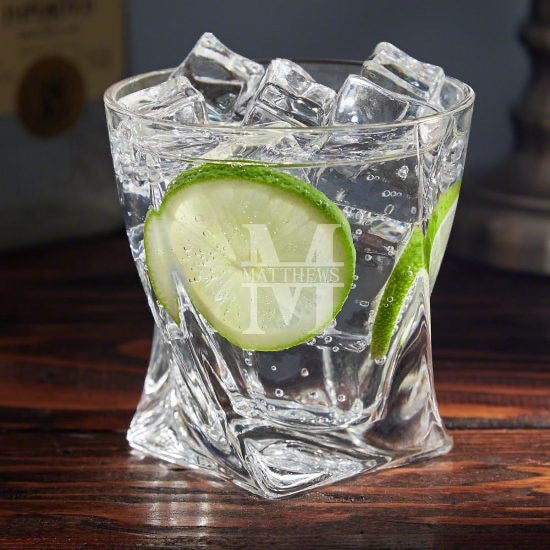 Looking for a high-quality lowball glass to enhance your favorite mixed drink? This gorgeous rocks glass is unlike any other you've seen before. The elegant twist makes it look like it's a piece of glass-blown art, and it allows light to refract through it, illuminating your drink so that you can further appreciate its appearance. The twisted design fits well in your hand, and is the perfect size for your Gin and Tonic or Vodka Soda. As soon as you get home from work, you'll want to grab your trusty personalized rocks glass and enjoy a relaxing, delicious cocktail.
Elegant and Simple Rocks Glasses You'll Love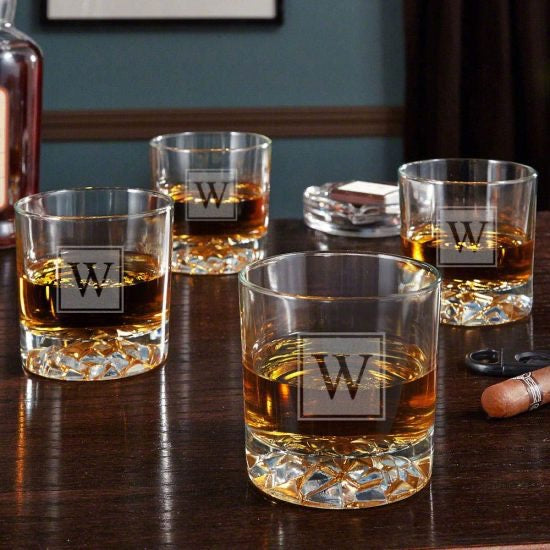 You want lowball glasses that do the job, but also impress your guests. These beautiful rocks glasses are perfect for you! The classic double old-fashioned style makes them ideal for all kinds of cocktails, but they are simply stunning to look at. The glacier-like base beautifully reflects the colors of your drink, creating a unique effect that allows you to appreciate the appearance of your cocktail even more. The engraved block monogram is just the cherry on top of these simply elegant lowball glassware. Any guests you serve with these lovely glasses will be amazed at their superb quality and distinguished.
A Hefty Lowball Glass for Larger Cocktails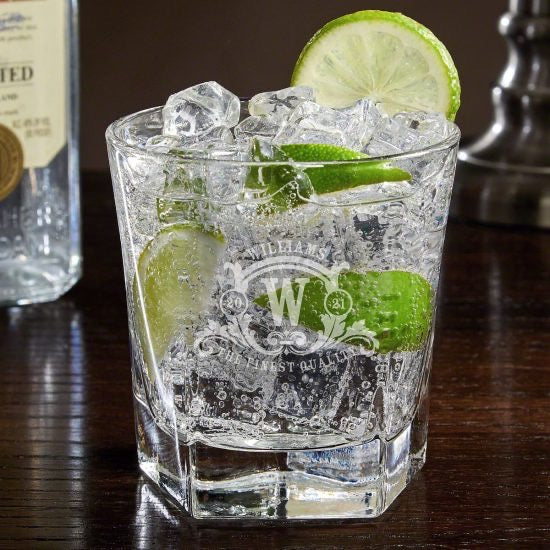 When it comes to hardier, manlier cocktails like Jagerbombs, Scotch and Water, and a Suffering Bastard, they deserve to be served in an equally manly glass. You need this unique pentagon-shaped double old-fashioned glass! With its extra thick glass, large size, and substantial heftiness, you'll finally be able to enjoy your favorite manly cocktails properly. You can even toast with this glass or slam it on the counter like Thor without worrying about it breaking.
Greek Glasses Dressed to Impress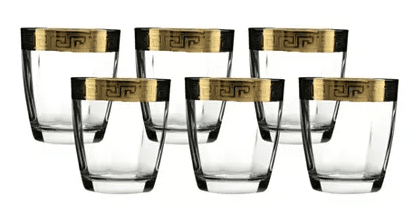 Vintage decor and glassware never gets old, especially when it's Greek-inspired. These gorgeous gold-rimmed lowball glasses feature the classic geometric pattern you see all over Greece. These elegant glasses are the perfect addition to any home bar regardless of your decor as they blend seamlessly with any theme! This set of six lowball glasses are simple, classy glasses you just can't go wrong with.
The Perfect Cocktail Glass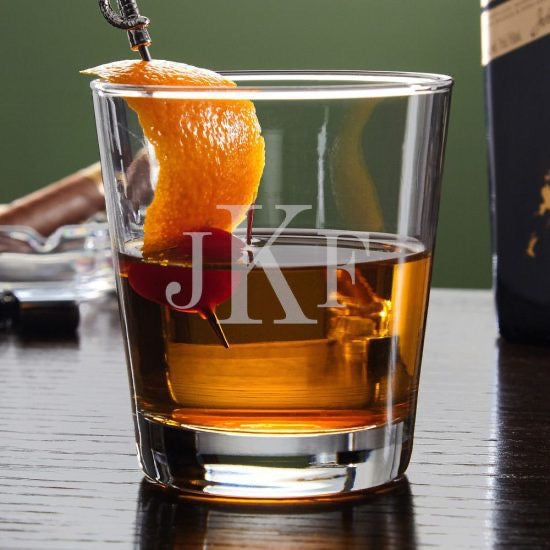 You've definitely seen this classic cocktail glass in your favorite bar before when you order a Negroni or Rusty Nail. The telltale tapered shape and sizable 12 ounce capacity allows for plenty of room to accommodate simple to complex cocktails. If you're looking for a lowball glass you're used to using at your local bar and want to have it home, this is the glass for you!
Spherical Lowball Glass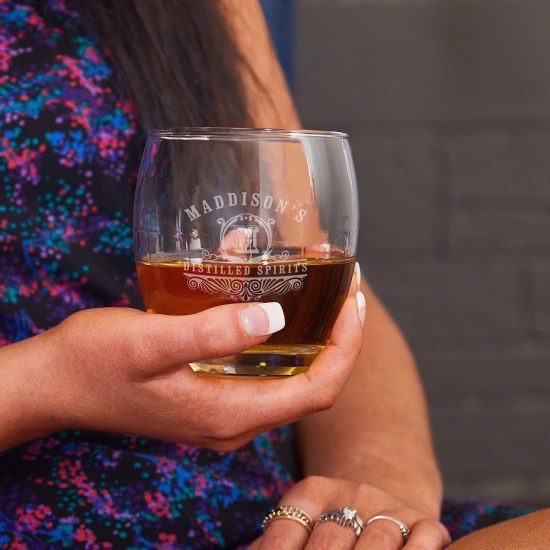 When you come home after a particularly long day, you just want a drink and relax on the couch with a movie on Netflix. However, someone keeps using your go-to glass! Make sure that no one else will use your favorite lowball glass by getting a uniquely personalized one that has your name on it. This elegant glass has a wide, round bowl shape that ensures you have plenty of room for a variety of cocktails.
759+ WHISKEY AND ROCKS GLASSES YOU WILL LOVE>
Extra Chilly Rocks Glass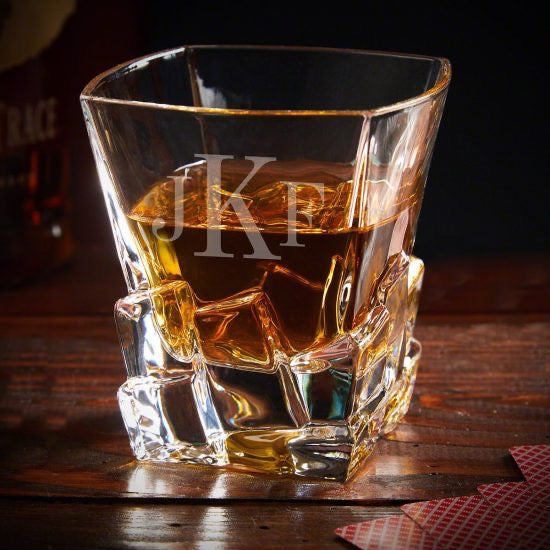 Get a load of this spectacular glass! It looks as if it was crafted from an iceberg and fossilized, creating a unique ice cube effect on the base that gives a whole new meaning to cocktails "on the rocks." This extra layer of glass isn't just decorative, though, it actually helps insulate your drink and prevents condensation from forming! How cool is that? Pardon the pun, but you won't have to worry about drinking your cocktail quickly thanks to the extra thick glass that makes your drink stay chilled a little longer. This lowball glass is quite the showstopper, and a set of them would be great pieces of decor in your home bar when you're not using them!
Classic Cocktail Glass
You're a person who likes to keep things simple, even your cocktails. Not to worry, there's a glass made just for you! This rocks glass is perfect for a Pink Gin, Vodka Tonic, or a Rum and Coke. It's big enough for a double, too, since it can hold up to 12 ounces. The classic cylinder shape ensures that you have plenty of room for your ingredients and ice to make your drink exactly the way you like it.
No One Else Will Have This Glass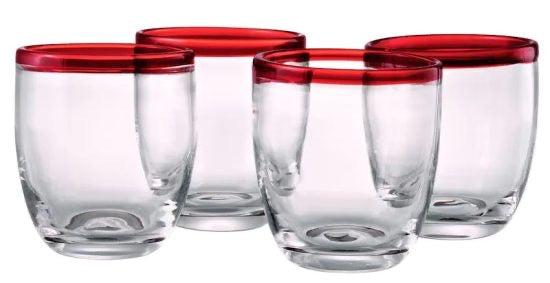 You're here because you're looking for truly unique lowball glasses, and you've found them! These modern glasses with their red rims are simply stunning and are perfect for a variety of occasions.  Your Love On the Rocks or New York Sour would look fantastic in these glasses. No one you know will have such unique glasses, ensuring your home bar is one-of-a-kind.
Complete Lowball Gift Set
Crystal glassware is always a good idea to have, and you want a couple of lowball glasses to add to your collection. Forget Waterford, these vintage-inspired crystal glasses will match your set perfectly! They even come with a set of stainless steel whiskey stones to use in your cocktails instead of ice so that you can have chilled cocktails without the hassle of watered down flavor.
A New Way to Chill Drinks
Some people prefer to have ice over chilling stones in their drinks. Whether it's a couple of cubes or one large one, there are a lot of different ways to put ice in your cocktails. With this particular lowball glass, you can ensure that your drink is both perfectly chilled throughout and completely mixed with this handy ice sphere! The glass actually has a peak in the center which pushes the ice sphere around the glass, mixing and chilling your drink gently and with ease.
Cool Tequila Glass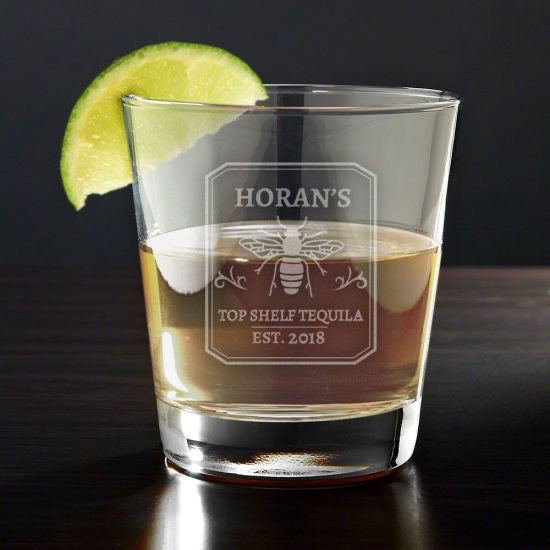 Tequila shots and cocktails are either hated or loved. If you're the latter, then you should have a lowball glass showing off your favorite liquor! This unique glass is inspired by the widely recognized Patrón label, but you can customize it and make it totally unique to you. Your Paloma, Agave Cocktail, or Margarita will be perfect in this nifty glass!
You'll Never Want to Drink Scotch on the Rocks Any Other Way
You've seen a couple of different glasses so far with unique ways of serving cocktails over ice, but nothing quite like this! The whiskey wedge glass freezes a triangle wedge of ice to the side of the glass so that you can enjoy your Jack Daniels on the rocks without dealing with melting ice cubes taking up too much room or watering it down before finishing your drink. Finally, your signature drink of whiskey on the rocks won't turn into a Whiskey on Water halfway through!
The Classiest Lowball Glassware
Bring a touch of the Gothic Renaissance era into your home bar with these gorgeous black crystal lowball glasses. The uniqueness of these crystal pieces are absolutely stunning, and they're sure to impress everyone who sees them. They're classy enough to fit in with your crystal glassware at Thanksgiving and formal dining occasions, but not too over-the-top for casual drinks with a friend. Whether you're enjoying an Old Fashioned or a Sazerac in these incredible glasses, you'll feel like a million bucks!
Geometric Lowball Glasses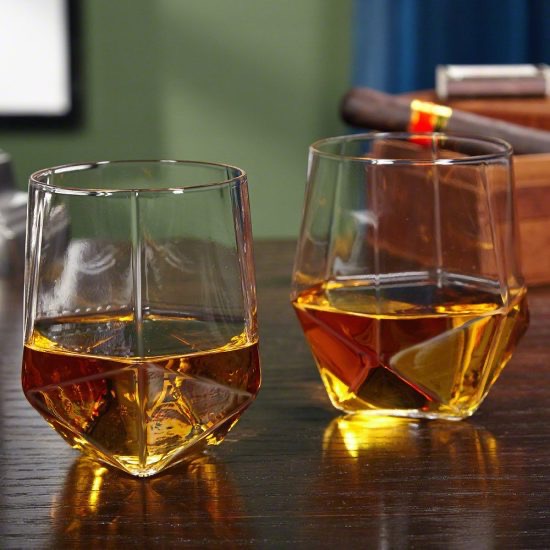 One way to make sure none of your friends have the same things in their home bars as yours is to get unique glassware! These geometric lowball glasses are so cool, they'll all be jealous when you show them off. The prismic base is eye-catching and quite stable, making the glasses both attractive and worry-free to serve drinks with! A set of these unique glasses will turn your average home bar into a modern, cool place to hang out in that none of your friends can compete with.