Updated 12-6-2018
It's not always easy to come up with a top-notch anniversary gift for him. He loved the gift you got him for his birthday. And he still talks about the gift you got him for the holidays, but now you're stumped. What if you can't think of anything? How much are you supposed to spend on this anniversary? What kind of gifts would he love? Don't worry. This list has some of the best anniversary gifts for him and everything you will need to keep your gift-giving game top notch for your anniversary.
Complete Whiskey Decanter Gift Set – An Anniversary Gift for Whiskey Lovers
Some guys fashion themselves true whiskey connoisseurs, but they've never had the right glassware for their drink of choice. This whiskey decanter set will ensure their whiskey, scotch, or bourbon will look and taste amazing. It has enough glasses so your guy can share with his friends and family. He'll love serving from a custom decanter. He can even store watches, cigars, or whatever else he wants in the sharp wooden gift box.
Personalized Man Cave Sign
One thing that makes a great anniversary gift is something that will last. This personalized sign is a great addition to his man cave. He'll love the personal touch the custom sign will bring to the place he goes to relax and have fun. The classic wood barrel design looks great in any man cave.
Seven Seas Decanter – An Anniversary Gift for Your Boyfriend He'll Never See Coming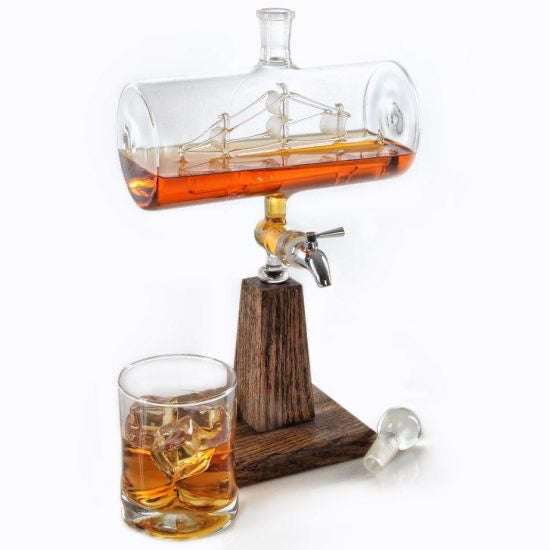 Want one of those anniversary gifts that will stop your boyfriend in his tracks? This Seven Seas decanter will be sure to do just that. With a "ship-in-a-bottle" design, resting atop a solid oak base, it seems like it would belong on any pirate ship. He will love the new way to display and serve his favorite liquor. It will also look much better than loose liquor bottles around the house. Now, if your boyfriend runs off to become a pirate after receiving this gift we are not legally liable for any distress that may cause.
Sprezzabox – A Creative Anniversary Gift for Him That Keeps on Giving
If your better half's closet is still filled with t-shirts he wore rolling into his morning college classes half an hour late, then this wardrobe subscription from Sprezzabox is exactly the anniversary gift he needs. Every month he'll get sharp looking clothes and accessories without ever having to go leave the house. Those ar*ound him will be sure to take notice of his upgraded fashion sense.
Aged to Perfection Decanter Set
You've shared beers, cocktails, and bottles of wine. Why not have an excuse to share a glass of perfectly aged whiskey? This is an awesome anniversary gift for him because not only will he love the quality craftsmanship, but it also gives him an excuse to share his most treasured spirit with the person he loves.
Italian Leather Watch Case – An Anniversary Gift for Watch Lovers
Some men like to collect watches without having a clue what to do with them when they're not on their wrists. They get flung on top of dressers, bookshelves, or anywhere they find a free space. Now this leather watch case is one of the best anniversary gifts for him that's not only practical, but gives him a stylish way to display his favorite watches. He'll love showing off his collection to anyone that shows the slightest interest.
Quinton Ammo Can Gift Set – An Endlessly Useful Anniversary Gift He Will Appreciate
There will be anniversary gifts that your man will remember years later. A custom ammo can is practically unforgettable. And that's before he even opens it and sees two engraved pint glasses, a lockback knife with a rustic handle, and 50-caliber bullet bottle opener inside. He can store his ammo, tools, or liquor inside the ammo can. He'll always be ready to enjoy his favorite craft beers with the bullet bottle opener. You can even engrave the bottle opener to further elevate this is awesome, surprise anniversary gift. He'll be sure to brag about this gift to everyone at the office.
2-in-1 Cigar Holder Flask – An Anniversary Gift He Will Use Year Round
It doesn't matter how many years you've been together, your guy still enjoys his vices of smoking a fine cigar and sneaking a sip of his favorite liquor. If you're looking for one of the best anniversary gifts for him that shows him how much you pay attention then look no further. The flask is even engravable for that special touch. He'll always be looking for an excuse to use this gift. Throw in his favorite cigar and he'll never forget this anniversary gift.
Custom Beer Mug Set
Okay, maybe you're not ready to install a fully-operational keg in your kitchen just yet. You can still give you guy that bar experience he craves with these custom beer mugs. Fully customizable, throw in your anniversary date at the bottom so he has a reminder all year to be prepared for the next anniversary.
Fitbit Blaze Watch – For the Fitness Lover
Your man likes to stay in shape. It's admirable. Now you can get the fitness junky one of the best anniversary gifts for him and show him how much you appreciate the effort he puts into being healthy with this awesome, water-resistant fitness watch by Fitbit. It works great whether he prefers the home gym or running down neighborhood streets.
Personalized Beer Tote – A Unique and Handy Anniversary Gift
Your guy carries your love with him wherever he goes. Why shouldn't he able to carry his beer the same way? This personalized wooden beer tote allows your guy to mix and match his favorite beers and lug them around wherever they are needed. He'll love taking to the golf course, beach, or a backyard BBQ. You can even preload it with a variety of his favorite craft beers. It's a quality reminder of why you're the perfect person for him.
Engraved Cocktail Shaker
If you're wanting a unique anniversary gift for your husband that you can also get some mileage out of then look no further. Customize the cocktail shaker with your husband's initials and watch him make the perfect cocktail for the both of you. Your husband will love finally getting a chance to make a proper Tom Collins or Sidecar for you and his friends. It's a nice way to celebrate an anniversary, whether you're going out or staying in.
Custom Ammo Can
If your guy is working 9-5 simple reminders of whatever matters most make a world of difference. This ammo personalized ammo can gift set is a simple way to remind him of how much you care. Package it his favorite beer knowing he'll want to use everything in this gift any chance he gets.
Monogrammed Beer Stein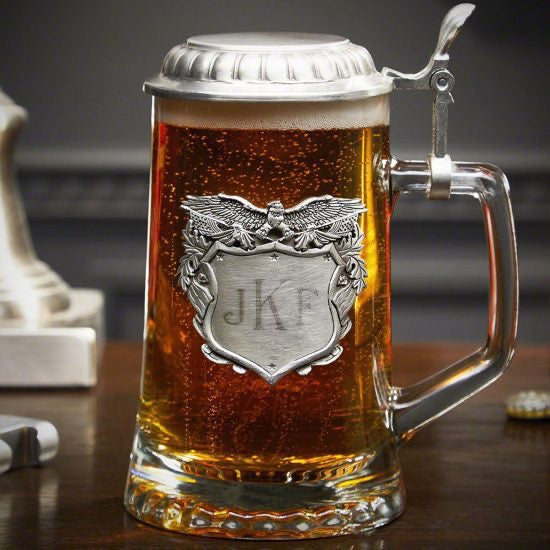 If your guy loves his beer than this monogrammed beer stein is one of the coolest anniversary gift ideas for him. He'll love toasting to your anniversary. He'll soon find excuses to toast to all other occasions. This is a gift he won't soon forget.
Cigar Custom Shadow Box – For the Cigar Collector
This custom cigar shadow box is one of those anniversary gifts for men that looks great in the home, builds memories, and will be appreciated. He'll be able to save the wrappers from cigars during big moments in his life. Every so often, your man can gaze at his collection and remember the time he celebrated with a cigar when a friend got married, for the birth of a child, or when the Cleveland Browns finally won the Super Bowl.
Stemless Wine Glass Gift Set – An Anniversary Gift for Wine Lovers
Your guy might be the type that loves to share a bottle of wine over dinner or with good conversation. If that's the case then he will love this wine gift set. The four glasses have a timeless design that he will love to show off almost as much as he loves sharing a bottle of wine. It doesn't matter if he prefers red or white, he'll love to pour a bottle into this quality glassware.
Engraved Whiskey Gift Set
If this is your first wedding anniversary gift idea for him or tenth, this gift will speak to his level of liquor sophistication. This engraved whiskey gift set might be just what he needs. He can take the fill the flask and take whiskey wherever he goes. He'll love always having cool liquor that's not watered down with the 9 whiskey stones. This set is the kind of thing he posts on Instagram to brag about your gift-giving abilities.
Landmark Anniversary Growler
Some of the best anniversary gifts for him are the ones that celebrate the years together on the gift itself. Of course, it doesn't hurt if that symbol of love is also full of beer. You can customize the growler to however long you've been together and fill it with his favorite beer for a gift he won't soon forget.
Crosley Turntable – For Guys Who Love Music
Record collecting has been on the rise. Why not give your man an excuse to join in on the finest way to listen to music with this really cool anniversary gift? It doesn't matter if he prefers Simon & Garfunkel, Bomb the Music Industry, or that Violent Femmes song that everyone knows. They'll all sound like he's hearing them for the first time on this Crosley turntable. It's a fun way to upgrade one of the things he's most passionate about.
Personalized Cutting Board – An Anniversary Gift for the Aspiring Chef
Maybe your guy plans to cook a romantic meal for your anniversary. If that's the case then this personalized hardwood cutting board will make a stunning anniversary gift. You can customize it with your names and the date of your wedding so he remembers who he's cooking for any time he makes a meal. He'll love it so much that he will find reasons to cook for you again and again.
Retro Gas Pump Liquor Dispenser
If you're searching for one of the best anniversary gifts for him that will shock and surprise then this gas pump liquor dispenser will do the trick. With its retro design, it will be a talking piece in your home or your guy's man cave. It works great with any liquor. So if he's always looking for an excuse to play host or wanting everyone to help themselves then he will love this gift.
Custom Signs That He Will Love
A custom made sign is an original gift that he will love this anniversary. These custom signs proclaiming anything from master grilling abilities to your shared love of drinking. They're fun signs he will love to hang in his man cave, the garage, or somewhere around the house. This is one of those anniversary ideas for him where his friends will be sure to ask where he got such a cool sign.
Top Shelf Liquor Decanter – An Anniversary Gift for Police Officers
If your guy is a police officer then you know he has a spirit of choice. Now with this original anniversary gift for police officers, he can handsomely display his favorite liquor and ensure it taste and looks great. With tons of customizable options, the police officer in your life will love this specialized decanter. It will make a handsome display he will love on a bar cart or home bar.
A Complete Wine Decanter Set
It's possible your guy has been drinking his wine the wrong way since he had his first pair of wine-stained lips. This wine decanter set is an incredible anniversary gift for him that elevates his wine drinking to heights he didn't even know were possible. Even the cheapest bottle of wine will taste better when your guy pours it in this decanter. He'll be excited to open a new bottle to share together on your anniversary, but not before it runs it through his brand new decanter gift set.
Personalized Golf Flask Set – An Anniversary Gift for the Guy That Loves to Golf
If your guy is the kind that hates rainy days above anything else because he can't be spending time on the golf course then this is the kind of anniversary gift for him he will remember. Not only does he have a convenient spot to hold his tees, ball marker, and divot repair tool, but he now has a great place to store his link when he's out golfing with friends. He'll love the gift and love avoiding the clubhouse drink prices.
Foodie Dice – Awesome Anniversary Gifts That You'll Both Love
We've all been there – unable to decide on dinner plans, we settle on instant ramen or the same old drive-thru time and time again. Luckily, Foodie Dice came up with a simple game to make that a thing of the past. Simply roll the dice to decide what you're having, how it will be cooked, seasoned, and what drinks to serve with it. It's a fun way to celebrate your anniversary that will have all your friends asking where you got the dice and he will love the newfound gamesmanship of meal time.
Awesome Monogrammed Marble Ashtray
Chances are your guy is going to want to light up a cigar to celebrate your anniversary. Now he can do it in style with this beautifully monogrammed marble ashtray. At over an inch thick, it's great for indoor and outdoor use. He will appreciate the classic look and showing it off to his friends whenever they gather around to smoke cigars over a poker game or while grilling out in the backyard. He'll gladly throw away any cheap, plastic ashtrays after receiving this anniversary gift for him.
541+ ANNIVERSARY GIFTS FOR HIM >