Finding individual Christmas presents for all of your friends and family can be stressful, especially if no one knows what they want or need. That's why Christmas gift baskets and gift sets full of cool gifts and delicious foods are always a fantastic go-to gift. Gift sets solve all of your shopping woes for anyone in your life. Whether it's a beer gift set, a holiday treat basket, a personalized whiskey decanter set, or how about a set of Christmas gifts for your husband or wife, there's a little something for everyone in these 27 awe-inspiring Christmas gift baskets and gift sets.
Classic Christmas Gift Basket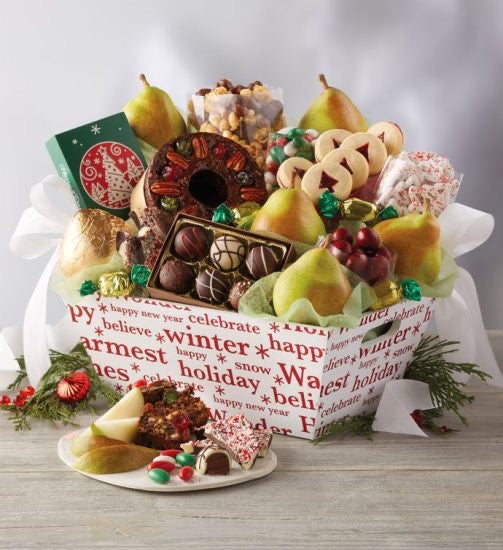 Christmas is a time of delectable sweets and treats, so why not give a lovely Christmas gift basket full of the best ones? This scrumptious basket has chocolates, cookies, and fruit cake, oh my! This gift basket is perfect for giving a friend or loved one who is hard to buy for, but loves sweets. Food baskets are always a good go-to Christmas gift for anyone! This gourmet set is one of the best Christmas gift baskets you can give to a foodie, coworker, friends, family members, or a neighbor this holiday season.
Whiskey Gift Set for the Holidays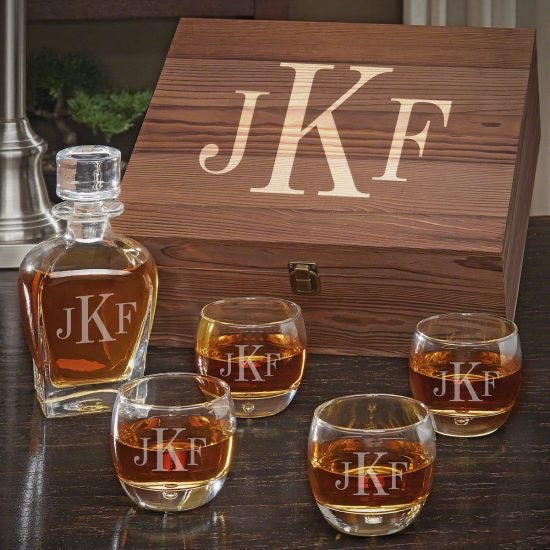 The holidays are the most popular time of year for gift baskets at sets, but why choose a glassware set over a basket full of food? This beautiful gift set is perfect for any of your loved ones who enjoy whiskey, especially if they don't have the proper glassware already. Plus, you know it won't go to waste. With a reusable wooden gift box, a quality decanter, and four rocks glasses, your dad or husband will have everything he needs for a proper whiskey experience. He can pour his friends or family a round of drinks with his new set to toast to a great Christmas right after he unwraps it. He can use the gift box to store the set for safe keeping (although it should be displayed!) or to store winter gear, tools, or liquor bottles.
Legendary Ammo Can Set for Christmas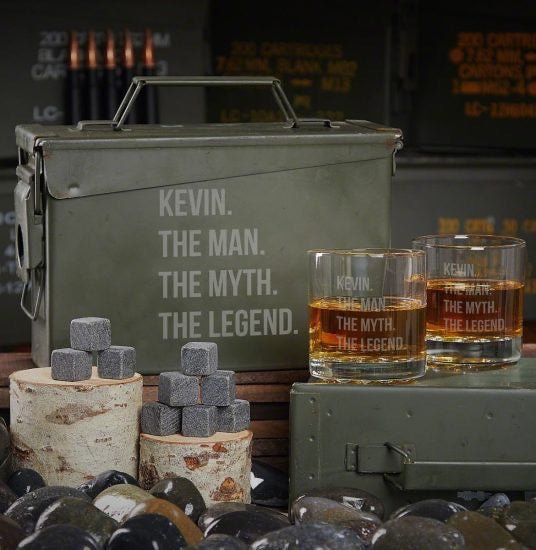 If you're looking for an incredible Christmas gift for the most amazing guy ever like your husband or boyfriend, then this gift set is truly legendary. Included is a genuine .50 caliber military ammunition can, two custom rocks glasses, and a set of whiskey stones. The ammo can is ideal for storing ammo, work gear if he's in the military or law enforcement, or even camping gear. The rocks glasses are meant for two to share a shot for a quick warm up after being outside in the cold all day long or to sip an Old Fashioned by the fire. The whiskey stones are chillable and won't water down his drinks, ensuring full flavor all the way through. And that's not all! The ammo can and glasses in this set are engraved with the phrase "The Man. The Myth. The Legend." followed by a name so that the world knows just how awesome your man is. He'll feel like the coolest guy in the world when he drinks from the rocks glasses or brings his ammo can to the gun range.
Healthy Christmas Gift Basket For People Who Don't Like Sweets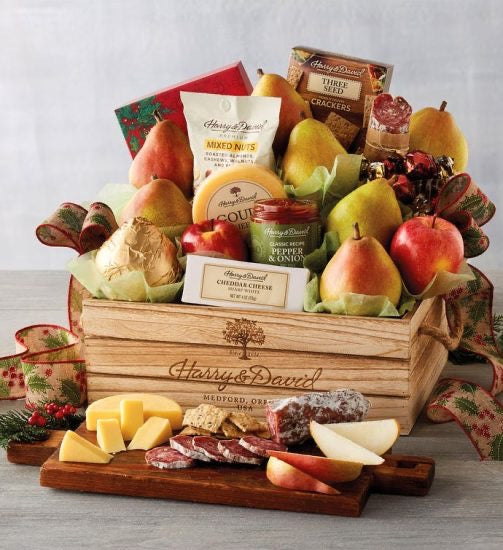 No idea what to give your new boss? Give him an awesome basket full of tasty gourmet foods! Not everyone likes sweets, so this Christmas gift basket is full of holiday meats, cheeses, fruits, and more! This would make an awesome Christmas present for your friends, coworkers, or anyone in your family. They might not like the sugar of candy, but they'll love the sweetness of the pears and apples in this basket. Toss in a bottle of their favorite wine and they've got an awesome gift basket to share with their loved one on Christmas Day or for date night!
Gold Rim Presentation Set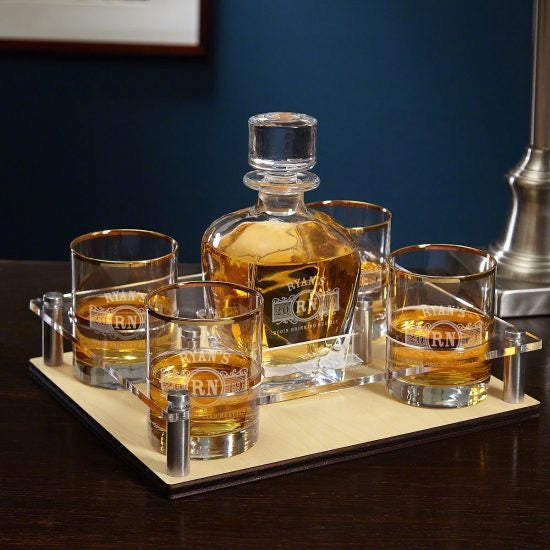 A home bar, man cave, or living room just isn't complete without a decanter set. This handsome presentation set is one of the best Christmas gift sets that is also perfect all year long. The set includes a glass serving tray, four gold rimmed glasses, and a decanter. This gorgeous set is a must-have Christmas gift for whiskey lovers as it belongs on display in the home. It will add a touch of sophistication to any room for the holidays and beyond. This would make an awesome Christmas present to your father, husband, or boss. Why this gift set over a gift basket full of treats? This gift set can be reused for years to come whereas a gift basket of edible items only lasts a few days.
Whiskey Gift Set for Men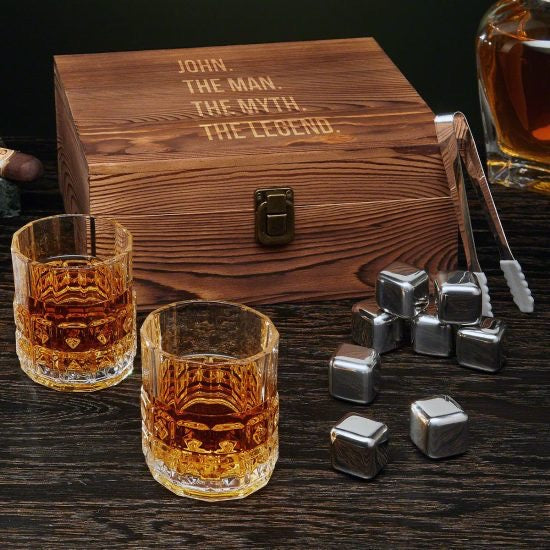 Make this Christmas the coolest one ever for the whiskey lover in your life with this incredible box set! This gift set for men is ideal for any special men in your life, such as your father, brother, husband, or boyfriend. It comes with everything he needs for a quality glass of scotch or bourbon to share with you or a loved one: eight stainless steel whiskey stones, two rocks glasses, tongs, travel bag, and a gift box to hold it all. He'll love the cool stones that keep his drinks chilled in the handsome rocks glasses. The gift box will look great in his home bar, lounge, or man cave, declaring that he is "The Man. The Myth. The Legend."
Christmas Snack Box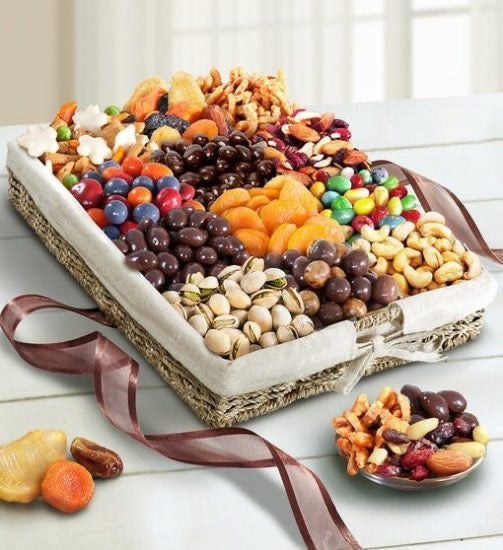 The holidays are always full of yummy themed sweets and snacks, and this Christmas gift basket has plenty of both. This delicious basket has chocolates, nuts, fruit, and more. This set is ideal for those who like sweet and salty snacks. This set of cool Christmas gifts will be a great gift for your family or neighbors this holiday season.
American Heroes Beer Gift Set
Military men are always hard to buy for because they insist that they don't need anything. This incredible beer gift set is so awesome, your soldier never knew he needed it until now. Included is a large bottle cap map of the USA, two pint glasses, and a glass growler. Ideal for beer lovers and craft beer fans or brewers, this set is truly amazing. Your man can bring the growler to his local craft brewery to fill up or store his latest home brew in it. The pint glasses are perfect for the two of you to share a beer as you watch your favorite holiday movie on Christmas Day. The map can display all of his favorite local or imported beers as a unique piece of decor and a fun way to collect bottle caps. This Christmas, your American hero will be so impressed by this beer set that no other present will compare!
Sweet Treats Christmas Gift Basket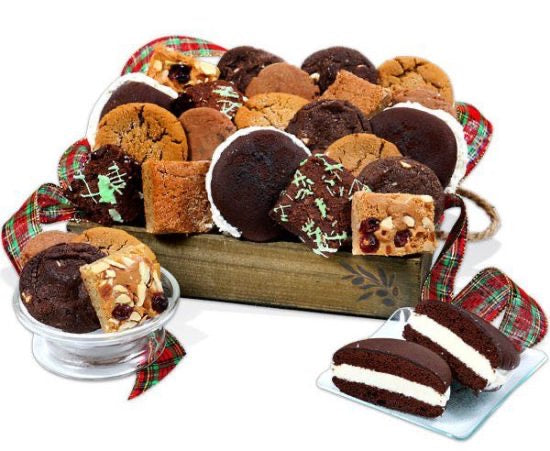 What should you give your neighbor? A gift basket full of sweet holiday treats. Full of cookies, bars, brownies, and more, this super sweet assortment is one of the best Christmas gift baskets to give. Brothers, sisters, coworkers, anyone you know with a sweet tooth will love this gift basket. No need to make any holiday treats to eat after Christmas dinner, there are plenty in this set!
Manly Ammo Box Set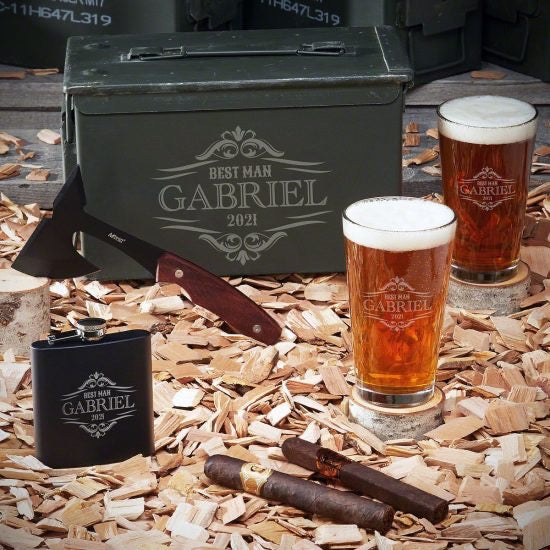 This gift set is for the manly guys who like beer, traveling, and the outdoors. This ammo can Christmas gift set comes with a genuine military grade .50 caliber ammunition can, two pint glasses, a flask, and an axe. The ammo can is, of course, great for storing ammo but it can also be used to store camping gear or tools. The two pint glasses are perfect for sharing at Christmas dinner, every date night, and all of the sports games after that. The flask is ideal for him to bring along when camping, at a party, attending a wedding, or to your family's for Christmas so that he can have a sip or two of his favorite spirit. The axe is a must-have tool in every manly man's arsenal for yard work, such as cutting firewood in the winter and trimming branches in the summer. All in all, this Christmas gift is the ideal manly gift set.
Executive Holiday Basket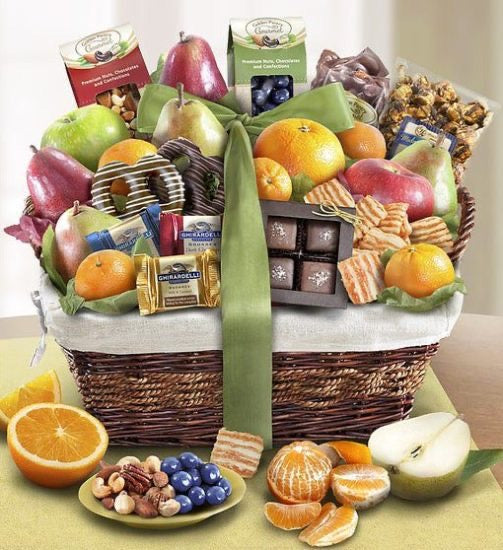 If you want to give your boss or in-laws a really nice gift, this executive set is one of the best Christmas gift baskets ever. Packed with sweets, fruits, nuts, and various goodies, this gift basket is sure to please. It's perfect for sharing with the family and snacking throughout the rest of winter as the new year approaches. Your boss or in-laws will be so impressed and inspired by your incredible gift that they're sure to get you something nice too, so it's a win-win for everyone!
Moscow Mule Box Set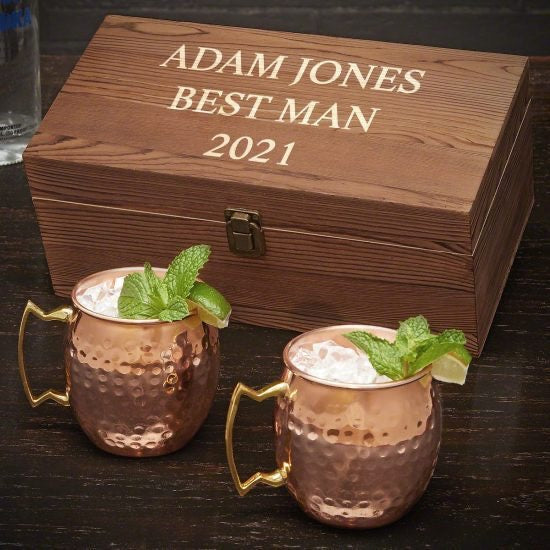 This Christmas, give the gift of fine drinkware to someone who loves cocktails, such as your sister, mother, or boss. Copper mugs are ideal for cocktails such as Moscow Mules because they keep the drinks naturally cooler longer than in a typical glass. Your recipient and a friend can enjoy a nice holiday cocktail or eggnog in these unique mugs to celebrate Christmas together. He or she can also use the box to store the mugs, bar tools, or cocktail recipes. While traditional Christmas baskets are timeless, this gift set is a one-of-a-kind present that anyone would love to receive and use for years to come.
Whiskey Gift Set for Couples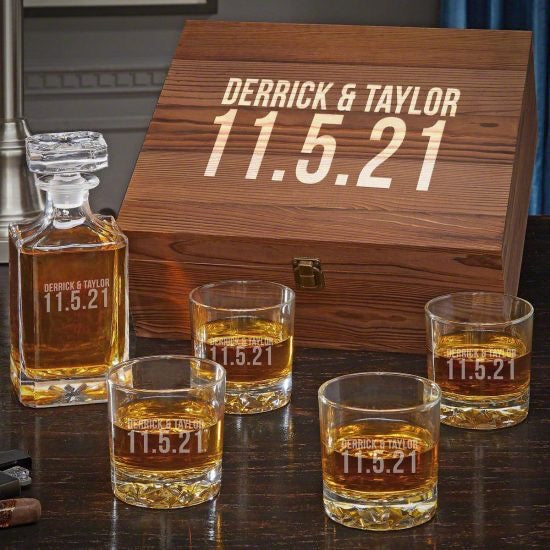 Winter weddings are becoming more and more popular, which makes this whiskey gift set an ideal Christmas present for newlyweds and couples celebrating winter anniversaries. Each item in this six piece set is engraved with their names and the date of their wedding. This set is a beautiful, thoughtful gift that is not only a great piece of decor for their home, but also a quality set of glassware to entertain with that is perfect year round. Now they'll have a beautiful set of glassware to share with their friends and family over the holidays!
Christmas Gift Set for Wine Lovers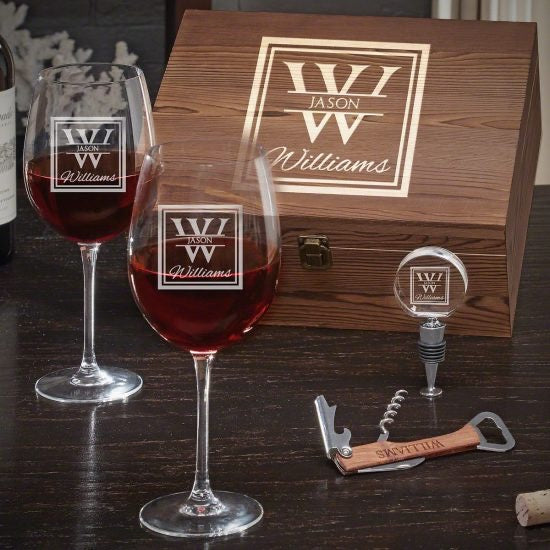 This wine gift set is for a wine lover or a couple who enjoys wine for date nights. Included is a set of two stemmed wine glasses, a corkscrew, a wine stopper, and a wooden gift box. This set is perfect for indulging in a holiday wine while watching a holiday movie or relaxing by the fire, reading a book. The corkscrew is also a bottle opener for when they feel like a beer instead. The wine lovers can even reuse the wooden gift box to store kitchen tools, photos, Christmas decorations, Christmas cards, almost anything!
Ultimate Christmas Gift Basket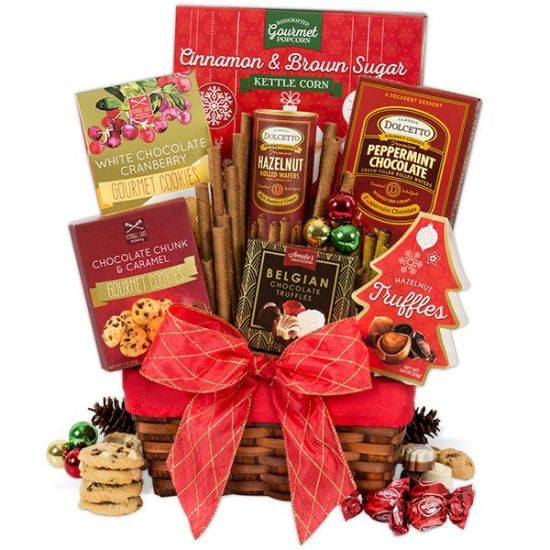 This is the ultimate holiday gift basket. Seriously, it's one of the best Christmas gift baskets ever! Packed full with traditional holiday treats like truffles, cranberry sweets, and peppermint goodies, this basket is ideal for those who love all things Christmas. Your mom would more than likely go head over heels for such a festive Christmas present!
Ammo Can Beer Gift Set
Why give a gift basket of random edibles that he probably won't eat when you can get him a super cool ammo can gift set full of things he'll love? Ideal for beer lovers who also love guns or are in the military or law enforcement, this gift set is way too cool. The two of you can crack open a couple of cold beers with the new bottle opener and enjoy a nice pint at Christmas dinner. He'll love the awesome military-grade ammunition box to store his ammo, tools, or winter gear in. When you go ice skating or sledding tomorrow, he can bring a few ounces of whiskey in the flask to warm you both up! You can't go wrong with such an awesome gift set.
249+ BEER GIFTS EVERYONE WILL LOVE>
Whiskey Gift Set with Iced Glasses
Even in the winter, there's nothing like a chilled glass of whiskey. This handsome gift set is so unique and awesome that the whiskey lover in your life will never want to drink whiskey any other way. This set comes with two glasses that feature a wedge ice mold, which makes a triangular ice cube frozen inside and keeps his or her drinks cold longer and less watered down than a standard ice cube. The decanter is another awesome feature in this gift set that will look elegant in any room it's displayed in. Your whiskey lover can serve the whole family with a glass of fine scotch to enjoy by the fire after opening presents. This would make a fantastic gift for your parents or your husband this holiday season.
Incredible Chocolate Gift Basket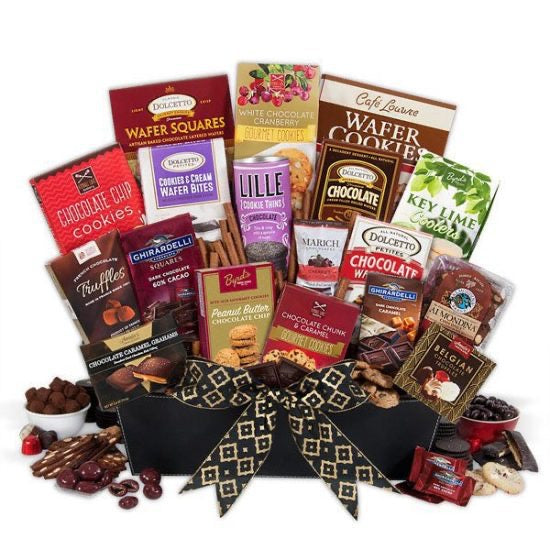 This is one of the best Christmas gift baskets for chocolate lovers. It has everything from truffles to cookies and all kinds of different chocolates! This would make an incredible gift to your chocolate-loving significant other, parents, grandparents, and more. Whoever you gift this basket to will certainly be set with sweets from Christmas through New Year's.
Manly Christmas Gift Set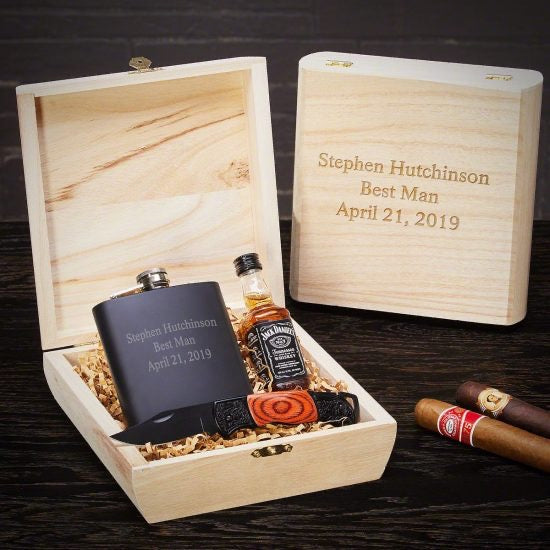 Not your typical Christmas gift set, but awesome nonetheless. At first glance, you notice the cool pocket knife and matte black flask, but the gift box has a secret purpose: to store cigars! That's right, your brother, father, or husband who enjoys an occasional stogie now and then will absolutely love this gift set for Christmas. He'll have a fancy new display box for his cigars that will keep them fresh along with a cool new lockback knife that he can use to help everyone open up their Christmas presents. Plus, he can bring the flask along to spike his eggnog or have a shot of Fireball for a quick warm up out in the winter chill. This gift set is so much cooler than a boring Christmas gift basket full of fruitcake and holiday nuts, you can't deny it!
Legendary Whiskey Gift Set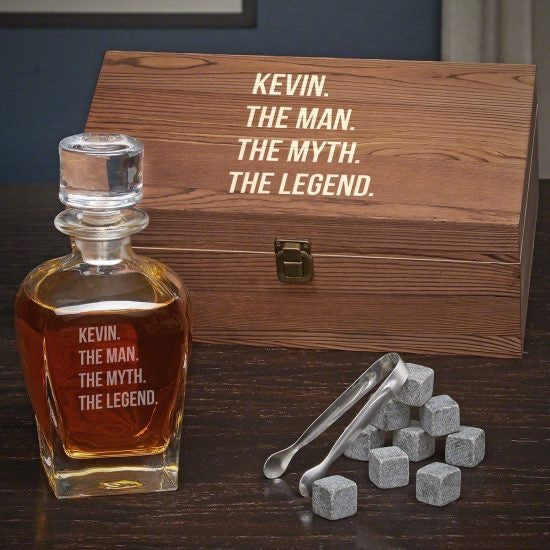 For the legendary guys in your life who enjoy whiskey, this set lets everyone know that its owner is the coolest man on the planet. Complete with a wooden gift box, decanter, whiskey stones, and accompanying tongs, this set is ready to serve up a nice glass of scotch. He could also use it to make a hot toddy for everyone to enjoy by the fire after playing outside in the snow all morning on Christmas Day thanks to the handy decanter. Or, he can make everyone an Old Fashioned to enjoy after dinner. The whiskey stones will make sure that drinks stay cold, but not watered down. He can reuse the gift box to store small keepsakes like a special holiday glass, cards, or his crazy Christmas socks that he wears every year.
Glencairn Whiskey Gift Set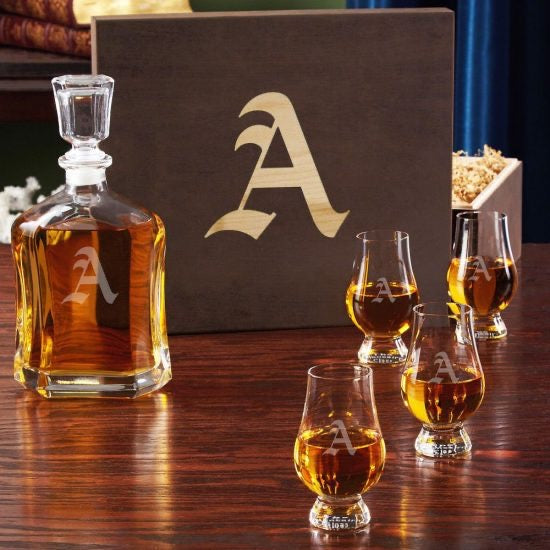 Your man thinks he's had good whiskey, but he's never it had this good. These Glencairn glasses are specially crafted to enhance the flavors of bourbon and scotch, unlocking the full flavors for a better drinking experience. You'll want to pour everyone a glass at Christmas dinner to try some classic Jack Daniels and be amazed at how much better it tastes! The decanter is meant to be displayed when not being used to serve as a handsome and elegant decoration anywhere in the home. He can even reuse the gift box to store all kinds of things from holiday sweaters to special Christmas decor.
Holiday Gift Basket for Couples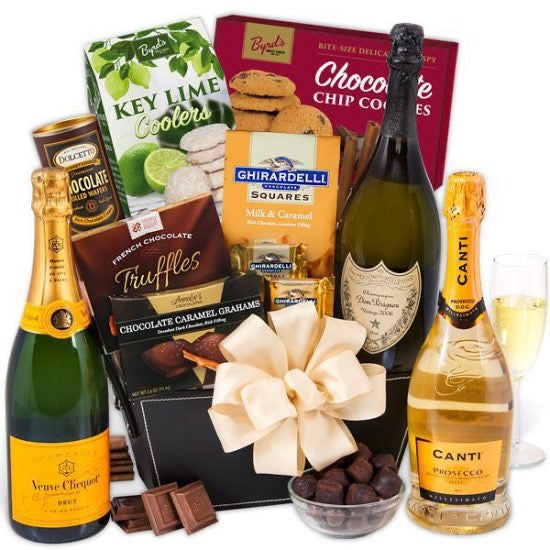 Not sure what to get your loved ones this Christmas? Get them a gift set full of their favorite things. A delicious gift basket meant for two and ideal for holiday date nights, this includes champagne, wine, chocolates, cookies, and more sweet treats! This would be a great Christmas present for all couples, such as newlyweds, your parents, your best friends, or even your grandparents! This Christmas gift basket will make this holiday even more romantic for them as they indulge in the champagne and chocolates by the fire after opening their presents.
Personalized Poker Set
Most families enjoy playing games together on Christmas after opening presents and having dinner. This year, your family could play a good old fashioned game of Texas Hold 'Em together! Whether it's your parents or your siblings who are the poker fans, any of your family members will enjoy getting this quality poker gift set. It's not just for poker either, you can play Go Fish with the cards or even Farkle with the dice! The options are endless for a family game night. Plus, it's great for game nights with friends too. With this fun set, Christmas just got more fun than ever!
Christmas Gift Set for Police Officers
Police officers and those in law enforcement are brave, inspiring people who deserve a Christmas present as equally impressive as they are. This whiskey gift set is perfect for cops or anyone in law enforcement! Featuring a unique police badge design along with their title, name, and badge number on each piece, this handsome set belongs on display for everyone to admire. Included is a wooden gift box, a liquor decanter, and four rocks glasses. The box is reusable for him to store work gear, important paperwork, or keepsakes. He can display the decanter in his home bar, office, or lounge area when it's not being used to pour his partner and fellow officers a round of drinks. This quality Christmas gift will gracefully show your appreciation for his service to the community and he will treasure it forever.
Happy Holidays Gift Tower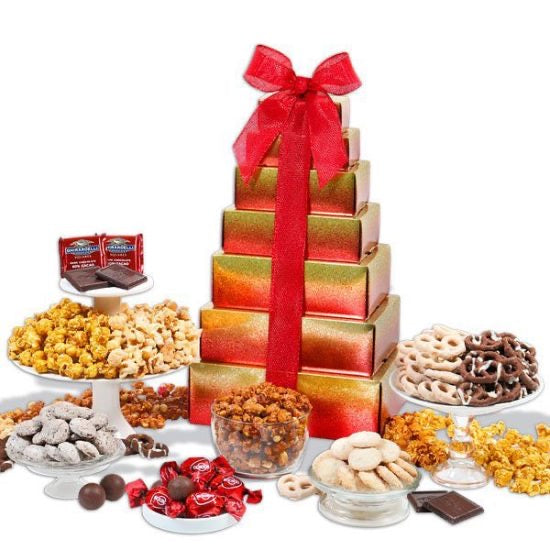 Some of the best holiday snacks are kettle corn, cookies, and chocolate truffles, and this towering gift basket has them all! This is one of the best Christmas gift baskets for this holiday season because it has so many holiday treats that everyone will love. This gift tower would make a fantastic gift for your family, friends, or coworkers to enjoy with their loved ones on Christmas Day.
Beer Gift Set for Couples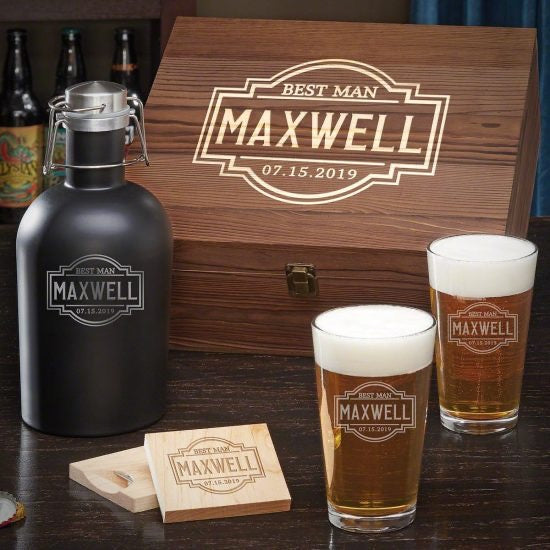 Know a couple who loves beer or someone who is getting into home brewing? This is the perfect gift set for both! Included are two pint glasses, two bottle-opening coasters, a stainless steel beer growler, and a wooden gift box. The couple can open a couple of cold ones to watch the Christmas parade together from the comfort of their own home and use them when they watch all of their favorite TV sports together. The growler is perfect for storing and bringing along 64 ounces of beer (or other beverages) anywhere they go, like a BYOB party or to their in-laws house for Christmas. They can even use the gift box to start a bottle cap collection, store brewing supplies, or keep all of their bottle openers in one place.
Beautiful Wine Glass Gift Set for the Holidays and Year Round
The perfect Christmas gift set for wine lovers, this set comes beautifully engraved with an elegant vine design. This five piece set will look gorgeous displayed on a bar cart, in the dining room, or home bar. Now you and your family or friends can enjoy a holiday wine together at Christmas dinner or a warm mulled wine to warm up with after spending a winter day ice skating or strolling through Christmas lights. The best thing about this Christmas gift set is that it can be used year round, unlike most Christmas gift baskets.