Wedding season is in full swing. Your groomsmen have got their suits picked out and your wedding date circled on the calendar. But you're still struggling to come up with a cool groomsmen gift idea. What are the must-see cool groomsmen gifts? How much should you spend on on each of your groomsmen? What are the gifts they'll never forget? Fortunately, we've handpicked a list to make sure your groomsmen gifts are as memorable and fun as your wedding day.
Quinton Personalized 30-Caliber Ammo Can
Some cool groomsmen gifts come out of left field. This personalized ammo can falls under that umbrella. Your groomsmen will be shocked to receive an authentic military used ammo canister with his name and title engraved on the side. The 50-caliber bullet bottle opener and lockback knife and matching pint glasses make this a gift your groomsmen will take hunting, camping, or anywhere a beer is called for.
A Whole Set of Cool Groomsmen Gifts
Thank the men who will be standing next to you on one of the biggest days of your life with what can only be described as a whole set of cool groomsmen gifts. What makes this gift so cool? How about that it does everything your groomsmen could ever need, from the bachelor party to wedding to reception and beyond? The rocks glass and flask are the perfect way to get this party started while the watch case makes sure everyone will be dressed to the nines at the wedding and reception. However, the engraving on all three will be a special memento that will have each guy thinking about your wedding even years down the road!
Awesome Engraved Groomsmen Knives – Set of 5
If your groomsmen have been part of a wedding before they've probably been given a t-shirt as a gift that only gets worn on days when they need to mow the lawn. If you want one of those cool groomsmen gift ideas that won't get tossed aside you might consider these awesome multi-purpose groomsmen knives. Not only are they sized to fit comfortably in a pocket, but your groomsmen will love the fact that their name is engraved on a sharp wooden handle. They'll carry it with them wherever they go.
Badass Groomsmen Gifts for Badass Groomsmen
These are your groomsmen you're shopping for, your best mates, the men who have been with you from thick and thin. You know they'd go to the ends of the Earth for you, and that quite frankly, is simply badass. So make sure these men are armed with badass gifts! These engraved ammo cans come with matching whiskey glasses and whiskey stones, making them the perfect gift for you and your best friends to celebrate you and your upcoming special day! There is sure to be plenty enough booze at the bachelor party, so just make sure their whiskey stones have been chilled so they can use their whole gift set right away!
Custom Shot Glass Gift Box – Cool Groomsmen Gifts That Standout
Imagine how it would feel to be handed a wooden box with your name expertly crafted on top. Inside you'd find razor-sharp knife and a double-tall shot glass with your initial engraved on it. After that, you'd be ready for any sort of adventure. Your groomsmen will be thanking his lucky stars you became friends. Have a bottle of liquor ready to share a shot and show him all the cool things he can store inside the wood gift box. Whether it's a single gift set for your best man or you're getting matching gift sets for all of your groomsmen, you just can't go wrong with a set as cool as this one!
Monogrammed Travel Luggage
As you and your groomsmen enter adulthood you'll realize that you actually need your own set of luggage. Whether they're traveling for work or for fun, they will appreciate this dapper travel bag with their monogram front and center. It's the perfect accessory if you and your wedding party have planned a weekend bachelor party.
Wilshire Personalized Whiskey Glasses for Groomsmen
The proper whiskey glass is almost as important as the whiskey itself. If your groomsmen are whiskey aficionados then they will love these really cool Buckman rocks glasses. Their favorite whiskey, bourbon, or rum will look great from the personalized glasses. The glasses are a great addition to a home bar, bar cart, or an excuse to get one started for all of your groomsmen.
Quinton Personalized Flask Gift Set
This flask gift set is one of those cool groomsmen gifts because it can be tailored for your best man or anyone else in your wedding party. The sleek, black monogrammed box appeals to every sense of style. With a funnel, two shot glasses, and a matching flask, your groomsmen will love being able to carry their favorite spirit with them anywhere they go and a sharing a shot with friends.
Classic Monogram Groomsmen Ashtrays
Over the years, you and your groomsmen have enjoyed sampling fine cigars. Regrettably, your crew has ashed in empty beer cans, plastic cups filled with water, or whatever else was in reach. Now that can be a thing of the past with these stylish monogrammed ashtrays. They're perfect for indoor and outdoor use, so no matter where your groomsmen prefer to smoke they'll be good to go. Pair each ashtray with a cigar just so they have an excuse to give it a trial run.
Complete Groomsmen Gift Set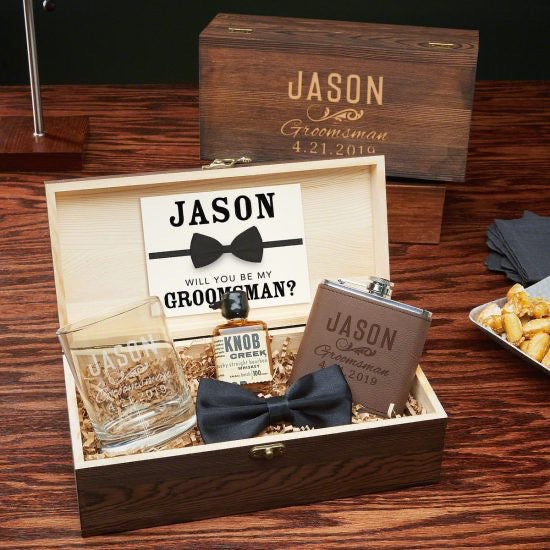 If you're not sure how to ask someone to be a member of your wedding party then this is one of those cool groomsmen gifts to get you on your way and make sure they know you are ready for them to be a part of your wedding party. Your groomsmen will love housing their ties, watches, or whatever else in the custom wood box for years to come. But the real stars are the personalized rocks glass and flask so you groomsmen can enjoy their favorite spirit in style whether they're at home or out and about. It all gets tied together with a bowtie your groomsmen can wear on your wedding day and a card asking him the big question. But after seeing all of this, how could he say no?
Advanced Drink Smoker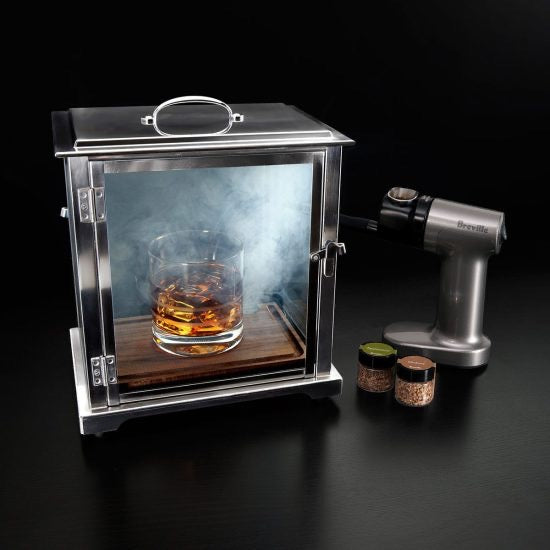 This drink smoker, without a doubt, falls into the category of cool groomsmen gifts. If your best man loves to experiment in the kitchen, grill in the backyard, or is always on the hunt for new and rare liquors then he will love this gift. He can put any spirit inside and smoke it with different herbs, spices, and wood chips for a taste he won't find anywhere else. He'll love being able to experiment with countless varieties and share his creations with his friends. You might just need to remind him who caught him the gift when he finds the perfect combination.
Personalized Signs for Any Occasion
Some of the best cool groomsmen gifts are something that will be displayed in the home for many years. With a wide variety of personalized signs, available you call tailor a sign to your groomsmen with man caves, wine collections, or even one made specifically for being a groomsman in your wedding. Their stylish and sleek designs will look great in any home and definitely beats the loosely hung posters your groomsmen still have hanging on their walls.
Glencairn Cut Crystal Whiskey Glass for Scotch Loving Groomsmen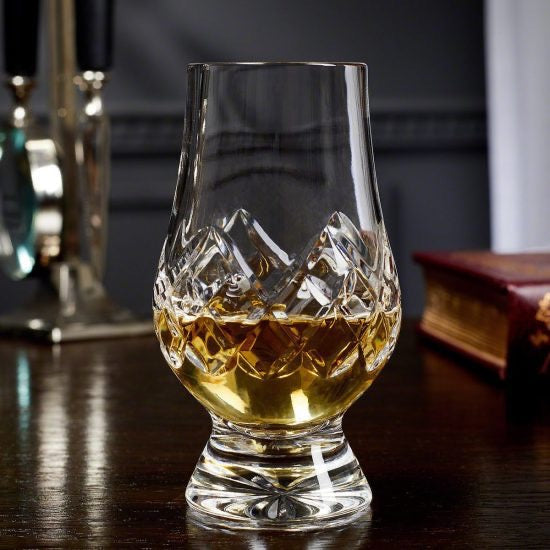 If you want a cool gift for groomsmen that appeals to scotch lovers then this Glencairn glass is ideal. The distinct Glencairn shape allows the scotch, whiskey, or bourbon to be nosed, capturing each aroma, before you take a sip. Your groomsmen will love that they're finally able to experience a whiskey's full flavor like it was intended. They won't ever sample it from anything else.
Personalized Pocket Watches
Making sure your groomsmen aren't late for a very important date is easily remedied with this awesome, personalized pocket watch. The exposed gears give the watch a modern look that will look exceptionally suave when paired with the suits your groomsmen wear for your wedding. They'll likely look for excuses to suit up more often so they can sport their cool new pocket watches as often as possible.
Custom Whiskey Decanter & Whiskey Glasses
It's tragic to think about but your groomsmen are likely still pouring their whiskey straight from the bottle and drinking from a souvenir cup from a local restaurant. That's why this whiskey decanter and glass set is one of those cool groomsmen gifts that will elevate their drinking lifestyle. Your groomsmen will finally have a way to admirably display their liquor in their home, office, or man cave. The whiskey glasses will beautifully display the perfect pour and let them share with anyone they choose. This is a gift they'll never forget.
Traditional German Beer Stein
Earning a beer stein used to be considered a rite of passage. Your groomsmen are going through a rite of passage on their own while shepherding you through your wedding day. Get them one of those cool groomsmen gift ideas that celebrate all they've done for you and their love of beer. They'll quickly learn that beer has never tasted better or looked cooler than coming from their own personalized stein.
159+ BEER STEINS & MUGS FOR GROOMSMEN>
Cool Groomsmen Gift Ideas They Can Use at the Wedding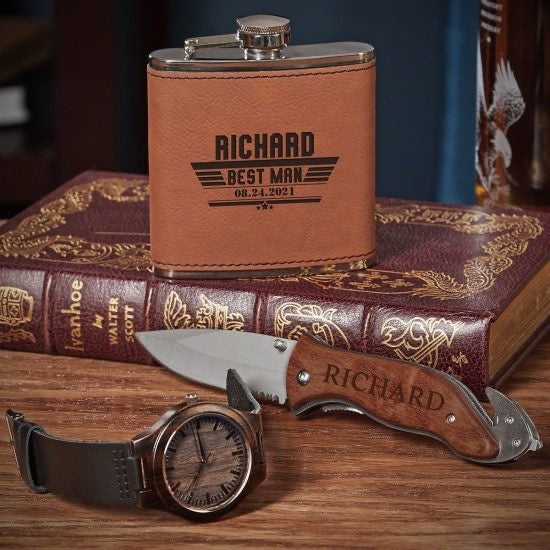 Cool groomsmen gift ideas often come in the form of fun things to do at the bachelor party or gift boxes that can only be enjoyed once, well not anymore! This set of badass groomsmen gifts is perfect for them to enjoy in the moment and for years after! You and your groomsmen will have a blast on a night out on the town when you're all rocking your matching watches, especially since they were able to use the flask before and in between bars!
Beer Gift Set for Groomsmen
You and your groomsmen have had countless conversations on what's your favorite type of beer, favorite brewery, and who brews the best seasonal beer. But one thing that won't be up for debate is the ideal way to drink their beer after they see this beer gift set. The custom beer mug is perfect for filling with whatever craft beer your groomsmen enjoy. It has stayed a classic for a reason. Throw in a lockback knife they can use wherever they go, a 50-caliber bullet bottle opener worth bragging about, a dapper bow tie, and this is the kind of gift your groomsmen will put on a pedestal.
Personalized Hatchets
An axe is a symbol of strength and brotherhood. That's why Gimli famously said, "And my axe." Let your groomsmen hoist a personalized axe proudly into the air. They'll love using it for tasks outdoors, an essential tool for camping trips, or hurling into tree trunks. Just make sure they know not to bring it down the aisle when they're escorting the bridesmaids.
Enterprise Pizza Cutter
It's pretty much a guarantee that all your groomsmen love pizza. It's probably a safe bet that they might be a little geeky as well. If that's the case then they will appreciate the thought you put behind this fun groomsman gift. They'll be able to engage their pizza and make it so it is perfectly sliced with the Enterprise pizza cutter. As any Star Trek fan knows, even the best captain needs their best crew beside them.
Personalized Bullet Whiskey Stone Set for Groomsmen
Take a shot at getting cool groomsmen gifts with this bullet whiskey stone set! These are perfect to hand out at the bachelor party where these gifts are sure to be nice and broken in at the end of the night. But, at the wedding, they'll be a huge hit with your guys since they'll never look more badass than when they're together cracking the tops off of brews with their custom bullet bottle opener!
About Time You Found the Coolest Groomsmen Gift
Give your groomsmen no possible excuse for being late to the wedding, reception, or anything else for that matter with one of the coolest groomsmen gift ideas, their own engraved wooden watch! These sleek leather banded watches will look great with any color groomsmen suit their wearing and will seamlessly look great when they're wearing them with their casual clothes too. So, not only is this a great gift for your groomsmen, but they'll also help put your mind at ease that your best buds will look good at the wedding and that they'll definitely be there on time too!
Stylish Custom Sunglasses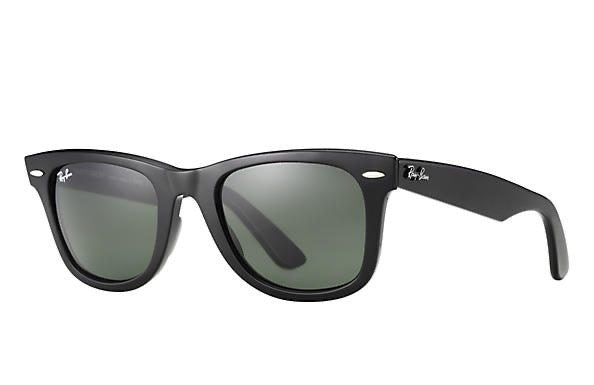 Looking sharp on your wedding day is a requirement for you and your groomsmen. You can add a touch of style to their wedding day wardrobe with these Ray-Ban sunglasses. You can customize each one so they match the suits your groomsmen will wear. They can even be engraved for each member of your wedding party. With Ray-Ban sunglasses being so stylish, your groomsmen will love wearing them wherever they go.
Legendary Custom Beer Mugs for Legendary Groomsmen
Raising a glass in toast is one of life's simple pleasures. Hoisting a beer mug in the air with your best friends to toast to your pending nuptials is even better. These 5 custom beer mugs are one of those cool groomsmen gift ideas that your wedding party will have fun with as their favorite beer tumbles out with each toast. You'll definitely need to have at least one six-pack of beer at the ready. Your groomsmen won't want to drink from any other glass ever again. You can even add additional beer mugs so your soon to be father-in-law can join in on the fun.
311+ MUST SEE COOL GROOMSMEN GIFT IDEAS>