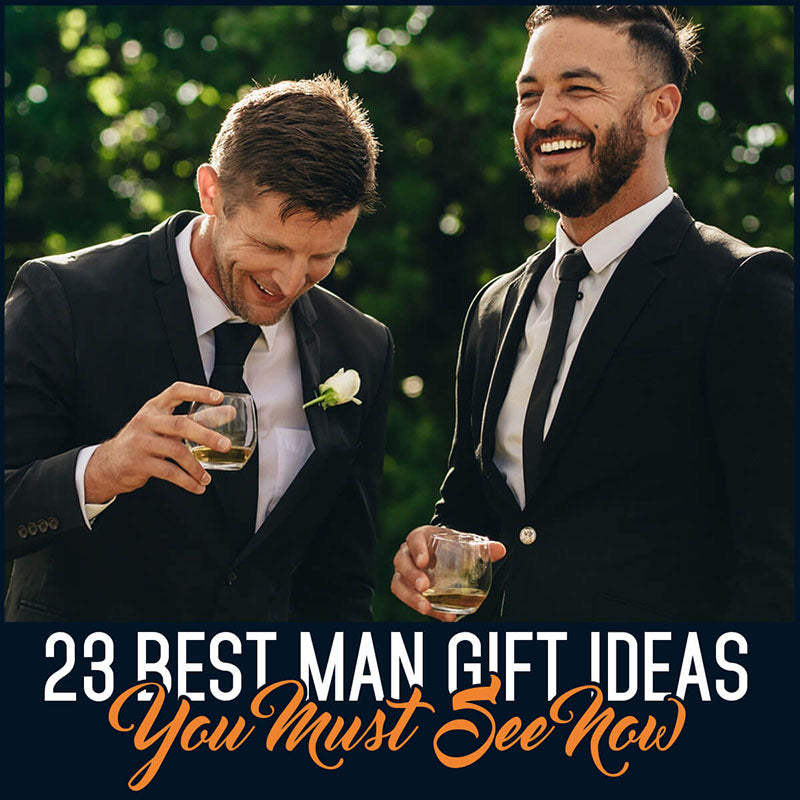 23 Best Man Gift Ideas You Must See Now
Check Out Our Top Selection of Best Man Gift Ideas:
Handing out unique groomsmen gifts is one thing. Choosing the ideal present for the best man is a totally different subject. This is the number one guy on the groom's side, and he deserves gift ideas that match his level of importance. So what constitutes outstanding best man gift ideas? What sort of budget should you set aside for this special guy? Is it best to buy a complete gift box set, or piece together a bunch of best man gifts and give them all at once to him? Answers to these questions and many more are all addressed here, as we show you our top best man gift ideas you have to see now!
1. Grill Tools- A Best Man Gift Set for Barbecue Enthusiasts
Give the best man the chance to improve his mettle behind the grill by giving him one of the most unique best man gift ideas ever invented. A grill tool gift set not only encourages him to up his barbecue skills, but with its stainless cooking utensils and custom engraved wooden box for carrying everything, he'll be looking sharp in the process.
2. Personalized Pint Glasses with Custom Koozies- for the Best Man and his Best Friend
Everybody loves two-in-one gift ideas. Make the most of his interest in unique glassware by hooking the groom's #1 wingman up with a set of personalized pint glasses wrapped in engraved leather. This rich brown addition doesn't just add an aesthetic appeal to the traditional pint glasses, but it also is an insulated layer that you must see in person. We like the idea of adding a bottle opener and coasters to make it one of those gift ideas you have to see now.
3. Engraved Growler Stainless Gift Set- for Men Who Love Draft Beer
Help the most important groomsman get his draft beer fill while being responsible in the process. Glass beer growlers let in light, are not very well insulated, and are prone to breaking. Eliminate this risk by giving the best man a double-walled stainless steel growler gift set, which includes superior insulation, a hinged metal lid, and a duo of matching pint glasses for pouring into. Etch his initials for a personal touch and then toss in a set of coasters to make one of the ultimate best man gift ideas.
4. Golfer Engraved Hip Flask- for Gentlemen Who Love to Golf
Golf is a big deal for a lot of guys, and so is drinking. Together they help turn long weekends into great times spent with friends, and nothing says awesome quite like swigging out of a custom flask on the 9th hole. We like that this engraved hip flask for golfers comes loaded with a belt/bag loop for easy carrying, two golf ball markers, four tees, a divot repair tool, and that it can be personalized any way you wish. Make it one of the most memorable gift ideas in history by filling the hip flask with his favorite liquor and adding a funnel box set to the order, as it will both be useful and make for a more impressive presentation. You can find more awesome gifts for best man here!
5. Military Ammunition Box Gift Sets- for the Outdoorsman Who Loves Nature
Groomsmen gift sets are nothing new. Step away from the norm by giving the best man a genuine military ammunition box packed with unique gift ideas. Although the custom engraving on the black flask, pint glass, and ammunition box itself make best man gift ideas like these special, we find the addition of a tactical hatchet to be the must see part of this hardcore military gift package.
6. Beeropoly Board Game- for Fun Times With Friends and Cold Beer
Take board games to a whole new level, with one of the most creative best man gift ideas from a groom ever invented. This truly is one of those wedding present options you must see now that you know who is in the ceremony. With its hilarious rules and drinking game vibe, the wedding party is sure to have a ton of fun with the Beeropoly board game! We also really like the fact that this particular gift is carved by hand in-house right here in America out of ½-inch birch wood for a high-quality finish.
7. Engraved Wooden Box Gift Sets- A Wedding Invitation for Whiskey Lovers
Is the best man in the wedding a big liquor guy? If so he's going to flip when he sees that you got him one of the top best man gift ideas in the history of alcohol consumption. Best man gift ideas from the groom like this gorgeous wooden Maple box set don't just give him the gift of having an engraved flask and whiskey glass and matching flask at his disposal, but a sharp bow tie and a personalized invitation card to match! Note how the custom engraved wooden box that everything comes in is designed to complement the rest of the gift set, and how it is made from American maple and stained a rich walnut color.
8. Custom Etched Glass Beer Mugs- for Guys Who Like the Vintage Look
Does good ale appeal to the man in charge of holding the ring, shortly followed by old-world gardens littered with wooden drinking benches and giant beer steins? Make the best man in the wedding incredibly happy by giving him a custom etched glass beer mug with his name on it. With his name and year of the wedding etched down the face of a classic European glass beer mug, this pewter-capped beer stein is the perfect answer to traditional drinking, making it one of the best man gift ideas ever.
9. Bar Rules Personalized Wooden Signs- Clever Man Cave Gift Ideas
So he's got a pretty awesome wet bar in the basement, but he's also always yelling at his buddies because they keep forgetting the house rules. Best man gift ideas from a groom that help make a man's life easier are always a smart choice, and this code of ethics wooden sign is the perfect way to help out. We really like how you can list up to four rules on this sign and that the name of the recipient adorns the top. Just make sure that you carefully determine what he would want showcased first, and don't forget to upgrade to the larger sign size.
10. Exotic Wood Personalized Cutting Boards- for the Man Who Loves to Cook
Some men just love to cook. Give that best man gift ideas from the groom that double as a must-see kitchen decoration, with a personalized cutting board unlike anything else on the market. This mango wood and marble cutting board is a prime example of what timeless culinary utilitarianism looks like. Make it 100% unique by engraving his name and initial across the bottom, and then add some cutting board oil to make this one of the mostunexpected best man gift ideas in history.
11. Home Sign – A Must See Movie Night Gift Idea for Him
Best man gift ideas from groom and family are always appreciated when they know what he's into and shop accordingly. One of the best man gift ideas you could possibly think of is a way to make his home movies even more fun! Take this cinema sign as a gift is the newest and most ultimate way for him to enjoy classic films or modern block busters! Every night will feel like a trip to the cinema regardless if he is putting on his favorite film from Netlfix or is streaming the newest movie that everyone is talking about! Oh, that isn't even to mention how much more he will love it since his name has been put on the sign too. Finally, he can feel like he has his name in the movies!
12. Glencairn Whiskey Glasses and Decanter Box Set- Designed for the World's Best Distilled Spirits
Is he not into beer or wine all that much, but prefers sipping top shelf liquor instead? Make his wedding gift that much more special by giving one of the more unique whiskey lover gift ideas on the market. Formed from the world's finest glass, and then etched with his initial in a vintage Winchester design, this wooden box set is a brilliant package option if he doesn't already have a nice decanter and Glencairn whiskey glasses. Adding all-natural whiskey stones and a stack of coasters will help make best man gift ideas like these feel complete, so don't forget your add-ons.
13. Custom Tap Handles- Because He Loves to Drink Draft Beer
How is it that every time you go over to his house, he proceeds to pour you a pint of delicious draft beer, but is still using that ragged old tap handle from college? Surprise the beer snob in the groom's wedding party with a solid maple beer tap handle featuring a custom design that matches his personality, along with a couple of lines of text to go with it. Serving-up pint glasses filled with frothy beer has never looked so good, making him the king of ice cold draft beer, and this one of our favorite best man gift ideas.
14. Tactical Tomahawks- for The Hatchet Man in the Group
This one's for the hardcore outdoorsman who might not want the entire military box set. If he's got a 4×4 with mud-huggers on it and loves to camp and fish, now is your time to step in and lend a helping hand with best man gift ideas from groom and American manufacturers like MTech USA. The reason why personalized tactical tomahawk hatchets like this earn a "must see" status is because they are affordable, are made from extremely well-made materials, and are a far cry from anything the top groomsman might be expecting. Just don't forget to throw in a few extras like an insulated koozie and a set of stone coasters as added perks.
317+ AMAZING WHISKEY GIFTS FOR MEN >
15. Unique Motorcycle Sneakers
Another one of the more unusual, yet strikingly stylish gift ideas for men has to be the timeless look of a pair of Harley Davidson sneakers. Since the gentleman holding the ring probably isn't out riding all the time, opting for a set of sneakers that are lightweight and comfortable is a solid gift option. We really like how these kicks are made from genuine leather and are vulcanized for long life, making them perfect for when it's time for him to hop on his hog.
16. Personalized Metal Garage Sign- Gift Ideas for Car Enthusiasts
Has the best man developed a taste for garage life, and would rather spend his time turning wrenches than watching TV? Hook him up with a piece of vintage wall art, a guaranteed way to make his garage pop with personalized appeal, and one of the nicest best man gift ideas on the market today. Available in four different colors, and rocking a hardcore hot rod shop motif, this metal garage sign is one of our favorite must see gift ideas for the guy who doesn't mind doing his own oil changes. You can see an even wider selection of personalized signs for your best man here.
17. Unique Wine Bottle Holders
Does your buddy like watching westerns, and customizes his home to mirror this fact? Well maybe it's high time you gave him a custom made bottle holder, complete with holster, bullets, and flashy firearm. Due to its realistic appearance, sturdy resin construction, and hand-painted finishing touches, this bottle holder for cowboys easily stole a spot on our list of 23 best man gift ideas.
18. Rocks Glasses and Engraved Flask Sets- Great Gift Ideas for Whiskey Lovers
Sometimes giving a gift for two is the preferred approach to choosing the ideal present. If he's a fan of flasks and digs the idea of sipping from his own personalized rocks glass, then this whiskey glass and hip flask combo set is definitely worth consideration. May they be best man gift ideas from groom or father, the result is timeless and tasteful. Simply etch his name, initials, date of the wedding, and a personalized phrase across the front of these rocks glasses and the liquor flask pictured next to them, and you'll have the ideal present for the guy who likes sipping the good stuf. Just don't forget to include some whiskey stones and a decanter for a more well-rounded presentation.
19. Old School Wooden Tackle Boxes – Gift Ideas for the Men Who Love to Fish
A dedicated fisherman should always have a proper pole (or twenty) on hand, as well as a high-end wooden tackle box at his disposal for when it comes time to hit the water. Turn the groom's best friend into the world's happiest fisherman by giving him a classic wooden tackle box this year. Forego bland plastic looks by focusing upon an old school approach that features real felt, red oak, and chrome plated latches for one of the nicest best man gift ideas for fishermen.
20. Cigar and Whiskey Box Sets- Creative Best Man Gift Ideas for Stogie Smokers and Scotch Drinkers
Cigars and single-malt whiskey. Best man gift ideas from groom to brother that are both man-made creations that compliment and contrast one another beautifully, making for two of the most recognizable wedding indulgences out there. Turn the second in command within the groom's wedding party into a cigar smoking, whiskey drinking rock star with a matching engraved gift set that includes a classic liquor decanter and whiskey glasses. A big selling point with best man gift ideas like this is the inclusion of a matching shadow box, which appears to have been engineered to hold cigar bands.
21. Wedge Shaped Rocks Glass Gift Box Set- Unique Gift Ideas for Liquor Drinkers
Here is something you don't see every day. A rocks glass set that features an engraved decanter with coordinating maple wood gift box, etched square glasses, and… wedge-shaped ice molds? These peculiar silicone shapes apparently fit the rocks glasses perfectly, and are designed in such a way that the ice melts much slower, making for a far more enjoyable liquor sipping experience. This is without question one of those best man gift ideas you must see to believe. So pick up a wedged rocks glass box set for that special friend or family member, etch a name and a year on everything, and get to sipping!
22. Liquor Dispensers- Wet Bar Ideas for Professional Party Animals
Stocking a wet bar can be a time consuming and expensive process. Help him get his setup up to snuff by handing out a premium liquor dispenser and bottles of booze as best man gift ideas! This revolving bottle holder makes for one of the nicer gift ideas, as it offers spring-loaded control, the ability to keep multiple kinds of liquor "on tap," and features superior stability. Turn it into a gifting bonanza by throwing a custom engraved shaker and matching cocktail glasses into the equation!
23. Beer Festival Tickets – It's Party Time for the Whole Gang!
Have all the guys in the wedding procession developed two loves in life? Do both beer and festivals capture their attention like no other? Make those wedding gifts that much more amazing by handing out tickets to the world's best beer festivals! This way you can all be reunited months after the wedding, and can do what you love the most… drinking great beer with your buddies!