Whether it's rescuing a scared cat from a tree or carrying a baby out of a burning house, firefighters are incredibly brave people. How do you find the right gift for someone who runs into dangerous situations every day to save someone without a second thought? You need a gift that will not only show your appreciation for his/her job but also how much you care. Firefighter gifts should be items that aid relaxation after a long day, something they can utilize at work, personalized gifts, and themed memorabilia that have the Fire & Rescue emblem or the Maltese Cross. You might be wondering: What kind of gifts do firefighters really want? Are there tools that will be useful in their dangerous job? How can I show my appreciation for a firefighter with a gift? Don't worry, these 23 Incredible Gifts for Firefighters have everything you need and more to find you the perfect firefighter gift for any occasion.
Engraved Whiskey Decanter Gift Set for Firefighters – Promotion Gift

Does the firefighter in your life enjoy a glass of bourbon after work? Then he'll love this beautifully personalized whiskey decanter set. Encased in a handsome wooden box are a decanter and 4 whiskey glasses, all engraved with the Maltese Cross along with the name and precinct number of your choosing. This set is a gorgeous gift for newly promoted firemen, recently retired firemen, or as a thoughtful appreciation gift set. He'll love having this beautiful new addition to his bar and sharing a glass of scotch with his friends after a long day at the station.
Cool Sign for The Home or Station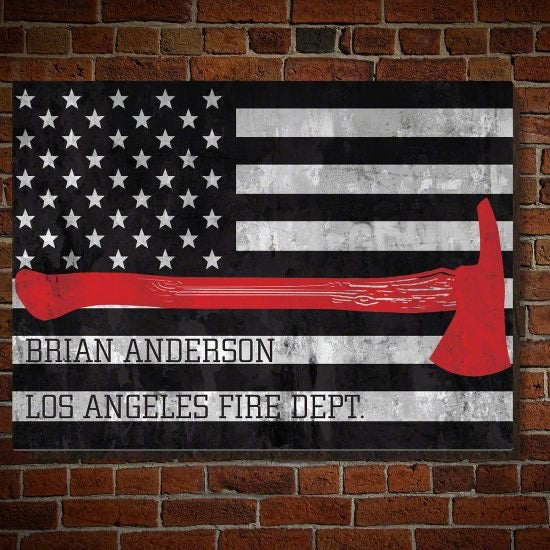 Firefighters are bold and brave men and women who risk their lives every day. They rely on their trusty axes to help them rescue people and animals from various dangerous situations. You've probably seen the popular police design of the Thin Blue Line and its firefighter counterpart, The Thin Red Line. This cool sign is a unique twist on the latter with the axe in place of the line. This awesome and patriotic piece of decor is the perfect gift for firefighters whether they're retiring, transferring, or being promoted. You can even customize the two lines of text below the axe to make a one-of-a-kind tribute to the incredible firefighter in your life that he or she will proudly display forever.
Fueled by Fire Firefighter Whiskey Glass

There's nothing better than a nice, cold glass of bourbon after a flaming hot day. Treat your firefighter with this custom whiskey glass bearing an engraved firefighter emblem along with his name and year of your choosing. This gorgeous glass would be an incredible gift for new firemen, especially if you engrave the year that they joined the department to make this one of the best personalized firefighter gifts they'll ever get. This rocks glass is a great gift idea for birthdays and holidays.
Celebrate Their Promotion or Retirement with a Custom Beer Gift Set

Know a fireman or firewoman who is moving up in the fire station or retiring? You want to give this person something nice that both shows your appreciation for their hard work as well as a gift they will genuinely enjoy using. Personalized firefighter gifts don't necessarily need something specifically firefighter-related, think about what they are interested in! For example, if the fireman you're shopping for is a beer lover who enjoys shooting and spending time outdoors, this is the perfect gift set. He or she will love the custom pint glasses and cool bottle opener made from a real bullet. The ammo can is great for storing ammo, of course, but is also perfect for storing work gear or tools. Plus, a pocket knife is always great to have on hand. Can a gift for firefighters get any cooler than this?
Smith & Wesson Firefighter Watch

Watches are classic gifts for men, but this watch is one of the coolest gifts for firefighters on the market. This Smith & Wesson firefighter watch is sporty, durable, and nifty. With a signature red face and firefighter emblem, this watch has glow in the dark hands and markings so that it can be read at all times. The military-grade nylon band ensures that this watch will stay on his wrist even during the most extreme situations. This would be a great gift for new firefighters fresh from the academy.
A Gift Set with All of Their Favorite Things

Firefighters can be difficult people to buy for. They're always coming home from work telling friends and family about a crazy house fire or how they rescued a family of geese from a storm drain. They're practical people who don't have a ton of free time due to their demanding job. As such, they don't get enough time to relax. Why not surprise them with a relaxation care package-type gift of all of their favorite things? For the fireman who loves beer, cigars, and outdoor adventures, this is the perfect personalized firefighter gift. When he gets home from work, the engraved pint glass and cigar accessories will be the first things he'll reach for. He can use the tactical survival knife for work and for when he takes the family camping or fishing on the weekend.
379+ MORE GIFT SETS FOR FIREFIGHTERS>
Cool Recycled Firehose Wallet for Firefighters

Can't think of any cool or unique firefighter gifts? How about a new wallet made from recycled fire hoses? Each wallet is unique to itself and have markings from the hoses' previous life. Every firefighter at the station will want one! This wallet will be a cool gift for new or active firefighters. Active or retired volunteer firefighters would also enjoy this neat recycled wallet.
Custom Beer Glass – Personalized Fireman Gift

After a day around scorching flames, a firefighter needs to cool down. How about an ice cold beer? This insulated pint glass will keep beer or any beverage cold for 4 hours without a lid. Made of stainless steel finished in an elegant matte black this custom pint glass is engraved with a cool firefighter design along with a name, year, and phrase of your choice. A couple of these pint glasses would be great personalized firefighter gifts for new graduates, birthdays, or appreciation gifts. 
A New Tool for Work
Firefighters use axes frequently in their rescues whether it's getting through a burning building to a trapped child or freeing a family from a storm cellar after a fallen tree has blocked the door. Axes are certainly a useful tool in their profession, but what about a hatchet? Miniature in size, these handy little axes can be great backups if their full-sized axes break or for smaller rescue operations. Plus, you can have the beautiful blade engraved with just about anything you want! He or she will love that you gave them a personalized hatchet that will help them at their job.
Cool Firefighter Beer Mug

A personalized item is always a great idea for gift-giving occasions. This personalized mug is a cool gift for firefighters who love a classic mug of beer after a hot day on the job. Engraved with a Maltese Cross and customized with your firefighter's name and a year, this beer mug is a great personal gift for firefighters everywhere. This is another gift that is ideal for firefighter birthdays, promotions, appreciation, and retirement. 
Game Night Just Got a Lot Cooler
After a rough day running around town on the fire truck, the firefighters in your life enjoy relaxing with a round of card games, poker, or board games together. With plenty of drinks to go around, they can finally unwind after a 16 hour day. Whatever the occasion, the fireman in your life will enjoy getting this cool upgrade to their game night. When it's his turn to host, his coworkers will be impressed by his custom whiskey glasses and fresh stogies to enjoy while they play a classic game of poker. The game set is easily portable, too, so that he or she is always prepared!
Firefighter Courage Flask

Liquor flasks are always nice gifts for firefighters who prefer whiskey, especially when they enjoy bringing their own bourbon to cookouts and camping trips. This personalized Maltese Cross flask is a handsome gift for firefighters. This is a great versatile gift for a firefighter's graduation, birthday, promotion, appreciation, holiday, or retirement. The stainless steel and leather flask is personalized with your firefighter's name and year of your choosing. 
459+ UNIQUE WHISKEY GIFTS FIREMEN WILL LOVE>
A Unique Piece of Decor

There's nothing like coming home after work and opening an ice cold bottle of beer. Instead of tossing the bottle cap, he can store it in his new beer cap map! Shaped like the Maltese Cross, the firefighter in your life can show off a new collection of bottle caps from his favorite beers. This would be a great decoration in his home bar, kitchen, or man cave.
Work Sweater

Firefighters don't work at the station in their fire suits, so naturally they need a set of work clothes. It's nearly sweater weather and this custom work sweater is great for being around the station. Embroidered with your firefighter's name and fire department, this nice work sweater will keep him warm and comfortable on the cool autumn days. Sweaters and jackets are always good ideas for gifts for firefighters, especially for birthdays, appreciation, and holidays. 
American Heroes Bottle Opening Coasters

Giving a gift that has more than one purpose is always a big hit. These coasters are not just handcrafted bamboo coasters, but they are also personalized and they have bottle openers on the bottom! Not your average coasters, these custom coasters are great gifts for firefighters. Personalized with an engraved name, date, and title of your choosing, these coasters will make an awesome gift for any firefighter both as a necessary item for the home and a cool multitool. If you choose the graduation or retirement date, these coasters would make really great personal gifts for new and retired firefighters.
Elegant Piece of Decor for the Home
One of the best gifts for firefighters is something you wouldn't expect: a piece of decor! The fireman or firewoman you're giving this incredible personalized sign to will be in awe of how cool it is. This sign adds a nice pop of color to any room in the home, but it would also look great at the fire station. You can customize the two lines of text in the center with just about anything to create a truly one-of-a-kind work of art that no one else will have. The cool axes on the sign immediately draw the eye, and your firefighter will love the "First in, Last out" part. Everything about this awesome custom wooden sign makes it a great gift idea to celebrate any occasion whether it's a promotion or a firefighter getting special recognition for saving someone.
Engraved Whiskey Glasses – Unique Firefighter Gift

Looking for a unique firefighter gift? These custom engraved whiskey glasses are a handsome new set of drinkware for your fireman's home bar. These glasses are personalized with your firefighter's name and precinct number inside a traditional fire & rescue emblem. Firefighters that enjoy sharing whiskey with their friends after a long day at the station would especially love these glasses as a gift. Even firefighters who don't drink will love these handsome glasses that can be used for any beverage and make an attractive addition to their glassware. Pair these beautiful glasses with a bottle of scotch and you've got a really great gift to give the firefighter in your life.
Personalized Bar Sign for Firefighters

A handsome piece of wall decor is a great choice for gift-giving, especially if it is personalized. The sign comes customized with the name and year of your choosing along with the phrases "No job too tough" and "No beer too cold" around a signature Maltese Cross. This beautiful sign is an attractive addition to any firefighter's home and would make a nice gift for many occasions. Whether they just enjoy beer, have just graduated from training, newly retired, recently promoted, or have a birthday, this sign is a handsome versatile gift. If you choose to personalized the sign with the year that your firefighter joined the station, is promoted, or retires, this sign will make a really touching gift.
Thin Red Line Graphic Tee – Appreciation Gift for Firefighters

Like police officers, our firefighters also have a signature patriotic symbol: the thin red line. T-shirts make awesome appreciation gifts for firefighters, and this thin red line graphic tee is a great way to show how much you respect and value the courageous work of firemen everywhere. This T-shirt is a must-have gift for firefighters who just graduated the academy and want to show off their new job and appreciation for their coworkers. This tee will also make a thoughtful gift for retired firefighters.
Monogrammed Shot Glasses

Having attractive drinkware is a must-have for anyone with a home bar or just appreciates beautiful glassware. I bet you didn't think that elegant shot glasses existed! For the sophisticated firefighter, these monogrammed shot glasses are a gorgeous addition to any home. Your firefighter will love getting these beautiful glasses out to pour his fellow firemen a round of shots after work or on the weekends. These simple but beautiful shot glasses are great gifts for firefighters for any gift-giving occasion whether it is for a birthday, appreciation gift, retirement, or promotion. 
Personalized Wine Glasses

Is the firefighter in your life a wine lover? Then he or she will absolutely love these personalized stemless wine glasses. Custom engraved with a name and initial of your choosing, these lovely glasses hold 21 ounces of red or white wine. This set of 4 glasses are great personalized firefighter gifts for several reasons. Stemless wine glasses have proven to be more stable and less likely to spill like their stemmed counterpart, which means no more red wine stains! The unique shape of the glasses aerate red wine to amplify the subtle aromas and flavors and work equally well for white wine as well. These stemless glasses make for a better wine experience overall, and now your firefighter can truly relax without worrying about a spill or bad tasting wine.
Personalized Decanter

A whiskey decanter is not just a gorgeous way for a firefighter to display liquor, but it also keeps his liquor fresher than a regular bottle. Personalized decanters are great promotion or retirement gifts, and this custom decanter is one of the best firefighter gifts. Engraved with a Maltese Cross along with a name and year or precinct number of your choosing, the new lieutenant or captain will love this handsome promotion gift to display on their desk or at home. Retired firefighters will enjoy this attractive decanter to proudly show off their finest scotch or cognac while also displaying their honorable time as a fireman.
Ultimate Gift for Firefighters
You want to honor the firefighter in your life with a special gift whether he or she is retiring after many years serving the community or is being promoted for being an incredible firefighter. Congratulations, your shopping is over because you've found the best personalized firefighter gift! This amazing gift set has it all: an engraved hatchet, beautifully personalized rocks glasses, and a box set of whiskey stones with additional accessories. He or she will love coming home to enjoy a nice glass of scotch on the rocks with you after a long day at work. The hatchet is great for using at work, trimming trees in the yard, or to show the kids how to build a fire on a camping trip. Everything about this set makes it one of the best gifts for any firefighter in your life no matter the occasion or just because.
Essential Beer Lover Gift Set
Stressing about what to get the fireman in your life? Think about the things he likes. Does he enjoy drinking beer? Does he brew his own beer? What about craft beer? If you answered "yes" to any of those, you can relax now. This three piece beer gift set is the perfect gift for firefighters who love beer whether they have a favorite local brewery or brew their own beer. The cool amber glass beer growler is great for bringing home plenty of a seasonal brew to enjoy or to store a batch of his own creation. The two pint glasses are ideal for the two of you share a couple of cold ones together while he tells you all about his day at work where he rescued a kitten from a power line pole or an entire family from a house fire in the middle of the night.
A Useful Tool for Their Job
Want to get your brave fireman or firewoman something to help them out at work? This Gerber knife is specially designed for firefighters! The bulkier features are easy to use even when they're wearing turn-out gloves. It has a glass breaker, O2 tank valve opener, and a hook cutter for seatbelts and rope. The special serrated edge can be used to cut all kinds of fabric and other materials as well. The firefighter in your life will use this handy pocket knife every day whether they're doing fire alarm inspections or saving someone from a dangerous situation.
Thin Red Line Sign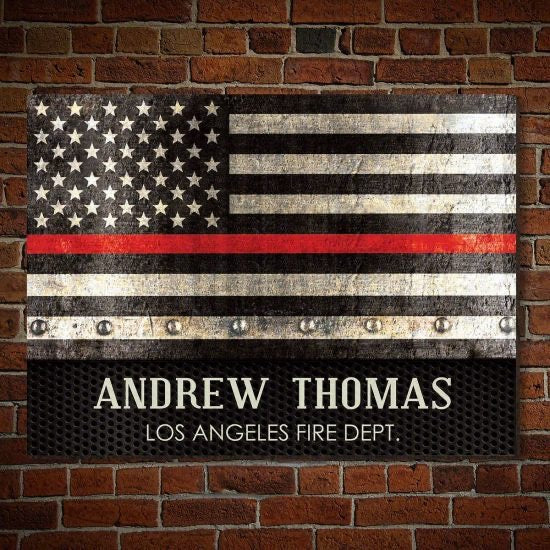 Firefighters are brave, patriotic, and hard-working men and women. When shopping for the perfect gift for the firefighter in your life, you should try to find something that pays tribute to these important qualities. Their job is tough, after all, and you want to show your appreciation. One of the best gifts for firefighters is this Thin Red Line sign. Custom made with two lines of text, this awesome sign is a must-have for any firefighter's home. He or she will proudly display this patriotic sign for all to see as soon as it gets unwrapped!
Customizable Cigar Gift Set
Despite fighting flames all day, every day, some firemen enjoy smoking cigars after work. As soon as he gets home, he reaches for his glass of whiskey and a fresh stogie to light up. Why not make his evening routine even better with this awesome cigar-holding rocks glass and cigar case? Thanks to your great gift, he'll be able to securely store and carry his stogies wherever he goes when he's off duty. He'll want to show off his cool new whiskey glass to everyone he knows! This cigar gift set is one of the best personalized firefighter gifts for a fireman who is retiring or being promoted, but it's also great for giving as a "just because" appreciation gift.
55+ MORE GIFTS FOR FIREFIGHTERS>