23 Gloriously Good Gifts for Guys
Shopping for guys seems to get harder every year. They just get whatever they want with a few taps on their phone. Thankfully, they haven't done the research for all the good gifts for guys out there. And luckily for you, we've taken extensive research notes to come up with the greatest possible list of gifts for any guy in your life for every single occasion. Our list has gifts for husbands, dads, brothers, even groomsmen. We've got you covered for birthdays, Christmas, even retirement gifts. You might as well bookmark this page because you can use it all year long.
Classic Whiskey Box Set
Put a smile on your man's face with one of those good gifts for guys that allows him to experience his liquor in a completely new way. This personalized liquor set was specifically crafted so the user could savor every delicate note of their favorite spirit. Your guy can even add a whiskey stone or two get that heightened sensation from a chilled beverage. This gift is everything a guy could want.
Epic Cocktail Glass Makes an Epic Gift for Guys
Game of Thrones fans are always ready for a rewatch and need a drink when they're churning through 8 emotionally charged seasons. That's what makes this stainless steel cocktail glass one of the best gifts for guys that can name all the houses of Westeros. Their stainless steel design is perfect for any cocktail and will keep them chilled like they were a member of the Night's Watch.
Modern Whiskey Stones for the Modern Man
If your man thinks he's experienced whiskey in every way imaginable. Just wait. He hasn't seen anything like these awesome black onyx whiskey stones. It doesn't matter if you're boyfriend or husband is a self-described whiskey veteran, they will still love the way these awesome onyx stones bring their whiskey to the perfect temperature without diluting or altering any flavor. This gift even comes with a great rocks glass for the spheres.
A Gift for Men That Love Their Wine
Some men know that a glass of wine is the only true option when it comes to alcohol. But they haven't experienced the best in wine until they own their own decanter. That's why a good gift for guys is this personalized wine decanter. They can take their favorite red or white wine, pour it in the decanter, and let it aerate the bottle for a richer, more flavorful experience by the time it hits the glass. It's an ideal gift choice for birthdays, holidays, or any occasion where wine is needed.
Regal Decanter Set
Looking for a classier gift for your dad or grandfather? A monogrammed presentation set is the way to go. It will finally give them a refined way to serve their drinks to friends and family. It doesn't matter what kind of liquor they prefer, it's perfect for any kind of spirit. Serving your friends from a classy decanter is an experience they won't forget. Plus, it's great if they just want to sit in their favorite chair and have a peaceful drink all on their own.
453+ WHISKEY GIFT IDEAS FOR MEN>
Unleash His Inner Drummer
There's nothing as rewardingly cathartic as getting behind a drum kit and banging out a solo. Now, that's not a reality for most guys. They live in an apartment and your neighbors aren't too keen on the noise. They live in a house and don't want to wake any sleeping kids. That's not a problem with a Roland electronic drum kit. They can still get the full experience of being in a rock band without disturbing the peace. When it comes to good gifts for guys, you'd be hard pressed to find any better options.
Custom Pub Tap Handle Gift for Guys
Every man needs the experience of pulling a beer handle and filling their own glass at least once in their life. Now you can give your guy that exhilarating experience every day of the week when you get him his own personalized beer tap handle. Modeled after the classic English pub design, it's perfect for the boyfriend who's into homebrewing or the husband who has his very own man cave. After you add the personalized touch that's just for him, this is the kind of gift that will make them the envy of all their friends.
Unique Gift for the Card Shark Guy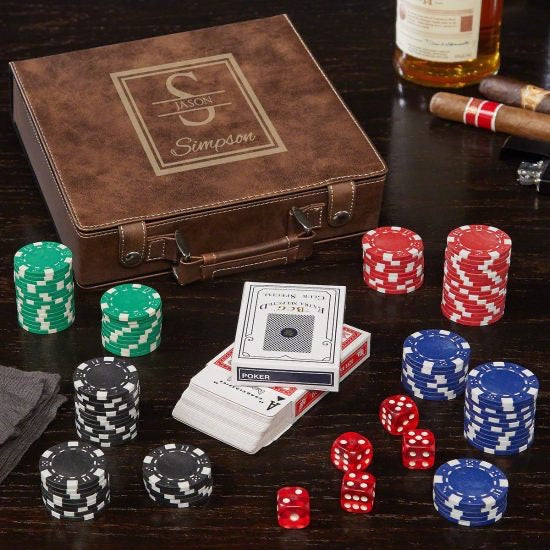 You still remember every time your guy has come home from poker night with stories about his best hands, best plays, and the biggest pots he brought home. Show him you've been paying attention with this good gifts for guys that consider themselves card sharks: a personalized poker set. The customized touch will give him the extra confidence he needs to successfully bluff his way into big wins even when he doesn't have the cards. After he gets this gift, he'll insist on being the one that brings the cards every time to his weekly poker game. It even has a set of poker chips, so the only thing he'll need that night is a nice cigar and a glass of whiskey.
Scotch Lovers Ultimate Gift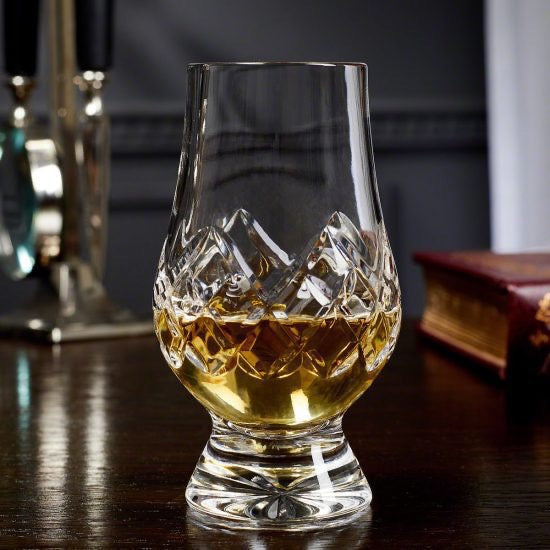 If your man is going to drink scotch he should at least be doing it with the finest glass imaginable. This crystal cut Glencairn glass is the kind of glass of scotch lovers dream about. It has a carefully crafted diamond cut finish that took a lot of time and care to create, just like the scotch that rests inside. Its distinctive shape will push each aroma and note of any scotch to the forefront, so your man gets the full scotch experience with every sip. It's what every guy wants for their birthday, some just don't know it yet.
Add Some Flair to His Ties
Sure your guy has a decent collection of ties he rotates through, but he still wants to add a bit of flair and style to his wardrobe. Thankfully, Tie Mags has created a set of really cool magnetic tie clips. With a wide set of styles, your guy can find the perfect clips to bring a little more life to his suits. It can even be placed anywhere on a tie, so your man can further customize to his preferred look. He'll always appreciate a gift that adds class and style to his wardrobe.
Custom Flask for Every Kind of Guy
A guy without a flask might as well not be a man at all. Thankfully, you can make sure he doesn't have that issue when you get him a sleek black flask that's been engraved just for him. Now he'll be ready to celebrate a hole-in-one at the golf course, top off his friends drink when he's at the bar, or make himself an impromptu mixer when the occasion calls for it. Whatever the reason, he'll be glad to finally have a flask in his life.
Upgrade his Outdated Wall Art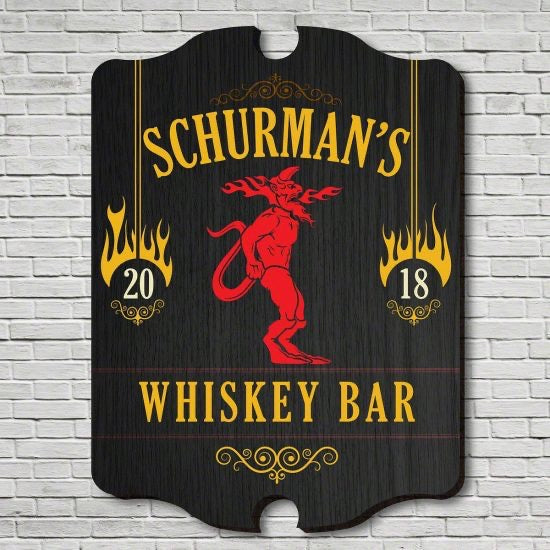 The posters that are barely hanging by their thumbtacks in your man's place have got to go. It's long overdue, but you don't have to convince he needs to replace them with art prints found at a home décor store. You can get him something that more matches his style and won't be found anywhere else. This custom bar sign is crafted from high-end American birchwood and looks good in any room. No matter what occasion you're shopping for, that's what makes this sign easily one of the best gifts for guys on the market.
271+ MORE SIGN IDEAS FOR GUYS>
Every Man Needs a Personalized Coffee Mug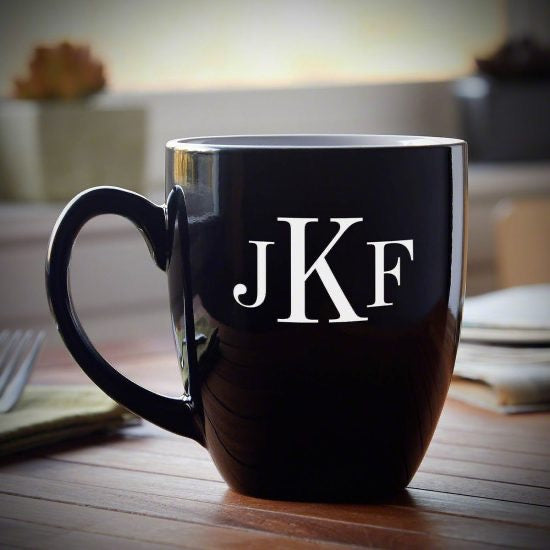 Coffee is the original energy drink. Every man on the planet knows this fact. But, sadly, not every guy knows the joy of drinking from a coffee mug that's been monogrammed for them to let the world know it's theirs and theirs alone. Now you keep your father, brother, or any guy in your life going at full speed with a classic ceramic coffee mug. They can take it to the office and ensure no one uses their mug or use it at home to have a pleasant way to start their day. Whatever they choose, it will be sure to bring a smile to their face when they take their first sip from it every morning.
How to Fix Everything
Every man is going to get his hands dirty sooner or later. It's best if they know what they're doing before they dive in on pure gut instinct and gumption. Luckily, this book by Lawrence Pierce teaches them how to fix anything and everything. It's a book that changes lives. They'll save money, their stuff will last longer, and they'll get a feeling of accomplishment that has always escaped them. That's a lot from just one book, but that's what makes this such an awesome gift for guys.
Genuine U.S. Military Ammo Box
Looking for one of the manliest gifts for guys? How about an ammo can that's genuine U.S. military? With a lot number, bullet measurement, and original government stamp on the side, your guy won't have seen a gift like this anywhere else. When you get the other inside engraved just for him, he'll be taking this ammo box camping, fishing, as a de-facto toolbox, or even a unique place to store his liquor. The possibilities are endless with this original gift idea.
Giant Beer Mug for a Giant Thirst
Great gifts for guys begin and end with beer. At least, that's why any self-respecting beer lover would say. If that sounds like the man you're shopping for then you know he would love to have a colossal beer mug that's been engraved just for him. Capable of holding over 33 ounces of beer, this will become the go-to mug for your guy on gamedays, BBQs, pool parties, or anywhere beer is needed. It even makes an awesome gift for groomsmen.
Jumpstart His Car from his Pocket
Okay, you're more than familiar with portable batteries that charge phones, tablets, and whatever portable device you have. They're small, sleek, and fantastic. Now you can get something almost the exact same size for your guy, but it won't charge his phone. Instead, it will start his car. Yeah, you read that. Something slimmer than most wallets will give his car the jump start and prevent him from being stranded. This Juno Jumpstart is a gift that's great for tech-lovers and car junkies alike.
Custom Cornhole Set
A little friendly competition is one of the things that makes life worth living. That's why every guy would love to own their own cornhole game. Dads can challenge their kids or grandkids. Your boyfriend can challenge you to a game. Your husband can throw down against his old college buddies. It's a game that's simple enough for everyone to play, but still brings out that competitive spirit in all. This set is customizable so you can make it one of a kind. It's even portable, so your guy can easily take it everywhere, showing the world his cornhole prowess.
The Only Grill Tool He'll Ever Need
Your man probably had a Swiss army knife growing up. Practically every guy did. But now they've grown up and found a new calling: the backyard grill. Let them relive a part of their childhood with their modern love of grilling. This Swiss Army BBQ set is a good gift for guys that want to unlock the secrets of a perfect burger and steak all on their own. He can hold a spatula, fork, and basting brush from one handy tool. It even has a corkscrew and bottle opener on the other side so he can kick back with a cold one while he's making a hot meal.
Legendary Beer Gift Set
Your man is a legend. There's no denying it. People are still telling tales of his hallowed deeds in the halls of every building he's entered. Often times, when these tales are retold beer was involved. Now you can show him how much of legend he is in your eyes with his beer gift set. He'll get that bar experience at home with own pint glass and bartender style bottle opener. He can even take the growler to get his beer filled at his favorite brewery or take it with him on the move. The box set will be displayed in the center of his home so the world knows they're in the presence of a living legend. Any gift that provides a gentle boost to the ego is going to be appreciated.
Stylish Plaid Jacket
A quality jacket is essential for every guy. It practically becomes a second skin. If you're wanting to get a good gift for your guy that will last for years than this Buffalo Plaid Wool jacket from Calvin Klein has a classic nature that appeals to any guy. It blends the outdoor, woodsy feel with something that would like stylish walking around the city. It's warm without being bulky. It's still breathable when the day surprisingly gets warmer. Any guy would happily add this to their wardrobe and probably start donating all their old jackets once they tried on this thoughtful gift.
Engraved Hatchet Every Guy Needs
Every guy needs an axe. Even if they don't know it, they still need one. Nothing gets you in touch with nature like chopping down your own tree, taking care of yard work with a couple quick hacks, getting rid of that loose thread on a shirt in the manliest way possible, or just practicing throwing it into a tree. This is the kind of gift that combines fun and manliness. What more could a guy possibly want?
Martini Set for the James Bond Fan
Okay, so your man will never be James Bond. Your dad or husband probably had aspirations that they'd be a part of MI6 one day, even though they weren't British. You can at least let them still have James Bond's favorite drink whenever they want with this set of stemless martini glasses. They can have their martinis shaken not stirred, but really these glasses are great for any kind of cocktail. So he'll be able to serve all of his friends as they each pretend they're a super spy.
215+ GIFTS FOR GUYS WHO HAVE EVERYTHING>