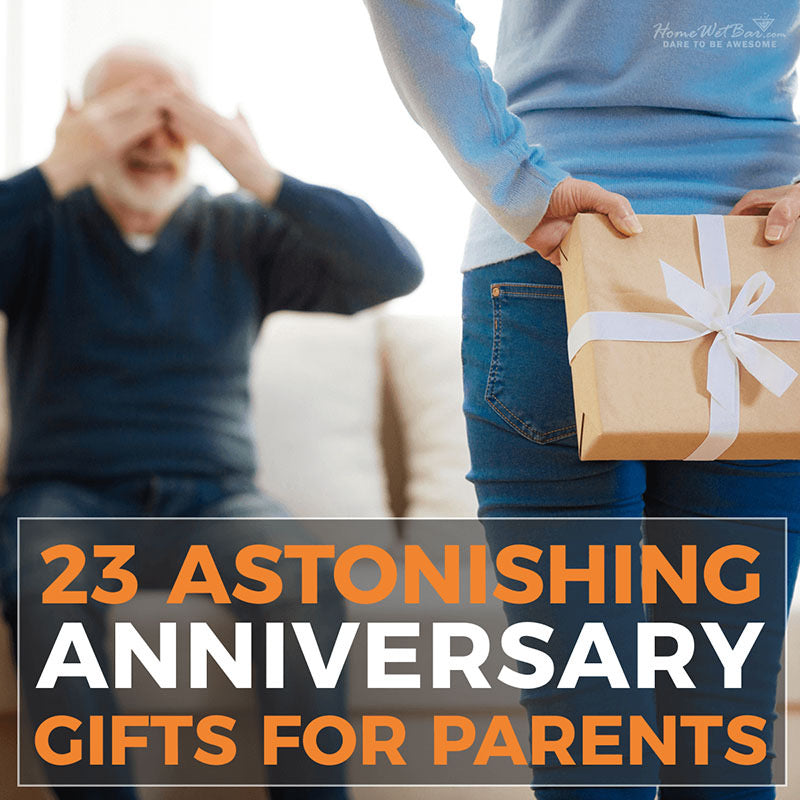 23 Astonishing Anniversary Gifts for Parents
Whether it's mom and dad's 40th or 60th wedding anniversary, you're probably stuck on what kind of gift to get them. What are good anniversary gifts for parents? You've got to think a little outside of the box on this one. Ask yourself, what do you your parents not have that they've always wanted? Is there something they have already but want a new or updated one? For example, maybe mom has expressed a desire for a new cutting board to replace the old one or dad has always wanted a cool bar cart. Their anniversary is the perfect time to give them these gifts! No matter how many years together they're celebrating, we have plenty of unique anniversary gift ideas that will make both mom and dad happy.
Classy, Customized Presentation Set
Surprise them with one of the most impressive anniversary gifts for parents that they can use to celebrate the special day! This custom whiskey presentation set is a classy, high-quality glassware set that will make your mom and dad feel incredibly fancy. Both of them will greatly appreciate how convenient it is to serve themselves a drink using this set as it sits on their coffee table, home bar, or kitchen counter. They'll definitely want to share a drink to celebrate their anniversary!
Personalized Set of Stainless Steel Wine Tumblers
For one-of-a-kind parents, a one-of-a-kind gift is a must! This engraved wine tumbler box set is a phenomenal anniversary gift for your mom and dad that they'll love using any time they want to enjoy wine or even any other chilled drink together. They will love seeing the customization on these unique tumblers that keep their favorite cold beverages chilled until the last drop. This gift box set will become their go-to whenever they're celebrating an anniversary or other special occasion together.
A Useful and Beautiful Anniversary Gift for Parents
Both really nice and practical? Say no more! Your parents will adore this monogrammed butcher block cutting board that they'll definitely use whenever they're cooking together in the kitchen or serving appetizers to their guests! It's one of the greatest anniversary gifts for parents because they'll absolutely love how easy this board makes cutting up meats, veggies, and other foods, and it'll be so fun for the two of them to use it when cooking together.
Something New to Decorate Their Home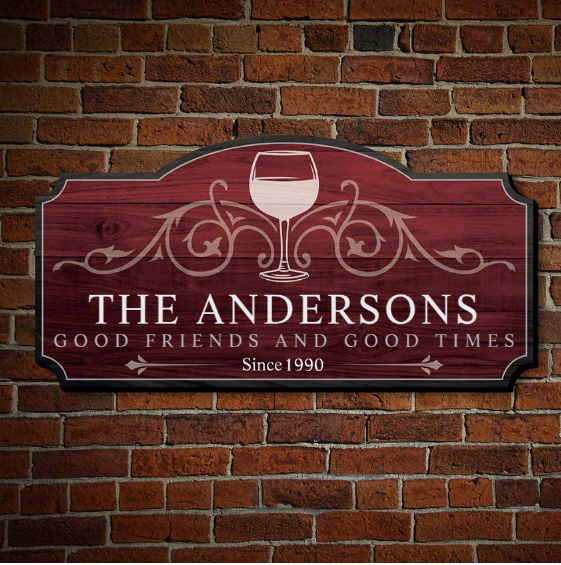 Surprise your parents on their anniversary with a new decorative piece to display in their home! This beautiful wooden sign will look lovely in their kitchen, dining room, or home bar with its gorgeous wine-inspired design and unique colors. Best of all, the sign you give them will be a one-of-a-kind gift because you get to customize the two lines of text, the year, and even the color scheme! Your mom and dad will be touched by your creativity and thoughtfulness, which makes it a truly special anniversary gift for parents.
259+ CUSTOM SIGNS FOR YOUR PARENTS>
Go All Out for Your Parents' Anniversary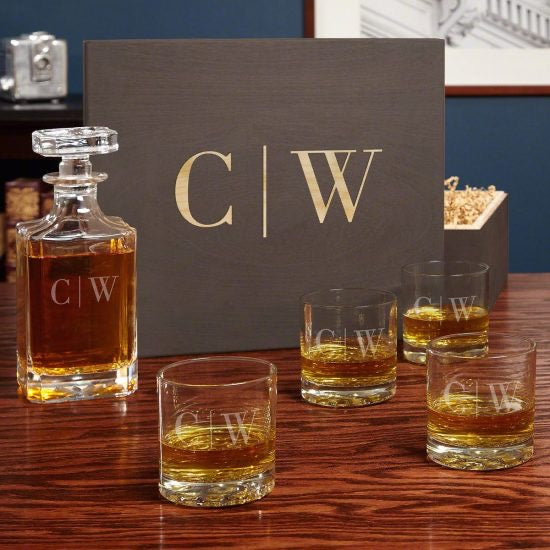 When your mom and dad open up your incredible anniversary gift for parents, all they will be able to say is "Wow!" From the elegant monogram on each piece to the exquisite crystal details on the glassware, every element of this decanter set is simply stunning. They will love that the whole set features their initials and how incredible it looks when they have it on display. But, they will also enjoy using it for drinks together on their anniversary and celebrating other special occasions with their family. This set is sure to be their favorite anniversary gift and will be treasured for the rest of their lives!
A New Centerpiece for Their Living Room
Whether you're helping them celebrate their fifth anniversary or simply know they need a bit of an upgrade in their living room, you can be sure this reclaimed wood coffee table will be an absolute hit! This will be the perfect gift to help them enjoy their morning cup of Joe together or for them to use for their drinks while enjoying their favorite Netflix show together. Coming as a full custom gift to your size, specs, and color, this will be perfect for every set of parents!
Remind Them of Their Wedding Day
It doesn't matter how many years your mom and dad have been married, they can still remember that special day when they said "I Do." However, it's probably been some time since they've felt like newlyweds again. Bring that blissful feeling back with this thoughtful champagne gift set! They will love using the personalized flutes to have an anniversary toast, which will remind them of their wedding toast and how it felt to be newlyweds. They can enjoy this set every anniversary from now on thanks to the beautiful custom gift box that will ensure the flutes stay secure in between uses!
Unique Anniversary Gifts for Unique Parents
Your mom and dad are both amazing and unique people, and you want to make them feel special on their anniversary. With this amazing decanter set, they'll feel like they're limited edition! The custom decanter is engraved just for them so that it's one-of-a-kind just like they are, and the beautifully sculpted glasses that fit perfectly in their hands will become their new favorite drinking glasses for every beverage! This impressive decanter set is an unforgettable anniversary gift for parents that they will enjoy using all the time, and every time they do they will think of you and how special you make them feel!
A Sign of a Great Anniversary
Their relationship has been all fun and games, which is exactly why this anniversary, even though it is a huge milestone, felt so easy to get to! They've always been an unbeatable team together. Help them celebrate with the perfect anniversary gift for parents, their own game sign! This personalized gift is fantastic for any game room, home bar, or anywhere else in their home. Keep the good times rolling on game night with a sign perfect for any parents' place!
Spruce Up the Gift Presentation
You know your parents would love a bottle of their favorite Merlot or Sauvignon Blanc for their anniversary, but you want the presentation of their gift to be fancier than simply handing them a bottle. That's why this engraved wine bottle box is an awesome anniversary gift for parents. Not only will the customization make the gift feel fancier, but it'll make them feel so loved knowing you went to the trouble to buy a nice, custom box for it!
The Perfect Traditional and Modern Anniversary Gift in One
Mix modern and traditional anniversary gifts with a leather catchall that is also a wireless charging matt! A pair of these for each of your parents' nightstands or desktop areas is a great anniversary gift! Now, they can always find their phone, earbuds, and keys, and everything electronic will be fully-charged without ever having to plug anything in.
An Anniversary Gift for Parents to Make Delicious Cocktails
This hammered steel bar tool set is the kind of unique anniversary present that your parents will never forget! It's one of the most creative anniversary gifts for parents that they'll think is so fun! They'll have a blast figuring out how to make some of their favorite cocktails using this ingenious set. Whether it's vodka tonics, mojitos, or any other cocktails, they'll really enjoy creating them. Also, of course, they'll really enjoy drinking the cocktails after they've made them!
Glasses Set for Any Beverage
An anniversary gift for parents that they can use to enjoy whatever drink they want to the fullest extent? How awesome! This personalized whiskey glasses and stones set is a fantastic gift idea that your parents will really enjoy using to celebrate their anniversary. They'll love having their own customized glasses that they can fill with whiskey or any other drink that they can then put the whiskey stones inside of to keep it nice and cold for the duration of any and every celebration the two share together.
Make Sure They Always Have Cold Wine
Do your parents have a full wine rack but always forget to keep at least one bottle in the fridge? Make sure that special bottle they've been saving will be perfectly chilled for their anniversary dinner with this beautiful wine chiller! Made of genuine marble, this striking chiller will keep their wine cold even past dessert. All they have to do is stick the chiller in the fridge for a few minutes when dinner's nearly ready and they'll have a nice cold bottle of wine to enjoy. This chiller is the perfect anniversary gift for your parents!
Engraved Twist Decanter Set for Parents
Put a new twist on anniversary gifts with a personalized decanter set your parents will never see coming. Sorry for the pun, but you know it had to be done (especially when the gift is for your parents!). This gift will blow them away on their anniversary, and will immediately become a set that you always see out on display; whether it is on their end-table, home bar, mantle, anywhere! Ideal for their favorite bourbon, whiskey or scotch, this is a centerpiece that you can be sure they'll be using every time they celebrate a major occasion, or they may even use it for a refreshing drink after a long day! Anniversaries are all about couples, so give them a gift that they can enjoy together!
418+ MORE GIFT SETS FOR YOUR PARENTS>
A High-Tech Gift to Capture the Moment
Never let them miss a moment again with a high-tech 4K digital camera. Thanks to you, capturing memorable anniversary, birthday, or holiday memories will never be easier or clearer! Forget phones, a 4K camera will have high-quality images that they can enjoy in collages or collections for years to come!
A Set of New Coasters
Okay, hear me out: your parents probably have coasters already, but surely they could use a new set. Think about how long those coasters have been around. Probably since you were a little kid, right? These gorgeous personalized marble coasters will be one of the most useful anniversary gifts for your parents! They'll love that you spruced up their home with a little bit of luxury. You could pair these coasters with a new set of glasses, a new coffee table, or a nice bottle of wine to make it a complete gift!
Make Them Feel Like Newlyweds
It doesn't matter how old they are, your mom and dad have always acted like they just got back from their honeymoon. They're the definition of "couple goals" and you've always admired them for that. They even still have some gifts from their wedding all those years ago, like a cutting board with their name on it and some nice wine glasses. The best anniversary gifts for parents are those that make them feel young and in love again, and this is the way to do it! Give them a brand new cutting board that's beautifully engraved with their last name and a pair of glasses that say "Mr. and Mrs." along with their last name. They'll be reminded of all of their wonderful wedding gifts and their beautiful wedding. The next thing you know, they'll be renewing their vows and going on a second honeymoon!
Modern Wine Glass Gift Set
The best anniversary gifts are new versions of things your parents have had and loved for a long time. Those old wine glasses from when they first got married, for example, could definitely use an upgrade. Surprise them with these gorgeous engraved wine glasses! Laser engraved with their last name and initial, they will absolutely love these modern stemless glasses. This wine glass gift set will definitely become your parents' new favorite way to enjoy a glass of wine together whether that is for their milestone anniversary or even after dinner drinks!
The Perfect Wine Sign
Have their home always feel like the place they want to be, their favorite wine stop! No matter if they are aficionados of all things wine or they simply love to sip on a glass at the end of the day, nothing makes a great anniversary gift for your parents like a custom sign that has their anniversary date and name on it! Add in their love for wine, and you've got a gift they'll cherish forever!
Upgrade Their Sheet Game
People spend at least a third of their lives in bed, so why skimp on the sheets? Your parents would love to get a full sheet set to make their bed and pillows more comfortable than ever! Keep things comfy for your parents with a set of sheets that will become their new favorite set! Thanks to you, they'll fall asleep easier than ever and they'll be so comfy in the morning, they won't want to get out of bed.
A New Cutting Board for the Kitchen
Have you noticed that mom and dad's cutting board could use an upgrade? It's got tons of scratches, stains, and the little legs are coming off. One of the best anniversary gifts for parents you can give is a brand new personalized cutting board. Mom will love having a clean, smooth surface to chop up the ingredients of everyone's omelets on Sunday mornings. Even dad will love using this handsome bamboo cutting board for preparing steaks for BBQ night. They will especially enjoy the beautiful engraving that you customized just for them!
A Place to Collect the Corks from Bottles of Wine They Share Together
Your mom and dad the kind of cute couple that still has their weekly date nights where they have the whole house to themselves, open a bottle of wine, and dance to slow jazz in the living room. This is the absolute perfect anniversary gift for your parents! This adorable shadow box is perfect for them to collect the wine corks of each and every date night. They will love watching the shadow box fill up from this anniversary until the next of the memories of each delicious bottle of wine and the romantic evening of each one.
137+ MORE AMAZING ANNIVERSARY GIFTS FOR PARENTS>