It's common knowledge that guys aren't into gifts that are frivolous and only usable once. Men are all about practicality and usefulness when it comes to gifts. But what are good practical gifts for men? You can never go wrong with tools, especially a multi-tool with many functions, but guys also like to get everyday items such as glassware or a new razor. You'll get bonus points if you give him something that solves a problem, like a unique grilling tool that cooks the perfect wings or bottle-opening coasters so that he doesn't have to search every drawer for a bottle opener for his beer. Truly, practical gifts can be anything from something he gets to use everyday to fun gifts for men that make his life easier. Relax, finding useful gifts for men is easier than you think!
Unique Manly Gift Set with All Kinds of Uses
The guy in your life is a man of simple pleasures. He likes to drink beer, smoke cigars, and go hunting. He always says he doesn't need or want anything for his birthday or Christmas, but this year you are determined to get him a gift that he'll love. What is the best kind of gift for a guy like him? This incredible manly gift set! It comes with a little bit of everything he enjoys: beer glasses, cigar accessories, a new hunting knife with a survival kit, and a military surplus ammunition can. He can take the whole set with him to his hunting lodge in the woods to enjoy after a successful day of hunting deer with his bros. This awesome set is one of the coolest and most practical gifts for men who enjoy outdoor adventures.
Custom Coffee Mug Set
Your boyfriend or husband has a great love for coffee. He talks about it almost as much as he talks about you to his friends and coworkers! You know that he depends on a couple of cups of java to get through the day, and you want to give him something more than just the average box of K-Cups. With this coffee mug set, he'll always have the perfect cup! He can have one at home, one at work, and use the carafe for his commute in between the two. The carafe is made of insulated stainless steel and will ensure that all of his precious black coffee stays piping hot or his iced Frappuccino perfectly chilled for hours. This set is one of the most useful gifts for men as he can enjoy it every day, making it the perfect anniversary or birthday present.
The Coolest and Most Practical Whiskey Glass You've Ever Seen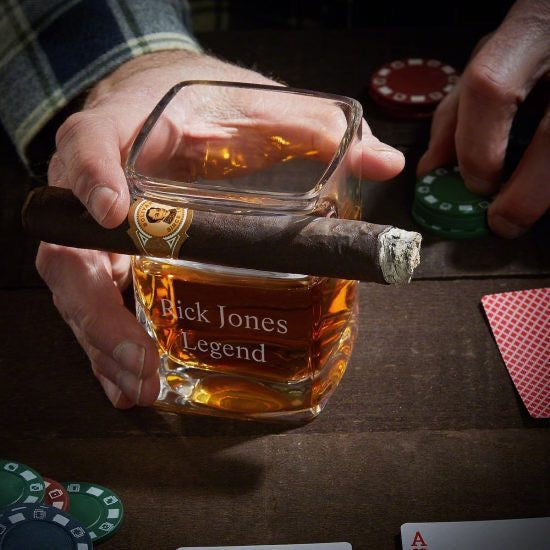 Your dad is the kind of guy who is notorious for his poker face, his impeccable style, and extensive knowledge of liquor. His friends and coworkers look up to him and aspire to be just as cool as he is. He's also extremely difficult to buy gifts for as he says he has everything, so you and your family usually just get him a gift card so that he can get whatever he wants at his leisure. This year, you're determined to get him something totally awesome for Father's Day or his birthday. That's where this awesome whiskey glass comes in. Not only is it a custom engraved whiskey glass, but it'll also hold his cigar for him! Talk about one of the coolest and most practical gifts for men! He'll love showing it off to his friends when they get together for their weekly poker night and everyone will want to know where he got it. You can customize the engraved to be any two lines you wish, such as "World's Best Dad, Michael Jones" or "The Coolest Dad, Since 1995."
Upgrade His Cooking with a Bamboo Cutting Board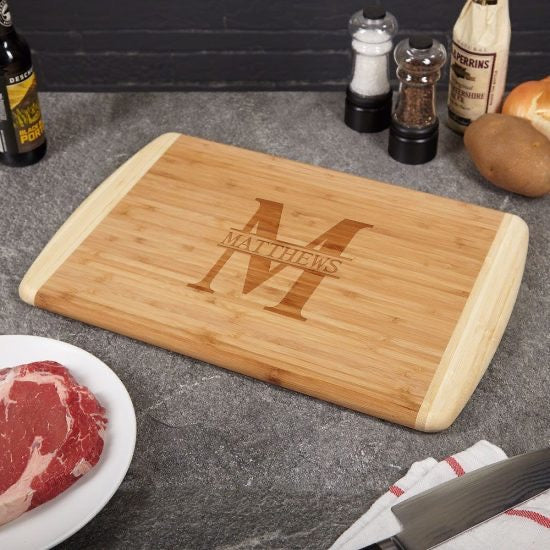 Your man loves to cook. He'll wake up early on the weekends just so that he can cook a big breakfast for you and spend at least two hours making the perfect dinner for date nights. He's got plenty of professional cooking utensils and gadgets, but you've noticed that his cutting board is well-loved and covered in cuts and stains. Time for an upgrade! One of the most best gifts for men who need something practical is an upgrade to something they already have. This bamboo cutting board is extra durable and perfect for your beau's powerful chopping skills. Plus, you can get him some board oil to treat it with, which will help keep the surface smooth and flat. This cutting board is the perfect birthday, holiday, or Valentine's Day gift for the guy who cooks in your life!
Insulated Travel Growler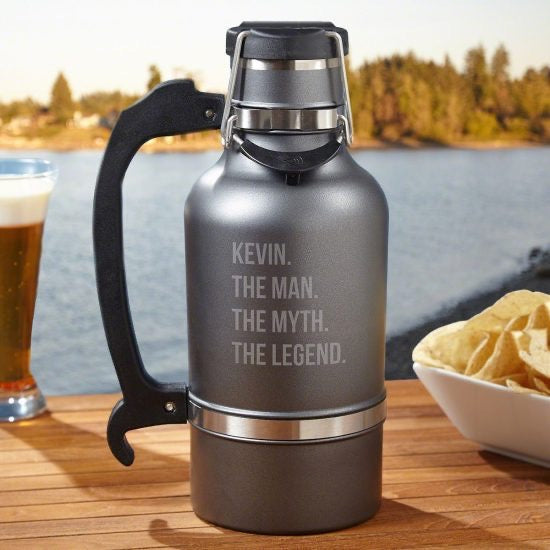 Does the guy in your life enjoy traveling? He's always going to the lake to fish and sail or go hiking and camping in the local mountains. Wherever he goes, he has to have a six pack of his favorite beer with him. You usually get him tools or new gear for his adventures, but this year you want to get him something extra cool. This insulated beer growler is one of the most practical gifts for men! Not only is it awesome, easy to use, and custom engraved, it will keep his beer cold all day long. It's made of double walled stainless steel, vacuum-insulated, and has a 64 ounce carrying capacity. He'll never go anywhere without his trusty new growler after you give it to him for his birthday or Christmas!
133+ MORE BEER GROWLERS FOR HIM>
Ultimate Electric Grooming Kit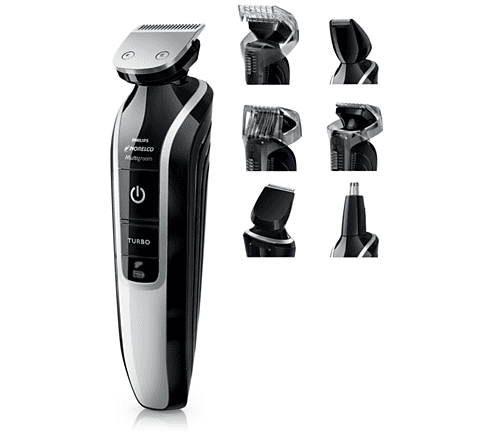 Whether he boasts a magnificent beard or just a little bit of facial hair, this incredible electric grooming kit has everything he needs to customize his look. It comes with four different attachments and three combs: high performance trimmer, detail trimmer, nose trimmer, hair-clipping comb, beard-setting comb, and a stubble comb. Each one has its own diverse range of settings so that he can choose the length of his hair. It even has a turbo setting for an extra fast trim and is water resistant for easy cleaning. He'll have the best facial hair around thanks to this amazing useful gift for men!
Finally, a Place for His Bottle Caps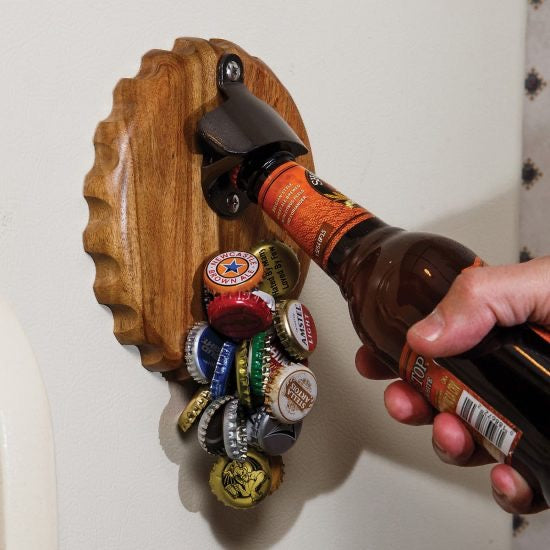 Your boyfriend loves drinking beer, but you hate having to constantly pick up the bottle caps that get littered all over the place. When cleaning, you often find random bottle caps in the oddest of places that flew off from his bottle opener. One of the most practical gifts for men is this magnetic bottle cap collector and opener! His bottle caps will easily attach to the magnet so that they don't go flying. He'll think it's super cool, and it makes cleaning up easier, so it's a win for you and him both!
Cigar Case
Your husband loves to have a cigar now and then. He always carries a couple with him when he travels in a little plastic baggie, but sometimes they get crushed and ruined when he forgets they're in his pocket. He also often forgets to bring a cigar cutter with him when he really wants to smoke a stogie. Solve his problem with this cigar case! Made of stainless steel and wrapped with black leatherette, this case will keep his precious cigars both safe and fresh. It even has a cigar cutter with it! Thanks to your surprise gift, he will now be prepared for a smoke whenever he likes.
He Will Never Have Cold Beer Again
Your husband enjoys drinking beer frequently. He likes to have one when he gets home from work, when you're spending the weekend at the lake, and for date nights in. When gift-giving occasions come around, he typically requests a case of his favorite beer. This year, you want to get him something a little cooler than just beer. This insulated beer set will make sure that his beers at home and on the go will always be ice cold! Each piece is made of double walled stainless steel and vacuum-insulated, which ensures that his beer will stay cold all day long. This incredibly useful gift for men is the ideal beer gift for your husband on his birthday, your anniversary, or even Valentine's Day.
He'll Never Have to Hunt for a Bottle Opener Ever Again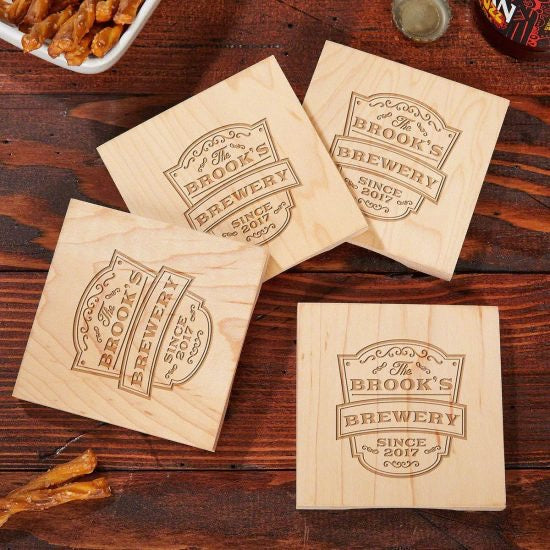 Bottle openers are like socks. Once you stick it in a drawer, it mysteriously disappears like your socks on laundry day. Your dad is always coming home from Walmart with a cheap new bottle opener and subsequently losing it in the couch cushions or in the kitchen drawer not long after. How can you solve his problem? With these bottle opening coasters! This set of 4 personalized wooden coasters each has a handy bottle opener on the bottom. Now his furniture will be protected and he'll never have to look for a bottle opener ever again! These coasters are one of the simplest and most practical gifts for men who love beer. They won't break the bank, are personalized just for him, and will last for years. Can it get any better than this?
His Entire Library In One Little Device
Men who often travel for work or leisure have to have something to do during their flights or train rides. They'll read a book, watch a movie on their phone, and just listen to music. Sound like your man? He's always wanting to bring more books along on his trips, but usually brings too many and results in heavier luggage with less room for his essentials. With the Kindle Paperwhite, he can bring hundreds of books wherever he goes without the extra weight. Now he'll have all of the books he wants to read on his 12 hour flights to China and back! Tech gifts that make everyday tasks a little easier are always the best practical gifts for men.
Give Him the Best Glass of Scotch Every Time
Your husband loves a classic glass of scotch on the rocks after dinner. It's his usual evening routine, and has been for years. He's a man who prefers consistency rather than change, so he always drinks the same scotch and uses the same kind of glass. For your anniversary, his birthday, or Christmas this year, surprise him with this upgrade to his routine! The personalized glass will make sure that he is the only one who uses the glass, and the whiskey stones will chill his drink as well as regular ice cubes but won't ever water down his drink. Now, his scotch will be perfectly full-flavored and more delicious than ever!
A Game Set Not Just For Poker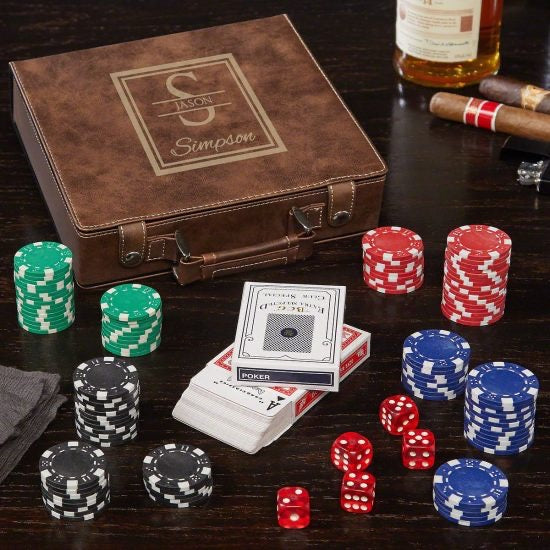 Your dad is the kind of guy who enjoys having family game nights with his children and poker nights with his friends. He has a knack for card games, so he usually wins when you all play Flinch or Wichita. His friends have been trying to figure out his tell during Texas Hold 'Em with little success. For Father's Day, this custom game set is one of the most useful gifts for men like your dad. He can use the set to host poker night with his friends, family game night with you and your siblings, and even for his work's casino night!
An Incredibly Useful Gift Set With a Little Bit of Everything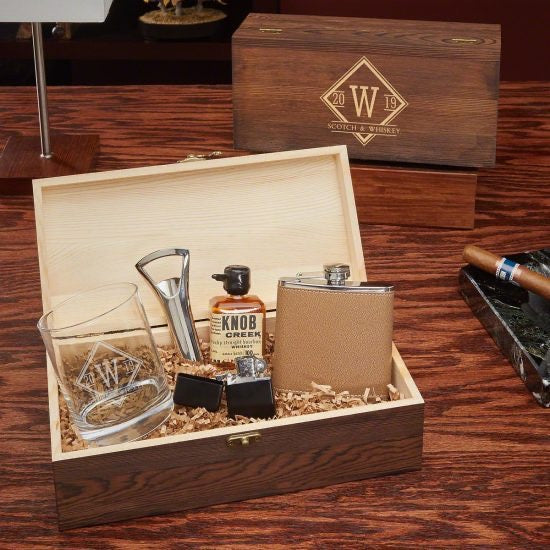 Your boyfriend is a man of many tastes. He doesn't have many favorite hobbies, and is the kind of guy who's always down for trying new things. He doesn't even have a preference for certain kinds of beer or liquor! Finding a gift for him is usually pretty difficult, but not this time! This variety gift set has an assortment of many different things he can use: a flask, lighter, bottle opener, whiskey glass, and a wooden gift box. He will want to have the flask on hand everywhere he goes so that he can enjoy a sip of liquor when he's out with friends at a bar or the lake with the family. The lighter will also be his go-to traveling companion for when he feels like a smoke. At home, he can enjoy a glass of bourbon with his new custom rocks glass or crack open a bottle of beer with his cool new bottle opener. Best of all, the gift box can be used to store anything from a bottle cap collection to his novelty ties. This set is by far one of the most useful gifts for men!
The Most Useful Wine Glasses
You and your man love sharing a bottle of wine on date nights whether you're at home, on a picnic at the park, or vacationing at the lake. However, you and your hubby like to drink from actual wine glasses and have broken a couple during your travels. Thanks to these super durable stainless steel wine glasses, you can enjoy your wine on any terrain without worrying about being careful with them. Your husband will love having such useful wine glasses for your dates so much that he'll want to use them all the time!
The Best Gaming System on the Market
For guys who play video games, a new console is the best practical gift for men you can possibly give. The Playstation 4 Pro is a better, faster version of the Playstation 4 as it can stream 4K video and enhance his HD games to be clearer and sharper than ever before. He's sure to spend hours on it playing the latest games such as Red Dead Redemption 2 and God of War. When he's not feeling like playing games, the PS4 also has loads of streaming apps where he can enjoy Netflix, HBO, Hulu, or watch videos on YouTube! He can also use the built-in Bluray player to watch movies. After getting such an incredible birthday gift, you're certain to get an equally amazing gift on your birthday!
Unique Gift Set
Your husband is an outdoorsman and goes on all kinds of incredible adventures with his friends and family. When he comes home after a week at the lake or your summer cabin in the woods, he always has some legendary tale of a rare animal he saw or how he caught a fish as large as he is. For every birthday and gift-giving holiday, he usually just asks for new gear to take on his adventures such as a new tent or a set of night vision goggles. This time, you want to give him something a little more personal. This awesome gift set is a perfectly useful gift for men like your husband! From the cigar flask to the hatchet, everything in this set has a dozen different uses for his outdoor adventures. The custom made ammo can will surely be his favorite as you had it custom engraved just for him!
He Won't Need a Refill Ever Again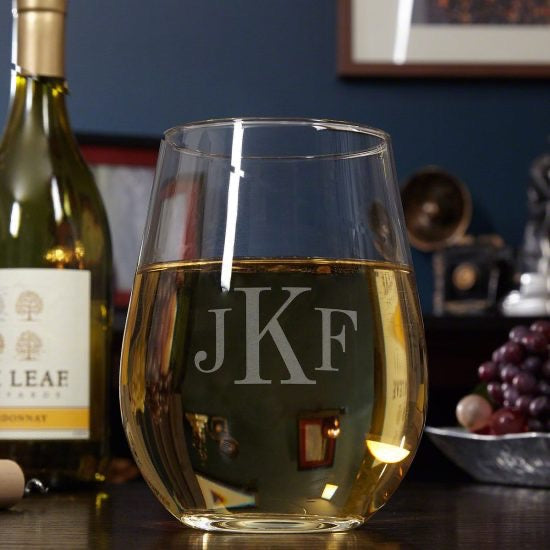 Your dad loves his wine. He prefers it over beer or liquor, and always has a glass or two at dinner. One of the easiest and most useful gifts for men who love wine is this gigantic wine glass that holds an entire bottle! That's right, he won't need to get up for a refill whether it's his evening glass or during date night with your mom. He'll love that he can enjoy plenty of his favorite white zinfandel or merlot without needing a refill, and that this awesome wine glass is engraved with his initials!
The Perfect Way to Cook Chicken Wings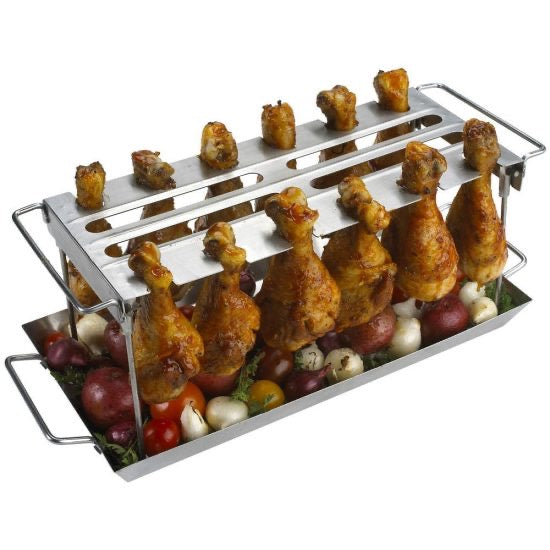 Gone are the days when your husband ruined the home cooked wings for his Superbowl party by either burning them or not cooking them all the way through. With this professional wing cooker, all sides of the delicious chicken will be perfectly cooked without having to constantly turn them over. This handy gadget can also cook any veggies or herbs below to add a little extra flavor to his dad's wing recipe. The best part? He can cook the wings in the oven, no grilling required! When he's done, this ingenious tool folds up easily for storage.
Grill Gift Set
Speaking of cooking, your father or husband loves to grill. As soon as the weather warms up, he prefers to cook outside on the grill all through summer. Every time you have a family gathering, he's the person in charge of bringing BBQ or cooking up kabobs for everyone. This unique grill gift set will make his grilling taste even better! He can infuse his meats with the smell of cherry, hickory, or apple wood chips and learn how to expertly smoke food on the grill.
A Decanter Set for His Home Bar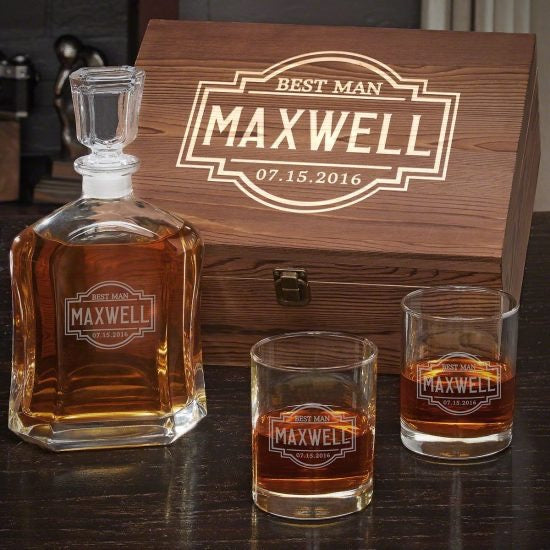 Your man loves to have a classic Old Fashioned or a simple scotch on the rocks after work. He's always wanted his own home bar and a nice set of drinkware for his nightly glass, but hasn't gotten around to it. One of the most useful gifts for men who enjoy drinking whiskey is a decanter set! This custom set includes a handsome decanter, two double old-fashioned glasses, and a wooden gift box. He'll love being able to display and serve his favorite whiskey like a true connoisseur and share a drink with you in style. This decanter set is the ideal holiday or anniversary gift for men!