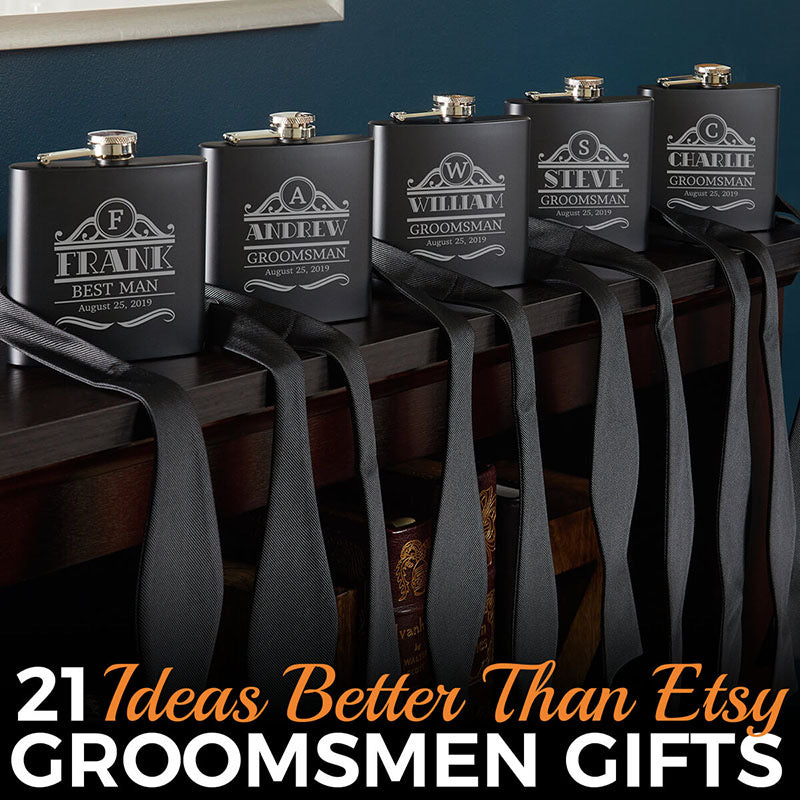 21 Ideas Better Than Etsy Groomsmen Gifts
Check Out These Better Than Etsy Groomsmen Gifts:
Etsy has a wide selection of groomsmen gifts available, but it is not the be all end all of groomsmen gift giving. You can find higher quality, personalized options that your groomsmen will love. It's smart to look around for better options. You probably have a few questions. Does it take a lot of work to find better options than Etsy groomsmen gifts? Are there products available for every budget? Can I still add that personal touch? This list takes care of all of those questions and leaves you with a ton of options to make sure your groomsmen get the best gift possible.
Ammo Cans for Groomsmen
No matter what kind of ammo can you decide on, your groomsmen will be shocked to receive such a unique gift. As far as Etsy groomsmen gifts go, you can get a basic ammo can that can hold various odds and ends. Another option is springing for an ammo can that's personalized with a matching rocks glass and whiskey stones so your groomsmen can enjoy their favorite liquor in style without the flavor being watered down. The personalized option ensures your groomsmen will hold onto the gift years after the wedding. Plus, it will give them another reason to give you a toast on your wedding day.
Cool Groomsmen Decanters
If you're searching for a decanter for your groomsmen gifts Etsy then you'll want one that has style and class. You can go with a traditional decanter that will blend into any background. Another route would be getting your groomsmen a decanter that has a classic design that will tastefully standout in any setting. It doesn't hurt that this decanter set also comes with four whiskey glasses. With this, your groomsmen won't be scrambling for something to pour their whiskey into.
Personalized Etsy Groomsmen Gift Growler Options
Growlers are fantastic Etsy groomsmen gifts if your best friends love craft beers and love to have them wherever they go. You could go for the hefty, bulky ceramic growler or your groomsmen might prefer a sleek, stainless-steel growler that will keep their craft beers cooler for much longer. They hold an impressive 64 ounces so your groomsmen don't have sit on a barstool all day. They can take their beer and meet up with you and your friends for an awesome day of grilling, watching football, or just relaxing.
Personalized Hunting Knives
If you told your groomsmen you got them a knife especially designed for them then they probably aren't imaging a decorative cake knife. For a much cooler groomsmen gift, you could go with a set of multipurpose knives that are personally engraved for every member of your wedding party. It's the right size to comfortably fit around the pocket while also being a useful tool while camping, fishing, or even around the house. They could even a cut cake with it if they wanted to. Just make sure your groomsmen don't use these knives to slice the cake at your wedding. There's even a great list of other awesome groomsmen gifts they can use at your wedding,
Military Gift Ideas for Groomsmen
If your friends and family have a storied history with the U.S. armed forces you might want to look for military groomsmen gifts. Sure, a custom bow tie with their branches colors is a cute gift. But cute isn't what you hope for in a groomsmen gift. You want something that will inspire. And if that inspiration is to go out and get drunk on your bachelor party then you've picked out the perfect gift. Consider a custom flask set. They'll be able to carry it with them wherever they go and easily bust a shot glass so they can share a drink with all their cohorts. It will definitely get more use than a custom bowtie.
113+ GROOMSMEN MILITARY GIFTS>
Subscription Boxes that your Groomsmen Will Love
Subscription boxes are a big hit. Your groomsmen would love to have to call their own. You could get them the mystery box for a special groomsmen gift on Etsy. But you might want to consider Stitch Fix instead. You can tailor each box to each groomsmen style. They can look sharp for your rehearsal dinner. They might even be able to impress some of the bridesmaids.
Fun Wine Glasses on Etsy Groomsmen Gifts & Elsewhere
If your groomsmen are married, single, or deeply entrenched in the dating world, they will still need wine glasses for the right occasions. There are groomsmen gift Etsy has that will work just fine with any vino. But you could also get them a large wine glass to save them the trouble of refills. It even comes engraved with whatever you choose. It can be a story to tell their wife or a nice icebreaker for someone they're trying to woo. Either way, this wine glass will benefit them in more ways than one. You can even engrave the date of your wedding on the glass so your groomsmen don't forget in case they finish an entire bottle of wine.
Unique Whiskey Glasses for Etsy Groomsmen Gifts
An ordinary rocks glass is an Etsy groomsmen gift that your wedding party will appreciate. It holds liquor. What's not to like? But if you want to make it a memorable gift consider a Benson-style rocks glass. The rounded shape with a wide base makes this the perfect glass for drinking on the rocks, neat, or with a mixer. So, no matter how your groomsmen prefer their spirits, it's a great choice. Your groomsmen will be wondering where you got it so they can add more to their home.
467+ WHISKEY GLASSES GROOMSMEN WILL LOVE>
One-of-a-Kind Groomsmen Beer Mug
A vintage beer mug would be a memorable groomsmen gift. Of course, if your groomsmen look at the mug and aren't sure how to clean it or what the design is it might not be the best kind of memorable. You can still get all the benefits of a beer mug with this custom beer mug. This one has a few benefits over the vintage version. It can hold more beer, is dishwasher safe, and will have your groomsman's name on them. It's a trifecta of beer mug perfection. They'll even enjoy being able to see the color and head of their beer of choice in the mug. That actually makes it a quadfecta.
Beard Products to Ensure your Groomsmen Look Sharp
Beards have never gone out of style. Thankfully, we live in a day and age where a beard can be treated with the same respect as the hair on your head. You can treat your groomsmen to the most basic of beard oils or you can get them a beard grooming kit that will make their beard full of luster and life. If they sport a full mustache, a lumberjack's beard, or just stubble, they can use this gift to bring their facial game to the next level thanks to these groomsmen gifts Etsy.
Etsy Groomsmen Gift Boxes & One More Choice
A groomsmen gift box is a gift that will make your groomsmen want to step up their game when the time comes for them to tie the knot. A plain, empty box is certainly handy. They can store ties, cufflinks, and various knick-knacks inside. An even better version of the same concept is a box that also includes a custom decanter and rocks glasses. They can still store whatever they'd like, but can now have a handsome way to display their liquor and easily share it with anyone they'd like. The latter gift set is more than just an engraved name. It will banish their plastic cups to the back of the cabinet.
Custom Signs for your Etsy Groomsmen Gift Ideas
A custom sign is always a solid approach when it comes to gift giving. Now, unless you and your groomsmen all met in art school and each of very specific locations for your art studios you might want to consider a custom sign that displays their love of spirits. It will look great in your groomsmen have a man cave, home bar, or bar cart. It's a signal in any room that this is the place where you need to gather.
Classic Groomsmen Flasks
Perhaps the most classic groomsmen gift is the flask. It's possible your groomsmen would adore a flask with floral baskets and vintage bicycles. If that's not the case then a set of 5 flasks for each of your groomsmen engraved with their name and title is probably a stronger gift idea. Pair each one with a miniature bottle of their favorite liquor so they can enjoy it right away.
Cigar Gifts for Groomsmen
There are few better ways to celebrate your upcoming wedding than with some cigars and the folks you invited to be your groomsmen. You could get them a shirt with a cute joke. You'll have a quick laugh and they'll use the shirt whenever they need to wear something when they mow the lawn. Another gift for cigar-loving groomsmen to consider is a set that comes complete with everything your groomsmen would need to enjoy a cigar. This set of 5 can be tailored to each of your groomsmen. Gift them the right tools, so you guys always have an excuse to enjoy a cigar together. You can even check out a bunch of other surprisingly cheap gift options for your groomsmen.
Gifts for Groomsmen That Game
There are two controller options available for an Etsy groomsmen gift. You can go with a bar of soap made to look like a controller. At least your groomsmen won't smell during the ceremony. But they might be more grateful if you gifted them a custom controller. You can choose from thousands of options to find the ideal controller for the friends that have been gaming with you for years.
Custom Cutting Boards for Home Chef Etsy Groomsmen Gifts
It would be kind of cool to hand your groomsmen 100 boards each. After you each got done karate chopping a few the logistics of such a unique Etsy groomsmen gift might come into play. Where are they going to store 100 pieces of wood? Should they try and start a bonfire by turning this gift into makeshift kindling? Or would they rather have a single board that shows their love of beer and BBQ while also being perfect for those times when they want to grill out or try and impress someone with a homemade meal? We're guessing the latter.
CUTTING BOARD FOR GROOMSMEN THAT GRILL>
Gifts for Geeky Groomsmen
Some of, if not all, of your groomsmen might be considered a bit geeky. One groomsmen gift Etsy has could be a set of coasters designed to look like circuit boards. But your groomsmen would probably appreciate a pint glass that has the code to happiness engraved on it. Instead of having something to throw on a coffee table, they can enjoy their favorite pilsner, IPA, stout, or whatever beer they prefer in a pint glass that's perfect for them.
255+ PILSNER & PINT GLASSES FOR GROOMSMEN >
A Gift Your Groomsmen Will Use For Years
If your groomsmen like to have a leather wallet dangling from their neck then there is a perfect groomsmen gift Etsy for them. It's also nice that you still call them friend. For everyone else, you can pick up an awesome monogrammed wallet. A personalized leather wallet is a nice upgrade from the Velcro wallet they've been carrying around since high school. This gift is a nice way to get your groomsmen one step closer to adulthood.
Best Beer Carriers
You've seen your groomsmen lug a six-pack of their favorite beer to your house on game days. They awkwardly keep it in their lap or on the floor by their feet during the entire game. You can look for a groomsmen gift on Etsy and get them a custom box to pack everything or you can go for an engraved wood beer caddy. It's the perfect accessory for groomsmen that like to golf, grill, or just hang out a friend's house with an assortment of their favorite beers.
Speakers for Music-Loving Groomsmen
When it comes to speakers you have a couple of options available. A knocked down vase with a slot for a phone to slide into is one option for a groomsmen gift on Etsy. But if you're searching for a more high-tech approach then consider the JBL pulse speaker. It's waterproof, wireless, your groomsmen can connect any Bluetooth device to stream music, and the speaker is its own light show. It's a strong bet that your groomsmen would prefer the latter. It would be especially great to bring along on your bachelor party so you guys are never without good music.
Whiskey Stones Gift Sets – Etsy Groomsmen Gifts & Other Options
No one would ever dispute that whiskey stones aren't a stellar groomsmen gift. You could toss your groomsmen a bag of loose stones. They'd thank you and probably not talk to you again until the day of your wedding. Consider getting them a gift set that not only has the whiskey stones, but a glass to enjoy their whiskey with, and a sharp, engraved box to store all of it in. A bag gets tossed in a corner. A custom wood box with all their favorite things gets displayed prominently in the home.