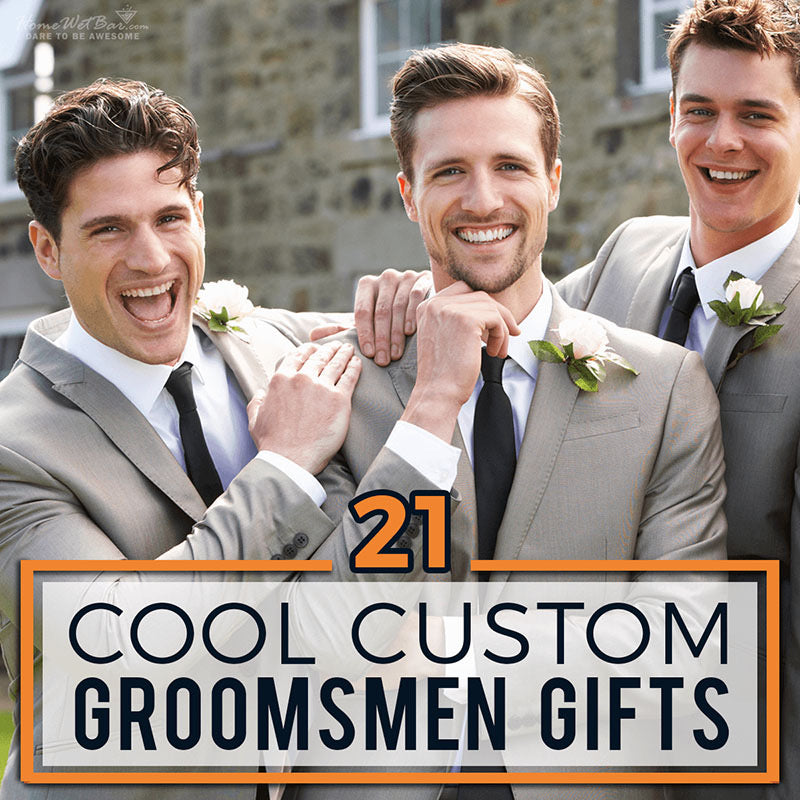 21 Cool Custom Groomsmen Gifts
Impress Your Groomsmen with These Unique and Custom Groomsmen Gifts:
Your wedding day is quickly approaching, and you have no idea what to get your groomsmen. You want to give them something cool, but personal. What makes an awesome custom groomsmen gift? Something they can actually use either for your wedding day, bachelor party, or every day, and is personalized with their names. Worried about your budget? There are plenty of gifts below of various prices for all budgets. Want to give them matching gifts? We've got a few sets of five picked out. Relax, we've got you covered on all bases to help you find the best groomsmen gifts that they will all enjoy!
A Cool Gift Set to Ask Your Buds to Be Your Groomsmen
First things first: you need to ask your closest friends to be your groomsmen! How do you do that? With a super cool custom groomsmen gift set. This awesome box set comes with a custom whiskey glass, a flask, a bow tie, and a groomsmen proposal card of your choosing all enclosed in a personalized wooden box. Your soon-to-be groomsmen and best man will be prepared for anything to happen from now until your wedding day with the awesome items in this set.
Custom Beer Mugs for Everyone in the Wedding Party
Want to give your groomsmen a matching gift? These customized groomsmen gifts come as a set of five personalized beer mugs, all bearing the titles and names of your groomsmen as well as the date of your wedding. The guys will love having a high-quality beer mug to toss back their favorite craft beer in the comfort of their own homes. Plus, getting a set like this makes it easier on you because you'll get all of their gifts in one purchase!
Whiskey Stone Gift Set for the Guys Who Like Scotch
For the whiskey fans, a whiskey stone gift set is the coolest custom groomsmen gift you can give. This set comes with a personalized box, a set of nine whiskey stones, a travel pouch, and a pair of tongs. Now your friends can enjoy chilled whiskey without losing the flavor! While you're giving them a thank you gift for being your groomsmen, they will be thanking you for such an incredible gift they can't live without.
A Groomsmen Gift Set with All of the Essentials
To get your groomsmen ready for your big day, you'll want this awesome gift set. Included is an insulated and engraved stainless steel pint glass, a personalized lighter, cigar cutter, and a classic black bowtie. They'll be ready to celebrate your nuptials with a cigar and toast to your happiness with the cool pint glass, while wearing the bowtie of course. You can't go wrong with such an essential personalized groomsmen gift!
A Cool Groomsmen Whiskey Glass for Celebrating the Wedding
There's nothing like a glass of scotch on the rocks to celebrate a special occasion. With their own personalized rocks glasses, your groomsmen will be able to raise a toast to you at the reception in style. The glass features each groomsman's name, title, and the date of your wedding. These customized groomsmen gifts are sure to be enjoyed for years to come after your wedding.
545+ MORE CUSTOM WHISKEY GLASSES FOR GROOMSMEN>
Personalized Straight Razor
Your groomsmen will have the cleanest, smoothest shave of their lives with a professional straight razor! This super cool razor can be engraved with a name, title, initials, or phrase of your choosing on the reverse side of the blade. How cool is that? They'll love getting these cool razors at your bachelor party or wedding reception. You could even pair the razors with some soap or shaving cream for a complete gift.
Ceramic Beer Stein for the Beer Guys
Are your groomsmen beer drinkers? A classic, traditional-inspired, ceramic beer stein is one of the coolest customized groomsmen gifts ever. This handsome stein will enable your best buds to enjoy beer like their ancestors did. They will love the vintage design that makes it just cool enough to double as a piece of decor for their home bar or man cave, and the personalization is just the cherry on top.
A Box Set of Everything They Love
For the groomsmen who never order the same drink when everyone's hanging out at the bar, this is the perfect box set. It comes with a whiskey glass, bottle opener, lighter, and flask all inside a custom engraved wooden box. When they feel like a glass of Scoresby or Jim Beam, they'll reach for their personalized rocks glass. They'll be prepared with a bottle opener to give you a cold beer when you come over to watch the game and a lighter for the celebratory smoke after your team wins. At your wedding, they'll have their trusty flask at their sides to offer you a drink to calm your nerves and celebrate with a toast at the reception. As for the gift box, they can use it to store anything they wish! Can a custom groomsmen gift get any better than this?
Manly Ammo Can Groomsmen Gift Set
If your groomsmen are manly guys who are all about beers, hard liquor, outdoor activities, and guns, this is the perfect gift set for them. This set is especially cool for the best man, but all of your groomsmen deserve this incredible gift set. They'll love having personalized beer glasses to knock back a couple of cold ones with you after shooting a couple of targets at the gun range with the handy new ammo can. The flask will be in the pocket of all of their tuxes on your wedding day so that they can celebrate with a drink before you walk down the aisle. The axe will come in handy for their camping trips and doing yard work. Everything about this incredible gift set makes it one of the best custom groomsmen gifts you can give at your bachelor party!
Genuine .50 Cal Bullet Bottle Openers Personalized with Their Names
If you're looking for cool customized groomsmen gifts that won't break the bank, these super cool bottle openers will do the trick. Made from a genuine .50 caliber bullet, these awesome bottle openers will be a huge hit among your groomsmen. They'll love having them for their home bar or always at their side in their pocket. Each bottle opener is engraved with their name, too! Can it get any cooler than this? Keep scrolling to find out!
279+ BEER GIFTS FOR THE WHOLE WEDDING PARTY>
Whiskey Box Set for Your Best Man
How do you thank your closest friend for being such an amazing best man? With a box set themed around his favorite things! For whiskey guys, this is the perfect gift set. Included are two rocks glasses, a set of whiskey stones, and plenty of room for a liquor bottle or two inside a wooden gift box. The glasses and gift box are personalized with a super cool design that features your best bud's name, initials, a year, and a custom phrase. He will love having a cool set of top-notch drinkware and whiskey stones to enjoy his nightly glass of bourbon with his wife and a cool gift box to store all kinds of things inside.
Custom Wallet for the Best Man or Father-of-the-Bride
Your best man is your closest friend, and he deserves something truly top-notch. This custom Fossil wallet is made of genuine leather and has plenty of pockets for all of his cards and cash. Plus, it has a special RFID lining to keep his information secure. Your future father-in-law would also love getting this as a gift at your wedding reception! Both will enjoy their engraved initials on the inside of their wallet, too, as it adds a luxurious touch to an already awesome wallet.
Personalized Coffee Mug
Even if they don't drink coffee, these mugs make the best personalized groomsmen gifts. Each mug is personalized with each groomsman's first name, last name, and last initial. They'll love using these to enjoy their morning coffee, afternoon tea, hot chocolate, or warm cocktails. You can't go wrong with custom mugs as gifts!
Incredible Ammo Can Gift Sets for All of Your Groomsmen
Your groomsmen are your closest, most loyal friends and they deserve only the best customized groomsmen gifts. This set of five gift sets includes an ammo can, two whiskey glasses, and a set of whiskey stones for each groomsman. The ammo can and whiskey glasses are all personalized with matching designs featuring their names, titles, and the date of your wedding. Your buddies will enjoy bringing their cool new ammo cans to the range for target practice and sharing a glass of scotch on the rocks with you afterward.
T-Shirts for the Bachelor Party
Thanks to these groomsmen T-shirts, you'll never lose one of your friends at your bachelor party! The shirt comes in eight customizable designs and is a classic, simple gift that your groomsmen will appreciate and wear again, especially when one of them gets married! Each groomsman will love getting their very own personalized T-shirt. There are even matching bridesmaid ones so that the whole wedding party can match!
A Unique Groomsmen Gift Set for Guys Who Drink Whiskey
Give your groomsmen a gift set unlike any other: a completely personalized four-piece whiskey set! The set is ideal for whiskey drinkers, especially, but anyone in the wedding party would appreciate such a incredible custom groomsmen gift. Your groomsmen will love that each piece in the set features their name, title, and the date of your wedding so that they can remember the experience of being your groomsmen. Thanks to your generous gift, they will have a new centerpiece for their home bars and be able to enjoy a quality glass of scotch with you or a buddy in style.
Custom Beer Caddy for Guys' Nights
For the guys who like to bring their own beer, this personalized wooden beer caddy is the perfect custom groomsmen gift. This sturdy caddy will keep their precious beer safe from harm even when going through the most rugged terrain in the mountains to your annual camping trip. For your weekly guys' nights of poker, video games, or board games, having plenty of beer around is an absolute must. Plus, each caddy comes with an attached cast iron bottle opener! You can even find a bunch of other incredible beer gift ideas for your wedding party right here.
Unique Whiskey Decanter for Their Home Bars
Another fail-safe custom groomsmen gift: a personalized whiskey decanter! This handsome piece of glassware is the perfect addition to a home bar, home office, man cave, or bar cart. Your groomsmen can show off their finest scotch in all of its amber glory and serve guests a drink with class.
Custom Sign for a Man Cave or Home Bar
Why not give your groomsmen a unique piece of decor? Personalized bar signs make great customized groomsmen gifts whether they have a home bar, man cave, or want to have one of the two. They'll love the fun design of the sign that points them in the right direction toward their favorite hangout.
Blast from the Past: Miniature Arcade Games
A couple of these miniature arcade games are the best gifts for gamer groomsmen! Available in six classic games: Pac-Man, Ms. Pac-Man, Galaga, Frogger, Dig Dug, and Space Invaders. Your groomsmen can relive their childhood days of visiting the arcade and playing their favorite game. These mini versions even come with a keychain to keep your best buds entertained everywhere they go! Thanks to you, they will never be bored again.
A Groomsmen Gift Set with The Whiskey Essentials
Besides a glass, your groomsmen require two other things to have a proper glass of whiskey: a decanter to pour from, and a set of whiskey stones to chill their drinks. Thanks to this set, you can give all of your groomsmen the tools for them to enjoy the best possible glass of scotch. Plus, you can pair this set with matching glasses as well or one of the other glasses above! They will love the unique personalization (which you can customize!) on both the decanter and gift box. The decanter is ideal for storing whiskey and keeping it fresh while the whiskey stones will ensure that each sip is perfectly chilled, but never watered down. Talk about a great custom groomsmen gift!