Bring gifts for men into a whole new era of awesomeness by making them engraved for him. Sure, there are plenty of gifts you can get down at the corner store, but nothing shows him how much thought you put into your gift than something that has been personalized just for him! However, not everyone knows where to start with engraved gifts. Do you need a super unique message? Does it have to be expensive? What can even be engraved? Do you still get engraved gifts for guy friends, not just family or spouses? Worry not you soon to be an epic gift gifter! Engraved gifts for men simply need to be a gift that will make their home, hobby, or life, in general, better than ever while also having a message engraved onto part of the gift or the set! So, take your gift-giving game to an 11 out of 10 with these fantastic personalized gifts for men!
Ammo Can Humidor Set of Engraved Gifts for Men
Start things off with a bang! Don't just dip your feet into getting awesome engraved gifts for men, dive in headfirst with this epic ammo can humidor gift set! It has so much to it he won't even know where to start! From the repurposed United States ammo can turn humidor to the matching whiskey glasses, this gift will have him feeling like he finally got that Red Ryder BB gun he has been wanting all Christmas long, but as an adult! Now, he can kick celebrate in-style while pairing his favorite cigar and whiskey combo!
Most Impressive Glassware Set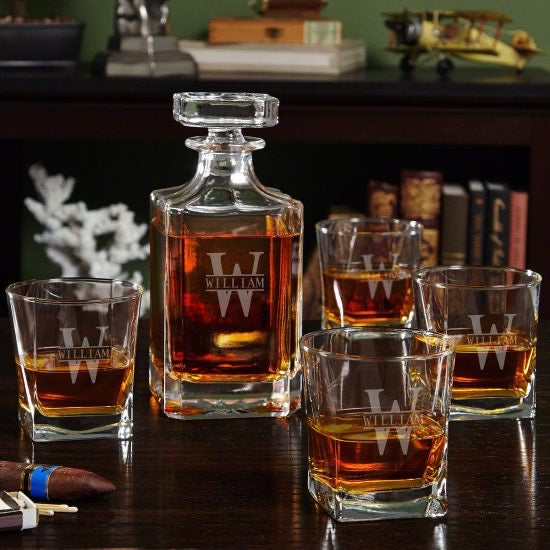 For one of the most impressive personalized gifts for men out there, get him the most stunning glassware set he's ever seen! This custom whiskey decanter and glasses set is absolutely amazing because its high quality makes it so classy, and he'll be a big fan of the fact that it's personalized just for him. Nothing will make him happier than coming home from work after a long day and sitting in his favorite chair and having a glass of his favorite scotch using this fantastic gift set.
Personalized Serrated Knife for Him
Personalized gifts for men don't need to be massive sets to be something sentimental, useful, or even a gift he'll keep on him all the time. If over-the-top gifts aren't his thing, then this serrated folding knife makes for a super practical gift! From cutting a seat belt in case of an emergency to cutting a loose thread, this is the perfect tool for the job anytime something needs to be cut and he can easily fit this in a pant or jacket pocket!
Engraved Pewter Beer Stein
A simple way to upgrade a normal gift idea is combining engraved gifts for men with something they already love. This personalized beer stein comes engraved with their initial and full name, plus it has a really cool pewter lid to keep their beer fresh and prevent spills. Whether this is for a boyfriend or a dad, this is a major upgrade from how they normally enjoy their beer.
Custom Beer Mug for Men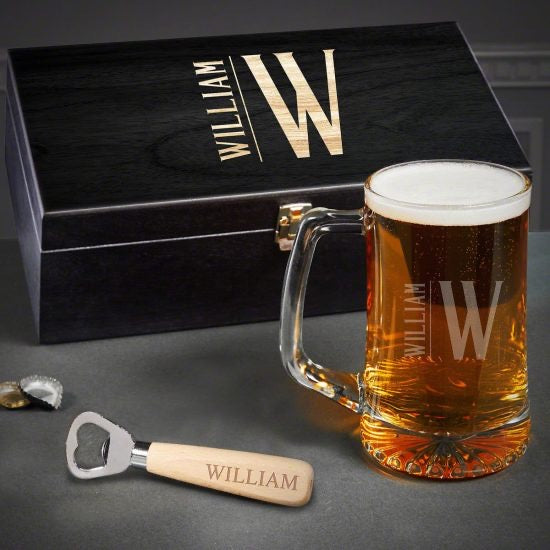 Nothing makes a guy feel manlier in his own home than when he is holding onto a beer mug, that is, unless it has also been engraved with his name! This whole set of wooden gifts for men is one of the coolest engraved gifts for men because he'll feel like a king taking out his prized treasure each time he goes to enjoy an Iron Monk or Twisted Spike crafter beer!
Custom Sign for Golf Lovers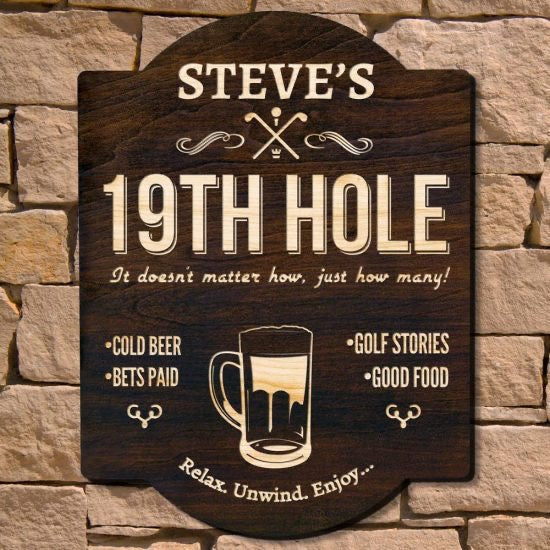 Have an avid golfer in your life? Let them take a little bit of the links home with them with this etched 19th hole man cave sign. They can hang it in their favorite place to relax after a round of 18 holes. It's perfect for a home bar, above a bar cart, or wherever your guy likes to relax. You can even add a stand to the sign so he can place it anywhere he wants. This wood sign looks good wherever it is.
Engraved Watch He Will Love
An engraved watch is a timeless personalized gift. Fossil has been making great looking watches for decades. They've upped their game with this carbon series watch that can be engraved with your man's monogram. This watch blends well for any occasion. If your man needs to dress up or is just going to the bar with friends, this watch will look great on his wrist.
Most Sophisticated Set of Engraved Gifts for Men
Got a guy with sophisticated taste so you think finding the perfect set of personalized gifts for men will be a chore? Not anymore! These custom Glencairn glasses are not only in good taste when it comes to aesthetics but they also offer him the best way to enjoy whiskey from now on! Thanks to the unique shape, the flavors and aromas of his whiskey will be brought to their height which will make the most out of each sip. Better still, he can now share his favorite liquors with ease since he'll have 3 extra glasses!
Hatchets are Great Personalized Gifts for Men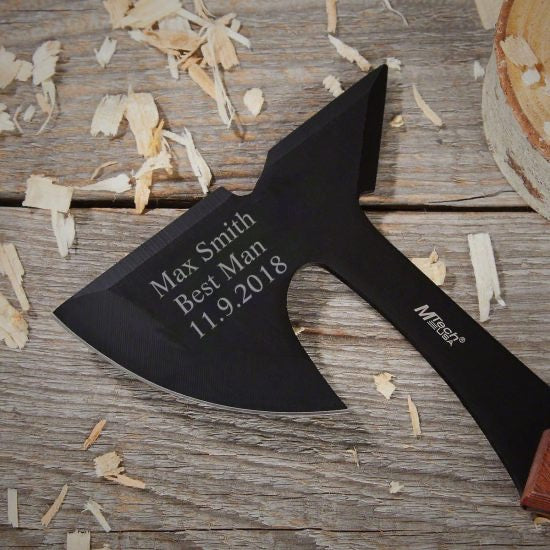 Chop all the other engraved gifts for men out of your way with this awesome hatchet! How cool will it be for him to have this personalized hatchet mounted above his tool bench in the garage, above the fireplace, or even in his man cave? Nothing says you want to get him a manly badass gift quite like a hatchet that has his name engraved right on the blade!
Practical & Original Pen Gift Set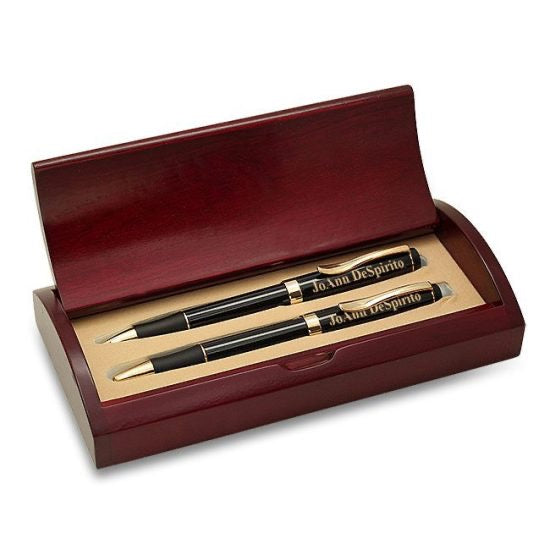 Every man should have a fountain pen at his desk. Every important piece of paper that slides in front of him should be signed with gravitas for the occasion. Having a fountain pen that's personalized just for him feels like a rite of passage. Whether he's signing Christmas cards or about to buy his first home, your man will always have this pen ready.
Engraved Cigar Aficionado Set
Looking for a gift for a cigar aficionado? This cigar lovers gift set has everything they need for any cigars they smoke. The flip-top lighter is essential when enjoying a cigar, but the monogrammed ashtray really sticks out. Classy enough for indoor use, durable enough for the harshest outdoor experiences, this ashtray will be in use for years. The real surprise of these personalized gifts for men is the whiskey cigar glass. Now your guy can enjoy his favorite drink and cigar easily in just one hand with this custom gift.
Bamboo Cutting Board for Grillers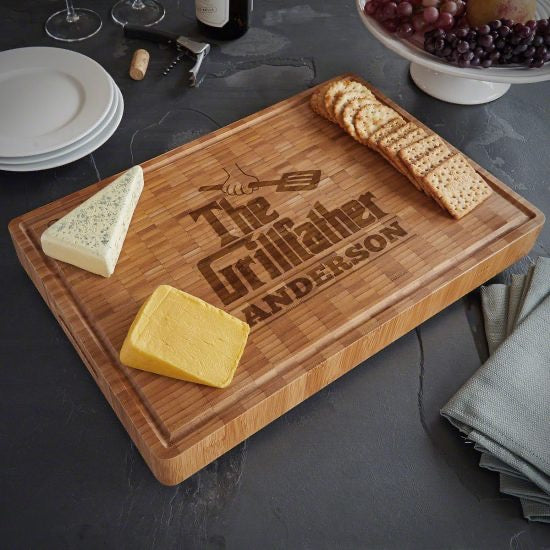 This handsomely customized bamboo cutting board is one of the most excellent engraved gifts for men because it'll make home of his favorite hobbies so much better! Before he puts meats on the grill, he'll love having this board to use to cut them up and season them before grilling them up. Also, serving his friends and family his delicious food will never have been easier since his new gift easily doubles as a serving tray, too!
A Custom Gift for Collectors
Want engraved gifts for men that appeal to collectors? This stylish shadowbox is great for guys that love to collect bottle caps, ticket stubs, cigar bands, or even golf balls. Whatever they like to collect they can store inside this shadowbox and relive the exciting memories associated with each one. The shadowbox looks great in a home or an office. The real joy your man will have will be watching his collection grow.
One-of-a-Kind Outdoor Cooler
A custom wooden cooler is one of the most incredible engraved gifts for men they'll never expect. You can personalize the cooler with anything from your guy's name or have it themed around his favorite sport's team. The possibilities are endless. They're great for use indoors and outdoors. It makes a great birthday present for your husband or dad. They're so eye-catching that people will go back for drinks just to get a closer look. Your guy will be no exception.
Classiest Glasses Ever
Manly, unbreakable wine tumblers that'll keep his chilled beverages cold? What could be better! This stainless steel tumbler box set is the perfect set of personalized gifts for men that any man will think is totally awesome. He'll feel so sophisticated sipping wine or any other beverage from these modern-looking, matte black tumblers with his name on them. He'll never want to use any other glass as long as he lives!
A Decanter Set He'll Want to Use All the Time
Fancy, engraved gifts for men will always win the day. This whiskey decanter box set is the kind of sophisticated, classy present he's been missing all his life! The minute he opens up the handsomely engraved box to see the glassware, he'll be running to get a bottle of his favorite liquor and filling up the decanter! Having a drink with three of his loved ones using this own personalized glassware will become one of his very favorite things to do.
Sleek Leather Tech Envelope
Want a personalized gift for the modern man? This Brooklyn tech envelope is a great addition for any guy that considers themselves to be tech-savvy. Not only does it have room for standard stuff like credit and business cards, but you can also store his cellphone, charging cable, and even his smartwatch in one handy pouch that's easy to carry around. The tech envelope comes in multiple colors and has his monogram in the bottom corner, so you can find the perfect one for your guy.
Custom Poker Set
The best engraved gifts for men are going to be about having some fun. A personalized poker set fits that to a T. Your boyfriend or husband will love strutting into a poker game with their friends and throwing down a set engraved just for them. It sets the tone that he's a real card shark and the other players have already lost before the game's begun. Whenever your guy is bringing home the pot, he'll thank his lucky stars you got him this awesome gift.
Shot Glasses Set of Engraved Gifts for Men
There's no chance that this custom whiskey stones and glasses set doesn't make him jump for joy as soon as he sees it! He'll feel so special seeing the customization not only on the wooden box but on the shot glasses as well. When he's celebrating a special occasion with his partner or a buddy, he'll love pulling out these shot glasses as the perfect way to enjoy a delicious glass of whiskey! He'll be extremely grateful you got him such a useful, customized gift.
Build Nikes Just For Him
At one point in their life, everyone's had a pair of Nike's, but it's unlikely your guy has ever had a pair of Nikes crafted just for him. Imagine the look on your man's face when he unwraps a pair of Nike's that can't be found anywhere else in the world because you made them just for him. You can design anything from basketball shoes, to soccer cleats, or even skateboard shoes. Whatever your man's interest, you'll be able to find the perfect personalized gift for him.
Timeless Presentation Set
Sometimes a guy just wants to share a drink with friends and family. This is one of those personalized gifts for men that makes it easy to do just that. He will love being able to fill it with his favorite spirit and pour a glass for everyone in the room. It's also great to have around so he can enjoy a nightcap whenever he needs it. This is one personalized gift he'll never lose sight of.