It's not enough to just hand your man a gift card and think you've given a stellar gift. If you really want to wow your guy, for whatever occasion, engraved gifts for men are something they'll always want by their side. It doesn't matter if you're shopping for your husband, dad, boyfriend, or even a member of your wedding party, this list has incredible gift choices for every single guy.
Engraved Pewter Beer Stein
A simple way to upgrade a normal gift idea is combining engraved gifts for men with something they already love. This personalized beer stein comes engraved with their initial and full name, plus it has a really cool pewter lid to keep their beer fresh and prevent spills. Whether this is for a boyfriend or a dad, this is a major upgrade from how they normally enjoy their beer.
Whiskey Connoisseur Gift Set
Whiskey drinkers are always looking for the next great thing. One of the best personalized gifts for men is this classic whiskey glass with a perfectly round whiskey sphere. The sphere elevates regular whiskey stones by chilling an entire glass of whiskey evenly. A chilled spirit can unlock new flavor profiles. This gift idea is bound to get your husband excited or any other guy you know that loves whiskey.
A Modern Take on Classic Rocks Glasses
There's nothing wrong with adding an element of class when shopping for a gift for your guy. Want your brother to stop doing pulls straight from the bottle? This personalized gift set will solve that immediately. The pair of twist glasses have a timeless appeal and are great for any kind of spirit. He can split the whiskey stones between the two glasses to keep the drink chilled. Even the engraved wood box is something he'll use a mantelpiece. You'll be the first person he toasts to with this gift.
Engraved Gift for the Outdoors Man
Need manly engraved gifts for men? This Eagle Eye set is customized with everything a manly guy needs. It has a tumbler for their coffee, beer, water, or whatever they drink. It even has a matching flask. He can pour any spirit he wants into the tumbler for an impromptu mixed drink. The razor-sharp knife is the last tool the manly guy will need on his outdoor adventure. This set is a great companion while camping, fishing, or any other outdoor activities.
Custom Sign for Golf Lovers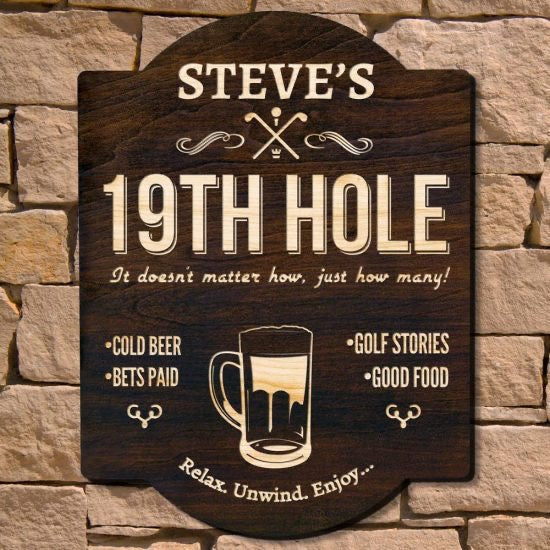 Have an avid golfer in your life? Let them take a little bit of the links home with them with this etched 19th hole man cave sign. They can hang it in their favorite place to relax after a round of 18 holes. It's perfect for a home bar, above a bar cart, or wherever your guy likes to relax. You can even add a stand to the sign so he can place it anywhere he wants. This wood sign looks good wherever it is.
Engraved Watch He Will Love
An engraved watch is a timeless personalized gift. Fossil has been making great looking watches for decades. They've upped their game with this carbon series watch that can be engraved with your man's monogram. This watch blends well for any occasion. If your man needs to dress up or is just going to the bar with friends, this watch will look great on his wrist.
Carefully Crafted Beer Flight Set
The coolest personalized gifts for men let them sample a batch of different beers all in one sitting. This beer flight set has four snifter glasses resting on a customized flight board. Your dad could buy a brewery's sample pack and instantly compare the distinct flavors. With the flight board, they can move it anywhere they'd like and share this gift experience with anyone else who loves to savor beer varieties. Engraving two lines of your choice is just the extra touch that this gift needs.
Engraved Travel Mug for the Man on the Go
A must have in the customizable gift game is something to keep your coffee in. This double walled travel mug was built for legendary men to keep their favorite hot drink warm for hours on end. Traveling to work and need 30 ounces of caffeine to keep you going? Not a problem with this gift. It's even great at keep drinks cool for hours. More than just a regular coffee tumbler, this gift is as versatile as the man you're shopping for.
A Custom Gift for Men That Appreciate Cocktails
Few things in this world are better than a brilliantly concocted cocktail. These custom long island iced tea glasses are one of those ideal engraved gifts for men that just like to kick back and relax with a drink in hand. While perfect for Long Island Iced Teas, these specially made glasses work great for any cocktail over ice. Get all the ingredients for a mint julep or an old fashioned with these glasses for a really thoughtful gift for your father or husband.
Practical & Original Pen Gift Set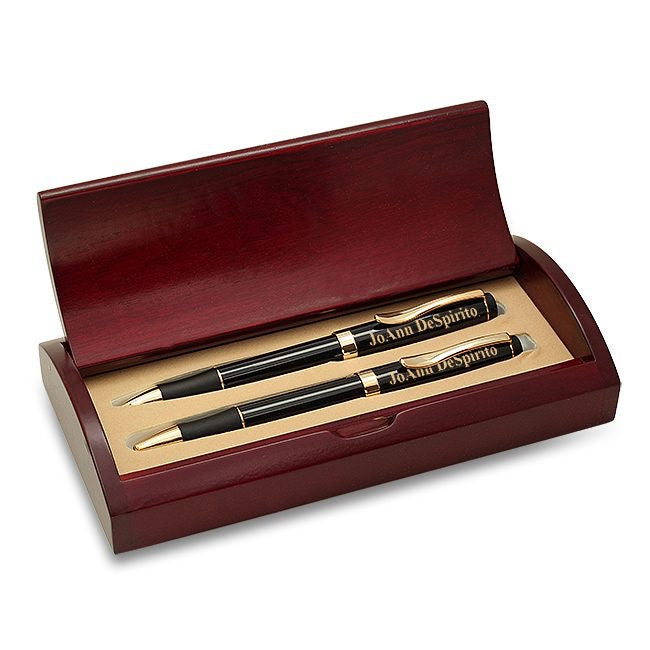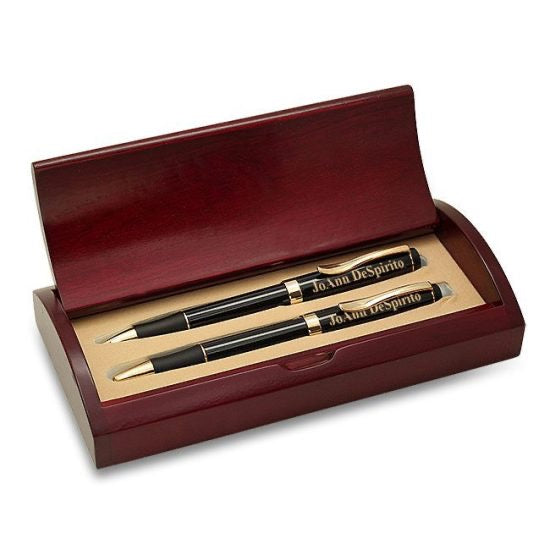 Every man should have a fountain pen at his desk. Every important piece of paper that slides in front of him should be signed with gravitas for the occasion. Having a fountain pen that's personalized just for him feels like a rite of passage. Whether he's signing Christmas cards or about to buy his first home, your man will always have this pen ready.
Engraved Cigar Aficionado Set
Looking for a gift for a cigar aficionado? This cigar lovers gift set has everything they need for any cigars they smoke. The flip-top lighter is essential when enjoying a cigar, but the monogrammed ashtray really sticks out. Classy enough for indoor use, durable enough for the harshest outdoor experiences, this ashtray will be in use for years. The real surprise of this gift set is the whiskey cigar glass. Now your guy can enjoy his favorite drink and cigar easily in just one hand with this custom gift.
Champion Grilling Set
It's practically instinctually that all men know their way around the grill. That's why it's always great to get a customized gift for your man that champions his abilities over a grill. If he prefers propane or charcoal, he'll still love having a custom-made carrying case for all of his grilling tools. This set has everything he needs to make a great steak except for the steak itself. You can personalize it with two lines that will make him want to carry it with him wherever he goes.
A Custom Gift for Collectors
Want engraved gifts for men that appeal to collectors? This stylish shadowbox is great for guys that love to collect bottle caps, ticket stubs, cigar bands, or even golf balls. Whatever they like to collect they can store inside this shadowbox and relive the exciting memories associated with each one. The shadowbox looks great in a home or an office. The real joy your man will have will be watching his collection grow.
One-of-a-Kind Outdoor Cooler
A custom wooden cooler is one of the most incredible engraved gifts for men they'll never expect. You can personalize the cooler with anything from your guy's name or have it themed around his favorite sport's team. The possibilities are endless. They're great for use indoors and outdoors. It makes a great birthday present for your husband or dad. They're so eye-catching that people will go back for drinks just to get a closer look. Your guy will be no exception.
Must Have Gift Set for Scotch Drinkers
Scotch drinkers have very discernible tastes. That's why any guy you're shopping for would love a Glencairn whisky set customized just for them. You'll show that you appreciate the time and effort they've put to one of their favorite hobbies. They'll be stoked that they can finally share their scotch with glasses that accentuate each delicate note. The wood box will be there to store whatever they like whenever they're done with their scotch tastings.
Engraved Stemless Wine Glasses
Your man is just like a nice bottle of wine. He's only gotten better with age. You've probably shared countless bottles with him. Well, now it's time to share those bottles with a set of personalized stemless wine glasses. He'll love the stemless glasses comfortably fit in his hand and the way the tulip shape of the glasses aerate each glass of wine. Each glass comes engraved with his name and initial, so he won't be reaching for anything else whenever a bottle gets uncorked.
Sleek Leather Tech Envelope
Want a personalized gift for the modern man? This Brooklyn tech envelope is a great addition for any guy that considers themselves to be tech-savvy. Not only does it have room for standard stuff like credit and business cards, but you can also store his cellphone, charging cable, and even his smartwatch in one handy pouch that's easy to carry around.  The tech envelope comes in multiple colors and has his monogram in the bottom corner, so you can find the perfect one for your guy.
Custom Poker Set
The best engraved gifts for men are going to be about having some fun. A personalized poker set fits that to a T. Your boyfriend or husband will love strutting into a poker game with their friends and throwing down a set engraved just for them. It sets the tone that he's a real card shark and the other players have already lost before the game's begun. Whenever your guy is bringing home the pot, he'll thank his lucky stars you got him this awesome gift.
Engraved Cutting Board for Chef Savvy Guys
You've long learned to appreciate what your man can do with a knife, a hunk of meat, and all the proper seasonings. That's why a custom cutting board is an excellent gift to take your man's culinary skills to the next level. You can personalize this with his name and his initial. He'll love preparing steaks, pork chops, or getting everything ready for a hearty beef stew with his own cutting board. It's even designed to resist cuts and scratches so his knives stay sharp and the board stays durable.
Build Nikes Just For Him
At one point in their life, everyone's had a pair of Nike's, but it's unlikely your guy has ever had a pair of Nikes crafted just for him. Imagine the look on your man's face when he unwraps a pair of Nike's that can't be found anywhere else in the world because you made them just for him. You can design anything from basketball shoes, to soccer cleats, or even skateboard shoes. Whatever your man's interest, you'll be able to find the perfect personalized gift for him.
Timeless Presentation Set
Sometimes a guy just wants to share a drink with friends and family. This is one of those personalized gifts for men that makes it easy to do just that. He will love being able to fill it with his favorite spirit and pour a glass for everyone in the room. It's also great to have around so he can enjoy a nightcap whenever he needs it. This is one personalized gift he'll never lose sight of.
223+ MORE UNIQUE ENGRAVED GIFTS FOR MEN>