When you see the term "thoughtful gifts" or "sentimental gifts," you're probably thinking of those cheesy, sappy couple items such as an embroidered tie with a message from his wife or a bracelet with the coordinates of where he and his girlfriend met. Think again! The best thoughtful gifts for him are items that solve a problem, help him make something easier or achieve a dream, or is a customized version of a classic item that he frequently uses. For example, what better gift can you give a gamer than a custom controller? Cool, useful, and definitely sentimental. What about a beer lover? Easy, an engraved growler or set of pint glasses. Even the simplest gifts can be turned into sweet, thoughtful gifts that he'll treasure forever.
A Customizable Beer Growler Gift Set for The Guy Who Travels
Is the beer lover in your life always bringing his own beer to parties, cookouts, and vacation? Make his travels easier with an insulated stainless steel growler! Double walled and vacuum-insulated, his beer will stay fresh and cold all day long, even in the hot sun. The two included pint glasses are perfect for you two to share a couple of cold ones at home when you're not on the go with the growler. Everything about this awesome beer set makes it one of the most thoughtful gifts for him on his birthday, Christmas, or your anniversary. Plus, you can customize the personalization on the entire set with a title, name, and date. For example, it could say "The Beer Snob, Benjamin, April 13th, 2019" or "Home Brewed By Jason, 2019." This way you can personalize it just for him, and he'll be so touched that you put in so much creativity and thought into it!
A Place to Store His Ticket Stubs
Give the man in your life a new hobby: collecting ticket stubs! Whether they're from home games of his favorite sports or special trips to see his favorite team play in another state, he'll love showing off all of the games he's been to with this ticket stub shadow box. Storing ticket stubs is like storing the memories of great games when his team won and he was so excited to share that experience with his friends, you, or his kids. This shadow box is by far one of the most sentimental gifts for men and makes the best birthday, Valentine's Day, anniversary, or Christmas gift.
Custom Sign for the Guy Who Has Always Dreamt of His Own Bar
Has your boyfriend or husband always wanted his own home bar? Help him get started with this cool bar sign! Custom made just for him and inspired by the classic show, Cheers, he'll love this awesome gift. You can customize the two largest lines of text to be anything you want from "Michael's Tavern, Come On In" to "Jake's Pub, Have a Beer." He will love hanging this in the space he's decided to have his home bar in. You could even theme all of your gifts this year around his home bar by giving him a set of bar stools for his birthday, a couple of beer tap handles for Christmas, or even a new TV for your anniversary. Whatever you choose to do, he'll be so touched at this thoughtful gift for him!
Make His Travels Easier with This Thoughtful Gift Set
For the guy who's always on the go for work, a gift set that will make his journeys a little easier is the best kind of gift. This set comes with an insulated travel tumbler to keep him hydrated during those long car trips, a flask for a pick-me-up when he's finally settled into his hotel room or Airbnb, and a handy pocket knife to have on hand at all times. Whenever he uses the tumbler for his morning coffee, he'll think of you and how you gave him such a great gift that keeps his coffee piping hot for hours. He'll be less likely to forget any item in this great set, making it both one of the most useful and sentimental gifts for men.
Aspiring Whiskey Connoisseur Gift Set
Whether he's just turned 21 or just wants to drink finer whiskey, this set has everything he needs to properly enjoy it. The two unique glasses are on the fancier side of double old fashioned glasses and will be a fine addition to his glassware or home bar. The main feature of this set is the set of stainless steel whiskey stones, which will ensure that he and his guests' drinks are perfectly chilled without affecting the taste. This thoughtful gift guarantees that he'll always have great tasting drinks that are sure to impress.
427+ AMAZING WHISKEY GIFTS FOR HIM>
Give Him a Beautiful Piece of Jewelry to Wear Everywhere
Your boyfriend is a man of impeccable style and taste. He's got a vast watch collection, an entire rack in his closet full of ties, and even more shoes than you! For your anniversary or Valentine's day, you want to give him something really nice to show that you care. You've noticed that he doesn't have any jewelry or accessories, and now is the perfect time to surprise him with one! With this handsome tiger eye bracelet, he can wear your thoughtful gift everywhere he goes and always have something to remind him of you. This absolutely stunning bracelet will compliment your gentleman's style, too, as it goes with anything. Azuro Republic hand-picks their gemstones and each one is chiseled to perfection by their renown experts from all over the world. Whether he's wearing a casual outfit or a tailored suit, this striking bracelet is the perfect accessory for any gentleman.
A Giant Personalized Beer Mug Just for Him
Finally, a beer mug big enough to accommodate your beer lover's thirst! This huge beer mug holds up to 1 liter of beer–that's about 2.5 standard bottles! Your boyfriend, husband, dad, or brother will finally be able to sit back and relax from the beginning of the game until halftime without needing a refill. Plus, it's engraved with his name and initial, meaning that no one else can use it. This mug is the perfect, most thoughtful gift for him on any occasion!
Show Appreciation for the Military or Law Enforcement Hero in Your Life
Whether you're giving this patriotic set as a graduation, promotion, or retirement gift, it's by far one of the most incredible and sentimental gifts for men! The genuine military surplus ammunition box and the whiskey glasses are all personalized with his rank, name, and a date. Plus, there are also a set of whiskey stones to keep his scotch nice and cold until the last drop and cigar accessories for a celebratory smoke. The veteran or active duty officer in your life will appreciate this amazing gift set.
Upgrade His Home Bar with a Custom Tap Handle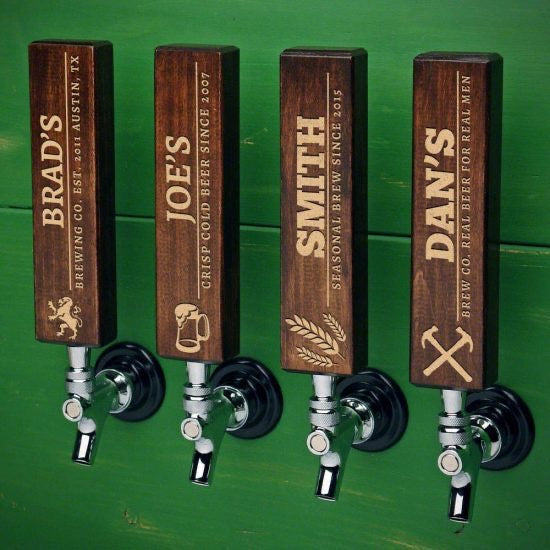 A must-have for any home bar: custom beer tap handles! These customizable handles are the perfect, professional touch to any guy's home bar. He can serve guests like a true bartender with one of these cool tap handles straight from his keg of craft beer or homebrew. You can choose the symbol and both lines of text to make his tap handles truly one-of-a-kind, thoughtful gifts for him! If he doesn't have a home bar already, tap handles are a great way to help him get started on one. This birthday, Christmas, or Valentine's Day will be the best yet!
The Perfect Gift for the Guy Who Cooks: A Personalized Cutting Board
Cutting boards are the easiest go-to gifts, and can be really thoughtful gifts for him. Made of Sheesham hardwood, he'll be able to prep his meals for the week, season his steaks, and chop anything he wants without making a mess of the kitchen. When not being used, the gorgeous cutting board is a classy piece of decor. He'll be impressed by the personalization, but what makes this gift truly unique is that each board will have a one-of-a-kind grain pattern unlike any other. A handsome cutting board makes a lovely wedding, anniversary, housewarming, or holiday gift to the guy who likes to cook in your life.
A New Way to Read
E-Readers are on the rise once again thanks to Amazon's newest Kindle: the Paperwhite, 10th generation. Ultra-slim and lightweight, the Paperwhite boasts a non-glare screen, 8 GB of storage, completely waterproof design, and a battery that lasts for weeks. Now the avid reader in your life can take plenty of books along to read on his trip without all of the extra weight of physical books. He'll love having the Paperwhite to read while on his lunch break at work or on a lazy summer afternoon in the pool. He won't ever have to worry about an accidental drink spill or dropping it in the water thanks to the waterproof design! No more fear of ruining his favorite paperbacks. A Kindle is a fantastic gift no matter the occasion, and is one of the most thoughtful gifts for him.
The Most Thoughtful Gift for A Scotch Guy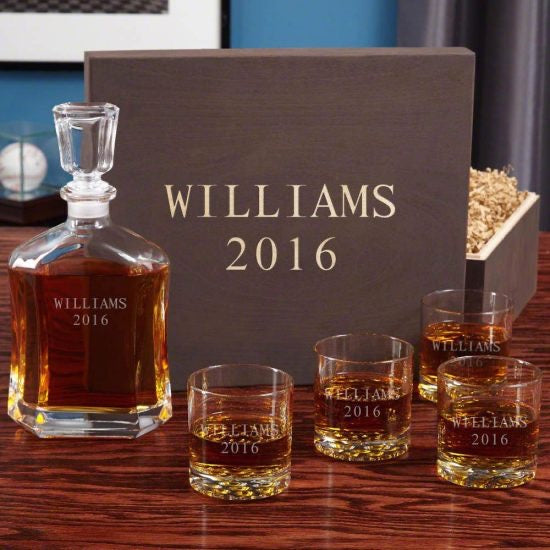 This gorgeous whiskey decanter set is not just an incredible gift, but you get to make it as thoughtful or romantic as you wish! That's right, you get to choose the two lines of text that is engraved on each piece in the set. Whether it says "To My Husband On Our Wedding Day" or "World's Best Dad, Harry Winston," the lucky guy you give this to will proudly display this set on his home bar. He'll want to use it to serve all of his friends or family members a drink when they visit just so that he can show off his amazing decanter set that you put so much thought into making it personalized just for him.
The Perfect Gift for the Avid Moviegoer
If the movie buff in your life is the kind of guy who wants his own home theater to rewatch all of the James Bond, Marvel, DC, and Harry Potter movies over and over, then he needs this sign in his life. This awesome classic marquee-style movie theater sign is the perfect addition to the living room or home theater. He'll love the vintage design and unique customization. This sign is one of the coolest gifts you can give a film fan, and works for any occasion!
Make a Handsome Decanter into a Sentimental Gift with Custom Engraving
Decanters are great gifts for guys whether they drink whiskey, rum, gin, or vodka. Step it up a notch and make it a sentimental gift for men with a custom engraving! You choose the font and the two lines of text to be pretty much anything you want. Are you giving the decanter as an anniversary gift? It could read "For My Love, Happy 15th Anniversary" or "54 Years Together, Always and Forever." For a Christmas or birthday gift, it could be anything from "Mike's Distilled Spirits, Est 2019" to "Property of Richard Thomas." The options are endless for this versatile gift! He'll love whatever you choose to engrave because you put so much effort and thought into it.
A Fun Game for the Whole Family
Whether he enjoys attending tailgating parties or is a family man, anyone would enjoy getting a custom bean bag toss game as a gift! This family-friendly game is perfect for everyone to play at a wedding, BBQ, family reunion, or even a Super Bowl party. He'll love that you made it customized just for him and that he can share this amazing gift with all of his friends and family.
The Most Thoughtful Beer Gift You Can Give
If you're looking for a nice, sentimental gift for men, a beer bottle cap map shaped like his home state is the way to go! Both a new hobby for him and a fun piece of decor for his home, he'll love collecting all of the bottle caps from his craft or imported beers and showing off his favorites with this unique sign. The fact that it's shaped like his home state is just the cherry on top of this incredibly versatile gift! Ideal for birthdays, the holidays, or any occasion.
179+ MORE CUSTOM BEER GIFTS FOR HIM>
Give Him the Gift of Unlimited Television and Movies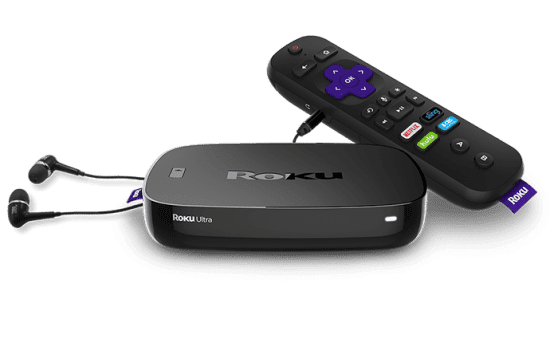 Cable television is more and more expensive every day. For the guy who uses multiple streaming services but wants regular TV channels, save him some money with the Roku Ultra! This unique device comes loaded with all of the big streaming platforms plus hundreds of free channels with everything from news to movies. He'll never want regular TV again after using the Roku Ultra, and you'll be saving him tons of money! Can a gift be any more thoughtful?
His Very Own Whiskey Label Glassware Set
Any guy drinks whiskey has fantasized about having his very own distillery and a label as famous as Jack Daniel's. With this custom decanter set, you can help make his dream come true! His home bar will look like official and classier than ever thanks to your amazing gift. Your husband or father will love displaying the set when not using it to enjoy a bottle of his favorite scotch. This beautiful set is a great and thoughtful gift for him on any occasion, such as his birthday, Christmas, or retirement.
A Beer Gift with All of the Essentials
To properly enjoy beer, a guy needs the right glass, a bottle opener, and a growler to bring it along wherever he goes. This handy gift set has all three! These essentials are perfect for the beer lover in your life, and he'll love that the growler and pint glass are personalized with his initials. He can use the growler to bring 64 ounces of his favorite beer to the neighborhood cookout or a BYOB party at a friend's house, and it'll stay cold all day long. Once he gets home, the pint glass and the bottle opener will be the first thing he reaches for when he wants a fresh bottle of cold beer. This essential set is one of the best gifts for beer lovers, especially for a 21st birthday, but it's great for any occasion for any guy.
Instantly Preserve Special Moments with This Camera
Remember when your family had one of those Polaroid cameras where your dad would snap a picture and hand the picture to you to shake it and wait for the picture to show up? Fujifilm has reimagined these instant printouts with the Instax Cameras, like this SQ6! Now you can give your dad or any guy in your life a way to instantly capture the moment, like a birthday or Christmas. He'll have so much fun taking pictures and seeing them develop just like the classic Polaroids!
A Nice Presentation Set for His Office
You know how in the movies there's always a nice decanter set in a guy's office at work or home? Now your guy can be just as classy with his very own formal decanter presentation set! This handsome set comes with a decanter, four glasses, and a wood/acrylic serving tray that displays them all. Each piece in the set is even etched with his name and initial for a personal, official touch. Your dad or husband's office will be even cooler thanks to this incredible holiday or promotion gift. He'll love showing it off to anyone who visits! They'll think he's just as classy and refined as James Bond himself. This set is one of the most thoughtful gifts for him because it both makes him feel cool as well as gives him a nice decanter set to entertain guests with.
893+ AMAZINGLY THOUGHTFUL AND PERSONALIZED GIFTS>