The Ultimate Holiday Gift Guide for him has finally arrived and we've broken down our favorite gifts of the year by price range so you can find the right gift, for the right guy, for the right price. It's natural to have a few questions. What are the best gift options for family members, friends, and partners? What are the hottest Christmas gifts this year? What are the coolest gifts for guys this holiday season? We've answered all of these questions with a ton of gift ideas to ensure your guy will love unwrapping this year's gift for the holidays.
Holiday Gifts $100+
Creative Drink Smoker for the Holidays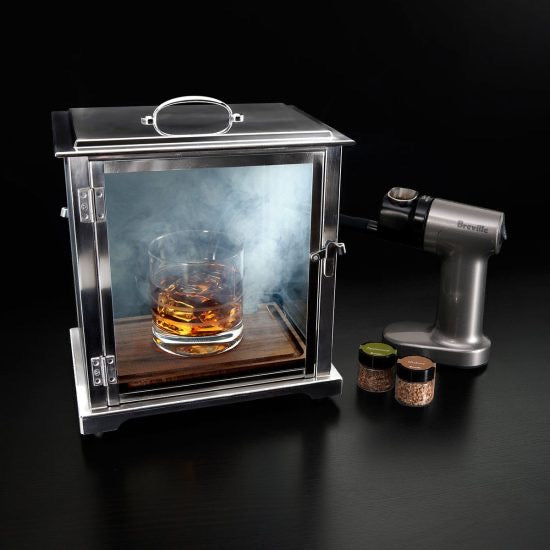 One of the best gifts out there for your man is something that lets him play mad scientist with liquor and cocktails. That's why this incredible drink smoker system exists. Now you guy can place whatever alcoholic beverage he deserves inside the box and woodchips, spices, or whatever he likes to add a refined, original, smoky flavor to the drink. Once your man unwraps this present on Christmas he won't be able to focus on anything else. The downside is you may have to deal with clean-up on your own, the upside is that you'll be rewarded with an amazing cocktail like you both have never experienced.
Classic Globe Bar
A globe bar is an impressive gift to give your guy for Christmas. This holiday gift guide for him has found a globe bar capable of holding each of your guy's favorite liquors and the accompanying glassware. This Christmas gift has such a timeless appeal that your guy will swear you must have found it at an antique shop. This gift will look perfect in your guy's study, home or work office. He'll feel a little like James Bond, a little like Don Draper, and a lot like a guy who's lucky to have you in his life.
Handsome Presentation Set for Guys
If you're wanting a Christmas gift that will really wow your guy then this monogrammed whiskey decanter tray is an excellent choice. In this holiday gift guide for him, few things compare to unwrapping a gift that is almost too good to be expected. Whatever liquor men enjoy will never have looked as good then when it's poured into the decanter in the middle of the tray. Flanked by four matching rocks glasses, your guy will want to host dinner parties, BBQs, watch parties, or insist every family celebration takes place in his home just so he can bust out this amazing gift. Of course, even on the quiet nights, he will always get a thrill of pouring himself a drink in one of the glasses and relaxing on the couch. This is the kind of gift that he will never lose track of and cherish it like it's the most precious thing he owns.
Personalized Boxed Decanter Gift Set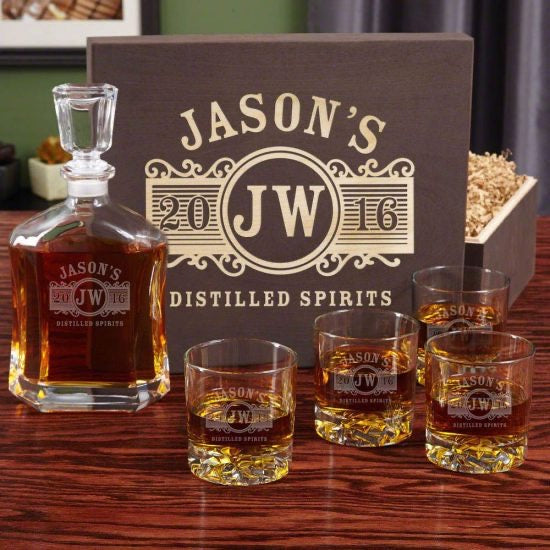 One of the nicer holiday gifts for him is a custom decanter box set. With a classic decanter and 4 matching whiskey glasses all packaged in a handcrafted wood box, this Christmas gift elevates how a guy lives his life. If you're shopping for a boyfriend, husband, or even your brother, it's a pretty sure bet they could use something that allows them to display their liquor in something a little more refined than the bottle from the liquor store. The whiskey glasses are a much more enjoyable way to serve guests than using a mismatch of glasses from the cabinet. He can even find a prominent place to display the wood gift box that he can use to store whatever he likes. It's a nice way to tidy and class up whatever room he displays it in.
Seven Seas Decanter & Glasses
Now this holiday gift for him is a showstopper. If your guy is unwrapping presents around others everyone else will stop what they're doing and marvel at this impressive decanter. This decanter is like nothing he's ever seen. It makes storing liquor bottles seem like a shameful act that should be kept in the shadows. This Seven Seas decanter is a marvel. Your guy's favorite liquor will be a de-facto ocean while it crests against the ship inside decanter bottle. The spigot at the bottom makes for easy serving anytime your man has a hankering. He will love refilling this decanter each time to see how it looks with bourbon, tequila, rum, or whatever he fancies inside. This is the kind of Christmas gift that will be displayed prominently in every home he lives in for the rest of his life.
Sonos Speaker System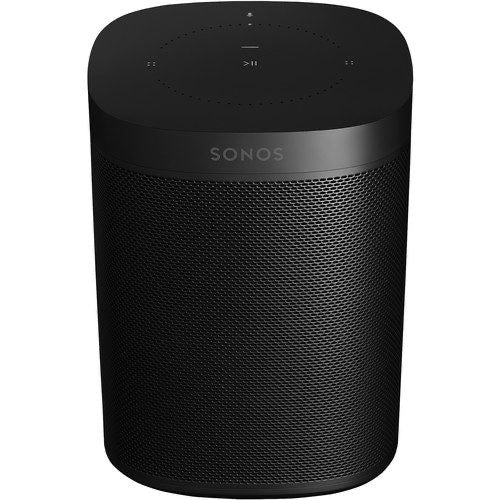 Music lovers can have the world expanded in ways they never imagined with a Sonos system. This is one of those holiday gifts for him that's versatile, easy to operate, and blows whatever set-up he currently has out of the water. Sonos is a dream for music lovers because it has the same highs, lows, and mids like they had in the studio when they mixed an album. Sonos is wireless so it can be used in any room your guy wants, is compatible with Spotify, and even has Amazon's Alexa built-in. That's especially perfect if he decides he needs to order you a late Christmas gift to match this excellent gift idea.
Gold Rim Beer Mugs for Every Guy In Your Life
No holiday gift guide for him would be complete without making shopping simple for all the men in your life. You'd come out on top if you bet that almost every guy in your life loves beer. Your coworkers, brother, dad, husband, and probably even your mailman love to relax with a beer after a long day. Now you can get them each something they will never forget this Christmas. These beer mugs are the same quality you get at any bar around the country and now your guys can experience that in their homes. Each mug comes engraved with the name and initials of each guy. They'll love receiving a personalized gift that makes them feel special this holiday season.
247+ BEER GIFTS FOR THE HOLIDAYS>
Classic Prints of Cultural Icons
Sonic Edition prints definitely belong on any respecting man's wall. They've put together works of art of modern culture icons that will look amazing in your guy's home. From David Bowie, Michael Jordan, Run DMC, and many more, you'll be able to easily find the icon that inspired your guy to become the man he is today. The only problem with this gift is he won't be sure where to display such an incredible piece of art. Whenever he looks at he'll always remember the Christmas he unwrapped his favorite piece of art he's ever owned.
Holidays Gifts $50-$100
Cigar Lovers Gift for Him
Every Christmas, cigar smokers feel left in the wind when it comes to their favorite pastime. Now you can get the man in your life one of those holiday gifts for him that celebrate his love of stogies. This gift set has a durable, monogrammed marble ashtray so your guy can enjoy cigars outside or in his study. The flip-top lighter will never have him patting his pockets, desperate for a lighter. The whiskey cigar glass is a sight to behold. Now your guy can enjoy his whiskey and cigar in the same hand and still be able to answer the phone, throw some poker chips into the pot, or give a high-five whenever he wants. With this gift, you'll be on the receiving end of the first high five.
Copper Mugs for Holiday Cocktails
Moscow Mule mugs are a great gift that he'll never expect this holiday season. This guide has the perfect set of 4 copper mugs to unwrap this Christmas. Not only does the copper design go well with the season, but at 18 ounces in each mug everyone your guy knows will be able to enjoy a cocktail that stays cool and not have to constantly be in need for a refill. These mugs are great to serve with holiday dinners or have going in a backyard BBQ. Your guy will find any reason to break out these mugs so he can always have a refreshing cocktail ready to go.
Unique Wine Decanter
Wine has seen tremendous growth but too many wine lovers are without a decanter in their life. This holiday gift is the perfect decanter for experienced wine connoisseurs and wine lovers new to the game. Aerating a wine mimics the aging process so a two-year-old bottle of wine tastes as good as one that's been sitting on the shelf for ages. This set even comes with cleaning beads, so your guy will have a hassle and be able to enjoy his improved wine whenever he likes. Aeration works fast enough that he could open this gift on Christmas morning and have a glass ready to go for Christmas dinner.
Super Nintendo Classic
Take your guy back to his youth this Christmas with a Super Nintendo Classic. Twenty-one of the best games are already installed. It even has an HDMI connection so it works with all modern TVs. With two controllers you and your guy can enjoy this amazing Christmas gift together. He can invite any friends over to show off your gift-giving skills. The biggest problem will be decided which of the twenty-one games to go through first.
Stainless Steel Beer Lovers Gift for the Holidays
If you're looking for an original beer gift this holiday then look no further. Stainless-steel beer glassware is a growing trend in brewing. The stainless-steel glasses keep beer much cooler than a glass pint glass. After he unwraps this gift, your man can even take the growler to his favorite brewery and get it filled with his beer of choice. He'll be free to take the beer anywhere without being tied to a bar stool. Whenever he brings a six-pack to any gathering he'll have these cool Christmas gifts in tow.
Monogram Boxed Set
Whiskey lovers are always looking for new ways to improve their drinking experience. This Christmas bring a smile to his face with this fun holiday gift for him. After unwrapping this gift, he'll unlock the latch on the engraved wood box to see a whiskey glass, flask and whiskey stones waiting for him. His whiskey drinking will never be the same game. With the stones, it will no longer be a race against the clock trying to enjoy his whiskey before the ice melts and muddles the flavor. Throwing the stones inside the whiskey glass will finally allow your man to savor each sip. He could even store miniature bottles in the box, so he's always ready for a nightcap, dinner cocktail, or whenever he'd like.
Spine Tower Book Shelf
Every book loving guy is always looking for a stylish way to display his collection of his favorite tomes. Bookcases can be bulky and cause books to blend into the background. This dashing spine tower is a cool, new way to display books in any house, apartment, or office. Your guy will love finding what arrangement looks sharpest on this tower. The spine gets narrower as it reaches the top for a striking design. This Christmas gift is also the perfect excuse to gift your favorite book to get your guy going.
Ammo Can Set for Christmas
Don't just get men a set of tools. Get him a gift this holiday season that is unforgettable as you are. Tearing away the wrapping paper to unveil a personalized ammo can is already an unforgettable gift. But when he opens the lid to see a pair of matching whiskey glasses, cigar cutter, and flip-top lighter inside he will be over the moon. He'll immediately want to pour himself a drink just so he can try out the stylish glasses. If you're feeling extra generous, you could even add a cigar or two and a bottle of liquor inside so nothing slows down his enjoyment. There's plenty of extra room inside the ammo can to add those things. Your guy won't even know what to add first after he clears everything out. But he'll be brainstorming while he puffs on a cigar and drinks from a rocks glass.
Custom Vices Gift Box
This Christmas you could get the traditional men's gift of socks and ties, or you could get him something he can have more fun with. This stylish gift box holds a flask, rocks glass, and flip-top lighter. His whiskey will look far more enticing in a real rocks glass than a plastic cup. The flask and lighter can easily fit in almost any pocket so he can indulge with a quality cigar and a hit of his favorite liquor whenever and wherever he wants. He can even store miniature bottles in the box, so he's always ready for a nightcap, dinner cocktail, or whenever he'd like.
243+ BOX SETS GUYS LOVE FOR CHRISTMAS>
Classic Literature Sets
Combining art and literature is a wonderful gift-giving tradition. Juniper Books have put together a set of marvelous looking book series that not only enrich the mind, but also the home. You can pick anything from Shakespeare to Harry Potter. Whatever your guys favorite, they will have. Unwrapping each book for Christmas and then placing them all next to one another is an incredible sight. These books are the perfect companion piece to the globe bar as they both have that timeless style that will look great in homes for many holidays to come.
Keg Tap Handle for Christmas
Any enthusiastic home brewer, home bar owner, or guy that always has a kegerator on hand needs a beer tap handle in their life. If they unwrap a tap handle engraved with their name and initial they will instantly fall in love with this gift. The chalkboard handle is awesome because he can always write what's on tap with each new keg or homebrew. Most men don't carry chalk on hand, so be sure to have some with this gift. He'll be sure to name his next home creation after you this holiday season.
Cool Towel Warmer
A towel warmer is a perfect Christmas gift for the guy that likes to pamper himself. The joy of stepping out a shower and drying off with a warm towel is unmatched. It will make your man feel like he's the king of kings. He can even throw in a bathrobe or a blanket so he's already wrapped in warmth. This is a great gift to combat a cold winter, but he'll use it year-round anytime he steps out of the shower. After this Christmas, he'll lament ever having to use a regular towel again.
Whiskey Lovers Gift Set for Guys
The key to finding a memorable Christmas item for him is knowing what types of things he likes when you see it. As soon as you see this box set, you should know its something your dad will love even if he is normally very hard to shop for. Even if your father thinks he doesn't want anything it's only because he's not aware of an engraved spirit lovers box set. The days of your day drinking liquor from a plastic cup he got at a local dinner can be over. He'll be transported back to his youth when he sips from a real rocks glass. The included whiskey stones will make him appreciate the complex flavor of the liquor like he never knew before. He can even use the box to store mementos. The first one he adds will probably be the Christmas card that came with this gift you got him.
Cork Collector Shadow Box
Every bottle of wine has a memory that goes with it. Now those memories can be saved and cherished by your guy with this cork shadow box. He will love placing each cork inside and looking back at the memories that went with them years later. Each cork will represent an anniversary, promotion, wedding, or any occasion worth sharing a bottle of wine. You can even package this holiday gift for him with a bottle of wine so he can remember the first cork he ever placed inside. You should probably offer to share the wine too.
Custom Beer Pitcher Set for the Holidays
Every man can close his eyes and perfectly envision a pitcher of beer. Don't be alarmed if a little bit of drool forms. With this holiday gift guide for him, you can turn that mental vision into a reality with this personalized beer pitcher and glass set. Now your guy can wow all of his friends when he busts out his own beer pitcher. He can even replicate the bar experience with matching pint glasses. This Christmas gift is perfect if your guy has a man cave or likes to host events in his home. The Super Bowl is right around the corner and this gift would get more attention than the commercials. Filling up the pitcher all over again will be almost as fun as emptying it.
Custom Cutting Board for your Dad this Christmas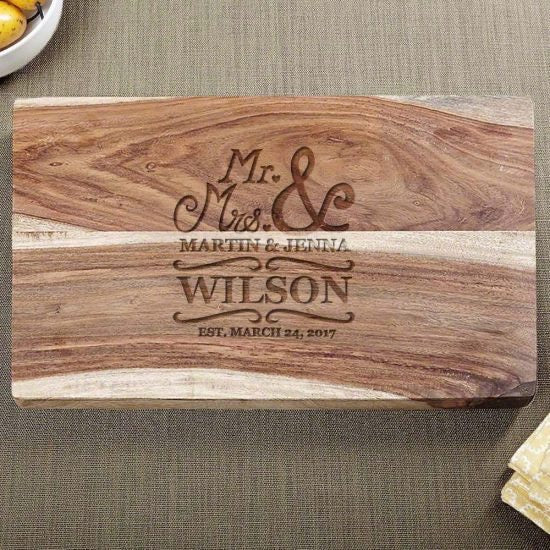 If your guy sees himself as a culinary dynamo, unmatched grillmaster, or curious home cook then this hardwood cutting board is a perfect find. You can personalize the cutting board so it deserves a prominent display in the kitchen. If your guy is going to prepare a big Christmas meal he can use this gift immediately. After he receives this gift, all the cheap and ugly plastic cutting boards will be a thing of the past. You can even expect more delicious home cooked meals from your man with this thoughtful Christmas gift.
Engraved Beer Mugs for Your Man
This Christmas you could get the traditional men's gift of socks and ties, or you could get him something he can have more fun with. This stylish gift box holds a flask, rocks glass, and flip-top lighter. His whiskey will look far more enticing in a real rocks glass than a plastic cup. The flask and lighter can easily fit in almost any pocket so he can indulge with a quality cigar and a hit of his favorite liquor whenever and wherever he wants. He can even store cufflinks, golf balls, or whatever he likes inside the box. This Christmas gift has so many features he'll never tire of the fun he has with it.
Holidays Gifts Under $50
Refined Whiskey Gift Set
Whiskey is a refined gift. It should be consumed in double-sized shot glasses with each whiskey stone placed individually with a pair of tongs. When not in use, it should all be housed in a debonair wood box. This is one of those holiday gifts for him that will turn him into a refined whiskey drinker or make him an even more discerning connoisseur. This personalized gift set is meant for the guy that loves to savor every single drop of whiskey. The thrill of opening this gift on Christmas will feel like when your guy opened his first gaming system as a kid.
Matterhorn Whiskey Glass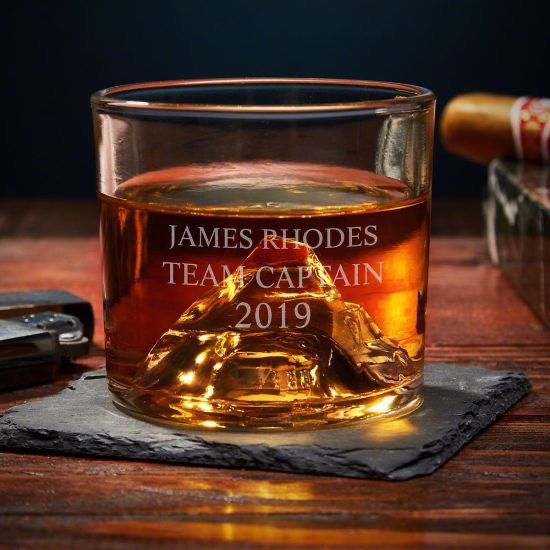 A quality Christmas gift should be as distinct as the guy you're shopping for. A Matterhorn whiskey glass is one of those holiday gifts for him that fits that bill. Your guy will spend just as much time admiring the glass as he does drinking the whiskey it holds. The interior of the glass resembles the famed mountain. The whiskey cuts through the mountain just like the clouds against the snowy peak. The fact that you can personalize the glass makes it an even greater Christmas gift. There is no other whiskey glass like this available and there's another man like yours other there. That's what makes this a perfect pair.
Custom Bar Sign for the Holidays
This Christmas let him open a gift that will hang in his home forever. This custom Ales & Tales tavern sign is ideal for any guy that has a man cave, home bar, or bar cart. It's exactly the kind of sign he would find in a bar or pub that has stood the test of time for decades. Now, his home can become the place where everyone gathers to have drinks and good times. No man cave is complete without a custom sign to tie everything together. The personal touch you add will make this an unforgettable Christmas gift this year.
Stemless Wine Glasses for Your Man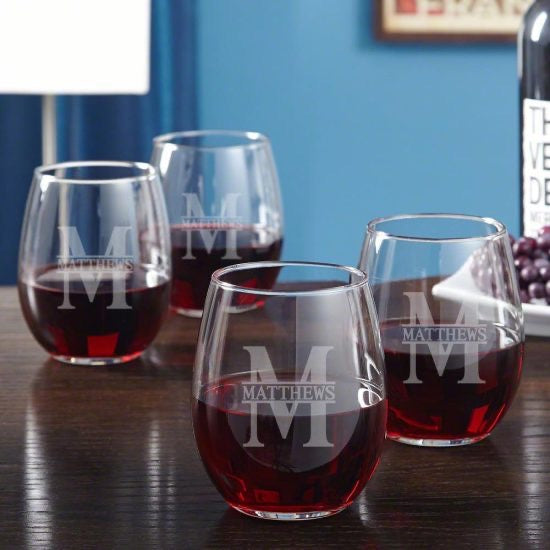 This Christmas your guy can finally retire the same overused plastic cup he's been using to drink his wine. These stemless wine glasses rest comfortably in the hand and are ideal for red wines to reach room temperature. With a set of 4, this is one of those holiday gifts for him that will be used throughout the year. Your guy will love showing off this handsomely engraved glassware to anyone that ones to share a bottle of wine. He'll also always have a clean one on hand so he never has to break out that overused plastic cup again.
Ammo Box for a Military Christmas Gift
The best gift guides are going to have a special gift for military members. It doesn't matter if the guy you're shopping for is currently serving, retired, or about to enter the academy. They will still admire a personalized genuine, U.S. military ammo canister for Christmas. The American Heroes design allows you to add their name, title, and date of your choice to the ammo can. This is a versatile gift. They can store tools, alcohol, fishing supplies, or whatever they'd like inside. You could even throw a few stocking stuffers inside for an original twist on a Christmas stocking.
Engraved Beer Flight Set
One of the many joys of beer is sampling the countless varieties out there. A great holiday gift guide for him is going to have a customized beer flight set. The man in your world will love pouring a pilsner in one glass, IPA in another, stout in the third, and maybe even a sour in the last so his palate can revel in flavor. The combinations and possibilities are endless with this Christmas gift. Pretty soon he'll be having themes with each tasting. He'll have a brewery night, he'll have a brown ale evening, he'll have 4 different beers ready to go to find which one goes best with a ribeye. The best part of all this newfound excitement is that you can join in on the fun with each crazy theme he wants to try.
Cool Tie Subscription Box
Your guy can never have enough ties. A guy can rotate between a few suits, but if his tie collection is vast it will make it seem like he has a wardrobe full of suits and the style to match. Guapbox sends your guy a curated collection of ties each month that will match his style. He can even take a quiz on his preferences to ensure he'll only get ties he'll love. With Guapbox's massive selection, your guy will be sure to unwrap a tie with a design he's never seen before this Christmas. Each month he gets one in the mail will be like experiencing Christmas all over again.
Unique Diamond Whiskey Stones for Him
Not all Christmas gifts are created equal. The same can be said about whiskey stones. This is one of those amazing holiday gifts for him because not only does it come personalized, is housed in a quality crafted wood box, but also these diamond whiskey stones put all other whiskey stones to shame. The diamond shape covers a larger surface area than standard whiskey stones. Imagine how much he'll appreciate his liquor of choice cooling faster without losing any flavor. With 10 whiskey stones, you could even join in on the experience. Curling up on the couch, wearing ugly Christmas sweaters, each with a cocktail in hand would be a wonderful nightcap on a wonderful Christmas.
Awesome Cigar Flask
The best Christmas gifts have a secret even after they're open. This black leather hip flask is no exception when shopping for holiday gifts for him. Not only will your husband or boyfriend love the sleek black leather look engraved with his name and initials, but the ability to enjoy a sip of liquor on the golf course, by the pool, or wherever is something he will love. What makes this gift even better is the compartment that allows your boyfriend to store two cigars right next to his liquor. Pairing a stogie with a hit of liquor is the best way to celebrate a hole-in-one. This is the kind of Christmas gift your boyfriend will take everywhere.
Ceramic Beer Stein for Police Officers This Christmas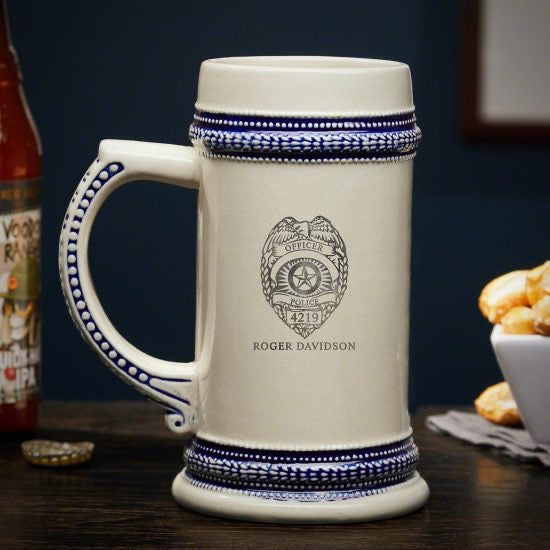 Law enforcement officers deserve a special gift for Christmas. If you know any officers, one of the best holiday gifts for him is a custom beer stein. He'll love coming home after a long day of keeping his city safe and enjoying a cold one from a traditional beer stein. The ceramic mug is a fun way to enjoy a brew and puts pint glasses to shame with their classic style. But the cream of the crop of this gift is the engraved police badge on the mug. You'll be able to customize it with his name, title, and badge number. The only problem you'll have is trying to top this gift next season.
Wine Gift Box for the Holidays
No one is going to turn down a bottle of wine for the holidays. It's a classic gift that any household appreciates. But this holiday season you can upgrade that gift-giving experience with a wine gift box. If you're giving this gift to your parents, your mom and dad will love the way a bottle of wine appears in the classy box interior. The lid of the box holds every tool needed to enjoy a glass of wine. Your dad will start storing bottles of wine for special occasions in this box. It's a gift he'll use on birthdays, anniversaries, or whenever he feels like a special night.
Custom Cocktail Shaker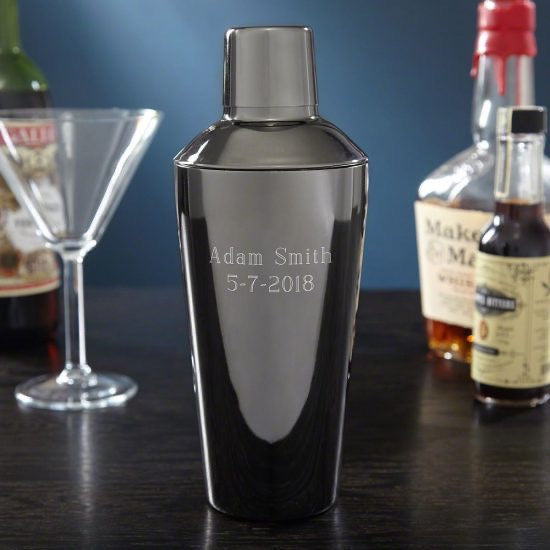 Trying to replicate your favorite cocktail at home can be frustrating without the right tool. If your dad loves to make cocktails for himself or friends and family then he'll love a custom gunmetal cocktail shaker. He'll finally be able to perfectly duplicate his favorite mixed drinks in his home. When he unwraps this gift under the tree he'll start raiding his liquor supply, racking his brain trying to decide what cocktail to make first. Be sure to have an empty glass ready because he'll love to share. And since you got him this gift you should have first dibs.
Complete Flask Set
Having a trusty flask by your side wherever it's needed gives a man a wonderful sense of freedom to enjoy his activities. Whenever he needs a sip of liquor or wants to make an impromptu mixer, he can do it with ease with this custom flask set. But what makes this an even more incredible Christmas gift is that now he can share the experience with anyone he likes. This flask comes with a matching box that also holds four shot glasses. If a toast is ever needed, he'll be there. If anyone wants to make their coffee Irish, he'll be there. If a regular ol' Coke won't do the trick, he will have the Jack ready to go. All he needs first is open this gift on Christmas morning.
The Complete Story of Beer
For the avid reader and beer enthusiast, this graphic novel detailing the history of beer is a must own. This is one of the great holiday gifts for him that's also loved by history buffs. The graphic novel begins in 7,000 B.C. and gives a detailed and interesting history of the beverage everyone's come to love. The man in your life will be enthralled watching the history come to life when he learns how we started with mead and somehow got to sour cherry-infused summer ales by a craft brewery mere miles from his home. Don't be shocked if he reads this from start to finish before the New Year. He'll be sure to share everything he learns with you.
Engraved Stout Glass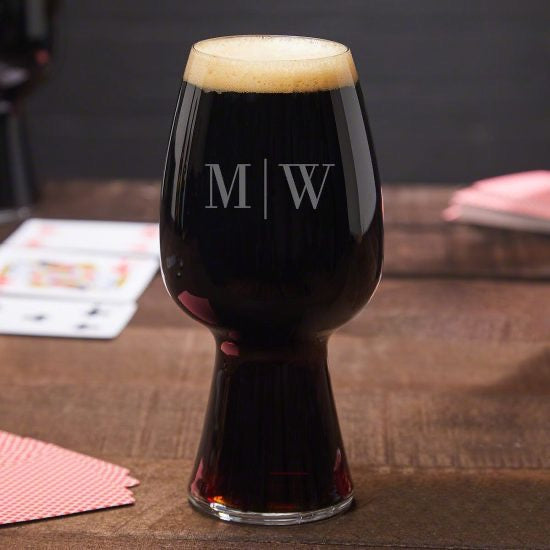 Stout brewers have spent countless hours crafting their deep, rich flavors. Your guy's glassware should have the same care and affection that's given to the beer. These glasses were designed by renowned German glassmakers, a country that knows a thing or two about Christmas, beer, and glassware. He will love the engraved monogram you picked out on the glass after he unwraps this gift, but even more he'll appreciate how this unique design brings the complex notes of every stout to life with every single sip. Have a six-pack wrapped with this glass so he doesn't have to wait for the liquor stores to open the day after Christmas.