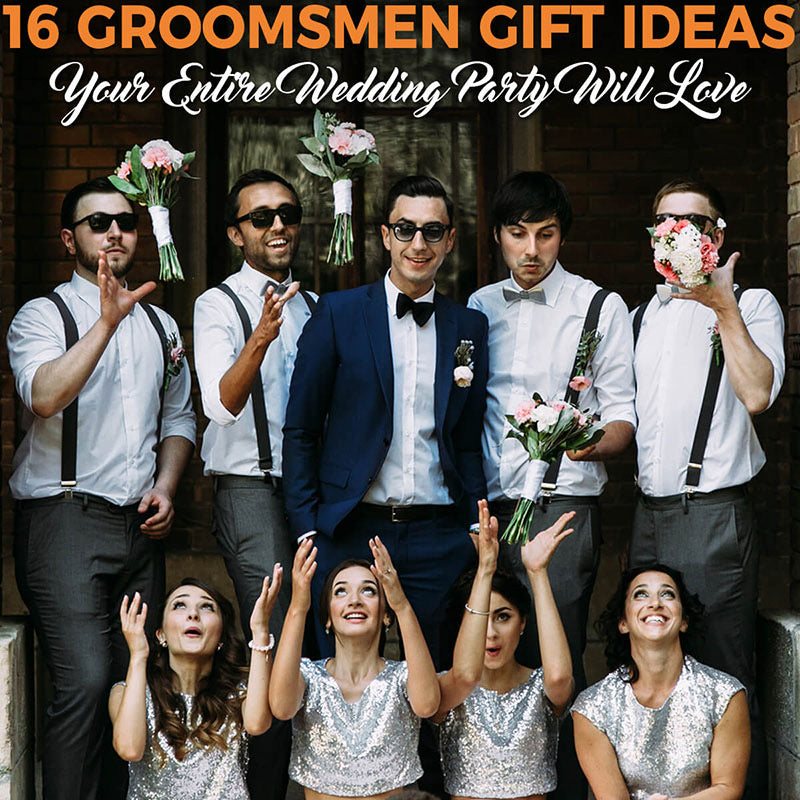 16 Groomsmen Gift Ideas Your Entire Wedding Party Will LOVE
Find Your Perfect Groomsmen Gift Ideas Here!
There is a special honor you bestow upon those that you choose to be in your wedding party. You're essentially saying, "Even though you are not family, I find you so awesome that I want you to be there on the biggest day of my life." While they will definitely feel honored and appreciated, you can take things further by getting them something unique as a gift or keepsake from the wedding with these groomsmen gift ideas! From unique items to use at the bachelor party to awesome gifts they can use for the rest of their lives, you'll want incredible items that will make your groomsmen remember your wedding! Need a place to start looking for great gifts? Want suggestions unlike anything else you've ever seen? Just want to find badass groomsmen gifts with ease? These unique groomsmen gift ideas are sure to be just what you're looking for!
1. Arm Them with Badass Groomsmen Gift Ideas
During the procession from engagement to the day of your wedding, you never know what your groomsmen are going to have to come across. Ensure that come Hell or high water they can do everything from defend themselves to toast you with a drink of their favorite whiskey with this engraved ammo can gift set! They'll love seeing these gifts handed out before your bachelor party, especially when they see each one has been personalized for each groomsman!
2. Gifts for Groomsmen on the Go
Never get them a gift that a groomsman can't take with them with ease to your big day. Instead, make sure they look their best and are able to calm their nerves with this bamboo sunglass and flask gift set. Taking groomsmen photos before the wedding will never look as cool as when everyone is rocking their custom stunner shades! Plus, being able to have this sleek flask in their jacket pocket is great for the wedding, reception, even the bachelor party!
3. The Classiest Groomsmen Gifts Ever
The perfect time to introduce your best bros into a world of sophistication they never knew existed is at your wedding! This Glencairn box set is the set of unique groomsmen gift ideas they will never see coming! Now, they can do more than just drink whiskey, they can experience all the flavors and aromas. So, whether they're having a toast to you or enjoying a bottle of Glenfiddich with friends in a few years, they'll have everything they can ever need for an epic whiskey evening!
4. The Biggest Mug They've Ever Seen
Since getting married is a big deal, your groomsmen gift ideas need to be a BIG deal too! With a gift like this colossally-sized mug, they'll know you mean business! It holds three times the normal amount of a mug, which means more time toasting you and enjoying their brewski instead of constantly having to find refills! Talk about a unique gift for groomsmen!
5. A Custom Duffle Bag
A canvas duffle bag is a timeless gift for groomsmen for a reason because it is just so convenient! It doesn't matter if the wedding is a few blocks down the road or across the country, now all of your groomsmen will have the perfect way to bring their essentials everywhere they go thanks to this groomsmen gift! Plus, when the wedding is over, aside from a cool keepsake, they can make this their new work, gym, or school bag!
6. Cutting Edge Unique Groomsmen Gift Ideas
Few things in the world are more memorable as groomsmen gift ideas than a set of survival knives. While each one comes with the same supplies inside the handle, your groomsmen will love to find that their name has been engraved on the blade of their own knife! Whether they carry these as their new daily knife or keep it as their emergency tool in their car, you can be sure this will be a useful groomsmen gift they'll treasure forever!
7. Toughest Set of Glasses for Groomsmen
Everyone has that group of rough and tumble friends. While they're total badasses, they are also the reason you can't really have nice things. But what if there were a gift for groomsmen that is just as tough as your best mates? These engraved stainless steel wine glasses are damn near indestructible and come with their name on the box! Your groomsmen will feel like they're kids on Christmas when you hand them this gorgeous gift box set!
8. Personalized Watch
Never let your groomsmen use the excuse of losing track of time ever again with a classy wooden watch. Aside from making sure they show up on time, this subtle accessory is a great matching gift for all your groomsmen to rock as they support you on your big day, talk about one of the most unique groomsmen gift ideas!
9. Badass Umbrella for the Wedding Party
While no one wants it to rain on their big day, it happens. No one can control the weather, but you can control how good your groomsmen look while it is pouring. Hook them up with their own classy black umbrellas that have unique pommels! From jaguars to crystals to skulls, these are awesome gifts that are incredibly practical and something none of the guys in your wedding party could have thought of ever needing.
10. Engraved Flask Set
Flaks are fantastic gifts for everyone involved in a wedding, but you know you can do better than just a one-piece gift. When you get your groomsmen this personalized flask box set, not only will they have an awesome way to celebrate or calm their nerves, but they'll also have shot glasses that they can use at the bachelor party!
155+ SLEEK FLASKS FOR GROOMSMEN>
11. Groomsmen Gift Ideas for Beer Lovers
Have them feeling they got a surprise birthday present rather than a gift asking for them to be your groomsmen with this awesome custom mug gift set! Every man loves drinking from a mug and from now on, they can enjoy every beverage from this awesome mug set (even if it isn't a beer). Now, they'll feel like a king each time they reach for the handle of their mug to quench their thirst!
12. Embossed Wallet
Wallets are something that people rarely replace, they only seem to bother thinking about getting a new one once their old one is way beyond repair. Help them keep their pockets as classy as the rest of their attire by getting a custom embossed wallet. Whether you choose a unique design, custom text, or anything else, this will have to be one of the most used groomsmen gifts ever!
13. Monogrammed Poker Set for Groomsmen
Not everything about weddings is all fun and games, oh wait, no there are plenty of fun and games, especially when you make this monogrammed poker set one of the best unique groomsmen gift ideas you've ever thought to get! Now, the bachelor party is sure to kick into gear right away with a game of Texas Hold'em, whiskey, and cigars! It'll be like the dogs playing poker painting as soon as each guy sees their gift!
14. Unique Groomsmen Gift Ideas for the Cool Groomsmen
There is nothing like a gift that will help take the edge or pressure off of being a groomsman. While they are not the center of attention, they are bound to feel certain stresses, that is for sure. Help them cool down or unwind with these matching personalized rocks glasses that come with a set of whiskey stones. From neat glasses of Maker's Mark to Old Fashioneds, these glasses have your groomsmen covered the next time they feel the need for a cool and refreshing drink.
15. Keep Them Looking Classy
Unique groomsmen gift ideas can be as simple as a set that ensures they'll all look as classy as possible on your big day! With this tie, cufflink, and tie clip gift set, not only will they look their best but everyone in your party will be matching! How cool is this gift set? It is even a fantastic way to ask them if they will be your groomsmen, too.
16. Custom Liquor Gift Box
You've made it this far and still have no idea what truly fits your groomsmen? How about this gorgeous and customized liquor gift box! Aside from getting each one their go-to liquor, you can also fill the inside of the box with smaller gifts like photos, keepsakes, trinkets, or anything else you think they'll find memorable! What is great about a custom box is the options are endless for the unique presents for your friend group that you can put inside!