If you're looking for the best drink coasters you'll want some that are as personal as your home. They'll protect your surfaces and furniture so they look just as nice as when you first laid eyes on them. You can even customize some coasters to perfectly match your sense of style. Of course, it's natural to have questions when shopping for coasters. Can I give coasters a gift? Are drink coasters crafted from different materials? Do certain coasters go with certain drinks? All of these questions are answered in our uniquely curated list. You'll easily be able to find the best coaster for a gift or for your home.
Monogrammed Coasters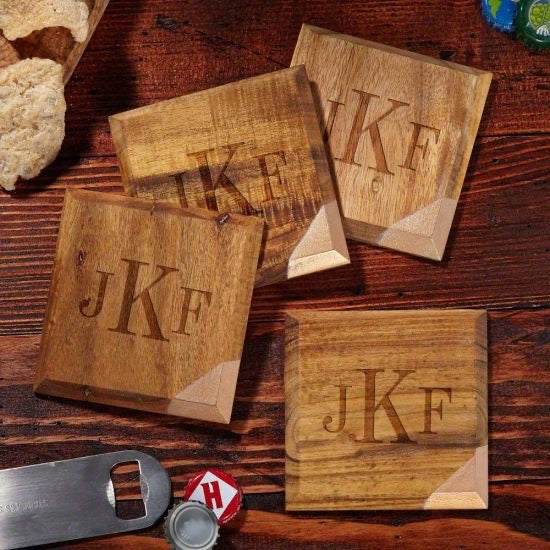 Coasters can add a touch of class to any room. These custom drink coasters have a copper corner that's both striking and elegant. They even include a monogram of your choice so everyone knows whose tabletops and counters are being protected with these acacia wood coasters. Fans of hot, cold, and lukewarm beverages will delight in having their own monogrammed coasters.
Cool Shotgun Shell Coasters
The best drink coasters mirror the personality of the person. If you have an avid hunter, gun enthusiast, or military personnel in your household then you know they would love these really cool shotgun shell coasters. The coasters are even housed in a shotgun case replica when not in use. A shotgun shell coaster can easily protect your table and still be one of the best drink coasters out there for anyone that loves their shotguns and has a sense of humor.
Classic Vinyl Coasters
Records have been used as makeshift coasters for years. But don't worry, you no longer have to damage your 7" vinyl. These vintage record coasters celebrate the golden age of records. That's why these are amazing coasters for music lovers, vinyl collectors, or people who spend hours creating the perfect playlist. With a set of 6, everyone will have somewhere to safely place their drink. They might even give you an idea of what music to put on in the background.
Coaster for Wine Bottle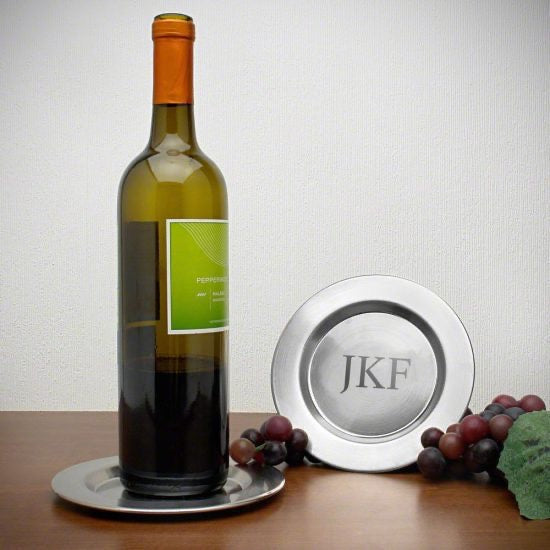 Even wine bottles need coasters. A single drop of red wine sliding down the slender bottle can forever spoil a piece of furniture. A chilled bottle of wine is going to sweat worse than any beer. Thankfully, custom drink coasters have been invented that prevent such atrocities from happening while also looking stylish in your home. This wine bottle coaster can even be personalized with the initials of your choice so everyone knows who has a good head on their shoulders and a keen sense of home décor.
Traditional English Pub Coasters
Nothing quite mirrors the experience of an English pub. You may not be able to fly across the Atlantic and spend time in a real pub, but you can bring some of that experience home with a set of English pub coasters. Packed in a set of 25, these are the best drink coasters for people who host parties and want to make sure all of their glass or wooden surfaces are protected. It's even a fun challenge to try every beer that matches the coasters.
Interactive Thermal Coaster
The best drink coasters also have an interactive feature. These coasters have a fish that appears or swims away based on the temperature of your drink. You'll spend just as much time staring at the coasters as you do enjoying your beverage. It becomes a serene practice that is an excellent way to start your day or unwind after a long evening. This set even includes two glasses to get you started.
Custom Engraved Coasters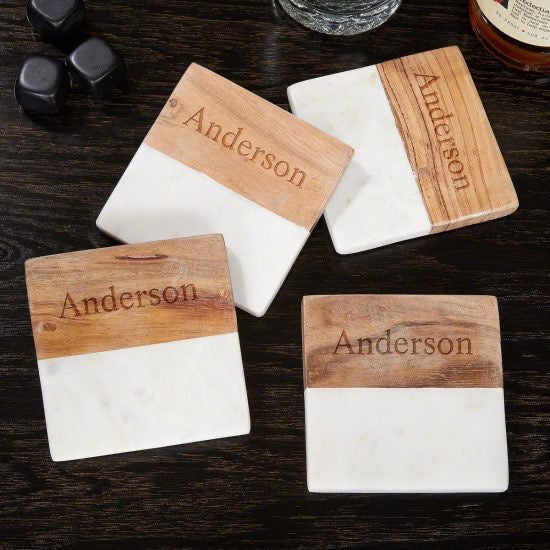 Acacia wood? Check. Timeless white marble? Check. Customizable options with a choice of font? Again, check. These are proof that custom drink coasters have come along way since the invention of the coaster in 1760. These stylish drink coasters are great for coffee, beer, and wine drinkers. They're an unexpected gift for anyone you know that loves to protect their surfaces in their home or apartment. Coaster help furniture and friendships last longer.
Modern Aluminum Coasters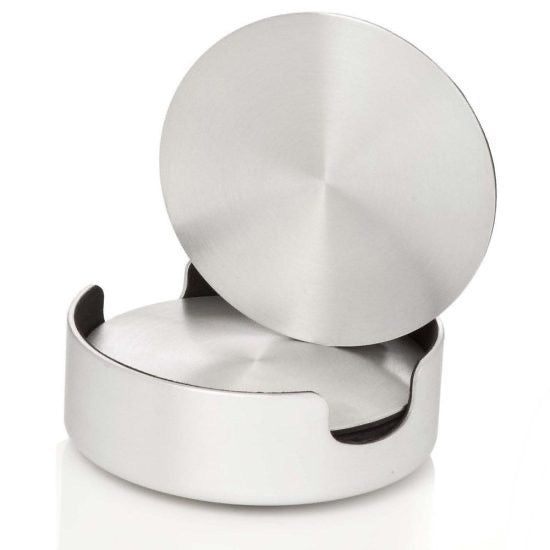 These aluminum drink coasters you'll never have to ask your guests, "Do you respect wood?" The question is already answered. These classic coasters command a sense of respect for the homeowner. Their classic industrial design is great for people that love modern design or want to keep their beverages extra cool. They even come with a sleek holder so they're never out of place when not in use. Show your respect for pine, walnut, and oak with this set of coasters.
Fun Game Coasters
A proper game night is going to have drinks. Dice are going to be rolled, pieces will fly across the board, fake currency will be exchanged. These adorable checkerboard coasters are some of the best drink coasters available for avid gamers. These coasters might even be a good luck charm so you always roll a twenty. Even if your friendships are ruined playing your favorite board games together, rest assured your tables and surfaces will be in pristine condition.
Chalk It Up Coasters
Coasters can be fun. Grab a piece of chalk and these slate coasters so you can personalize these custom drink coasters to your liking. Write down the name of each person on the coaster so no one forgets which belongs to them. You could also explore your creative side and doodle designs on each coaster. They also make a great de-facto scorekeeper when playing drinking or board games.
Glowing Element Coasters
Coasters that light up different colors and have different radioactive elements designed on each one are awesome for any scientist, nuclear engineer, or someone that appreciates geek culture. They're great for beer, wine, coffee, or any kind of drink. You'll just have to fight to see who gets to use plutonium who gets stuck with thorium.
Romantic Personalized Coasters
Coasters that explore a romantic side make great gifts for anniversaries or weddings. These crossed arrow coasters are awesome custom drink coasters that playfully celebrate the romance in your life. Two initials and a year can be personalized turning this into an awesome gift for newlyweds or a parent's anniversary. You could even surprise them by putting one of their drinks on top and letting them discover the coaster on their own.
Marble Coasters for Couples
Marble coasters are what keep a marriage strong. If no one is bemoaning about a water stain then the bonds of marriage are rock solid. You can let the world know which couple shares these unbreakable with these custom drink coasters when you personalize their first names, last name, and the date they were wed. They're awesome coasters for anyone you know celebrating an anniversary or newlywed couples.
High-End Coasters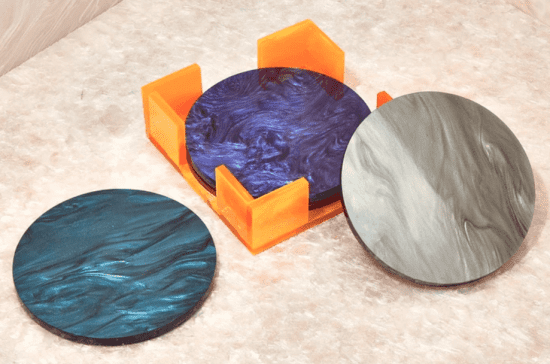 You're breaking out the fine china for a special occasion. Don't let your guests rest their drinks on the tablecloth. Pair your best dishware with some of the nicest coasters available. Edie Parker coasters go great for those occasions when you want to do it up. You can even pick what initial is on the coasters for an additional classy element.
Regal Slate Coasters
Some people dream of going to the moon. Others dream of having coasters crafted from the Earth itself. The latter can easily come true with these personalized slate coasters. The Oxford design adds a regal touch to any home. Personalizing it with a name and initial of your choice is just a bonus. Slate looks against white, gray, natural wood, or really any surface. This metamorphic rock is an awesome addition to any home where wood might be vulnerable.