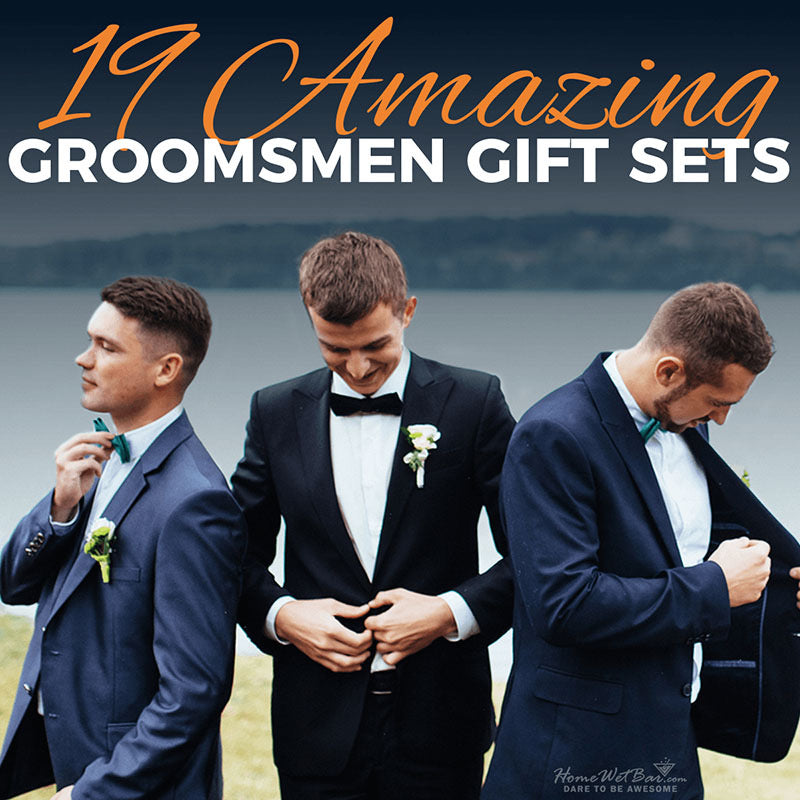 19 Amazing Groomsmen Gift Sets
Give the Ultimate Groomsmen Gift with Groomsman Gift Boxes!
Before invites go out to all of those friends and family members, a little organizing must be done, and where would the groom be without his best buddies? May they be brothers by blood or by bond, these are the guys who have been there for the groom since day one. It's time to give them something nice in return, and hopefully have them standing at the altar as well. But what makes an amazing groomsmen gift box set? Do you go with matching groomsmen gifts for everyone, or do you do something different for everyone, including the best man? The whole gang deserves something amazing, it's just that most people don't know where to begin. Luckily for you, there's an easy way of doing this, and it all starts with this list of the most amazing groomsmen gift sets we could find.
1. Take a Gamble on this Groomsmen Gift
You can bet that every single one of your groomsmen will think this poker gift set is awesome! They'll think it's a ton of fun to have their own sets when they want to host game nights with friends and family members. At your bachelor party, you can be sure that they'll want to use one of the sets to play some rounds of poker or any other card games while holding their incredibly amazing cigar glasses in one hand and cards in the other!
2. A Smokin' Hot Groomsmen Gift Box
Prepare your groomsmen for one of the best nights out in their entire life by beginning the evening by gifting each of them their own monogrammed groomsmen gift box! Although they match in style, each will be unique with an engraved monogram on the box, lighter, and on the cigar whiskey glass too. You can make this the ultimate pre-game gift set too by including a few stogies and some liquor so they can get your bachelor party started off right!
3. A Groomsman Gift Box for the Coolest Guy
Ensure that the gift you give to your groomsmen is more than something that just lasts the night. Much like your marriage, your gift should last a lifetime. For the coolest groomsmen, they'll need an equally cool gift! This personalized whiskey stone and rocks glass gift set is more than something they can use during your bachelor party, they can enjoy it for years to come too! When they see the engraving, they'll always think back to that awesome night and how happy they are for you still to this day!
4. Twisted Groomsman Gift Box
This super classy whiskey gift set will definitely please your groomsmen! They'll feel like sophisticated gentlemen sipping their favorite whiskey from these personalized, twisted glasses, filled with chilled whiskey stones. They'll love using them to toast to you both at the bachelor party and at the wedding! You can even fill the box with miniature bottles of whiskey or some of their favorite snacks to make these some of the most cool groomsmen gifts they've ever seen!
185+ AMAZING BEER GIFTS FOR MEN>
5. Sunglasses and Watch Groomsman Gift Box
Your groomsmen will think this whiskey groomsman gift box is absolutely phenomenal! The sunglasses and watch are awesome accessories that they can wear, starting at your bachelor party, and even at the wedding, especially for some photos! The custom box makes a fantastic keepsake from the wedding as well.
6. Custom Tools for the Groomsman Gift Box for Any Situation
Hey, your groomsmen are men, after all; so, treat them as such with this badass ammo can gift set! Inside, they'll have all the tools they'll need, no matter what they run into. From toasting and celebrating you with the cigar flask to fending off wild bears who are attempting to ruin the ceremony, they're covered with the ceremonial hatchet and folding knife. Make sure your groomsmen gift box is just as badass as the guys in your wedding with this unique gift!
7. Organize Your Groomsmen
Ensure each and every groomsman is ready to go, from suit to watch with his groomsman gift box. This set will make sure that on your big day they'll have their watch, cufflinks, tie-clip, or any other accessory with them ready to go. They even have a sleek flask with their name engraved that they can slip into their jacket pocket for drinks to celebrate your wedding!
8. Coolest Cigar Set Ever
There's no chance this personalized whiskey and cigar gift set isn't their favorite gift they've ever received! Your groomsmen will be obsessed with the personalized cigar glasses and how classy they feel being able to enjoy whiskey and a cigar easily using just one hand so they can fist bump or high-five you. When they want to bring a cigar or two to the bachelor party or wedding, they'll be very appreciative of the cigar case that'll make it so easy!
9. Whiskey Gift Set for Groomsmen Who Prefer Smooth Sipping
Not all glasses are created equal, and neither are the ways in which we chill the liquid we pour into them. Give the father of the bride, ushers, groomsmen, and best man boxed gift sets packed with natural whiskey stones and etched 6-ounce shot glasses, and you'll be helping keep things cool when the bachelor party heats up. Note how the hinged lids on these engraved groomsmen gift sets come with a pivoting latch, and how the box even includes a pair of tongs for serving-up those ice-cold whiskey stones. Add some stone coasters to the mix and they'll have a groomsmen gift box set where the rocks going into the glass match the slate they're sitting on!
10. A Gift Box as Unique as Your Groomsmen
Each man in your bachelor party is incredibly unique. You've got the guy you've known since second grade, the one who you've always played sports or games with, the one who is always up for a drink. Get a box set for your groomsmen that is as unique as each man with this personalized, sculpted whiskey glass box set. They'll have a blast toasting to you and your future bride using these sophisticated glasses.
185+ UNIQUE BOXED GIFT SETS FOR MEN>
11. Arm Them with Personalized Beer Supplies
Keep them resupplied for the brewski battle ahead that is your bachelor party with a whole regiment's worth of beer supplies thanks to this engraved ammo can gift set! You can even start them off completely stocked by throwing in their favorite six-pack inside the ammo can as well. Talk about one of the best groomsmen gift box ideas ever!
12. Essential Groomsman Gift Box

You've got a couple of guys in mind that you want to ask to be your groomsmen, but you're not quite sure how to go about it. Your bros can't help but say "yes" when you give them this must-have groomsmen gift set! They'll already be prepared for your big day thanks to the bow tie and flask. You'll also have plenty of room in the gift box to throw in an additional gift like a couple of stogies or a small bottle of liquor to fill up the flask. Bonus: the personalized wooden box is actually a cigar box! How awesome is that? Your groomsmen will all love having a customized cigar box in their homes. Best of all, you can choose from several different types of greeting cards to get each of your groomsmen their own uniquely personalized gift set.
13. Monogrammed Glass and Flask Set
A monogrammed gift set that they can use to enjoy drinks in different ways? Say no more! This flask and glass box set makes a fantastic groomsman gift box! They'll love using the glasses at your bachelor party to enjoy whiskey or cocktails with you. At the wedding, this flask will fit perfectly in their pockets so they can take them out and do a toast to you at the reception with them!
14. The Best Beer Mug Set
Get your groomsmen the coolest groomsman gift set ever! These unique beer mug sets are absolutely perfect for your groomsmen to use whenever they want to enjoy beer, especially when it's with you at your bachelor party or at the wedding reception. The handsome, hefty mugs are fantastic for using to do a toast to you, the groom, and they'll love doing so to celebrate you! Plus, they'll be a big fan of the classy bow ties that they'll wear at your wedding.
15. Premium Shave Kit
There isn't a single face in your wedding party that isn't immaculately maintained. You know one of your groomsmen almost seems allergic to a five o'clock shadow. You can't even remember what another looks like behind his full beard. Either way, it's a style choice that is deliberate. Now you get them a shaving kit that mirrors the experience of a top-notch barbershop and ensures they'll be looking as dapper as ever when it comes to your big day.
16. Manly Groomsman Gift Set for Everyone in the Wedding Party
You want to get your bros something amazing, but you're totally stuck. Stop looking for individual gifts, get them all a matching gift set they're sure to enjoy like these manly ammo can gift sets! With this complete set of five whiskey sets, you'll get all of your groomsmen gifts taken care of in one fell swoop. Each of your bros will get their own 30 cal ammo can, two rocks glasses, and a set of whiskey stones. How cool is that? Your groomsmen will all feel like the coolest guys at the wedding when they enjoy their scotch in their new glasses with the whiskey stones. The 30 cal groomsmen gift boxes are great for a variety of uses such as storing tools, keepsakes, valuables, and of course live rounds. You just can't go wrong with such practical and cool groomsmen gifts!
17. Personalized Flask Sets Are a Guaranteed Win
Unique flasks aren't just a conversation starter, they're an extension of the person holding them. Help the groom's closest friends make a statement, with a gift box set featuring a classic flask and four stainless steel shot glasses. Dapper-looking and complete in the solid wood box, this amazing flask gift set pictured here fits the bill quite nicely.
18. Unique Whiskey Stones to Make Their Drinks Interesting
A little innovation goes a long way. In college, your best man successfully invented a beer bong that could stretch across from one balcony to the next. This gift may not be quite as legendary, but it's innovative and practical. These black onyx whiskey stones cover more surface area and rapidly cool down any beverage at an unbelievable pace. They won't ever want to have a drink without them once they experience how incredible they are.
19. Unique Liquor Decanter Gift Set
Our final choice for most amazing groomsmen gift sets of all time comes to us in the form of a liquor decanter that looks right at home on a desk, wet bar, or atop a kitchen counter top. Formed from the finest glass, this globe-shaped decanter and glass gift set is a must for the lads in the wedding party who need a centerpiece of some sort on the bar back home. Our favorite features on this option include the detail put into the rotating globe decanter itself and the ship inside, and how this decanter set includes a matching pair of 8-ounce globe glasses, as well as a stainless steel funnel for easy refilling.