11 IPA Beer Glasses to Give Your Guests Bar Envy
Top IPA Glass Countdown
When it comes to finding the perfect IPA glass there are a lot of options to sort through. When you are drinking a good India Pale Ale you will want to capture all of the tasting notes with each sip that you take. IPA beers tend to have more hops than other styles. This makes the IPA taste uniquely tart and gives it a pungent aroma. Finding an IPA beer glass 20 years ago would have been difficult, if not impossible. Luckily, you live in the Golden Age of craft beer glassware and the best beer glass for you and your IPA is just a scroll away.
Oakmont Personalized IPA Glass
Pros: Wondering what kind of glass you should drink an IPA out of? This ipa beer glass is great because it comes customized with a name and initial of your choice.
Cons: Designed for mainly IPA beer brands this glass is not functional in terms of stacking and storage.
Reviews Say: "I bought this for my husband as an anniversary gift and he loves it! I think this is a great value for the cost, and the design was adaptable to suit my needs…" – Katie
Spiegeleau IPA Beer Glasses
Pros: One of the first glasses designed specifically for IPAs, this ipa glassware will always hold your beer's aroma, temperature, and head masterfully
Cons: Ultrathin glass makes this product more fragile than most. It's more at home in a bachelor's bar than at the dinner table.
Reviews Say: "While the standard pint glass is good enough for most, a glass designed to promote a specific beer's complex flavor profile is something to appreciate." – Andrew
Monogrammed Beer Snifter
Pros: This beer snifter has a unique shape that enhances hoppy IPA aromas by directing the aroma towards your nose and the stem prevents beer warming. Also great for darker beers which need to be kept cold. Personalized with a monogram of your choice.
Cons: This was considered the best IPA glass until the newer styles of IPA glasses we ranked #1 and #2 below came about.
Reviews Say: "I bought this monogrammed beer [glass] for my fiancé, and he loved it. Personalizing it made it more special. It's his "go to" glass now." – Maria
Living in the Golden Age of craft beer glassware, you have plenty of options in choosing the best glass for your bar. India Pale Ales have a unique flavor that these glasses would be perfect for enhancing!
Regal Crested IPA Glass
Pros: The best type of glass for IPA beer. The narrow top of the glass holds the head and directs the bouquet and aroma of the hops in the IPA directly towards your nose as it should be.
Cons: What hurts this glass in our IPA glass rankings is not all initials are available.
Double-Walled IPA Glass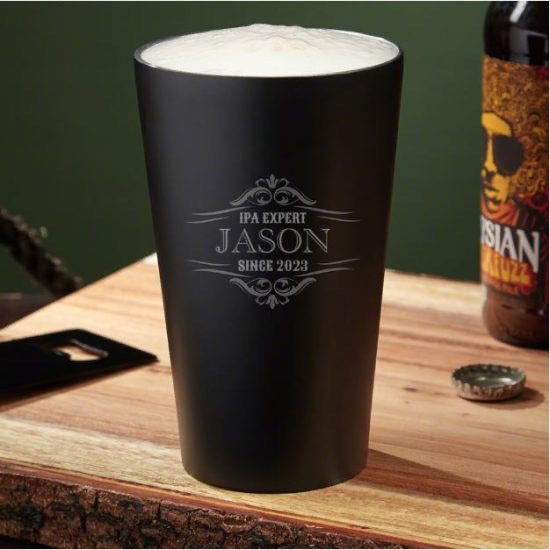 Pros: Double walled so it will keep your IPA cold, much longer than a regular beer glass. Made of stainless steel it's also unbreakable.
Cons: Great as a general beer glass and drinking glass but not specifically shaped for IPAs.
European Beer Stein for IPAs – The traditional drinking vessel
Pros: We know this seems like a longshot for the best IPA glass, but hear us out. These cool European steins open and close with your thumb keeping the IPA hops aroma in, and bugs out. Plus the thick wall helps keep your IPA colder longer
Cons: Mugs weigh a little more than glasses. Not everyone loves using mugs.
Reviews Say: "I bought this for my dad and he loves it. He sits outside a lot and now he doesn't have to worry about bugs going in his beer. It's made well and looks great with the personalization." – Jenna
Handblown Fujiyama Glass by Keita Suzuki
Pros: Not necessarily a proper IPA glass, but it is incredibly effective at preserving beer's head.
Cons: Direct contact with palm causes beer to heat quicker which is not ideal for IPA beers.
Reviews Say: "The head on your beer will mimic the peaks of Mt. Fuji when you fill this glass up." – Mike
Ultimate Set of IPA Glassware
Pros: You get the largest and coolest looking beer mug on the market! It even holds a whole liter of beer, so you'll never have to worry about getting up for a refill ever again!
Cons: Your friends are going to be incredibly jealous of your new colossal beer mug each time you go to enjoy your favorite IPA.
Legendary Pale Ale IPA Glass
Pros: Very versatile glass great for beers such as IPAs, lagers, stouts, really any beer or any beverage. Enhances aroma and taste. Personalized with a custom name.
Cons: Doesn't specifically enhance the temperature of IPA style beer.
Reviews Say: "He loved it! Was surprised by it which was awesome because he doesn't surprise easy." – Michele
Aspiring Beer Connoisseur 7 Piece Glass Set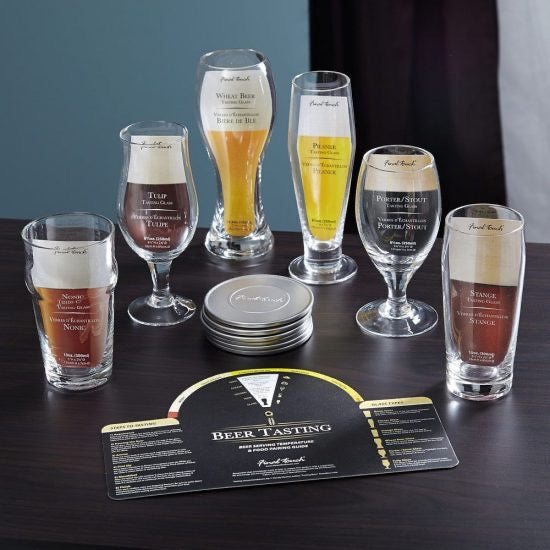 Pros: Every type of beer glass including a tulip shaped glass for IPAs, stout, pilsner, etc.
Cons: Number of glasses may be overkill, hard to store. Also, his is a nice tulip shaped IPA glass, but there are better IPA glasses.
Reviews Say: "my boyfriend loved it!" – Alli
Insulated Steel IPA Glass
Pros: Uniquely versatile glass with vintage IPA style artwork, comes personalized.
Cons: Great for drinking with the guys and friends and can be used for any beverage besides IPA and other beer.
Living in the Golden Age of craft beer glassware, you have plenty of options in choosing the best IPA glass for your bar. India Pale Ales have a unique flavor that these glasses would be perfect for enhancing!
MORE GLASSES FOR EVERY TYPE OF BEER >